Mustard-Crusted Potatoes-an easy side dish that goes great with any meal!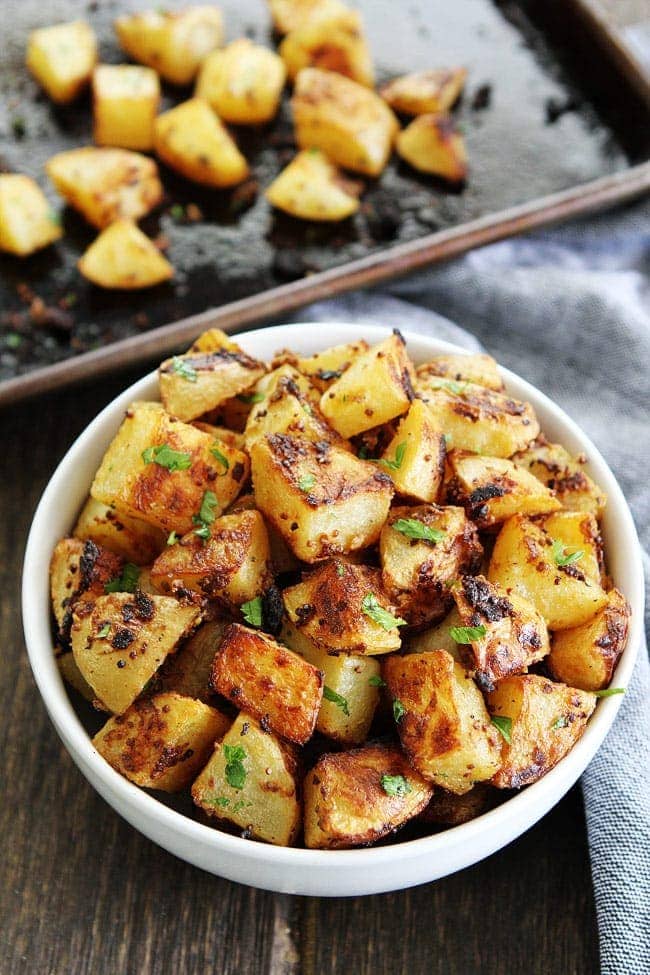 Josh loves mustard. He's kind of obsessed. Every time he orders a sandwich from a restaurant he asks for extra mustard. When he gets his sandwich, he is usually disappointed with the amount so he will go back and ask for more. He likes A LOT! I always make sure he has napkins close by when he is eating his mustard heavy sandwiches because I am not going to try and get mustard stains out of his shirts and pants:)
When I saw my friend Heather's recipe for Mustard-Crusted Potatoes in her new cookbook, Pure Delicious, I knew I had to make them for Josh, the mustard maniac:)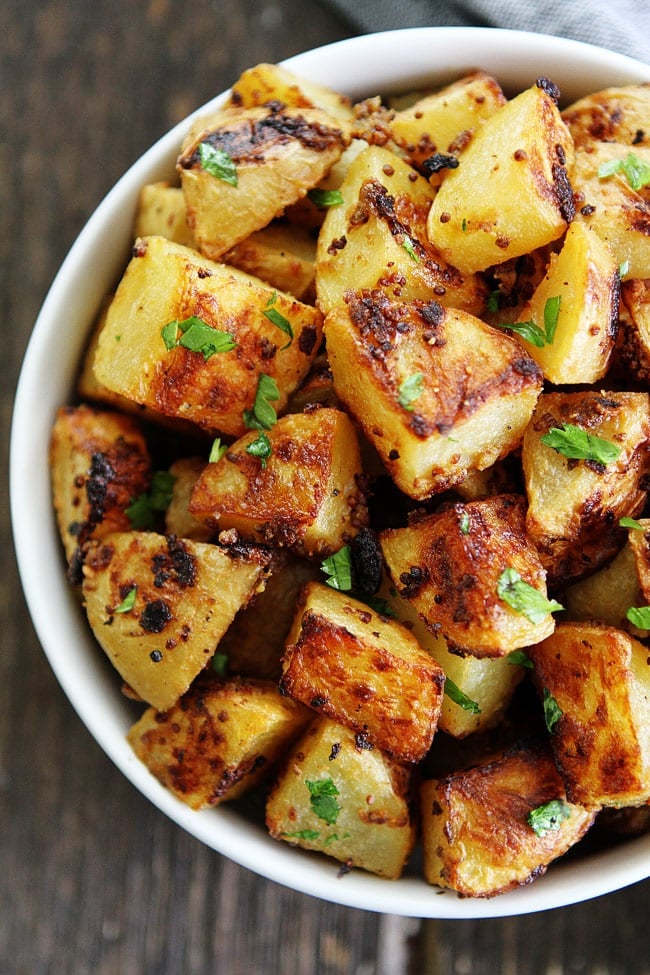 Pure Delicious has over 150 allergen-free recipes. There is no gluten, dairy, eggs, soy, peanuts, tree nuts, shellfish, or cane sugar in any of the recipes in the book. Don't let that scare you because the recipes are still delicious, for real.
Heather and her daughters were diagnosed with severe food allergies a few years ago, but that didn't stop her from creating delicious food for her family. Her new cookbook is filled with delectable recipes that everyone can enjoy! Even if you don't have food allergies, you will love this book! The photos are beautiful and the book is filled with healthy recipes and tips! And it is a nice cookbook to have around, just in case you have friends or family members that have food allergies. I always like to serve a few allergen-free recipes when I entertain because you never know who might have allergies. This cookbook is going to come in handy for dinner parties and special occasions!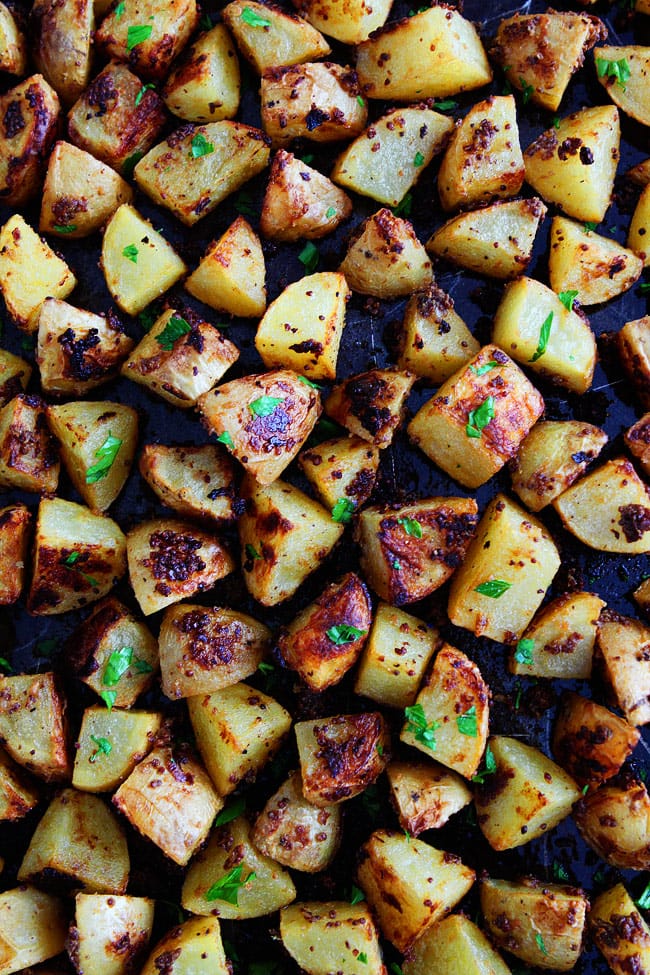 Let's talk about the Mustard-Crusted Potatoes. They are super easy to make and make a great side dish for any meal. Yukon Gold potatoes get tossed in a mustard lemon garlic sauce. Roast the potatoes until crispy and add a little fresh lemon juice and parsley!
I knew Josh would love these Mustard-Crusted Potatoes and I was right. He had two helpings. And guess what? My little boys loved them too! Caleb and Maxwell devoured their potatoes! We are going to be making these Mustard-Crusted Potatoes on a regular basis. They were a hit!
Congratulations Heather on your new cookbook! Make sure you check out Pure Delicious today!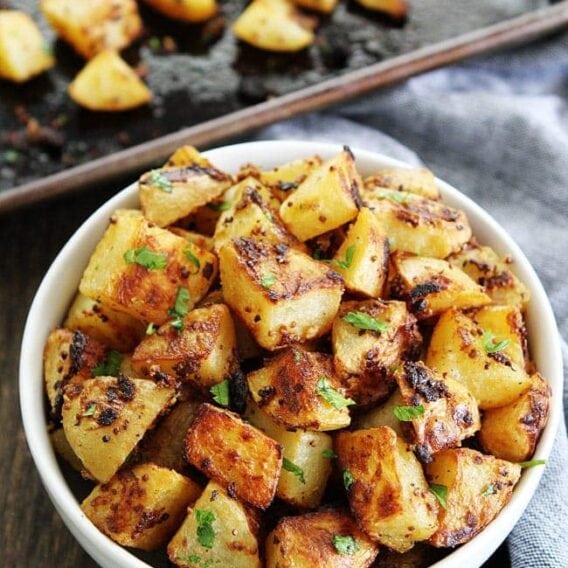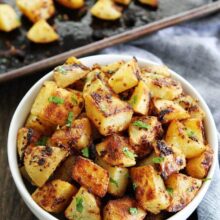 Mustard-Crusted Potatoes
These potatoes are a great side dish to any meal!
Ingredients
1/3

cup

olive oil

1/3

cup

Dijon mustard

1/3

cup

whole-grain mustard

Grated zest and juice of 2 lemons

4

garlic cloves

minced

6

Yukon Gold potatoes

peeled and quartered (about 6 cups)

1/2

fresh lemon

cut into wedges

Minced fresh flat-leaf parsley

for garnish
Instructions
Preheat oven to 400 degrees F.

In a large bowl, whisk together the olive oil, mustards, lemon zest, lemon juice, and garlic. Add the potatoes and toss to coat with the mixture.

Spread the potatoes on a rimmed baking sheet and sprinkle generously with salt.

Bake for 30 minutes. Toss the potatoes, return to the oven, and bake for 15 minutes, or until the potatoes are a deep golden brown and fork-tender.

Transfer the potatoes to a serving platter, squeeze the fresh lemon juice over them, and sprinkle with parsley. Serve hot.
Have you tried this recipe?
Leave a comment below and share a photo on Instagram. Tag @twopeasandpod and hashtag it with #twopeasandtheirpod