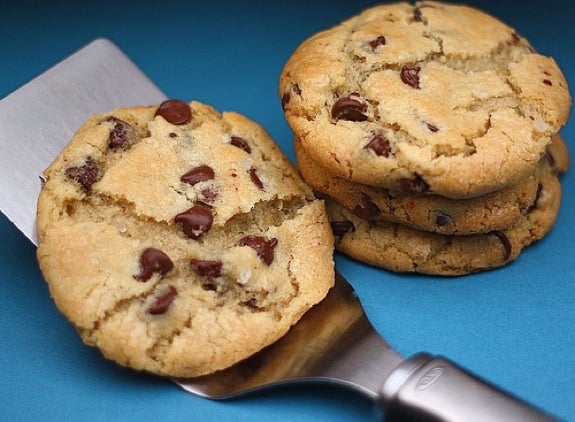 I am always in search of the best chocolate chip cookie. I have made more than my fair share of cookies over the years, but I am still not ready to declare a favorite. I have a couple recipes that are at the top of my list, but the search isn't over. I am always looking for a new recipe to try. I decided to give the New York Times Chocolate Chip Cookies a chance.
I don't know why it has taken me so long to try these cookies, they have been getting rave reviews for awhile now. So what makes these cookies unique? First of all, instead of all-purpose flour, the recipe uses cake flour and bread flour. The recipe also calls for chocolate discs, instead of traditional chocolate chips.
You are supposed to chill the dough for 36 hours before baking-this recipe will test your patience:) After the dough has chilled, you measure the dough in a ⅓ measuring cup to create cookies that are about 5″. It is important to make them this big so you can experience the different textures of the cookie. The outside edge will be golden brown and crisp, the center will be soft and chewy. Just before you bake the cookies, you add a tiny sprinkle of sea salt, which adds a special twist.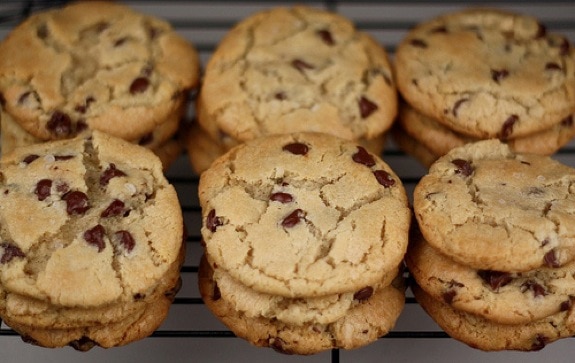 I tried to stick to the exact recipe. I measured my flour, chilled the dough for 36 hours, and used high quality chocolate. I didn't have discs though, so I used a mix of Ghiradelli's chocolate chips and chopped chocolate. I normally don't make my cookies so big, but I decided to follow the recipe. I also added the sea salt right before baking. Don't worry, the cookies aren't salty, you just get a hint of salt every once in awhile.
I was definitely impressed. These cookies are very, very good. Josh LOVED them. They are for sure his new favorite. He went back for seconds, even though the cookies were gigantic. I loved the crisp edges and soft, chewy center. The cookies are loaded with chocolate and have a nice toffee flavor. I also enjoyed the touch of sea salt-do not skip this step!
So yes, the NYT Chocolate Chip cookies are very delicious. I will be baking them again-Josh is already asking for more:) BUT-I am still not ready to declare them the winner of all chocolate chip cookies:) I know my favorite is out there-I just have to find it…or maybe I just like too many cookies and can't decide, ha!
If you haven't read the New York Time's cookie article, click here for more information.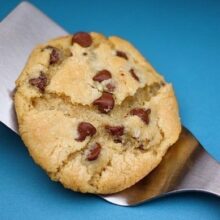 New York Times Chocolate Chip Cookies
The BEST chocolate chip cookies. Chilling the dough makes these cookies amazing and don't worry they are well worth the wait!
Ingredients
2

cups

minus 2 tablespoons cake flour

(8 ½ ounces)

1 2/3

cups

bread flour

(8 ½ ounces)

1 1/4

teaspoons

baking soda

1 1/2

teaspoons

baking powder

1 1/2

teaspoons

coarse salt

1

1/4

cups unsalted butter

1 1/4

cups

packed light brown sugar

(10 ounces)

1

cup

plus 2 tablespoons granulated sugar

(8 ounces)

2

teaspoons

pure vanilla extract

1 1/4

pounds

bittersweet chocolate disks

(at least 60 percent cacao content)
Instructions
 Sift flours, baking soda, baking powder and salt into a bowl. Set aside.

Using a mixer fitted with paddle attachment, cream butter and sugars together until very light, about 5 minutes. Add eggs, one at a time, mixing well after each addition. Stir in the vanilla. Reduce speed to low, add dry ingredients and mix until just combined, 5 to 10 seconds. Drop chocolate pieces in and incorporate them without breaking them. Press plastic wrap against dough and refrigerate for 24 to 36 hours. Dough may be used in batches, and can be refrigerated for up to 72 hours.

When ready to bake, preheat oven to 350 degrees. Line a baking sheet with parchment paper or a nonstick baking mat. Set aside.

Scoop 6 (3 1/2-ounce mounds) of dough (the size of generous golf balls) onto baking sheet, making sure to turn horizontally any chocolate pieces that are poking up; it will make for a more attractive cookie. Sprinkle lightly with sea salt and bake until golden brown but still soft, 18 to 20 minutes. Transfer sheet to a wire rack for 10 minutes, then slip cookies onto another rack to cool a bit more. Repeat with remaining dough, or reserve dough, refrigerated, for baking remaining batches the next day. Eat warm, with a big napkin.
Nutrition
Calories:
384
kcal
,
Carbohydrates:
61
g
,
Protein:
6
g
,
Fat:
13
g
,
Saturated Fat:
7
g
,
Cholesterol:
20
mg
,
Sodium:
285
mg
,
Potassium:
265
mg
,
Fiber:
3
g
,
Sugar:
38
g
,
Vitamin A:
42
IU
,
Calcium:
53
mg
,
Iron:
2
mg
Have you tried this recipe?
Leave a comment below and share a photo on Instagram. Tag @twopeasandpod and hashtag it with #twopeasandtheirpod
If you like these cookies, you might also like:
Soft Chocolate Chip Cookies from Two Peas and Their Pod
Best Ever Chocolate Chip Cookies-Alice's Recipe from Two Peas and Their Pod
Chewy Chocolate Chip Cookies from Two Peas and Their Pod
One Pot Chocolate Chip Cookies from Two Peas and Their Pod
Jake's Chocolate Chip Cookies from Two Peas and Their Pod