No-Bake Oatmeal Raisin Cookie Energy Bites
No-Bake Oatmeal Raisin Cookie Energy Bites-these easy oatmeal raisin cookie energy bites only take minutes to make and are a great healthy snack or dessert.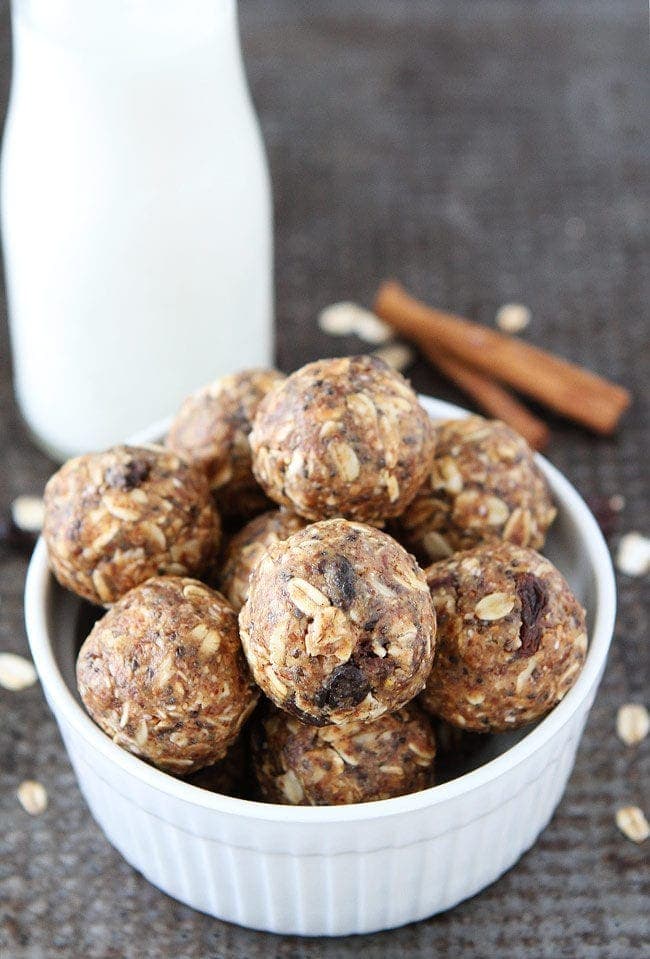 I love oatmeal raisin cookies, they are one of my all-time favorite cookies. I wish I could eat them every day, but I don't always have time to bake cookies and I probably shouldn't be eating cookies every single day. I try to take a few days off during the week:)
When I am craving cookies and don't have time to bake or am trying to be "good" I make No-Bake Oatmeal Raisin Cookie Energy Bites. They taste just like oatmeal raisin cookies, but are a healthy little treat! The best part? They only take ten minutes to make and you don't have to turn on the oven.
I also love making these easy energy bites for the boys because they think they are getting lucky when I let them have a treat for breakfast or during the day. They have no idea they are filled with good for you foods! Don't tell them because I kind of like being treated like super mom once in awhile:)
These oatmeal raisin energy bites are made with: oats, flaxseed, chia seeds, cinnamon, sea salt, almond butter, honey, vanilla extract, and raisins. Less than ten ingredients and I bet you have all of them or at least most of them in your pantry right now!
And I know some of you are raisin haters, that is fine, I don't understand your hate, but that is your choice. If you don't like raisins, you can replace the raisins with dried cranberries or chocolate chips. And if you do like raisins, yay, high five, go team!! You can add chocolate chips to the raisins too. Raisins AND chocolate chips…major fist bump! Sooooooo good!
The energy bites seriously take about ten minutes flat to make. You can keep them in your fridge for up to two weeks and grab them when you are on the go or in need of a sweet treat. I like to eat them before or after a workout or when I need just a little something sweet in the afternoon or before bed. You know those times of day when the sweet cravings are out of control. Well, these little bites are a lifesaver!
These No-Bake Oatmeal Raisin Cookie Energy Bites taste just as good as a cookie. I am a cookie monster so if I say these energy bites taste as good as a cookie you KNOW they are good. Go roll up some energy bites now, you only need ten minutes!! Enjoy!