Orzo Stuffed Peppers
One of my favorite meals is Orzo Stuffed Peppers. We make stuffed peppers frequently in the summer because we can find the most beautiful sweet bell peppers at the farmers market for super cheap. The other day peppers were on sale so we decided to bring a little summer sunshine to our cold winter day by making orzo stuffed peppers for dinner.
We use yellow, orange, or red peppers and stuff them with orzo, spinach, tomatoes, garlic, onion, basil, and cheese. We like to use mozzarella cheese and Pecorino Romano. We put a little in the mix and sprinkle some on top of the peppers when they are almost finished baking. Stuffed peppers can be served as a side dish or main dish. We usually serve our stuffed peppers with a side salad and call it good. They are pretty filling. I try to not eat the entire pepper so I can have leftovers, but I am always licking my plate clean.I can't help it, they are too tasty!
If you are looking for a new dinner idea, try Orzo Stuffed Peppers.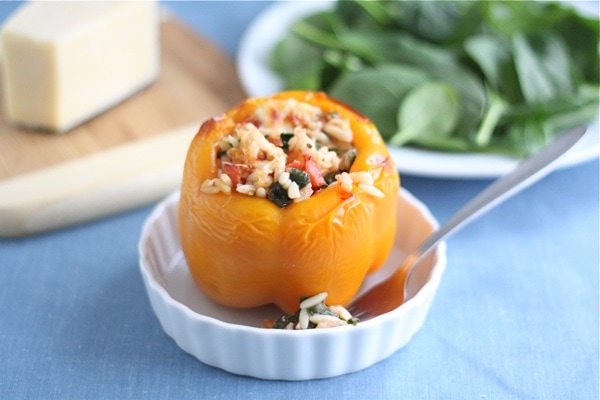 Orzo Stuffed Peppers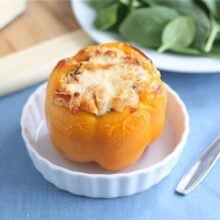 Yield: Serves 6
Cook Time: 60 minutes
Ingredients:
1 tablespoon olive oil

1/2 onion, chopped

3 cloves garlic, minced

2 cups fresh spinach leaves, roughly chopped

1 (28 ounce can) can diced tomatoes

4 cups vegetable broth

1 1/2 cups orzo

1/2 cup shredded mozzarella cheese, plus more for sprinkling on top

1/3 cup freshly grated Pecorino Romano cheese, plus more for sprinkling on top

Salt and pepper, to taste

1/4 cup fresh basil leaves, finely chopped

6 sweet bell peppers (red, yellow, or orange)
Directions:
1. Preheat the oven to 400° F.
2. In a medium skillet, heat the olive oil over medium heat. Add the onion and cook until tender, about 3 minutes. Add the garlic and cook for two more minutes. Stir in the spinach. Cook until spinach is wilted. Remove from heat.
3. Pour the tomatoes into a large bowl and stir in the spinach mixture. Set aside.
4. Meanwhile, bring the vegetable broth to a boil in a medium saucepan. Add the orzo and cook for five minutes. The orzo should be only partially cooked because it will finish cooking in the oven. Strain the orzo pasta, making sure you save the vegetable broth.
5. Stir the orzo into the tomato spinach mixture. Stir in the cheese and season with salt and pepper. Stir in the basil.
6. Pour the vegetable broth into a 3-quart baking dish. Slice the tops off the peppers and remove all ribs and seeds. Cut a very thin slice from the base so the peppers will stand up in the baking dish.
7. Place the peppers in the baking dish and spoon the orzo mixture into the peppers. Cover the dish with foil and bake for 40- 45 minutes. Remove the foil, sprinkle the top of each pepper with additional cheese and continue baking until the cheese is golden, about 15 minutes.
8. Remove from the oven and let peppers sit for five minutes. Serve warm.
All images and text ©
Two Peas & Their Pod
.
Follow twopeasandpod on Instagram and show us what recipes you are making from our blog! Use the hashtag #twopeasandtheirpod! We want to see what you are making in your kitchen!
If you like these Orzo Stuffed Peppers, you might also like:
Southwestern Stuffed Peppers from Kalyn's Kitchen
Dad's Stuffed Bell Peppers from Simply Recipes
Stuffed Peppers from This Week for Dinner