We recently shared our new kitchen with you and now it is time to go on a little pantry tour. Our new pantry is probably my favorite room in the entire house. Yes, we have a room for our pantry. I cook, bake, and eat for a living so I need a big pantry. It is pretty much my office. The pantry is located right by the kitchen so I can access everything really easily.
Are you ready for a tour? Let's step inside!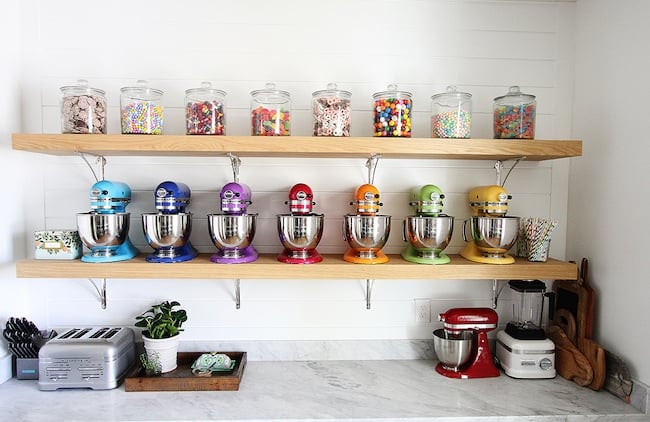 I designed the entire pantry around this wall. When I told our builder, Tom from The Fox Group, that I needed shelves to hold my KitchenAid collection, I think he thought I was crazy, but he made it happen. Tom is awesome like that. He took my "crazy" idea and made it better than ever!
My dream came true! I LOVE this wall! I get giddy every time I walk by our pantry. The colors are bright, fun, and cheery.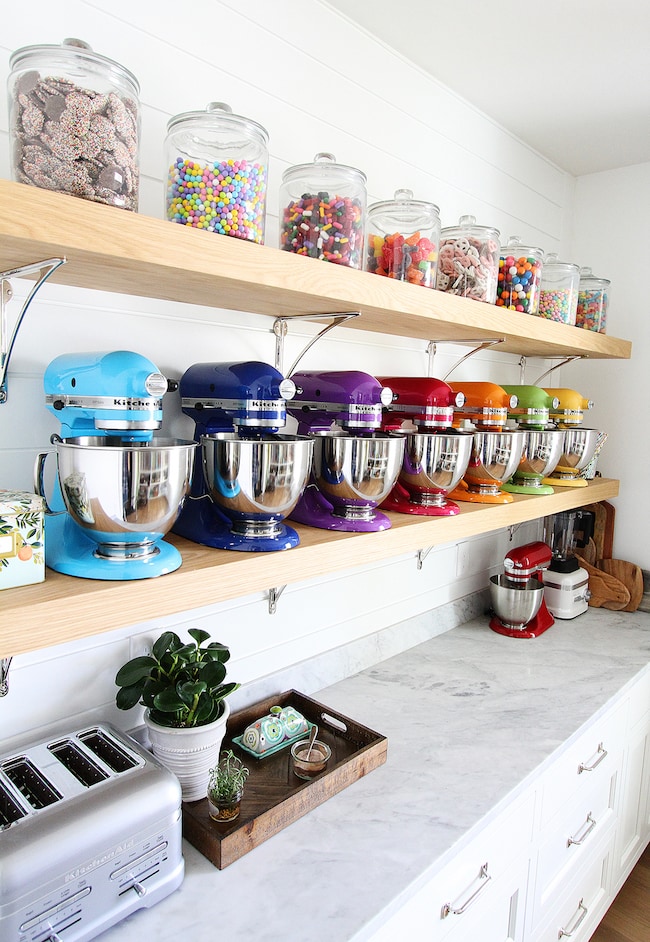 I have the following KitchenAid mixer colors: Crystal Blue, French Blue, Grape, Raspberry Ice, Tangerine, Green Apple, and Buttercup. I also keep my new Mini Red KitchenAid Mixer on the marble countertop. It is adorable and I like having it ready to go at all times.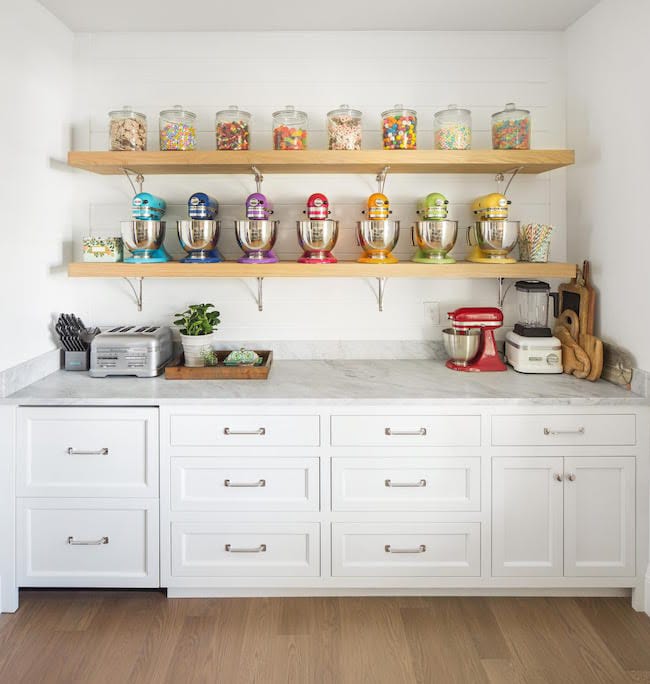 Glass Jars from World Market, Candy from Nuts.com, Floral Recipe Box from Rifle, Tray from World Market, Plant is from Cactus & Tropicals
The extra cabinet storage in the pantry is so nice. I keep all of our extra baking pans, mixing bowls, and utensils in the pantry. Everything has a place and I love being so organized.
I also keep our KitchenAid toaster, blender, and extra knives on the countertop in the pantry so our kitchen isn't cluttered. I make our toast right in the pantry!
The glass jars filled with colorful candy are SO fun! Note, they are on the top shelf so the boys can't reach them:) They are for decoration and for an occasional sweet fix.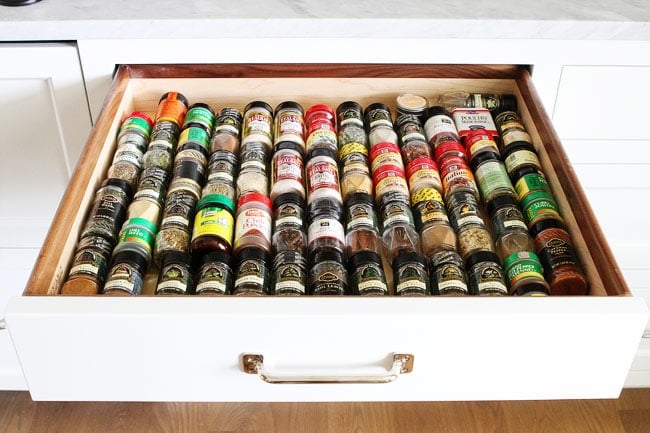 I keep my every day spices in the kitchen, but all of the extras have a home in my pantry spice drawer.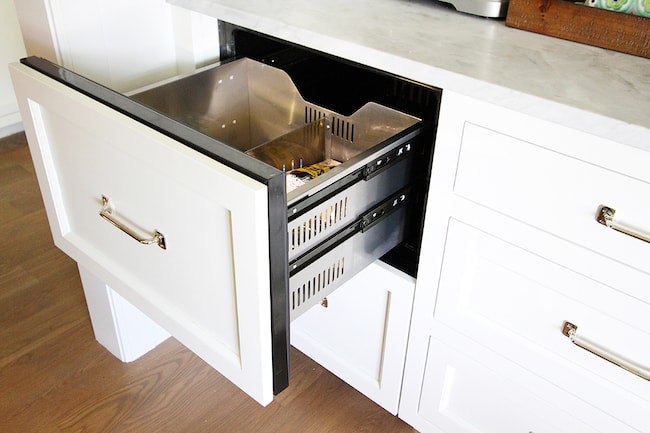 We also have secret undercounter refrigerator and freezer drawers. Again, the extra storage is so nice!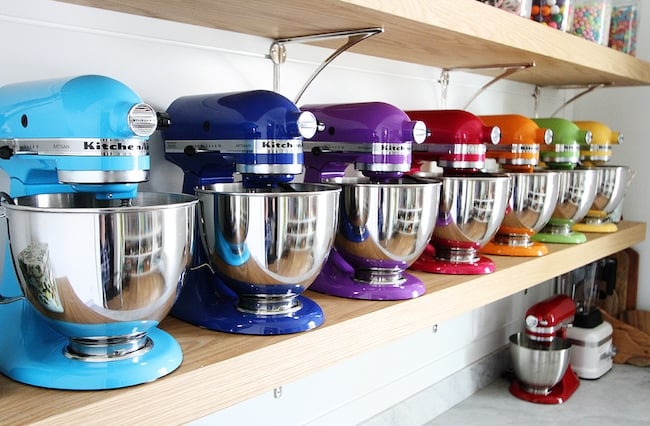 Shelf brackets from Rejuvenation
I often get asked, do I use my mixers? We have over 200 cookie recipes on our blog. Of course, I use my mixers:) They all get a turn and sometimes we have a couple mixers going at the same time. I also like to "mix things up" during the holidays. I will be using my orange mixer for Halloween soon!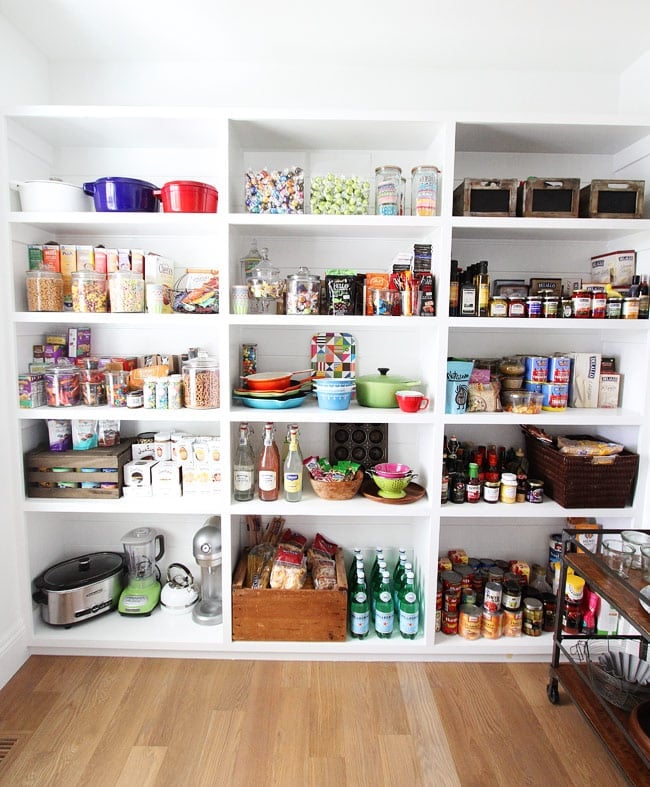 The other side of our pantry is all open shelving with shiplap. Tom suggested the shiplap and I am so glad! It's a nice little detail to the open shelves. The paint color is Extra White by Sherwin-Williams, my favorite white.
I love being able to see everything. It makes me stay organized and I can easily tell what we need from the store.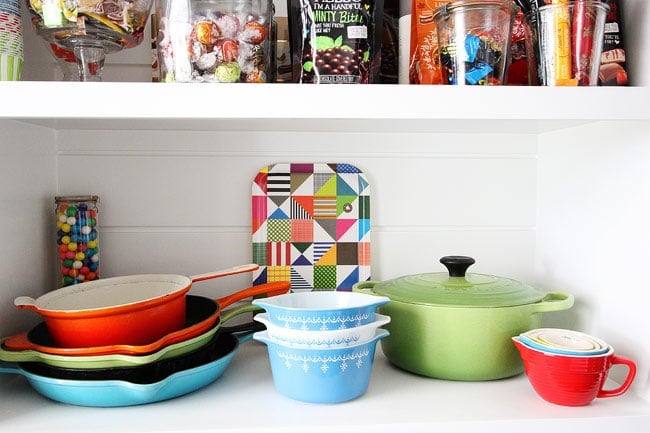 I keep my colorful dishes out in the open!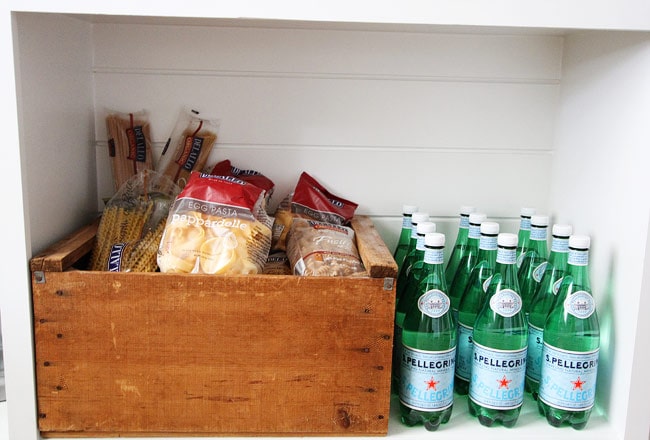 We are huge pasta fans, so I keep a big bin of DeLallo pasta on hand at all times.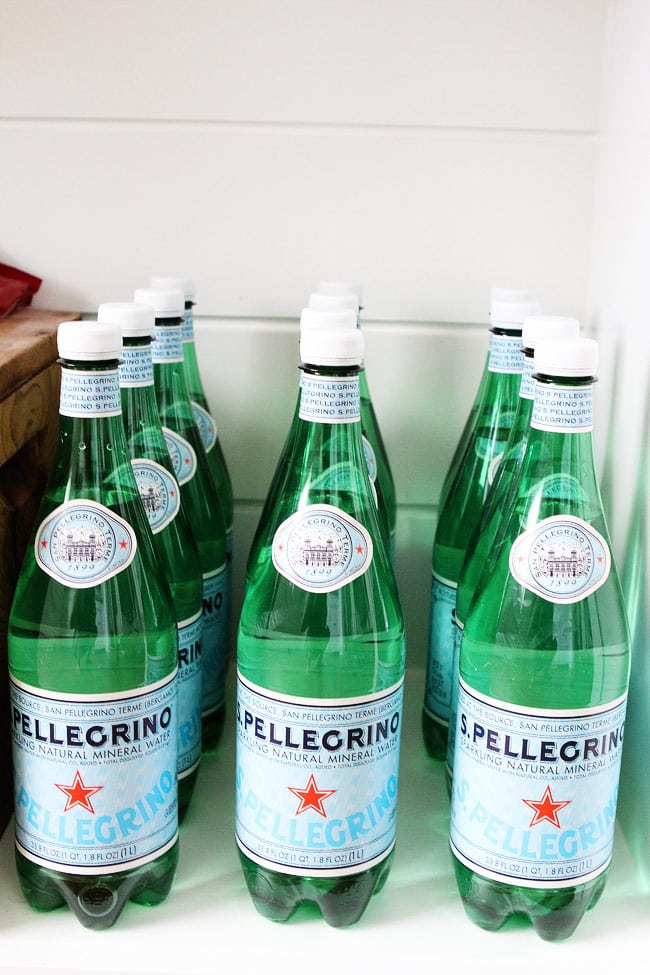 And San Pellegrino is a must. Plus, the bottles are pretty:) The boys like to go "bowling" with them. Good thing I buy the plastic bottles:)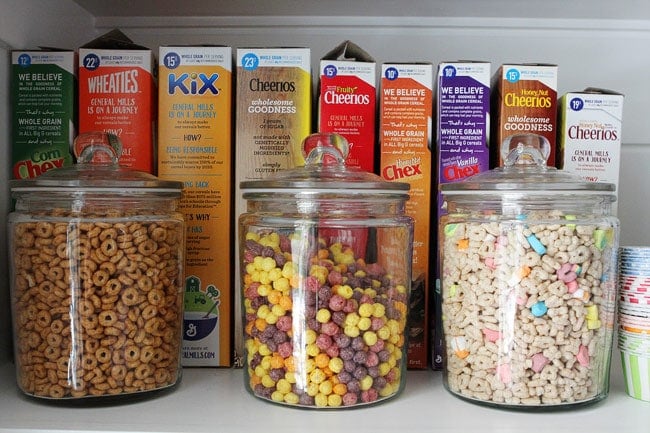 We are cereal fanatics so we have a shelf an entire cereal shelf.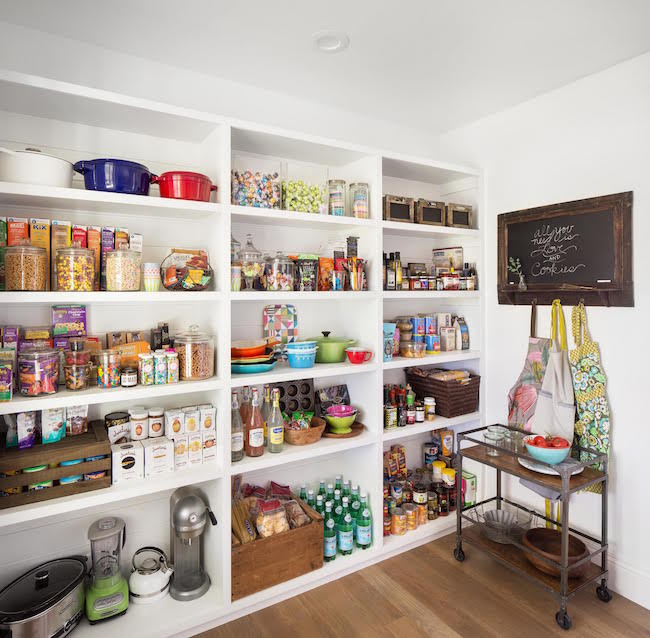 I also have two shelves devoted to my favorite chocolate. Again, notice how the chocolate is up high so the boys can't reach. That is mommy's stash:)
I love my bar cart from World Market. It is nice to have a place for odds and ends and I can wheel it into the kitchen when we are entertaining.
I also keep my aprons hanging in the pantry on a rustic chalkboard from Wayfair.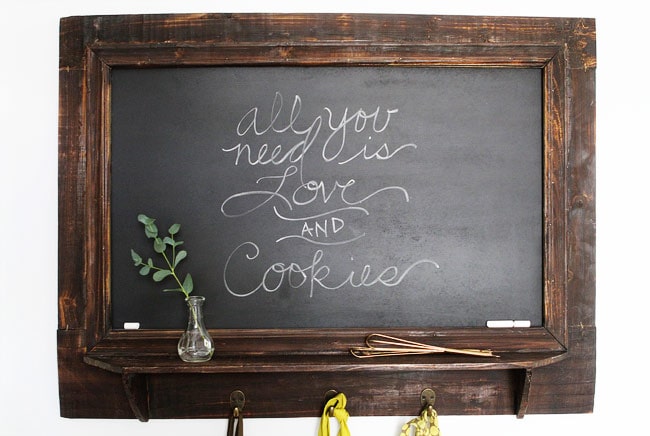 All you need is love and cookies. True story!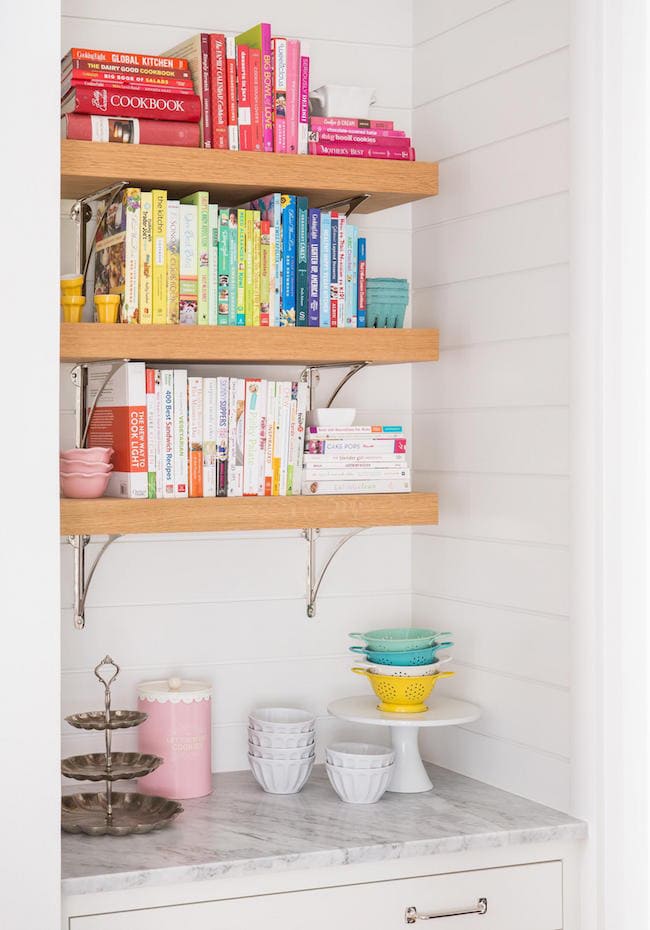 Right outside of our pantry, I have a little cookbook corner. This isn't even half of my collection…oops!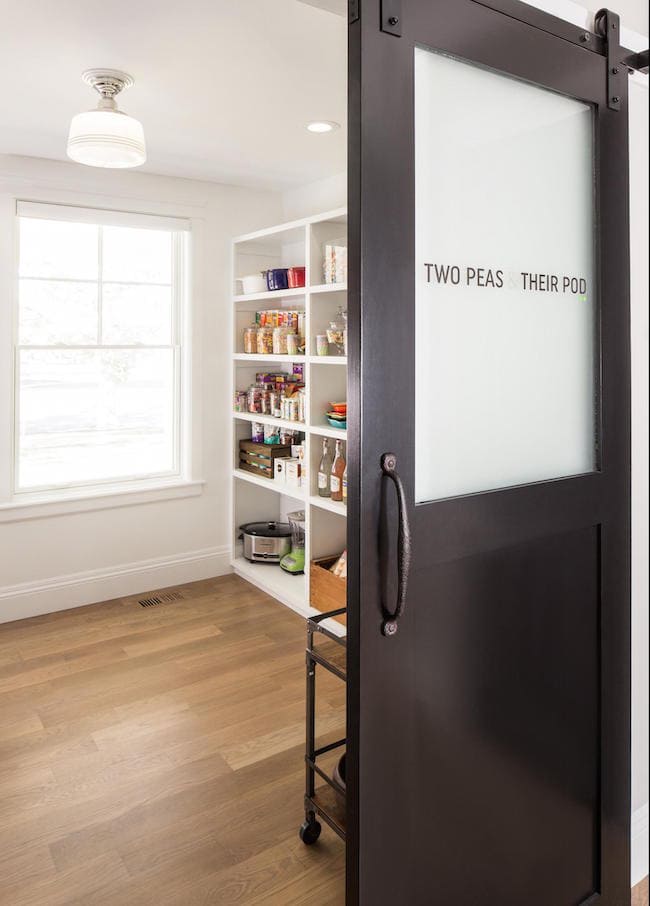 Schoolhouse light from Rejuvenation, Barn door paint color is Tricorn Black from Sherwin-Williams
Thanks for taking a tour of our pantry! Who wants to come bake with me? 🙂
For more home posts, visit Our Home section.
Disclosure-this post contains some affiliate links. Thank you to the brands that partnered with us on our pantry: KitchenAid, Sherwin-Williams, World Market, Nuts.com, Rejuvenation, and Wayfair.