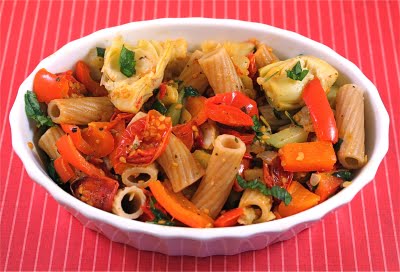 Our tomato plants didn't do that well this year, but our cherry tomato plant surprised us a few weeks ago. The plant was loaded with little red tomatoes. I like popping cherry tomatoes into my mouth for a healthy snack, but I saved these little red guys for slow roasted tomatoes.
I cut the tomatoes in half and placed them on a baking sheet. I added a little olive oil, salt, pepper, basil, oregano, and fennel. I roasted them in the oven on 225 degrees for about 4 hours. I turned about every 30 minutes or so. The house smelled amazing!
I wasn't sure what I was going to do with them. They freeze really well, but I was too excited to use them. I decided to make whole wheat pasta with slow roasted tomatoes, artichokes, zucchini, and roasted red peppers. The slow roasted tomatoes made this pasta dish extra special. The tomatoes were so flavorful and delicious. I will be making this meal again. One of my new favorites and Josh loved it too.
If you haven't tried slow roasting tomatoes, I encourage you to do so and soon. They have the best flavor and are so good in soups, pasta dishes, sauces, etc. I used cherry tomatoes, but Roma tomatoes work really well. If you want to read a detailed post about slow roasted tomatoes, visit
Kalyn's Kitchen.
Whole Wheat Pasta with Slow Roasted Tomatoes, Artichokes,
Zucchini, and Roasted Red Peppers
Cherry tomatoes, cut in half
Seasonings-I used dried basil, fennel, and oregano
Whole wheat pasta, I used rigatoni
1 medium zucchini, chopped
1 red pepper, roasted, and chopped
1 ½ cups slow roasted cherry tomatoes
Artichoke hearts, I used bottled, just drain them
Parmesan cheese, optional
1. First, slow roast the tomatoes. Cut the tomatoes in half and put them on a baking sheet. Drizzle lightly with olive oil. Sprinkle with salt, pepper, and seasonings. Roast for about 4 hours on 225 degrees. Turn them about every 30 minutes or so. Tomatoes will shrivel and smell really good. You can let them cool and freeze them or you can use them immediately.
2. To make the pasta dish. In a large pot, bring water to a boil. Add salt and the whole wheat pasta of your choice. I used rigatoni. Cook until al dente.
3. Drain pasta and set aside.
4. In a large pan, heat about 1 T of olive oil. Add in onion and cook until tender. Next, add in garlic, a dash of red pepper flakes, and a dash of fennel. Cook for 2 minutes.
5. Stir in the zucchini, roasted red pepper, roasted cherry tomatoes, and artichoke hearts. Saute until veggies are tender and hot.
6. Stir in fresh basil and add the pasta. Mix until the pasta is fully coated with the sauce.
7. Serve hot. Add fresh basil and parmesan cheese to the pasta if you wish.
You might also like these recipes: