Peanut Butter Apple Oatmeal Cookie Recipe-soft and chewy peanut butter oatmeal cookies with chunks of fresh apples inside! The perfect cookie for fall!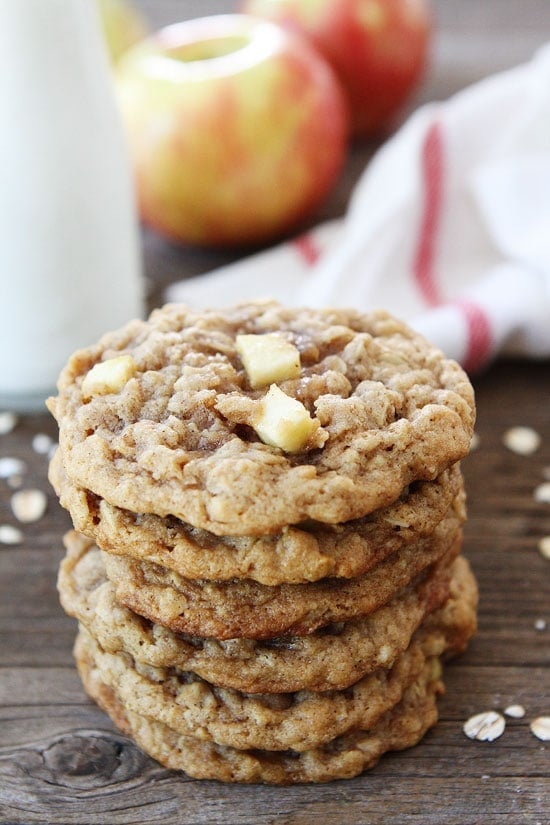 I eat an apple every day. I also eat a cookie every day. True story! If I don't have my apple or cookie, you better watch out. Josh has learned the hard way…ha! Apples and cookies make me happy and I figure the apple balances out the cookie:)
I usually just grab an apple and bite right in, but when I am in the mood for a real treat, I will cut up my apple and dip it into creamy peanut butter. There isn't a better snack than apple slices and peanut butter. It has always been my favorite!
Well, I took my favorite snack and turned it into a cookie, a Peanut Butter Apple Oatmeal Cookie to be exact. Now, I can have my apple, peanut butter, AND cookie. All of my favorites combined into one tasty treat!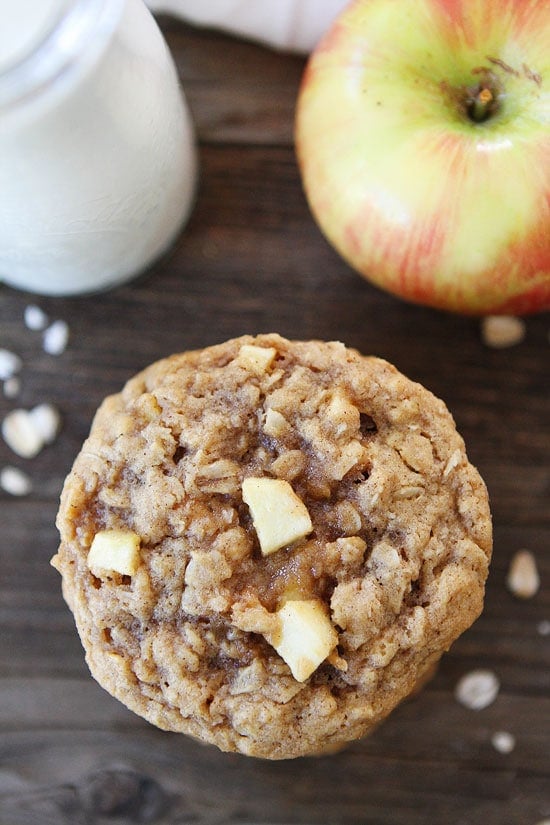 I am always creating new cookie recipes, you might have noticed that we have quite the selection on our blog! I can't help myself, creating cookies is what I DO! I can't believe it has taken me this long to create a Peanut Butter Apple Oatmeal Cookie. I want to smack myself in the head! As soon as the dough came together and I snuck a spoonful, I was like DUH! This cookie should have happened years ago! So sorry for the delay:)
The cookie dough is easy to make and requires no special ingredients. You can use whatever apples you have on hand, but for these cookies I used the cream of the crop, Honeycrisp apples. They are SO good right now! I can't get enough!
The cookies are soft, chewy, and dotted with juicy apple chunks. There is a hint of cinnamon that brings out the sweetness in the apples. The cookies are very wholesome and can be enjoyed as a snack, dessert, or even breakfast. Hey, they have oatmeal, peanut butter, and apples…that is pretty much the perfect breakfast if you ask me!
If apples and peanut butter are one of your favorite snacks, I can guarantee you will love these Peanut Butter Apple Oatmeal Cookies. They will remind you of your favorite snack…and probably be your new favorite snack because it is a COOKIE! 🙂
And if you are wondering if you should spread peanut butter on the flat side of a cookie and sandwich it with another one, the answer is YES! I tried it just in case any of you were curious. Someone had to be the guinea pig! Enjoy!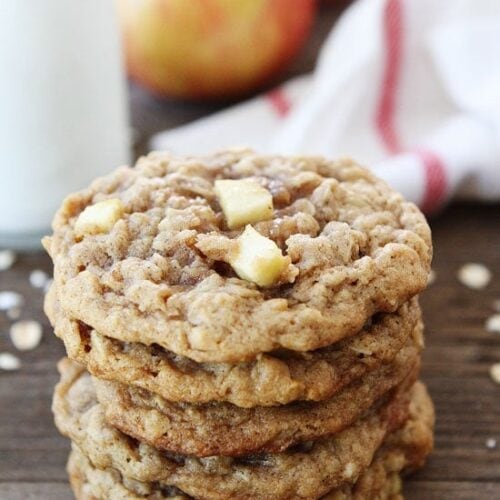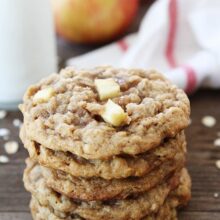 Peanut Butter Apple Oatmeal Cookies
Your favorite snack turned into a cookie!
Instructions
Preheat the oven to 350 degrees F. Line a large baking sheet with a

Silpat baking mat

or parchment paper and set aside.

In a medium bowl, whisk together flour, baking soda, cinnamon, allspice, and salt. Set aside.

In the bowl of a stand mixer, beat the butter and sugars together until smooth and creamy. Add in the peanut butter and mix again until smooth. Add the egg and vanilla extract and mix until combined.

With the mixer on low, slowly add in the flour mixture. Mix until just combined. Stir in the oats and diced apples.

Roll cookie dough into tablespoon size balls and place on prepared cookie sheet. Bake for 11-12 minutes or until light golden brown around the edges. Let cookies cool on the baking sheet for two minutes. Transfer to a cooling rack and cool completely.

Note-bake these cookies immediately. Do not chill the dough in the fridge. If you do, the batter will become too moist from the apples and the cookies will run!
Have you tried this recipe?
Leave a comment below and share a photo on Instagram. Tag @twopeasandpod and hashtag it with #twopeasandtheirpod