Peanut Butter Cookie S'mores-a toasted marshmallow and peanut butter cup get sandwiched between two peanut butter cookies to form the ultimate S'mores! Peanut butter lovers will LOVE this recipe!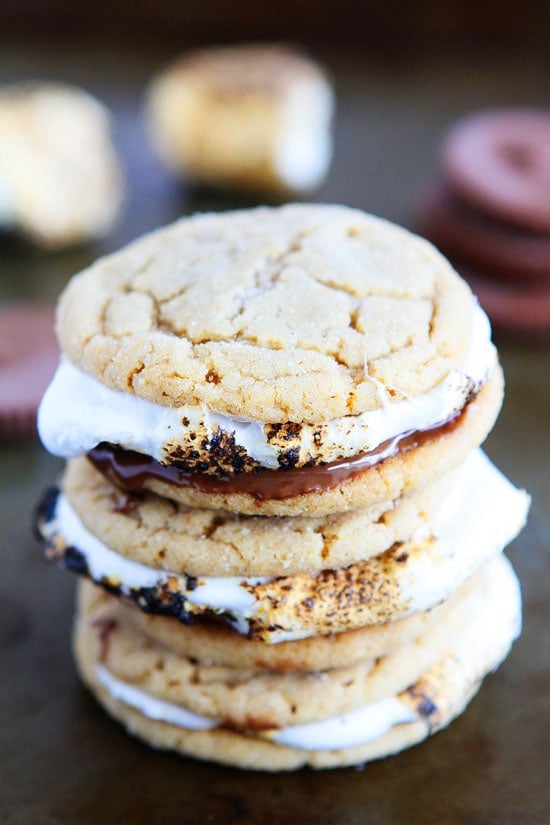 Earlier this week, I shared my Soft Peanut Butter Cookie recipe. They are the BEST! Well, I took those peanut butter cookies and created the ULTIMATE s'mores. Who needs graham crackers when you have cookies? I don't think I will ever be able to use graham crackers again. I know they are traditionally used to make s'mores, but you guys, cookie s'mores are WAY better. And today is National Peanut Butter Cookie Day so we HAVE to celebrate!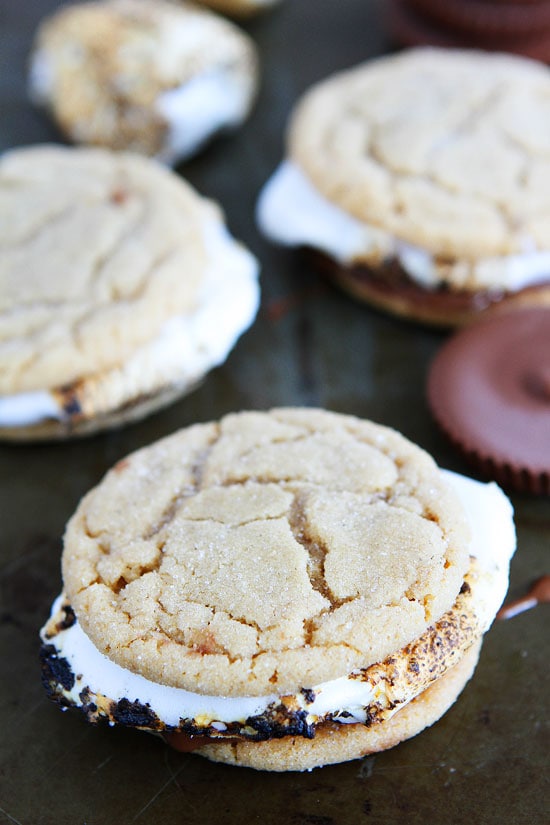 I like s'mores, but I've never loved them. I usually eat s'mores once a summer and call it good. Well, I think I created a monster because I am craving these Peanut Butter Cookie S'mores like crazy! I want to eat them every single day of the summer!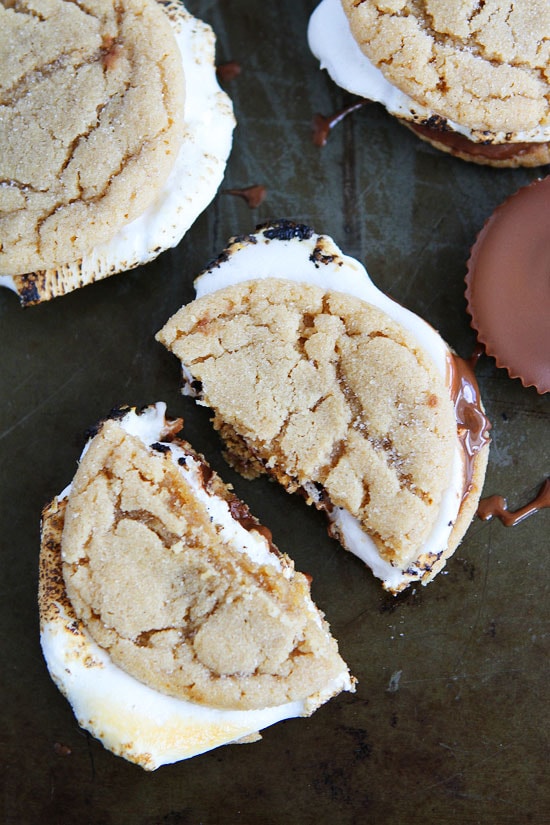 You need three key ingredients to make my amazing Peanut Butter Cookie S'mores: peanut butter cookies, marshmallows, and peanut butter cups (I like Justin's). That's right, no chocolate bars. Remember, we aren't doing the traditional s'mores thing. We are mixing it up and making the BEST s'mores you will ever eat! The peanut butter cups are a MUST!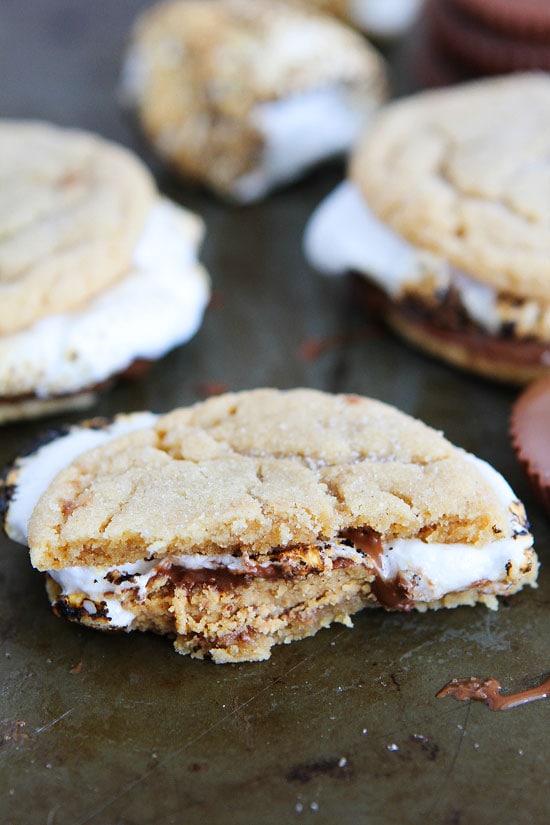 First, toast your mallow. You can do this outside by the campfire if you are the camping type or you can go "glamping" and toast the marshmallows inside. You can use a gas stove or the broiler. Just watch your mallows closely so you don't burn them. And if you like them black, go ahead and burn them. I know there is a burnt mallow club out there. I'm not in that club though, I like my marshmallows slightly toasted.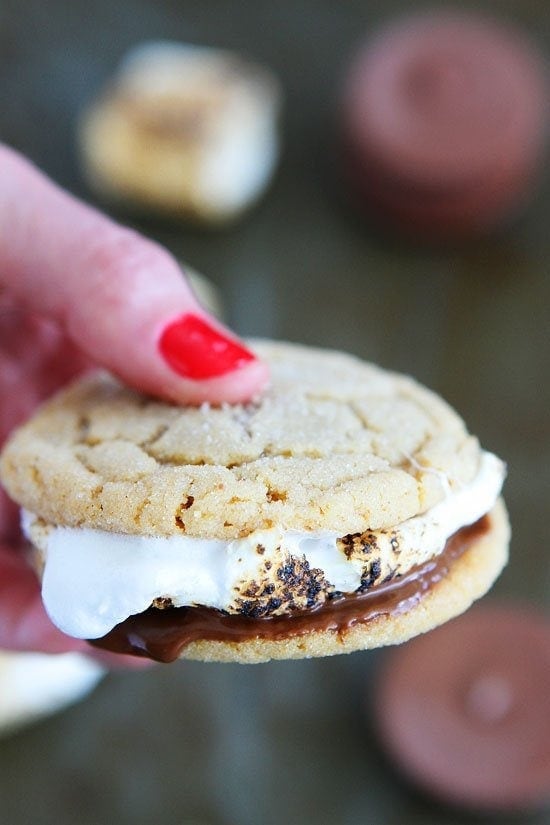 When your marshmallow is toasted, take a peanut butter cookie and put a peanut butter cup on top. I am telling you the peanut butter cup is the way to go! You get chocolate AND peanut butter, so much better than a plain chocolate bar.
Top with another peanut butter cookie and gently smoosh the sandwich together!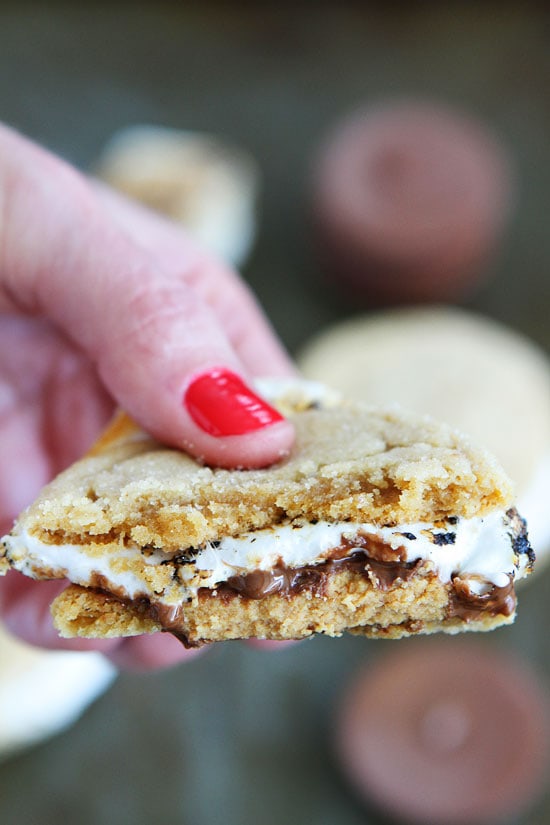 The cookies are soft, the marshmallow is ooey and gooey, and the warm, melty peanut butter cup is divine! Yes, it will be messy and sticky, but SO worth it! The combination gets an A+++ in my book!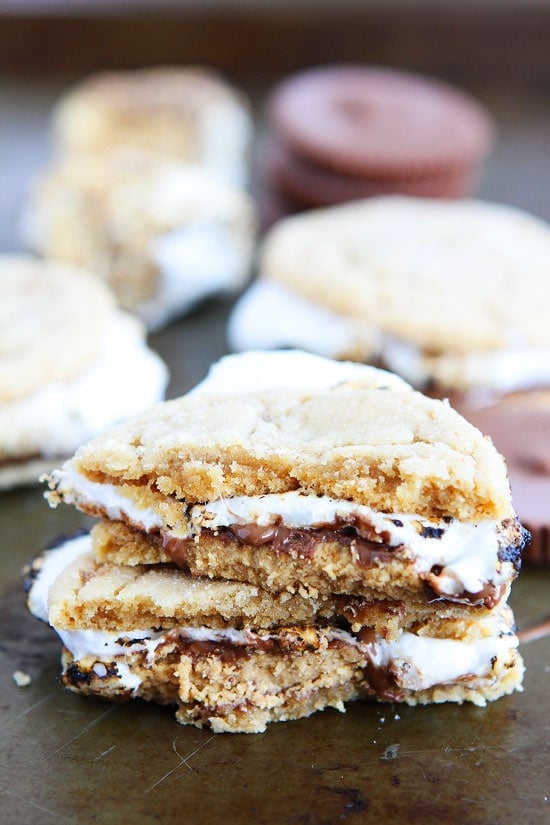 Take your s'mores to the next level and make the ultimate Peanut Butter Cookie S'mores! These s'mores are the perfect summer treat! I bet you will never go back to graham crackers and chocolate bars. I am hooked on peanut butter cookies, peanut butter cups, and mallows! It is the only way to go!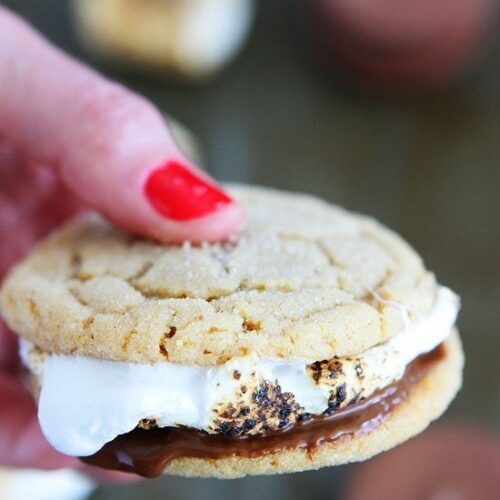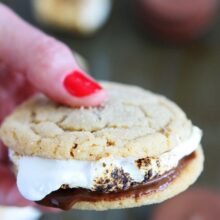 Peanut Butter Cookie S'mores
The ultimate S'mores! Who needs graham crackers and chocolate bars when you have peanut butter cookies and peanut butter cups!
Instructions
Next, toast the marshmallows over a campfire or over a gas burner, rotating occasionally until golden brown. You can also use the broiler. Place marshmallows on a large baking sheet and broil until toasted, 1-2 minutes. Make sure you watch them because they will toast quickly.

Put a peanut butter cup on the inside of a peanut butter cookie. Place a toasted marshmallow on top of the peanut butter cup. Top with another peanut butter cookie and gently smoosh the s'mores together. Serve immediately.

Note-you can use store bought cookies, but I highly recommend my peanut butter cookies. They are the best:) And I've tried them with Justin's milk, dark, and white chocolate peanut butter cups and they are all awesome!
Have you tried this recipe?
Leave a comment below and share a photo on Instagram. Tag @twopeasandpod and hashtag it with #twopeasandtheirpod
Follow us on Instagram and show us what recipes you are making from our blog! Use the hashtag #twopeasandtheirpod! We want to see what you are making in your kitchen!
Are you on snapchat? Follow twopeasandpod for a behind the scenes look at Two Peas and Their Pod!