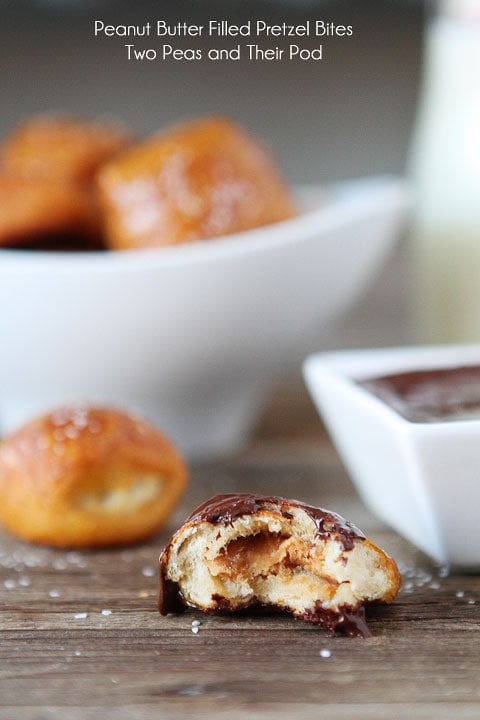 Our homemade soft pretzel bites are one of the most popular recipes on our site. We love them and so does everyone else. When Amanda came to visit, we made pretzel bites, but with a twist. We took pretzel bites to a whole new level:)
I love Trader Joe's Peanut Butter Filled Pretzels. Every time I open the bag they disappear. I decided it was time we created our own Peanut Butter Filled Pretzel Bites. We used our pretzel bite recipe and stuffed them with peanut butter. Oh, and we didn't stop there. We also dipped them in chocolate. These pretzel bites are salty, sweet, and so much fun!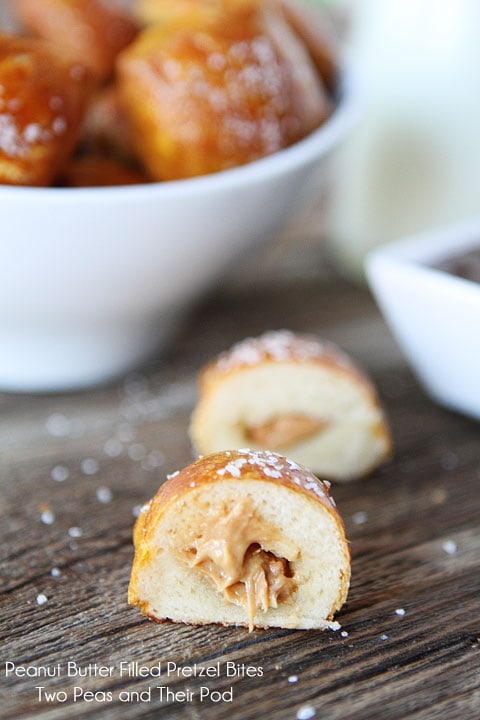 Josh is the pretzel master. He usually does most of the work, I just join in for the eating part:) So when I told him I wanted to make Peanut Butter Filled Pretzel Bites, he was excited! Josh is allergic to peanut butter and can't go near the stuff…so he thought he was off the hook. He thought he could hide downstairs while we made a mess in the kitchen:) Nope! We still put him to work! He made the dough for us and helped with everything but the peanut butter part.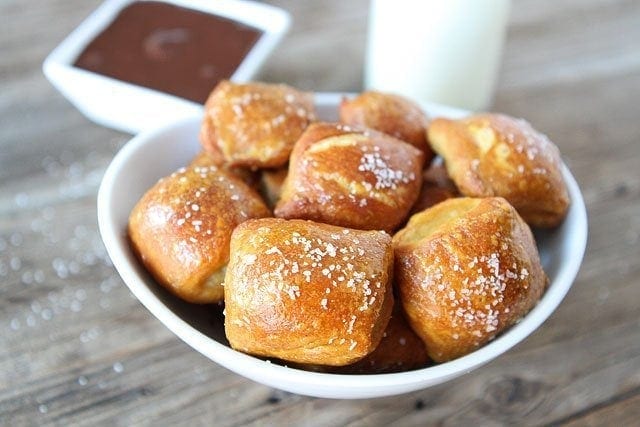 While the pretzel dough was rising, I put little dots of peanut butter in the freezer. When the dough was ready, we cut the dough into bite size pieces and wrapped the dough around the peanut butter. We put the bites in the freezer for 5 minutes and then boiled and baked them. Of course, we added sea salt to the top! I love a good salty pretzel!
And I really love a salty pretzel with peanut butter inside. The pretzel bites are soft, chewy and filled with creamy peanut butter. They are good plain, but dunking them into warm chocolate makes them extra special. Pretzels, peanut butter, and chocolate-all of my favorite things in one snack! I die!
I am so glad Amanda was there to help me eat these tasty little pretzel bites. We had so much fun making them and eating them!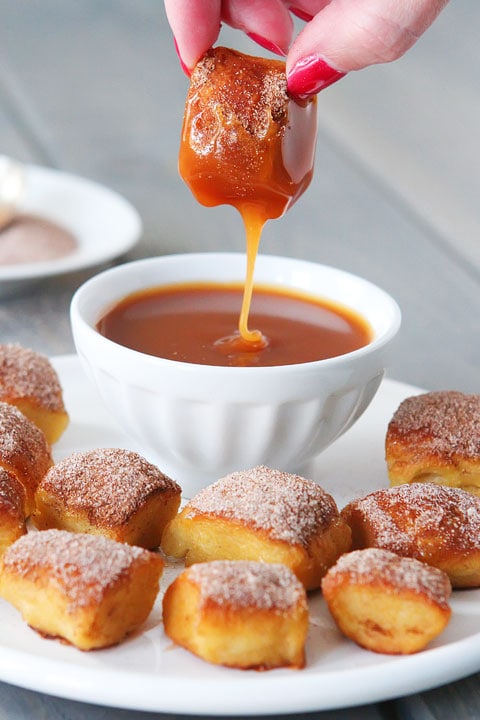 Oh, and there's more, we also made Cinnamon & Sugar Pretzel Bites to go with our Salted Caramel Sauce! Visit Amanda's blog for the pretzel recipe! Our kitchen was a pretzel factory!
Get your pretzel on and make these Peanut Butter Filled Pretzel Bites. And don't forget the chocolate! Dunking is the best part, minus the eating:)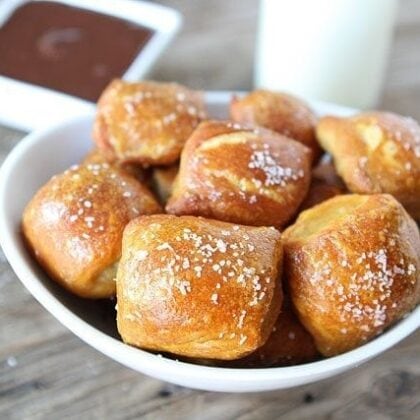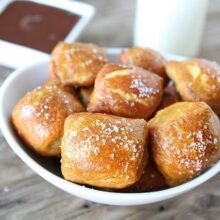 Peanut Butter Filled Pretzel Bites
Homemade soft pretzel bites filled with peanut butter and dipped in chocolate! Sweet, salty, and oh so good!
Ingredients
1 1/2

cups

warm water

2

tablespoons

light brown sugar

1

package active dry yeast

2 ¼ teaspoons

6

tablespoons

unsalted butter

melted

2 1/2

teaspoons

kosher salt

4 ½ to 5

cups

all-purpose Gold Medal flour

Canola oil

for greasing the bowl

1

cup

creamy peanut butter

for filling the pretzels

3

quarts

water

2/3

cup

baking soda

for boiling the pretzels

1

whole egg

beaten with 1 tablespoon cold water

Coarse sea salt

for sprinkling on pretzel bites

Melted chocolate

for dipping the pretzels, optional
Instructions
1. Combine the water, sugar, yeast, and butter in the bowl of a stand mixer and mix with the dough hook until combined. Let sit for 5 minutes.

2. Add the salt and flour and mix on low speed until combined. Increase the speed to medium and continue kneading until the dough is smooth and begins to pull away from the side of the bowl, about 3 to 4 minutes. If the dough appears too wet, add additional flour, 1 tablespoon at a time. Remove the dough from the bowl, place on a flat surface and knead into a ball with your hands.

3. Oil a large bowl with canola oil, add the dough and turn to coat with the oil. Cover with a clean towel or plastic wrap and place in a warm spot until the dough doubles in size, about 1 hour.

4. While the dough is rising, line a baking sheet or plate with wax paper. Using an ⅛ of a teaspoon, scoop out little dots of peanut butter and place them on the wax paper. Freeze until hardened, about 30 minutes. Keep in the freezer until ready to make the pretzel bites.

5. Preheat the oven to 425 degrees F.Remove the dough from the bowl and place on a flat surface. Divide the dough into 8 equal pieces, about 4 ¼ to 4 ½ ounces each. Roll each piece into a long rope measuring 22 inches and shape. Cut the dough into one inch pieces to make the pretzel bites.

6. Working with 10 bites at a time (keep the rest of the bites covered with plastic wrap to keep them from drying out while you make the pretzel bites), press an indentation into each dough bite with your finger. Place a dot of frozen peanut butter on each bite. Wrap the pretzel dough around the peanut butter and pinch the ends until the bite is closed completely. Make sure you watch the peanut butter, if it starts to thaw out while you are working, put it back in the freezer for a bit. When all of the pretzel bites are made, place them on a baking sheet or plate and put them in the freezer for 5 minutes.

7. Bring the water to a boil in a large pot over high heat and carefully add the baking soda. It will bubble up, so add it slowly. Boil the pretzel bites in the water solution in batches. We did about 15 bites at a time. Boil for about 30 seconds. Remove with a large slotted spoon. Place pretzel bites on a baking sheet that has been sprayed with cooking spray or that is lined with a Silpat baking mat. Make sure they are not touching. Brush the tops lightly with the egg wash and season liberally with the salt. Place into the oven and bake for 15 to 18 minutes until golden brown.

8. Remove from the oven and let cool to room temperature before serving. Serve with melted chocolate, if desired.

Note-the pretzel bites are best eaten the day they are made. You can store them in an air-tight container on the counter if necessary.
Have you tried this recipe?
Leave a comment below and share a photo on Instagram. Tag @twopeasandpod and hashtag it with #twopeasandtheirpod
If you like these Peanut Butter Filled Pretzel Bites, you might also like: