Peanut Butter Pretzel Caramel Popcorn
Peanut Butter Pretzel Caramel Popcorn-peanut butter caramel corn with pretzels and Lindt HELLO Pretzel Bites. This sweet and salty popcorn snack is addicting!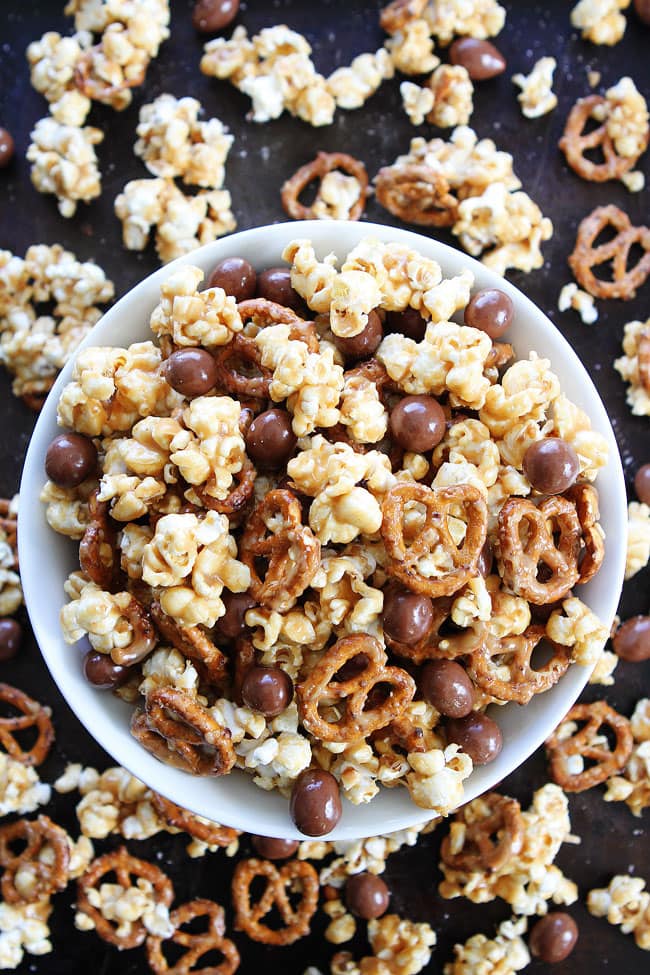 Ok, I know it is the new year and people are trying to exercise and eat healthy, which is good and all, but you have to take a break from your salad to make my Peanut Butter Pretzel Caramel Popcorn. You see, the Golden Globes are on Sunday and that means it is party time. You can't watch the award show without party food and this sweet and salty popcorn is amazing! You need to add it to your party menu right now!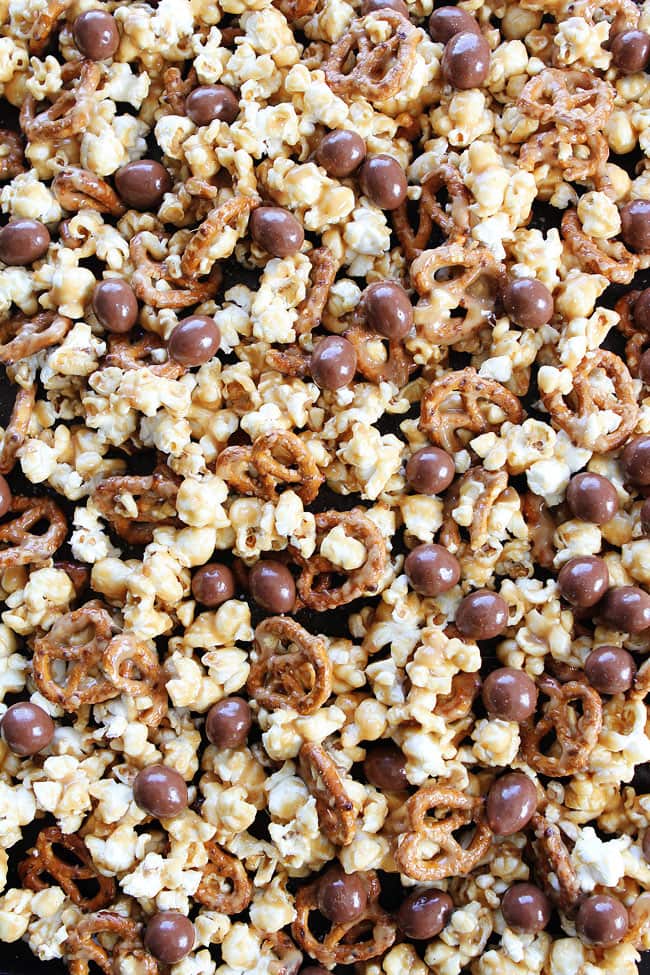 Popcorn is the perfect party food. It is easy to make and everyone loves munching away. Of course, we can't have any old popcorn, we have to put on our party popcorn! While the stars are getting all dressed up in their party dresses, you can dress up your popcorn:)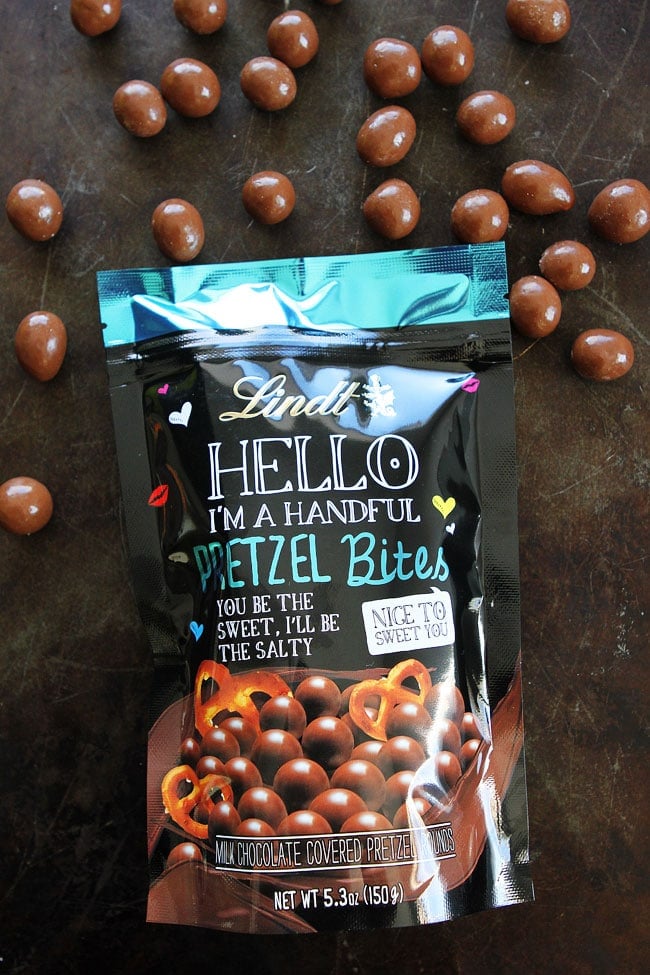 Popcorn and pretzels get drizzled with a sweet, sticky sauce that is made with honey, sugar, peanut butter and vanilla. Toss until the popcorn and pretzels are well coated, sprinkle with salt, and add in Lindt HELLO Pretzel Bites. They are the "diamonds" for our party popcorn. They add some major bling!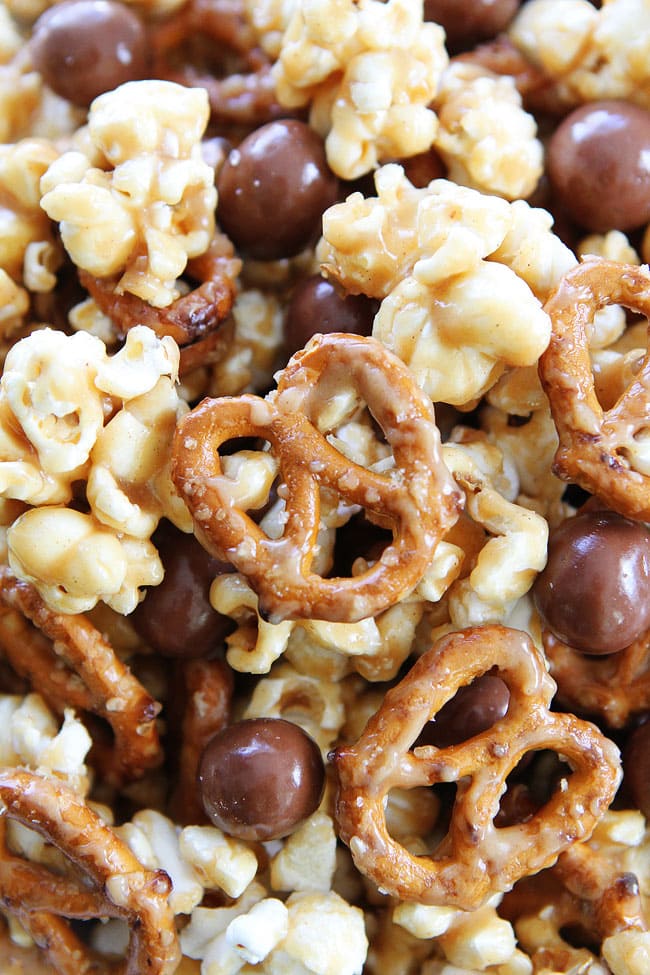 The Lindt HELLO Pretzel Bites are little pretzel rounds covered in milk chocolate. They are SO good and the perfect finishing touch to the popcorn. I love the sweet and salty combo!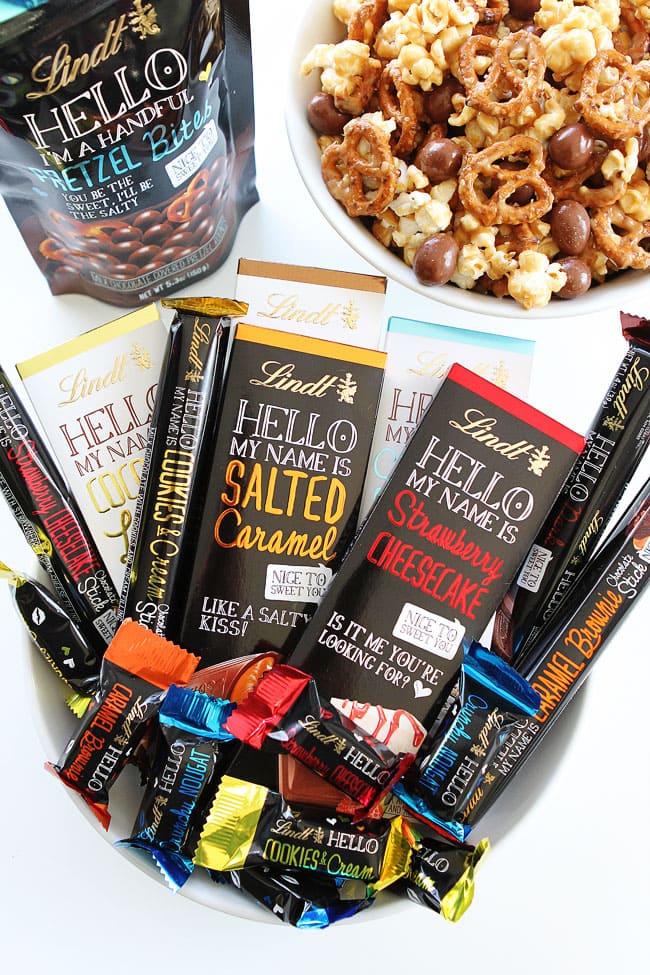 And make sure you check out the complete Lindt HELLO chocolate line. There are so many fun flavors…Salted Caramel, Strawberry Cheesecake, Caramel Brownie, Cookies and Cream…just to name a few! They are pretty amazing! You can serve up a bowl of Lindt HELLO chocolate to go with the popcorn. Your guests will love trying all of the flavors!
And some fun news, I am going to LA to host a LIVE Golden Globes party with Lindt. Lindt is the Official Chocolate Confectionery of the 73rd Annual Golden Globe Awards and I am super excited to celebrate the evening with the highest quality, best tasting chocolate from Lindt.
At this year's Golden Globe Awards, Lindt will delight guests with a decadent chocolate experience. During the ceremony, attendees will enjoy a limited edition Lindt gift box presented on their place setting. At the Golden Globes lounge, stars will enjoy handcrafted pralines imported from Switzerland and an exquisite chocolate sculpture of the Golden Globe award. Lindt will continue the festivities as the Presenting Sponsor and Official Dessert Sponsor of the Weinstein Company Golden Globes After Party, and sweeten up the celebrations with chocolate from the sophisticated Lindt EXCELLENCE collection.
During the awards, I will be hosting a LIVE Twitter party with @Lindt_Chocolate and @Pizzazzerie. You can follow me on Twitter @twopeasandpod! We will be sharing tips for hosting SWEET parties! Make sure you follow along with the hashtag #LindtGoldenGlobes…and have your Peanut Butter Pretzel Caramel Popcorn and Lindt chocolate close by because we will have you craving a sweet treat:)
And when the awards show is over, I get to attend THE Weinstein Company Golden Globes After Party with all of the stars. I am SO excited…and a little nervous. What if I trip and fall on my face or say something dumb? Maybe I will just hide in the corner with chocolate:) Wish me luck! And follow me on Instagram and snapchat (twopeasandpod) for all of the fun!
Make sure you join in on the Golden Globes fun on Sunday and don't forget the Peanut Butter Pretzel Caramel Popcorn!
Looking for more Golden Globes inspiration? Check out these posts: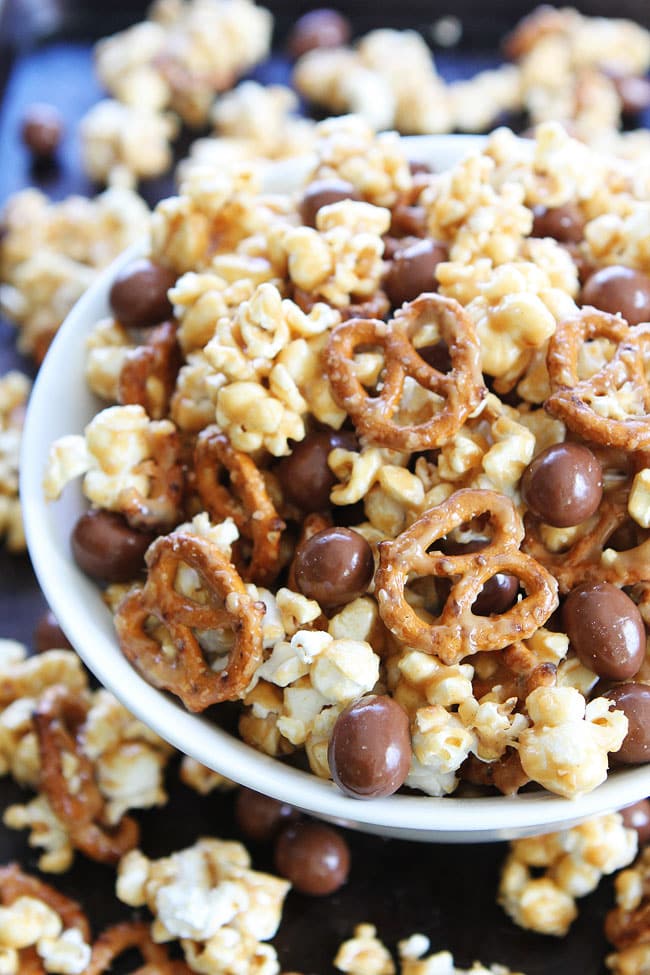 Peanut Butter Pretzel Popcorn
Peanut butter caramel corn with pretzels and HELLO Pretzel Bites. This sweet and salty popcorn is perfect for parties, game day, movie night, and every day snacking!
Yield: About 11 cups
Prep Time: 5 minutes
Cook Time: 5 minutes
Total Time: 10 minutes
Ingredients:
8 cups plain popcorn (about 1/3 cup popcorn kernels)
2 cups pretzels
1/2 cup honey
1/3 cup granulated sugar
1/2 cup creamy peanut butter
1/2 teaspoon vanilla extract
Salt, to taste
1 1/2 cups Lindt HELLO Pretzel Bites
Directions:
Place the popped popcorn and pretzels in a large bowl and set aside.
Mix the honey and sugar in a small saucepan and bring to a boil. Let it simmer for about 2 minutes, then remove from the heat and add the peanut butter. Stir vigorously until all the peanut butter is melted, then mix in the vanilla extract.
Immediately pour the peanut butter caramel over the popcorn and pretzels. Gently stir until well coated. Season with salt, to taste. Stir in HELLO Pretzel Bites. Serve!
Note-We used air-popped popcorn, but you can use microwave popcorn or stovetop popcorn.
All images and text ©
Two Peas & Their Pod
.
Follow twopeasandpod on Instagram and show us what recipes you are making from our blog! Use the hashtag #twopeasandtheirpod! We want to see what you are making in your kitchen!
Disclosure-this post is in partnership with Lindt Chocolate, but our opinions are our own. Thank you for supporting the brands that continue to make Two Peas and Their Pod possible.