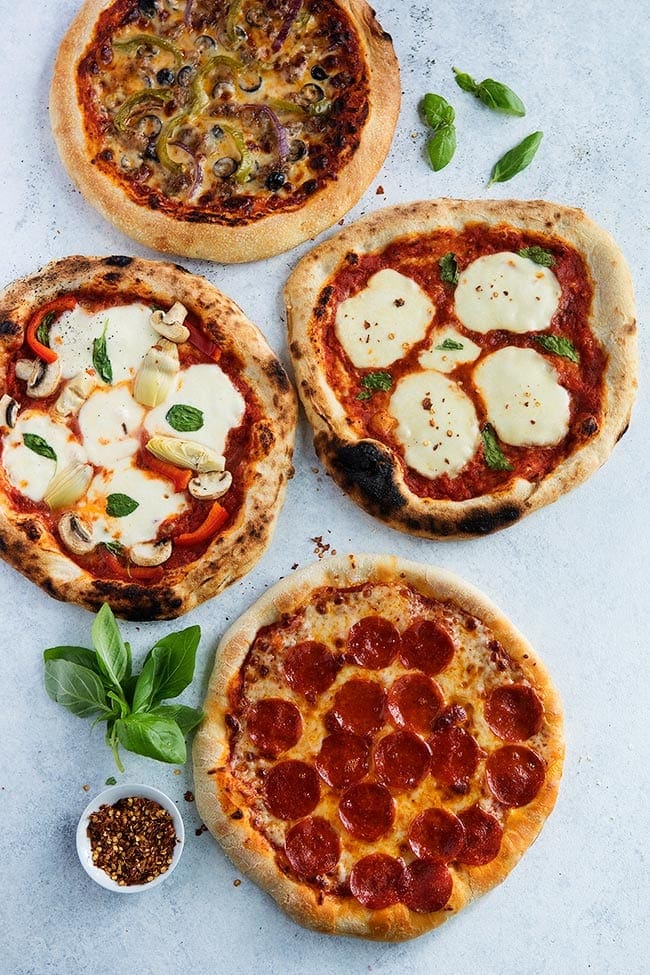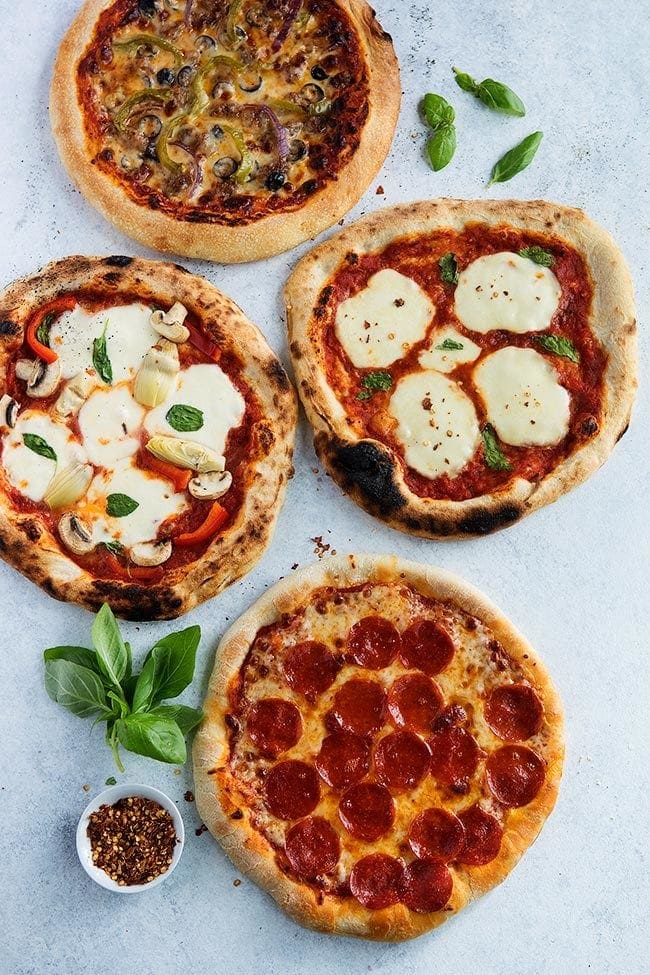 Perfect Homemade Pizza
You guys, we are SO excited to share with you our new favorite kitchen appliance. Have you heard of the Breville Smart Oven® Pizzaiolo Pizza Oven from Williams Sonoma? If you haven't, I am going to fill you in because it makes the BEST pizza ever. We are pizza fanatics and we so impressed with this small little pizza oven. It makes perfect homemade pizza every single time. It is life changing!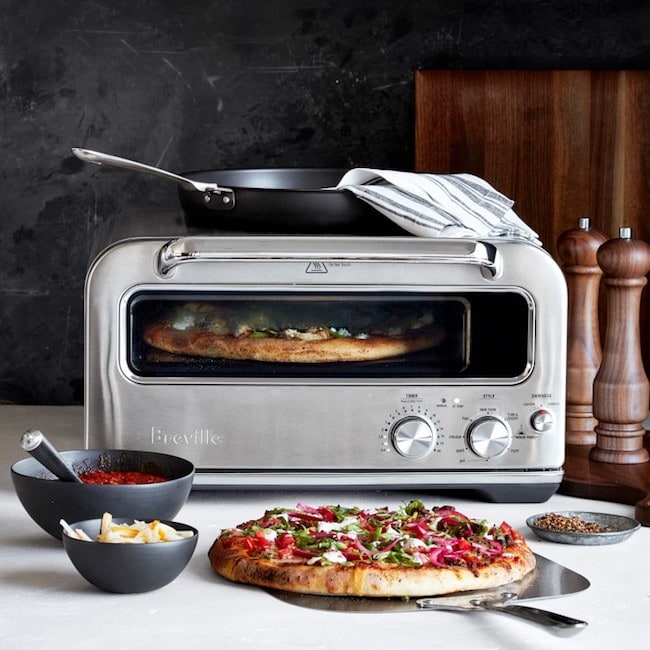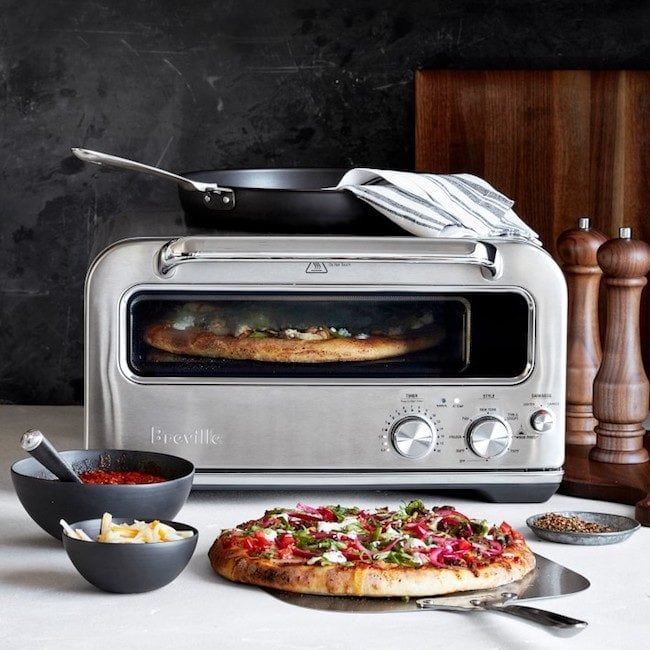 Why We Love Our Pizza Oven
It's a small countertop oven and doesn't take up too much space.
The oven fits a 12″ pizza and comes with a stainless-steel pizza peel and a carbon-steel pan with removable handle.
The oven reaches 750 degrees F which is amazing for a small little oven and SO important for making good pizza. Our regular ovens don't get this hot. Sure, they make a good pizza, but when you can get the temperature that hot, you can make a restaurant quality pizza.
You can make your favorite style of pizza with ONE oven! The pizza oven has settings for a variety of different pizza styles, including frozen, pan, New York, thin and crispy and wood-fired. We have tried all of the settings and every pizza has turned out perfectly! It's been fun playing around with different pizza styles.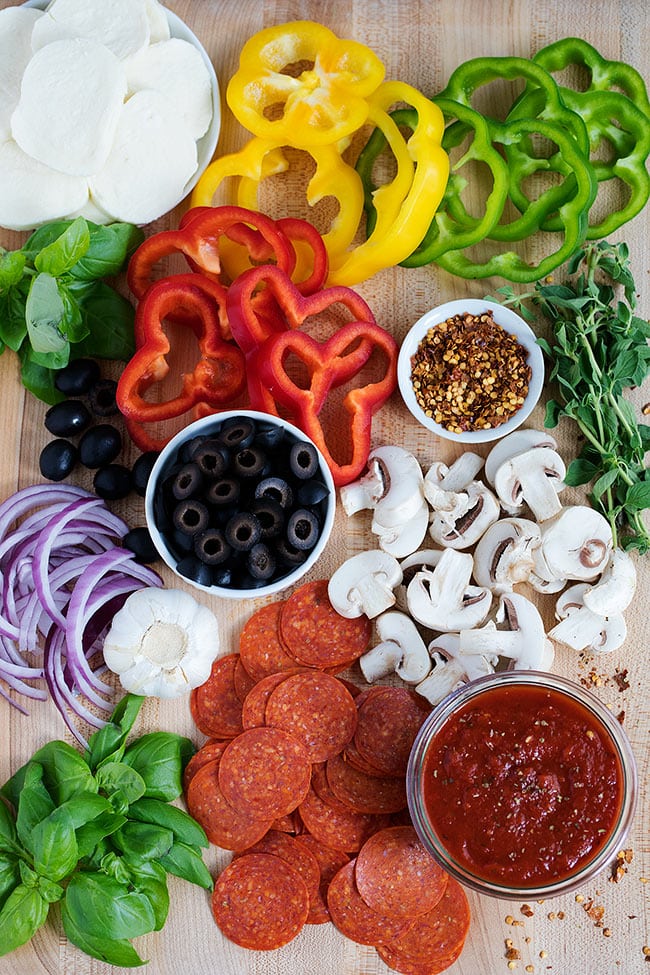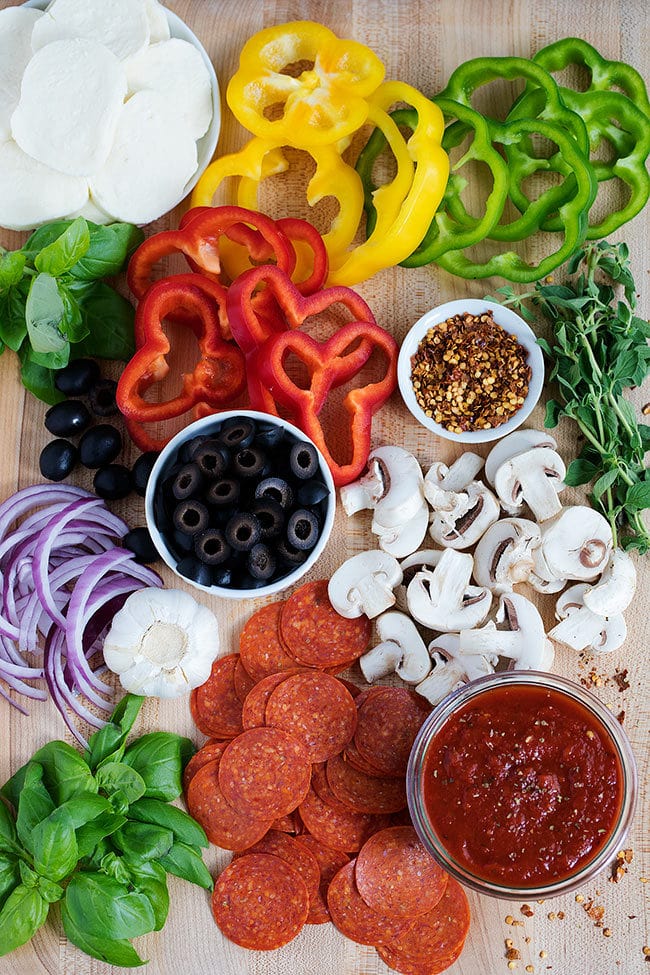 There is a removable natural stone deck inside the oven that heats up quickly and maintains an even temperature, providing the right amount of char for a classic wood-fired finish. The char gives the pizza SO much flavor!
The pizza oven replicates three types of heat generated by a brick oven – conductive heat for base char control, radiant heat for leopard-spotted crust and convective heat for perfectly baked toppings. It only takes TWO minutes to cook a wood-fired pizza! You can't beat that!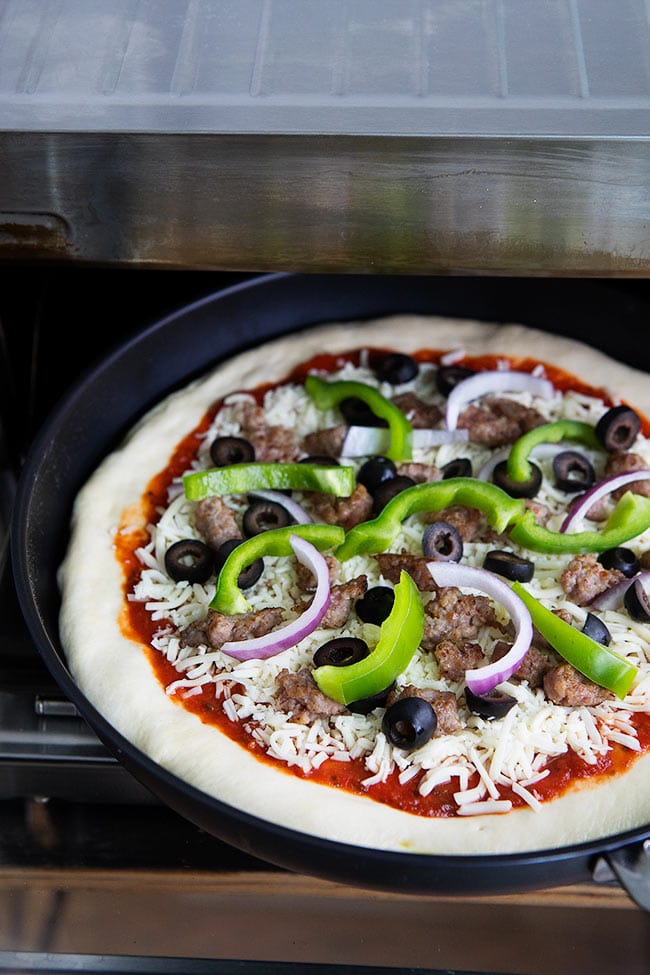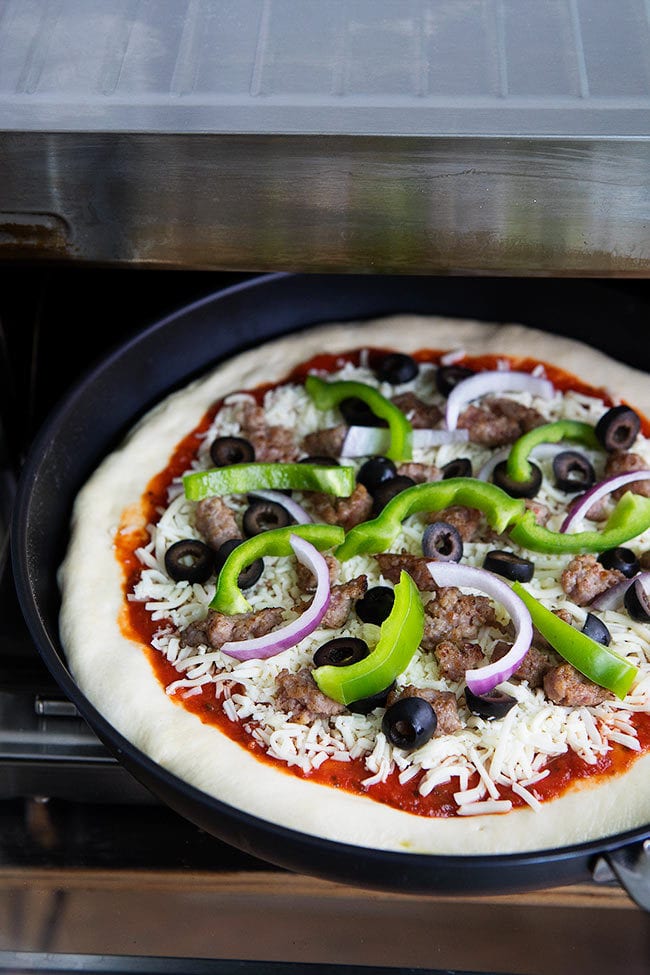 Pizza Party Time
We love using our pizza oven for Pizza Friday, Sunday night family dinner, game day, or when we have friends over. It makes pizza making easy, fun, and much more delicious!
When we have friends over we like to set out a bunch of toppings on a wood cutting board and let everyone make their own pizzas. Because the oven only makes one pizza at a time, we like to make wood-fired pizzas when we have company. The pizzas only need 2 minutes to cook so you can make a lot of pizzas. And I guarantee your guests will be RAVING about the pizzas. Just be careful, they might be calling you up for pizza delivery:)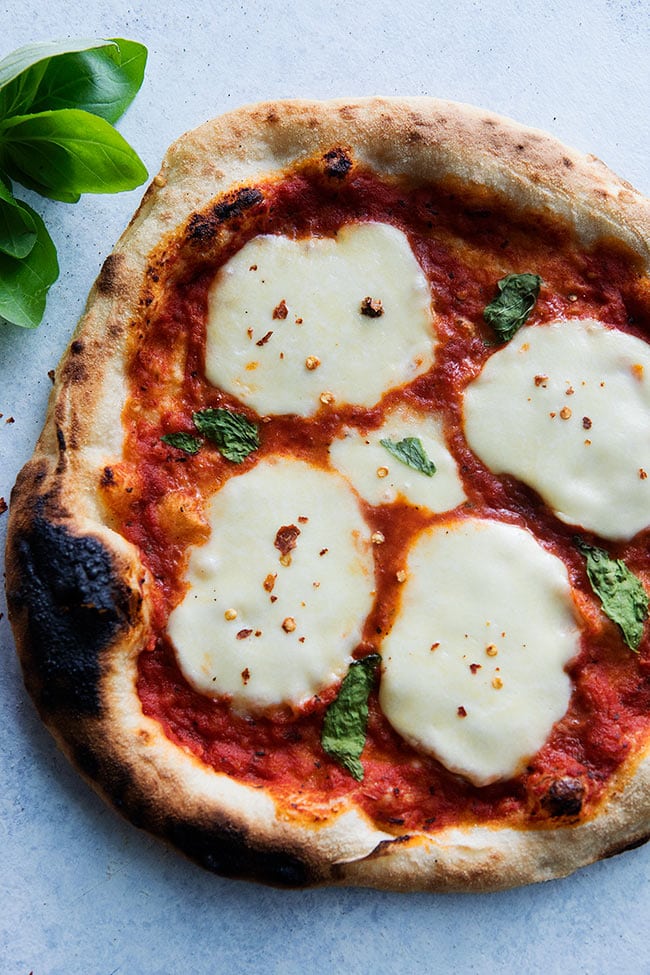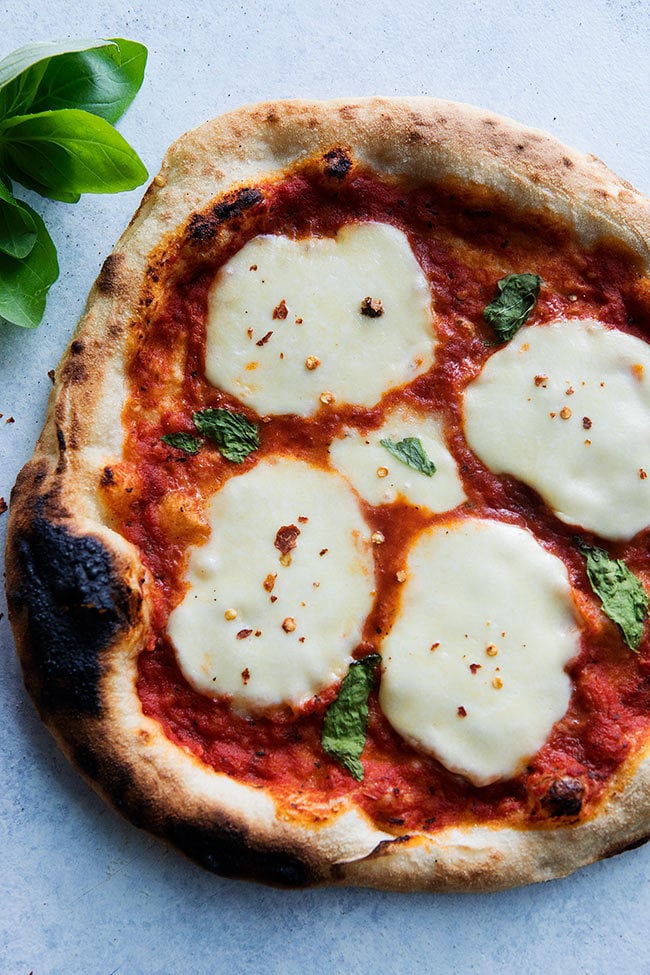 Pizza Dough and Pizza Sauce
The pizza oven comes with recipes for every pizza style, but you can use your favorite dough. We like our pizza dough and pizza sauce. We even tried Trader Joe's pizza dough in the oven and it was very tasty! I am pretty sure this pizza oven is magic and can make any pizza taste fantastic! Oh, and we also made garlic knots in the pizza oven and the boys gave them two BIG thumbs up!
If you love making homemade pizza, we highly recommend the Breville Smart Oven® Pizzaiolo Pizza Oven from Williams Sonoma. Yes, it is a splurge, but if you make pizza a lot, I know you will love it. It would make a great gift for pizza lovers…think graduation, wedding, Father's Day, birthday, Christmas, etc. It is seriously the BEST!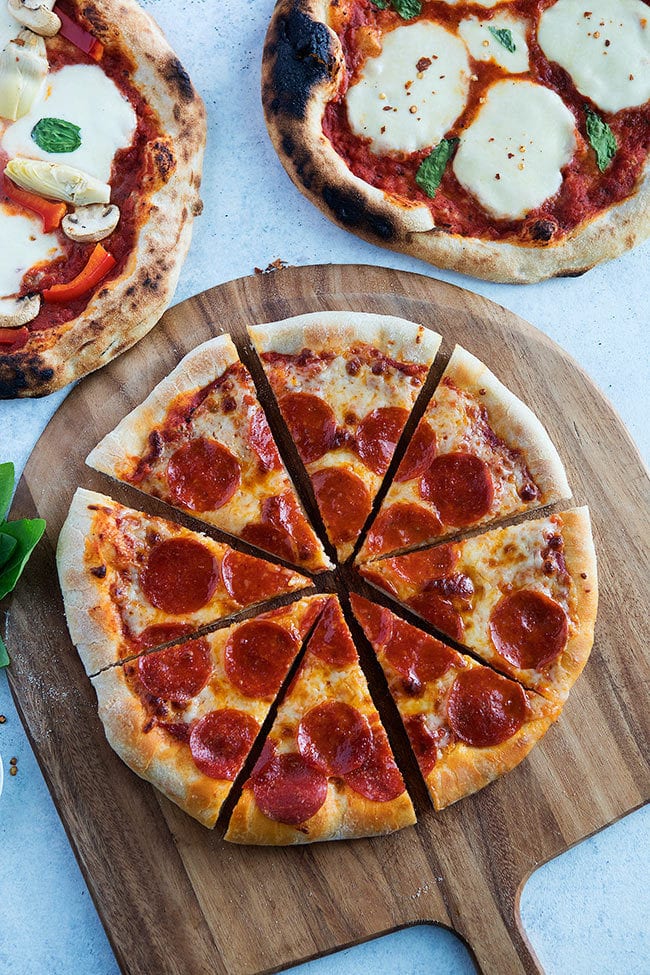 Williams Sonoma gifted us the pizza oven, but our opinions are our own. We were not paid to write this post, we just really love the pizza oven and wanted to share how amazing it is!