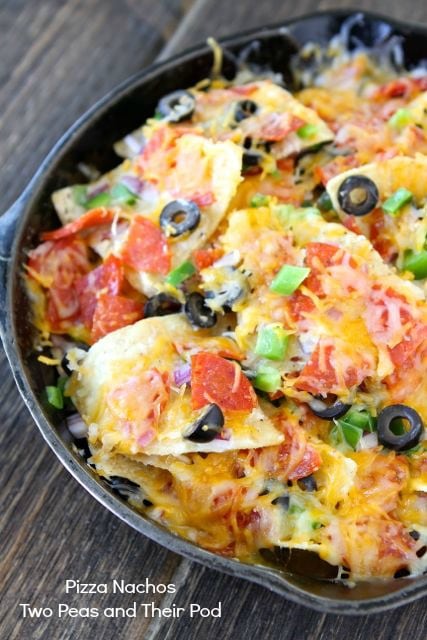 We love watching football at our house. We don't always cheer for the same team, but that's ok…as long as my team wins..ha! Caleb is already getting in on the action too. Every time he sees a football game on TV he yells ball. He also throws his hands up in the air, making the touchdown sign, and yells Ta-down. He doesn't quite have the entire word mastered yet:)
Football and good food go hand in hand. I recently saw Dax's recipe for Pizza Nachos on Tasty Kitchen and knew they would be perfect for game day. Plus, pizza and nachos are two of Josh's favorite foods. I knew I would score bonus points for making Pizza Nachos. Pizza and nachos combined in one recipe? Genius!

The Pizza Nachos are really easy to make and are loaded with goodness. I piled chips into a cast iron skillet and topped them with a garlic cream sauce, pepperoni, onion, green pepper, and black olives. Of course, I finished them off with lots and lots of cheese! I popped them in the oven until the cheese was melted and pulled them out for a killer halftime snack! Josh LOVED the nachos. He was in heaven.
I used Josh's favorite pizza toppings, but if you aren't a pepperoni or olive fan, use your favorite pizza toppings. I am going to make a veggie version next time with artichokes, mushrooms, and roasted red peppers. Mmmmm! And if you are having friends over to watch the big game, put a bunch of toppings out and let them make their own pizza nachos. A pizza nacho bar sounds fun to me!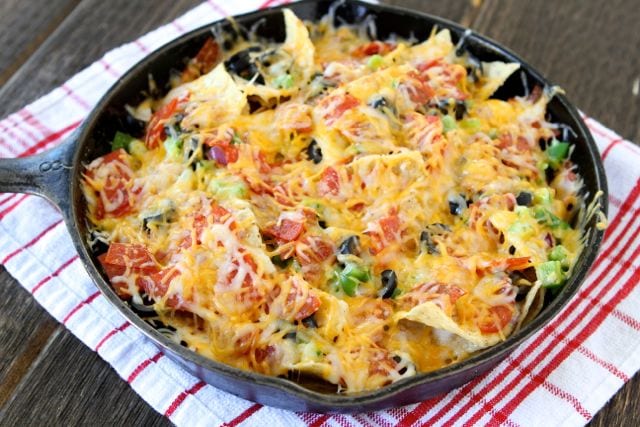 Enjoy Pizza Nachos while you watch football this weekend. They are the ultimate game day snack! For the recipe and step-by-step photos, visit Tasty Kitchen.