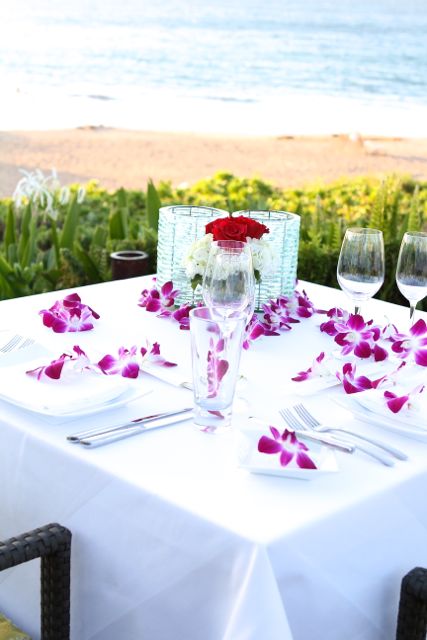 While we were staying at the Four Seasons Maui Resort at Wailea, we had a chance to experience the Ultimate Romantic Dinner. The Four Seasons Maui set up a private table just above Wailea beach for just Josh and I. Our table was secluded from the rest of the beach with fresh flowers and the most amazing view. I felt like I was on the Bachelor:)
We met with Chef Bryan Bereke the day before our dinner to talk about our likes, dislikes, favorite foods, flavors, allergies…the whole nine yards. He took notes and created a special five-course meal, just for us.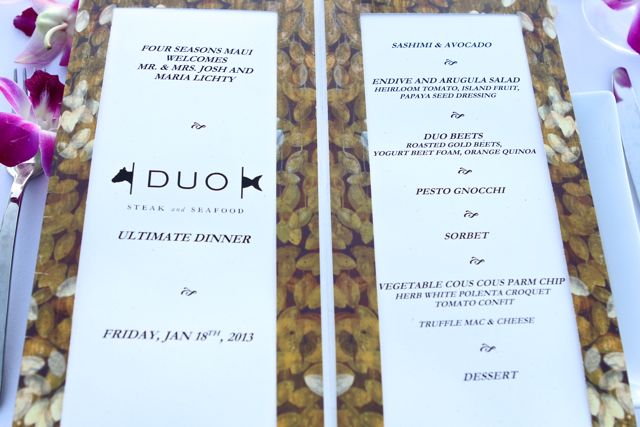 We didn't know what Chef Bryan would be making for us until we arrived at our table. When we opened our menus we were thrilled with his selections. He created a perfect menu for us.
Our personal server, Eddie, was fantastic! He really made our night special. He took pictures for us, told us about the menu, resort, island, and really made us feel relaxed. The service was outstanding! The Four Seasons never misses a thing. We were definitely spoiled.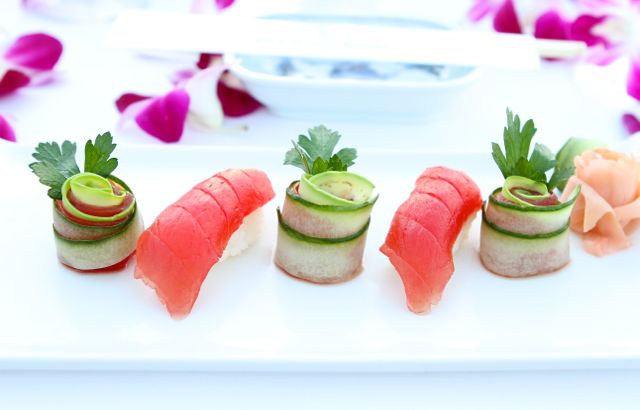 For our first course, we enjoyed Sashimi & Avocado. The ahi tuna was fresh and the best we've ever tasted. And look how cute those rolls are!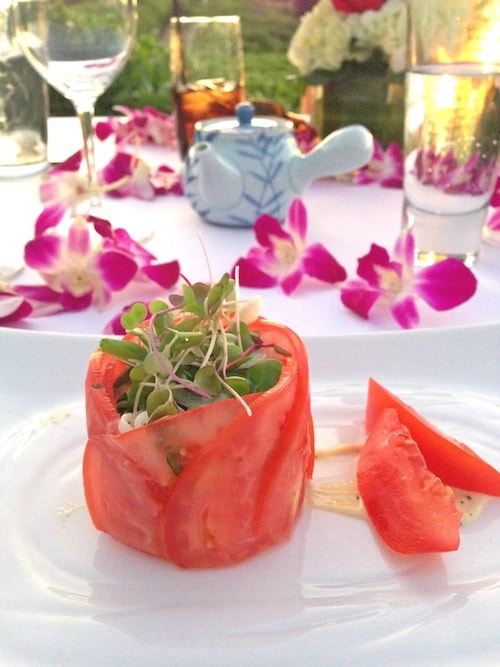 Next, we had a Endive & Arugula Salad with Heirloom tomatoes, Island fruit, and Papaya Seed Dressing. Chef Bryan's presentation was exquisite and the flavors worked so well together.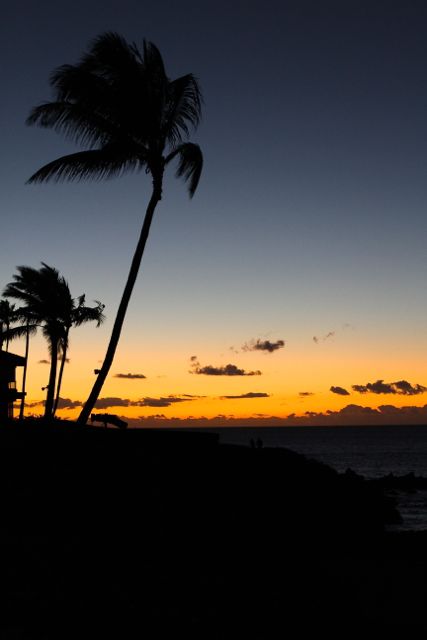 In between courses, we watched the sunset. I kept telling Josh to pinch me. I couldn't believe we were actually experiencing such a magical dinner. We really were in paradise.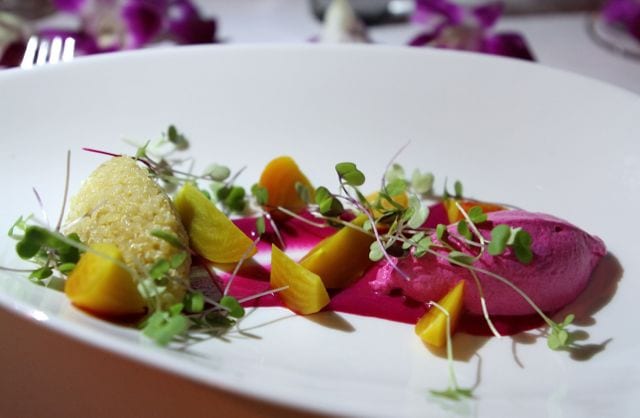 Next, we were served Gold Beets with Yogurt Beet Foam and Orange Quinoa. The textures and flavors of this dish were amazing!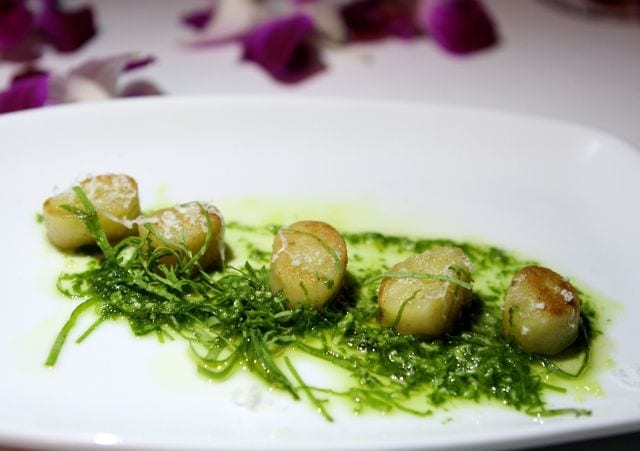 Pesto Gnocchi was my next dish. I told Chef Bryan that if I had to choose a "last" meal, it would probably be pesto gnocchi. I am so glad he made me this dish! The gnocchi was soft on the inside with a crispy coating. The pesto was to die for. I may have licked my plate when Eddie wasn't looking:)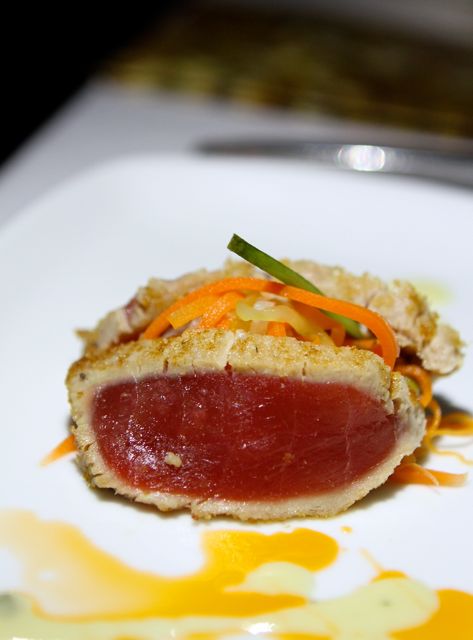 Josh had Lavender Crusted Ahi with Pickled Local Vegetables for his next course. He inhaled it:)
To cleanse our palates, we each enjoyed a dish of sorbet. Josh had lemon and I had raspberry. Josh told Chef Bryan that he loved tart citrus sorbets and his was definitely tart! Chef Bryan didn't miss a detail.
For my main dish, Chef Bryan made me Vegetable Couscous in a Parmesan Cup with a Polenta Croquet. Again, loved the presentation and the flavors and textures worked well together.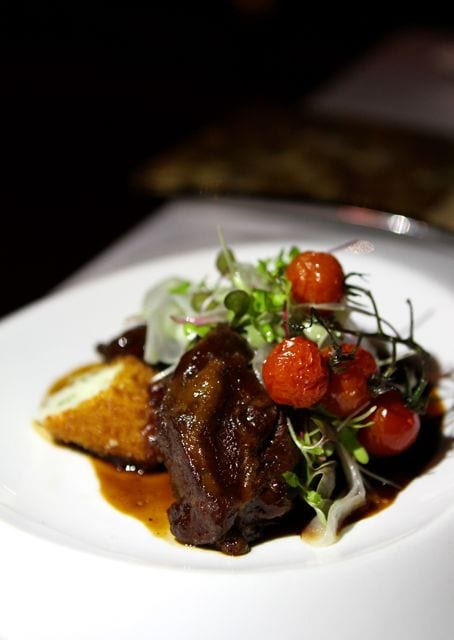 Josh's main course was a Brazed Pork Cheek with Herb White Polenta Croquet. Josh's pork was so tender he barely needed a knife to cut it.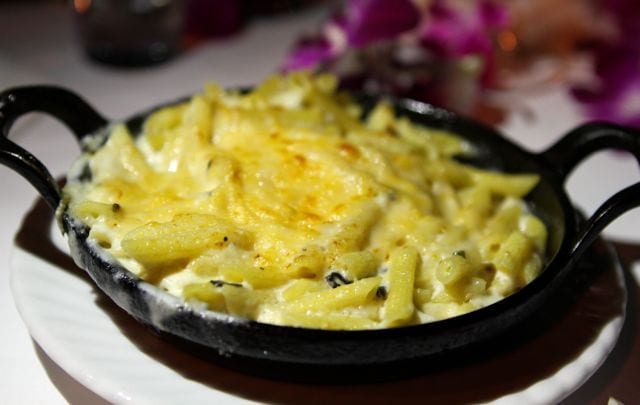 Chef Bryan also made us a skillet of Truffle Mac and Cheese to share. Creamy, cheesy, and comforting!
We were so full, but there is always room for dessert:) I had a Chocolate Lava Cake with White Chocolate Cookies on the side. The chocolate cake was divine! And of course I was happy to see cookies on my plate. I told Chef Bryan I am cookie obsessed. The white chocolate cookies were the perfect balance to the rich chocolate cake.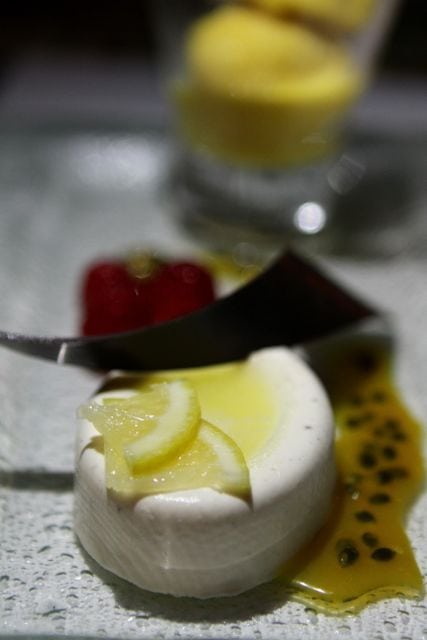 Josh's lemon mascarpone dessert was stunning! He also had passion fruit sorbet that was out of this world. Of course I stole a bite:)
After we finished eating, we listened to the sound of the waves and gazed at the stars. This was the BEST meal we have ever had. The food, service, setting were all perfection. Chef Bryan stopped by our table before we left and we were so glad so we could thank him for our outstanding meal. He really picked the perfect menu for us. Everything was delicious!
When we got back to our room the Four Seasons Maui delivered a signed menu from Chef Bryan, a framed photograph of us at our table, and chocolates.
We highly recommend the Ultimate Romantic Dinner. It is the perfect way to celebrate an engagement, wedding, anniversary, or just because you deserve a special night out. We will never forget our Ultimate Romantic Dinner on the beach. It was a dream come true! Thank you Four Seasons Resort Maui!
Check out our post about The Four Seasons Resort Maui at Wailea!
Visit The Four Seasons Resort Maui's website for more information. You can also follow them on Twitter and Facebook.