Raspberry Coconut Crème Brûlée Oatmeal-this sweet and simple oatmeal is such a breakfast treat!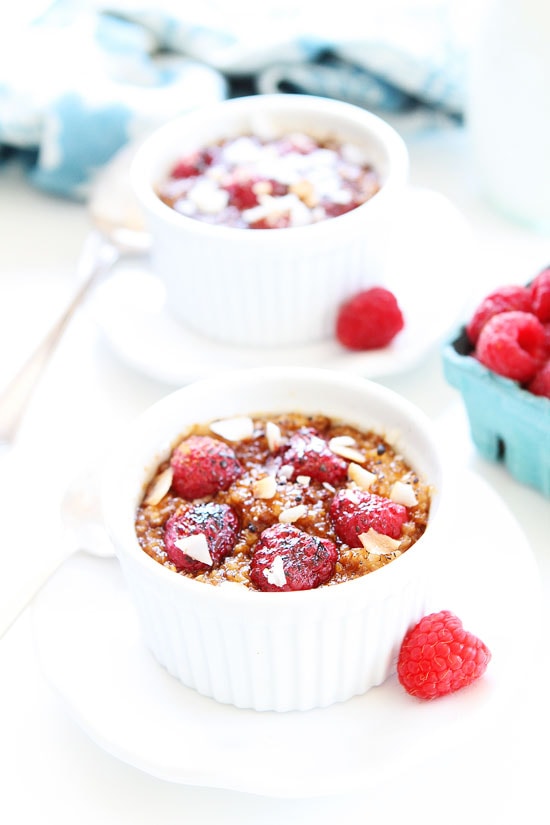 Breakfast is my favorite meal of the day, except for when Caleb wakes up at 5:00 a.m. begging for breakfast. I am a morning person, but if Maxwell keeps me up in the night, then 5:00 is a little early to be serving breakfast. We've tried to encourage Caleb to sleep in, but it hasn't worked yet. So, I usually take one for the team and let Josh sleep in and make an early breakfast for Caleb.
At five in the morning, I want simple. Well, thank goodness for Quaker's new Quick 3-minute Steel Cut Oats. They cook in 3 minutes and have the same hearty texture and nutty flavor as original steel cut oats, which take 30 minutes to cook. I can do 3 minutes, even at the crack of dawn!
The 3-minute Steel Cut Oats are great plain, but when I am in the mood to make Caleb an extra special breakfast, I like to make Raspberry Coconut Crème Brûlée Oatmeal. It may sound fancy, but I promise, this oatmeal is super easy to make. Remember, we are up early so I need easy!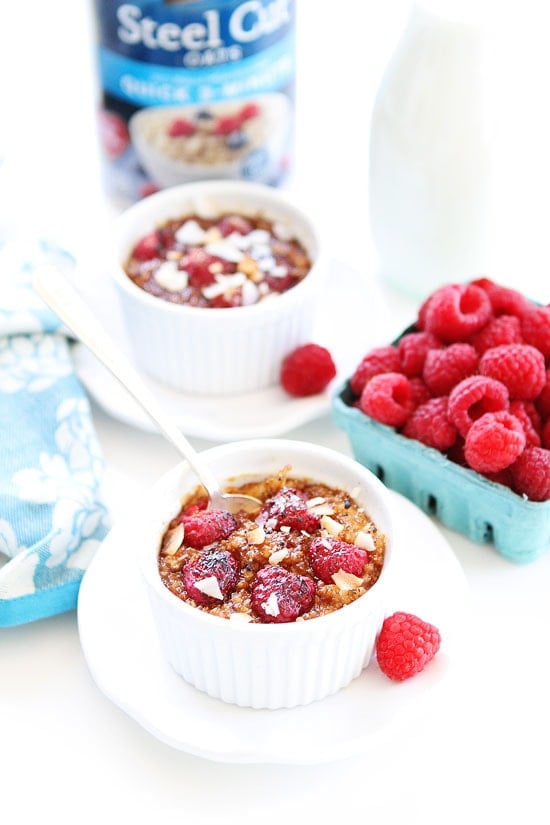 Caleb loves raspberries and I love coconut so I put the two together to create an oatmeal treat that we both can enjoy! And if you love crème brûlée, this is the oatmeal for you! The oatmeal has a caramelized sugary crust that will remind you of your favorite dessert. And I am all about starting my day with a healthy breakfast that tastes like dessert! YES!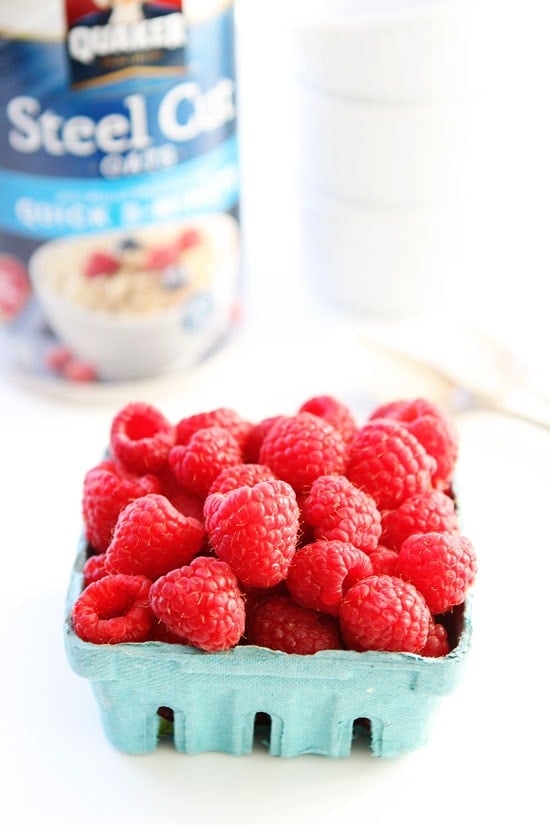 Caleb likes to help me pick out the raspberries for the recipe. He puts them on his fingers, counts them, and eats them. I have to take them away so we have enough to make our oatmeal! He is a little berry snatcher:)
The new Quaker Quick 3-Minute Steel Cut Oats come in a canister which makes them easy to measure and use. You can make them in the microwave or on the stove top. This time I used the stove top because I was making a bigger batch of oats. I knew Josh would be bummed if we didn't save him any oatmeal. Steel cut oats are his favorite!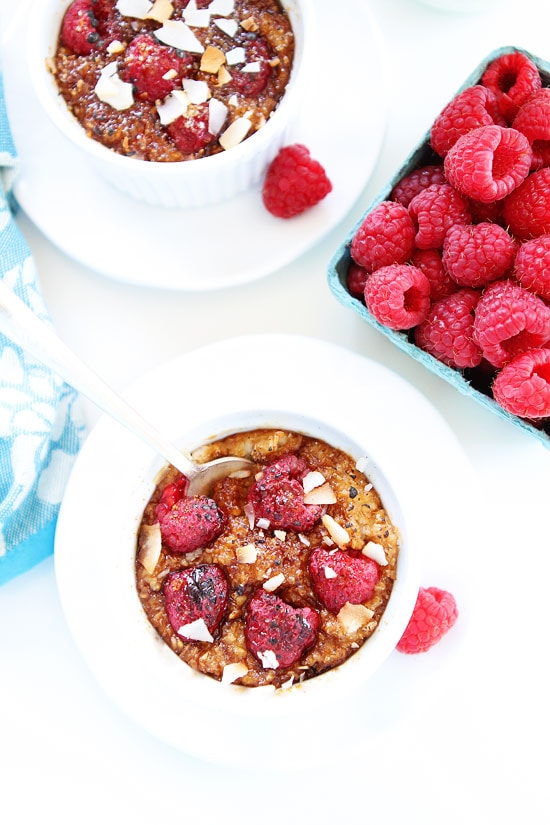 I cooked the 100% whole grain steel cut oats, stirred in some coconut milk, raspberries, and put them in ramekins. Caleb helped me add more raspberries to the top. Next, I sprinkled coconut sugar over the raspberries and put the ramekins on a baking sheet. I turned on the broiler and let the oven melt the sugar, creating a sweet, crackling, sugary crust over the oatmeal and raspberries. I added toasted coconut on top for a little extra coconutty goodness and we sat down to enjoy our breakfast.
We both loved our special breakfast treat. And the best part? This special breakfast was SO easy to make! Raspberry Coconut Crème Brûlée Oatmeal is going to be a regular on our breakfast menu. I hope our breakfast happens a little later in the morning, but if not, oh well. This Raspberry Coconut Crème Brûlée Oatmeal is worth getting up at 5 a.m. for! It is that good!
And Josh loved waking up to a special breakfast treat too! I told him next time, I can sleep in and he can make oatmeal for breakfast. It is SO easy, he can do it:)
Quaker also has Brown Sugar & Cinnamon and Blueberries & Cranberries flavors available in convenient pouches that are great for breakfast on the go or busy/lazy mornings! Yay for oatmeal!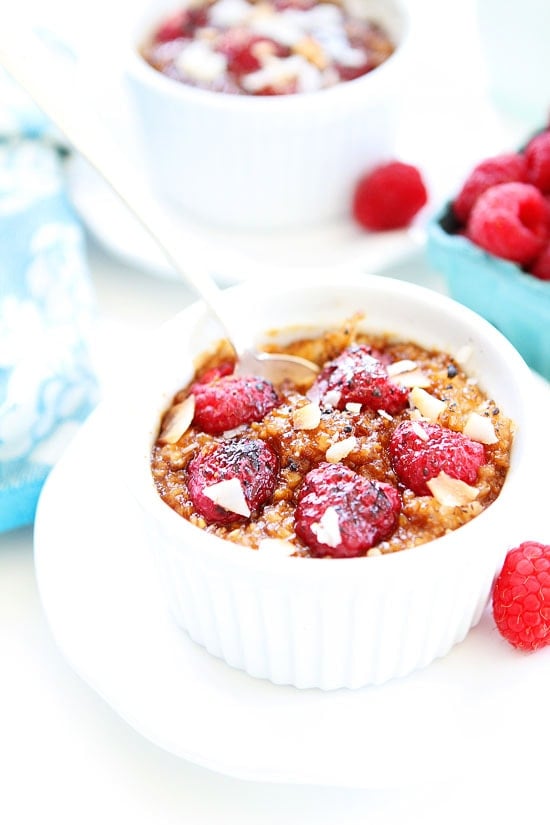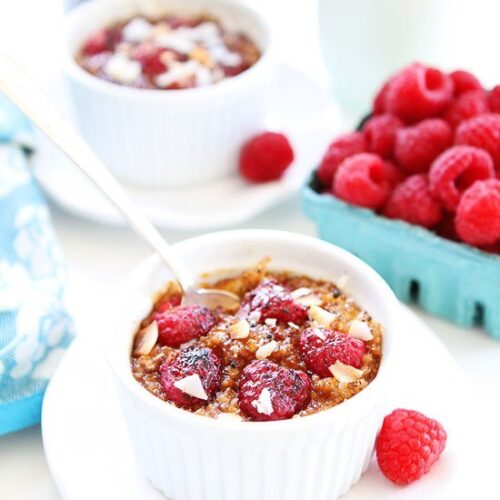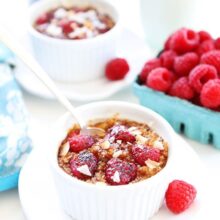 Raspberry Coconut Crème Brûlée Oatmeal
If you like creme brûlée, you will love this oatmeal! It is easy to make and will remind you of your favorite dessert. Dessert for breakfast is always a good idea:)
Ingredients
2

cups

water

2/3

cup

Quaker Quick 3-Minute Steel Cut Oats

Pinch

of salt

1/3

cup

lite coconut milk

1

cup

fresh raspberries

4

teaspoons

coconut sugar or turbinado sugar

Toasted coconut

for garnish, optional
Instructions
1. In a medium sauce pan, bring water and salt to a boil. Stir in the oats and reduce to medium heat. Simmer uncovered, stirring occasionally, until oats are of desired texture, about 5 minutes. Remove from heat and stir in the coconut milk. Gently fold in the ½ cup of the raspberries.

2. Divide oats into 4 oven safe ramekins or bowls. Press additional raspberries on top. Sprinkle 1 teaspoon of sugar over each ramekin, making sure the oats and raspberries are well coated. Place the ramekins on a baking sheet and put under a hot broiler for 2-3 minutes, or until the sugar melts and forms a crust. Remove from the oven and garnish with toasted coconut, if desired. Serve warm.
Have you tried this recipe?
Leave a comment below and share a photo on Instagram. Tag @twopeasandpod and hashtag it with #twopeasandtheirpod
Follow twopeasandpod on Instagram and show us what recipes you are making from our blog! Use the hashtag #twopeasandtheirpod! We want to see what you are making in your kitchen!
This post is in partnership with Quaker and the #QuakerUp program, but our opinions are our own. Quaker is providing the prizes for this program at no cost to me. This program is not administered or sponsored by Quaker or its affiliates, but solely by Two Peas and Their Pod. Thank you for supporting the brands that continue to make Two Peas and Their Pod possible.