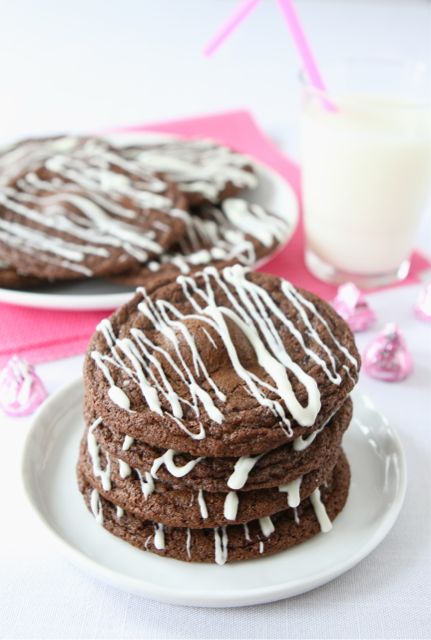 I've always enjoyed Valentine's Day. Not because I had a boyfriend or secret admirer to shower me with flowers, chocolate, and a candle light dinner, but I just think it is a fun holiday. In grade school, I always looked forward to making Valentine's cards for all of my classmates at school. Valentine's Day parties were the best! My dad always made Valentine's Day special by spoiling me and my sister with flowers and candy-dads are always the best Valentine:) I also love all of the pink and red decorations and candy that fill the stores this time of year. The other day I was walking through the Valentine's Day aisle and stumbled upon Hershey's Raspberry Hugs candy. I grabbed a bag and came home to create a special Valentine's Day cookie-Raspberry Hugs Chocolate Cookies. Yay for Valentine's Day!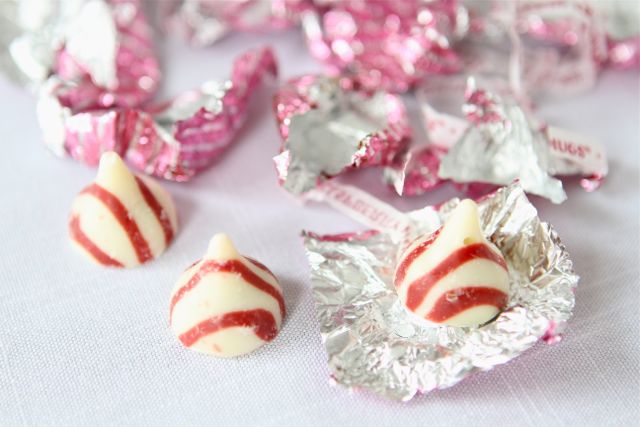 If you haven't tried the Hershey's Raspberry Hugs, run to the store to find a bag. FYI-I found them at Target. The milk chocolate kisses are "hugged" by raspberry white creme. The Hugs are sweet with a layer of white chocolate and raspberry stripe on the outside and have a milk chocolate core. The Hugs are wrapped in shiny pink and silver foil which makes them perfect for Valentine's Day.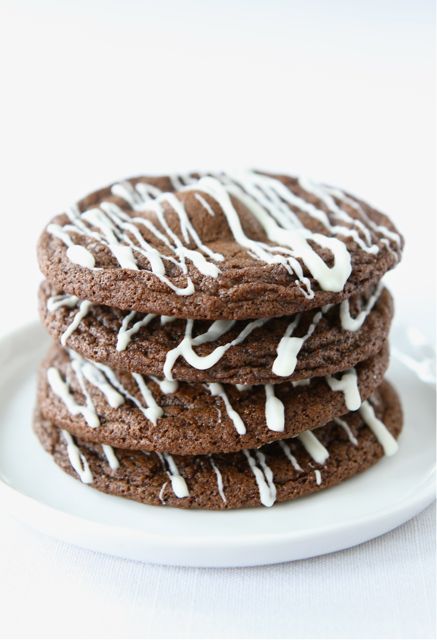 I love raspberry and chocolate together so I made a rich chocolate cookie dough to wrap around the Raspberry Hugs. They were the perfect little surprise inside of the chocolate cookies. You can never have enough chocolate, so I added a white chocolate drizzle to the tops of the cookies. It complimented the Hugs nicely and made the cookies look extra special.
So are you a lover or hater of Valentine's Day? Even if you don't enjoy the holiday, you can still enjoy these Raspberry Hugs Chocolate Cookies. They are divine! And if you have a special someone to celebrate Valentine's Day with this year, I am sure they would love to receive a dozen of these cookies.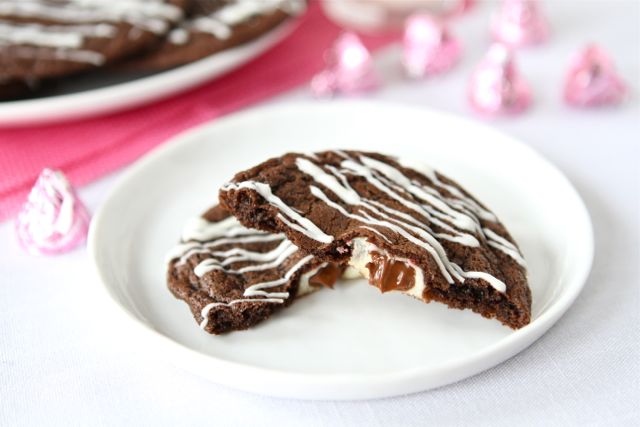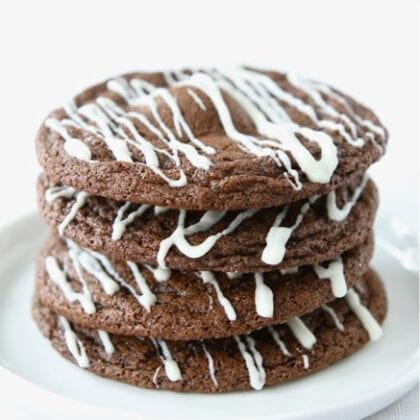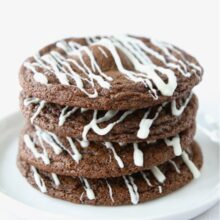 Raspberry Hugs Chocolate Cookies
Rich chocolate cookies with a Raspberry Hug candy surprise! Your special Valentine will love a batch of these decadent cookies.
Instructions
1. Preheat oven to 350 degrees F. Line a baking sheet with parchment paper or silicone mat. Set aside.

2. In a medium bowl, sift flour, baking soda, salt, and cocoa. Set aside.

3. With a mixer, cream butter and sugars together until smooth. Add in eggs, one at a time. Next, add in vanilla extract. Mix until blended.

4. Slowly add flour mixture to sugar mixture and mix until flour disappears. Unwrap the Hugs candies. Take a spoonful of cookie dough and wrap the dough around the Hug candy. Make sure the entire Hug is covered. Place cookie onto prepared baking sheet. Continue wrapping cookies until dough is gone. Make sure the cookies are 2 inches apart on the baking sheet.

5. Bake cookies for 8-10 minutes. Don't over bake. Remove from oven and let sit on baking sheet for 3-5 minutes. Move to a cooling rack and cool completely.

6. Place white chocolate chips in a microwave-safe bowl and melt. Drizzle chocolate over the cookies. Let cookies sit until chocolate hardens, about 10 minutes.

Note-if you can't find Raspberry Hugs, any Hershey's Kiss or Hug will work. I found the Raspberry Hugs at Target. They are a seasonal Valentine's Day candy.
Have you tried this recipe?
Leave a comment below and share a photo on Instagram. Tag @twopeasandpod and hashtag it with #twopeasandtheirpod
If you like these Raspberry Hugs Chocolate Cookies, you might also like: