I love whole wheat bread, but Josh isn't a huge fan. He loves it for toast or a BLT, but prefers white bread for his other sandwiches. He claims most whole wheat bread is too dense. I do buy white bread for Josh because I let him eat what he wants, but of course I prefer we both eat healthy:)
When we were in Colorado the friends we were staying with had a couple loaves of homemade whole wheat bread. Josh tried it and loved it. I was amazed, he said he would even use it for sandwich bread if I made it. So of course I snagged the recipe.

We ran out of bread this week and since I am trying to spend
$100 on groceries/food
this month, it was time to make our own. The recipe makes two big loaves and is really easy. My KitchenAid did most of the work:)
I was nervous it wouldn't turn out as good as our friends, but it did! I love that the recipe calls for ALL whole wheat flour. It also has a little vital wheat gluten, which adds protein and improves the texture and elasticity of the dough. This bread has a very nice texture, it is light, fluffy and all whole grain. It is perfect for toast and sandwiches.I am glad Josh likes this bread. I will be making our own every day bread from now on.
Penny Pinching Pantry Raid Update
I haven't spent any money this week so I am still at $8.28. I am running low on produce so I will have to make a grocery run this week. I can't live without fresh fruits and veggies. I will shop the sales though:)
Some of you are probably wondering what we are eating, I promise we are eating well. Breakfast is oatmeal for me and cereal for Josh. I've always packed our lunches, so that hasn't changed. For dinner, we are using more of our freezer and pantry food. It is actually fun being creative with what we have. So far the challenge is going well!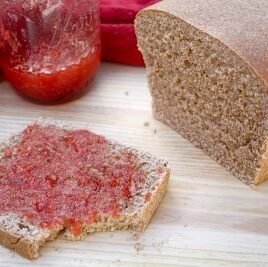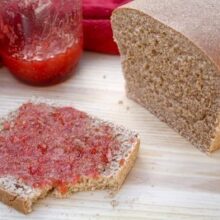 Honey Whole Wheat Bread
Ingredients
Instructions
In a large mixing bowl (preferably a KitchenAid), add 3 cups of the flour, wheat gluten, and yeast. Stir. Add in warm water and stir until combined. Let sit for 10 minutes.

Mix the oil, honey, lemon juice, and salt in a small bowl. Add to flour mixture after the 10 minutes. Mix until combined. Add in the additional flour and mix. Now knead the dough for ten minutes with the dough hook. When it is done divide the dough into two loaves. Make sure they are even. Shape them into loaf form. Place the dough into 2 loaf pans that have been sprayed with cooking spray. Cover with a clean towel and let rise for 30 minutes.

Preheat the oven to 350 degrees. After the loaves have risen, bake them for 30 minutes. They should be golden brown. Let cool before slicing, if you can wait:) You can freeze one of the loaves if you wish.
Have you tried this recipe?
Leave a comment below and share a photo on Instagram. Tag @twopeasandpod and hashtag it with #twopeasandtheirpod