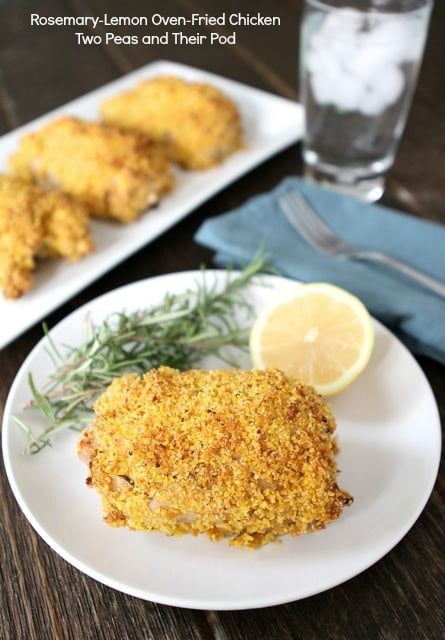 Josh's mom came to visit us last week. We always love having her in our home. She was a huge help with Caleb and did more of her fair share of the chores. Thanks Kathy! Josh wanted to make a special meal while his mom was visiting and volunteered to make Rosemary-Lemon Oven-Fried Chicken. He is a very sweet son and husband. I sure lucked out!
The Rosemary-Lemon Oven-Fried Chicken recipe is from Aida Mollenkamp's new book, Keys to the Kitchen. We are both obsessed with Aida's book. It is awesome! We actually had a long discussion on what we would make for the Keys to the Kitchen Virtual Dinner Party. We both picked out a long list of favorites and went back and forth on what to make. I finally let Josh win since his mom was in town and he wanted to make dinner. You really can't argue with that:) And I knew everyone would love the Rosemary-Lemon Oven-Fried Chicken.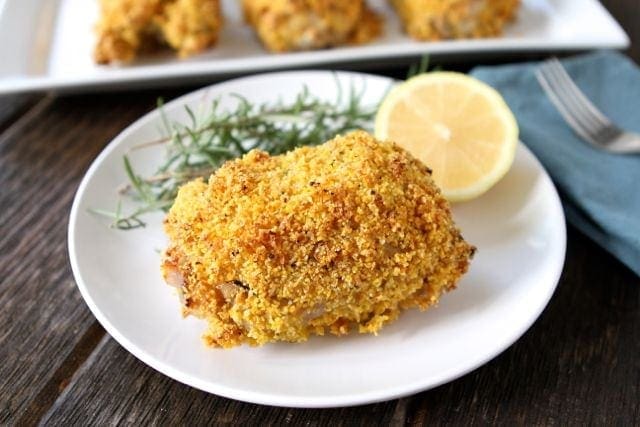 Josh loves fried chicken, but he rarely makes it because it is a pain to get out the deep fryer…and I hate how it stinks up the house. Plus, it's not very good for his arteries:) This Rosemary-Lemon Oven-Fried Chicken has all of the pluses of deep fried chicken, but without all of the mess and fat. The chicken is crusty, crunchy, and has a pleasant hint of lemon and rosemary.
Josh was also surprised at how easy it was to make. First, he marinaded the chicken in a rosemary-lemon buttermilk marinade. When the chicken was done hanging out in the marinade in the fridge, he dipped the chicken in a crispy coating made up of cornmeal, cornflakes, Pecorino cheese, oil, cayenne pepper, salt, and pepper. He baked the chicken for about 45 minutes, until it was golden and crispy.
Josh served the Rosemary-Lemon Oven-Fried Chicken with roasted potatoes, vegetables, and buttermilk biscuits. Everyone raved about the entire meal, especially the chicken. Thanks Aida for a fabulous recipe.
Make sure you check out Aida's book, Keys to the Kitchen-The Essential Reference for Becoming a More Accomplished, Adventurous Cook. It is more than just a cookbook, it is a resource guide to succeeding in the kitchen. It is filled with over 300 delicious recipes, helpful kitchen techniques and tips, and gorgeous photos. Everyone needs this book!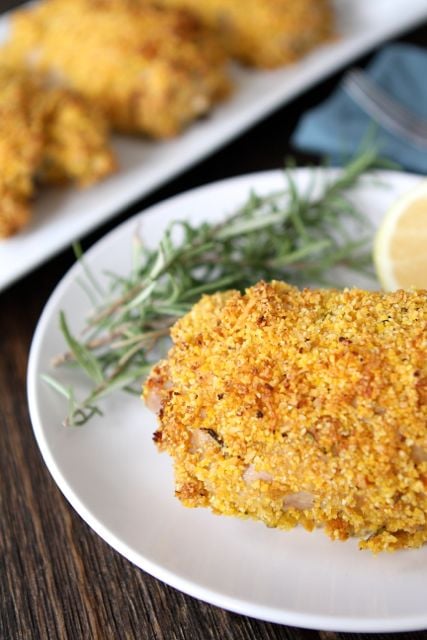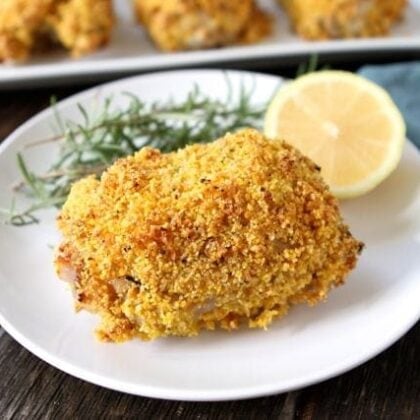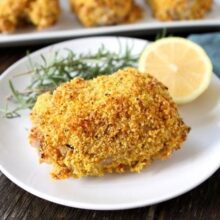 Rosemary-Lemon Oven-Fried Chicken
This easy oven-baked lemon rosemary chicken is crunchy and full of flavor without all of the fat and fuss of deep frying!
Ingredients
For the Rosemary-Lemon Marinade:
1/2

cup

whole-milk plain yogurt or buttermilk

Josh used buttermilk

1/4

cup

canola oil

1/4

cup

freshly squeezed lemon juice

2

tablespoons

roughly chopped fresh rosemary leaves

4

garlic cloves

smashed

2

teaspoons

lemon zest

3/4

teaspoon

cayenne pepper

1

teaspoon

kosher salt

8

bone-in

skin-on chicken thighs, skin removed
For the Crispy Coating:
1 1/2

cups

stone-ground cornmeal

3/4

cup

crushed cornflakes

1/2

cup

grated Pecorino cheese

1/4

cup

canola oil

1

tablespoon

kosher salt

1/2

teaspoon

finely ground black pepper

1/4

teaspoon

cayenne pepper

3

large eggs

beaten thoroughly
Instructions
For the marinade: combine all of the ingredients except the chicken until evenly combined. Add the chicken, turn to coat, cover, and refrigerate at least 2 hours and up to 6 hours.

When ready to cook, heat the oven to 425 degrees F. Arrange a rack in the upper third of the oven. Nest a cooling rack inside a rimmed baking sheet lined with aluminum foil, set aside.

Combine the cornmeal, cornflakes, cheese, oil, salt, black pepper, and cayenne in a shallow bowl and mix until well combined; set aside. Whisk together the eggs in a shallow bowl until evenly combined; set aside.

To coat the chicken, remove it from the marinade and let any excess drip off. Dip the chicken in the beaten eggs then in the cornflake mixture, turning to coat all over and pressing to help it adhere. Place the chicken pieces on the prepared baking sheet and repeat with remaining chicken. Let the chicken rest on the baking sheet for 15 minutes before baking.

Bake until the coating is golden and crispy, the juices of the chicken run clear when poked, and the internal temperature is 160 degrees F, 40-45 minutes.

Note-you can coat the chicken and return it to the fridge and let it sit for up to 4 hours before cooking. Just let it sit at room temperature for 15 minutes before baking so it cooks more evenly.
Have you tried this recipe?
Leave a comment below and share a photo on Instagram. Tag @twopeasandpod and hashtag it with #twopeasandtheirpod
If you like this Rosemary-Lemon Oven-Fried Chicken, you might also like:
Disclosure: This giveaway is being provided by Aida Mollenkamp and Chronicle Books, but our opinions are our own.