Snowy-Topped Brownie Drops-soft, fudgy brownie cookies rolled in confectioners' sugar to create a beautiful snowy top. These cookies are a holiday favorite!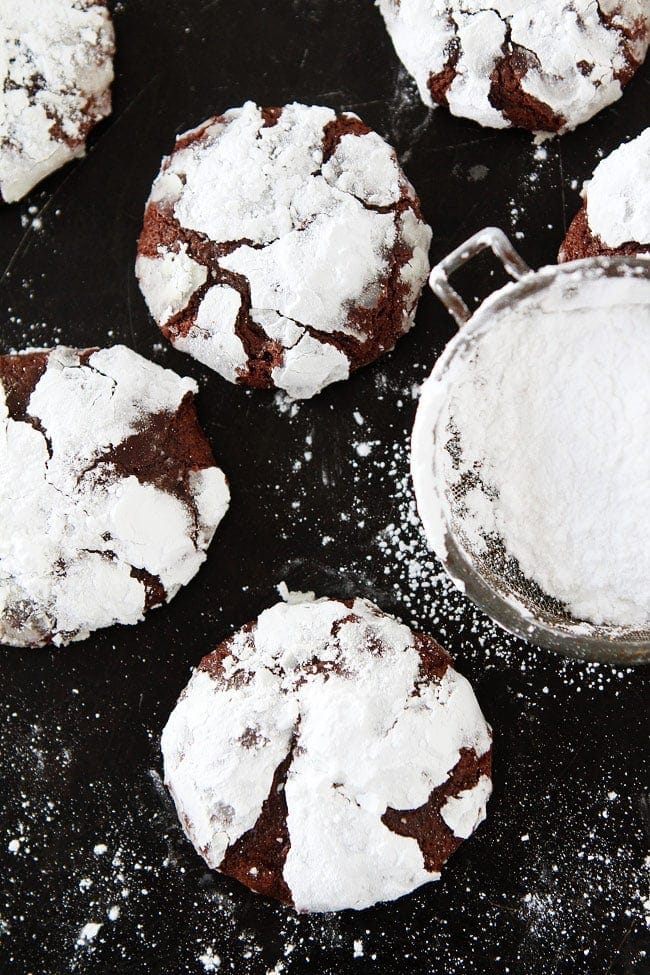 If you've been reading the blog, you know I am currently obsessed with Dorie Greenspan's new cookbook, Dorie's Cookies. I featured it in our Holiday Gift Guide and in our Cookbook Gift Guide. It is my favorite cookbook of the year and probably my favorite cookbook ever.
When I heard Dorie was coming out with a cookbook all about cookies, I knew it was going to be good, but Dorie really nailed this one. It is the best cookie cookbook I have ever read. If you are a cookie monster, like me, you NEED this book. It is filled with classic, creative, and delicious cookies. You are going to want to bake them ALL…and I highly recommend you start with the Snowy-Topped Brownie Tops! They are the perfect cookie for the holiday season.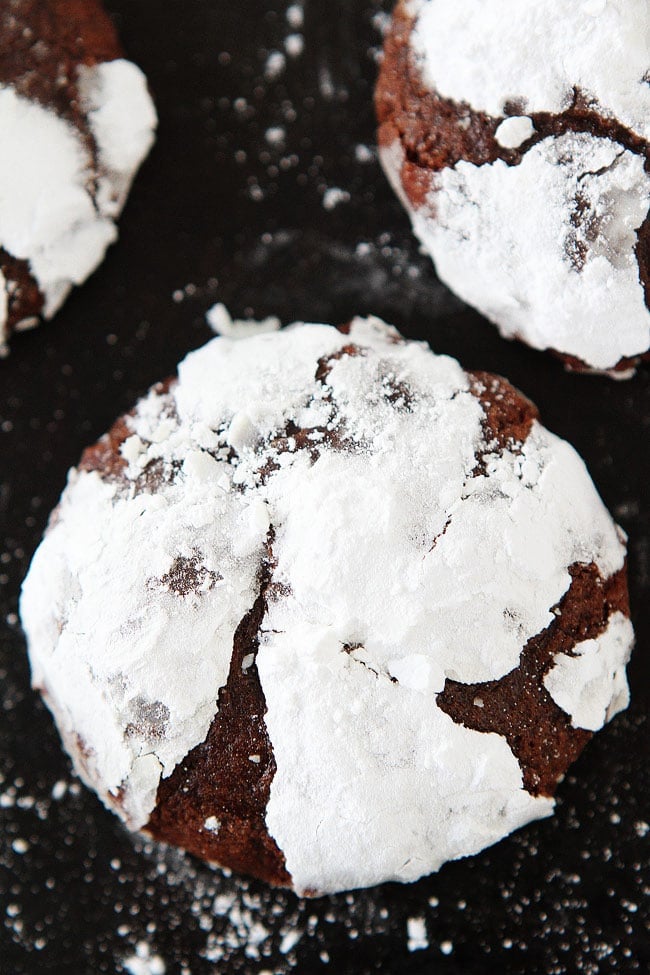 These cookies remind me of the classic chocolate crinkles, but I think they are even better! Snowy-Topped Brownie Drops are my new crinkle. I don't think I will ever go back. They are that good!
The cookie dough is a variation of Dorie's classic brownies, which are amazing, so I knew the cookies would be out of this world good. A brownie in cookie form is my kind of treat. Why choose when you can have both?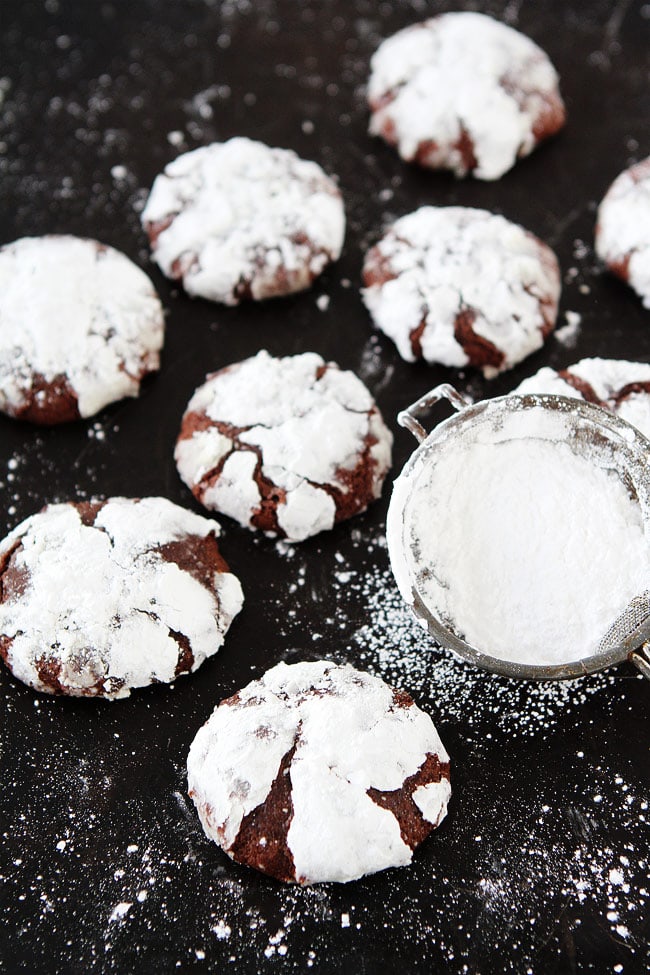 Before the cookies go into the oven, they get to roll around in the snow…confectioners' sugar. That is my kind of snow:)
The chocolate cookies are soft, fudgy, and melt in your mouth. The cookies are pretty rich and I thought I was only going to eat one when they came out of the oven, but they were so good I HAD to eat two. I only let my boys have one so I snuck around the corner to eat my second cookie. I didn't think they would notice, but they caught me because I came back with white sugar on my face. I told them I was playing in the snow. Busted:)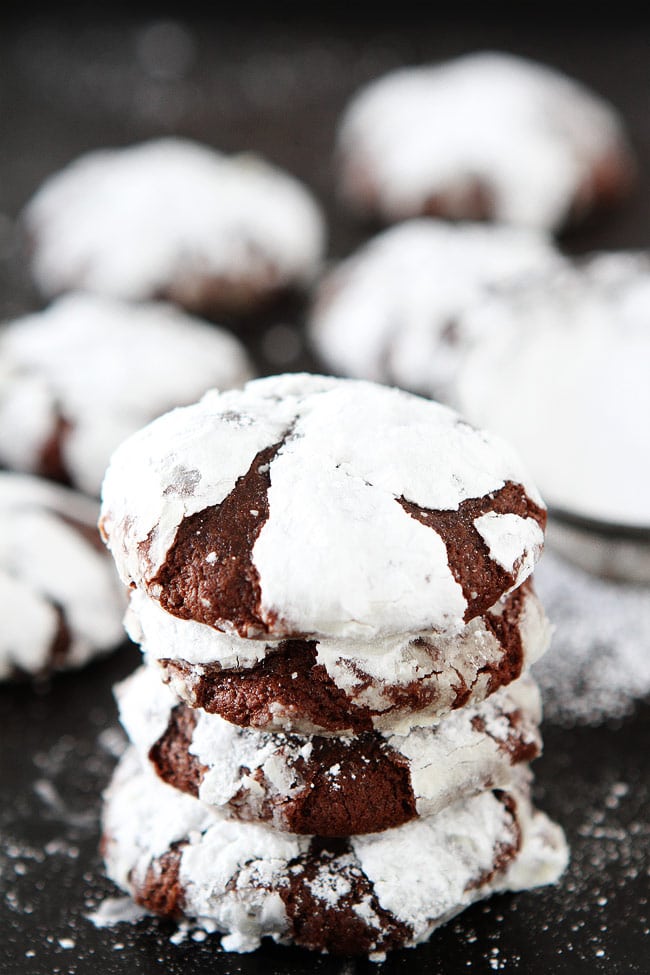 Snowy-Topped Brownie Cookies are FOR SURE making our holiday baking list every year. They are my new favorite cookie and Dorie's Cookies is my new favorite cookbook. I can't wait to bake and eat all of the cookies!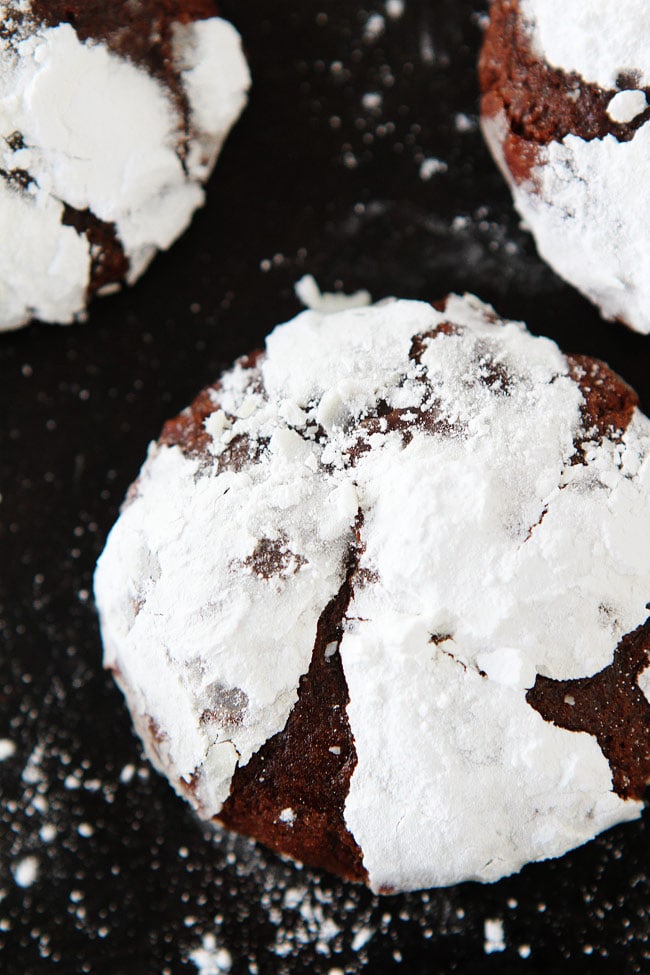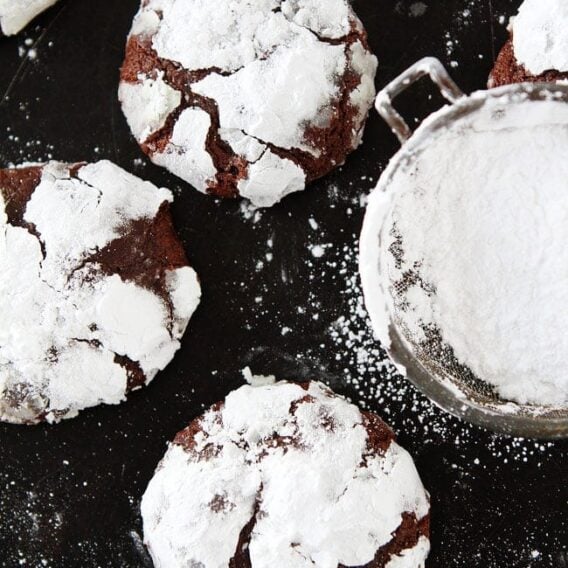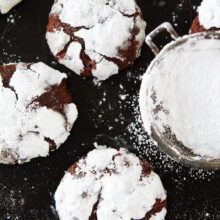 Snowy-Topped Brownie Drops
Soft brownie cookies that are decorated with confectioners' sugar to create a beautiful snowy cookie! These cookies are a Christmas favorite!
Instructions
Fit a heatproof bowl over a pan of gently simmering water, making sure the water doesn't touch the bottom of the bowl, and put the butter in the bowl. Coarsely chop 6 ounces of the chocolate and scatter it over the butter. Finely chop the remaining 2 ounces of chocolate and set it aside. Leave the bowl over simmering water, stirring occasionally, until the ingredients are just melted, taking care that they don't get so hot that they separate. Remove the bowl from the pan.

Using a whisk or heatproof spatula, stir in the sugar. The mixture will turn grainy, but that is ok. One by one, add the eggs, whisking energetically after each one goes in and then for a minute or two more. The dough will become smoother, shinier, and thicker. Whisk in the vanilla and the salt and then, less vigorously, the flour. Stir in the finely chopped chocolate. Transfer the dough to a bowl, cover and refrigerate for at least 3 hours.

When ready to bake, center a rack in the oven and preheat to 350 degrees F. Line two large baking sheets with parchment paper or silicone baking mats.

Put confectioners' sugar in a small bowl. Using a medium cookie scoop, scoop out level portions of dough or use a tablespoon to get rounded spoonfuls. Roll each into a ball and drop into the bowl of sugar. Gently toss the dough around in the sugar until well coated. Place the ball on one of the baking sheets and repeat, giving the balls about 2 inches of spread space.

Slide the baking sheet in the oven and bake the cookies for 12 minutes, rotating the baking sheet after 6 minutes. The cookies will have spread and cracked, their sides should feel set and their centers should still be a little soft. Put the baking sheet on a cooling rack and wait 2 minutes, then carefully transfer the cookies to the rack using a broad spatula. Let the cookies cool completely.

Repeat with the second baking sheet and the remaining dough.

Note-store cookies in an airtight container on the counter for up to 3 days.
Have you tried this recipe?
Leave a comment below and share a photo on Instagram. Tag @twopeasandpod and hashtag it with #twopeasandtheirpod