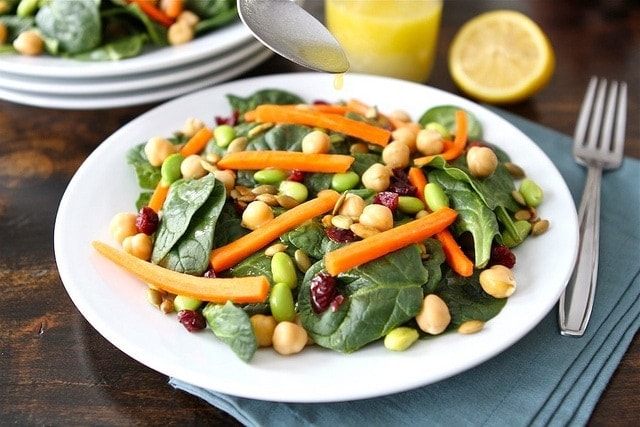 It's been a long week. We haven't slept much since Caleb has been sick. He is doing a little better, but he still can't beat the nasty cough and runny nose. This is his first time being sick so it's been really hard on us. We are paranoid first time parents:) The doctor's office knows Josh very well. Every time he calls, they say, "is this Caleb's dad?" He doesn't even have to tell them who it is:) Thanks everyone for your concern and well wishes. We really appreciate it!
Our meals have been simple this week because we've been spending most of our time snuggling with our sick little pea. Last night I made one of my favorite salads for dinner-Spinach and Edamame Salad. This salad recipe comes from my darling friend, Bev, who blogs at Bev Cooks. I recently made this salad for a Tasty Kitchen post and it has become a staple in our house. I could eat it every day!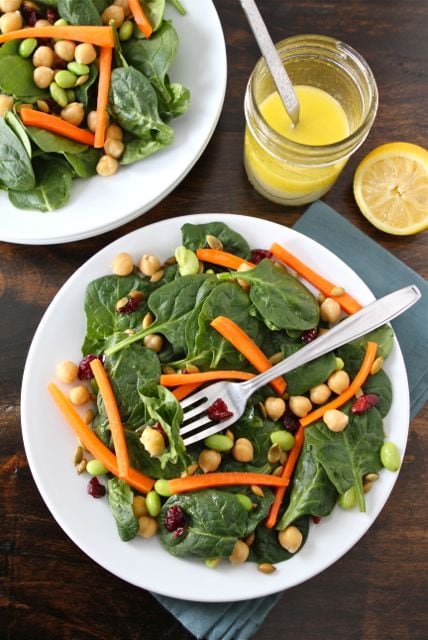 The salad is packed with tasty ingredients: spinach, edamame, chickpeas, dried cranberries, pepitas, and carrots. I wish we could feed this salad to Caleb. It would probably cure his sickness in an instant. There are so many "good for you" foods in this salad! The carrots and pepitas add a nice crunch, while the chickpeas and edamame add a bit of creaminess in every bite. I love a little bit of sweetness in my salads and the dried cranberries add the perfect amount.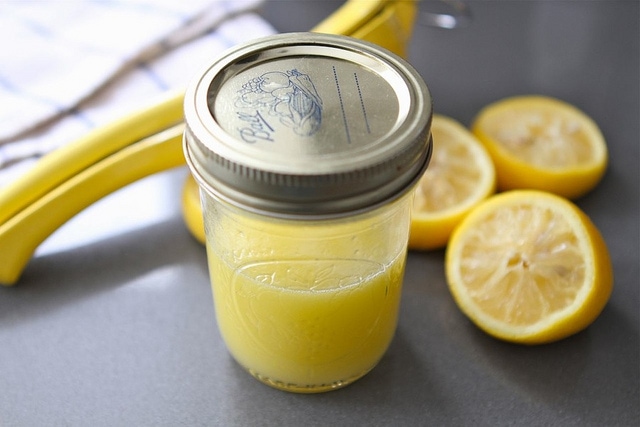 The lemon olive oil dressing is simple to make. All you have to do is combine fresh lemon juice, olive oil, salt, and pepper in a jar and shake. Nice, huh? The dressing is refreshing, light, and doesn't overpower the simple flavors of the salad. It is the perfect ending to this nutritious and colorful salad.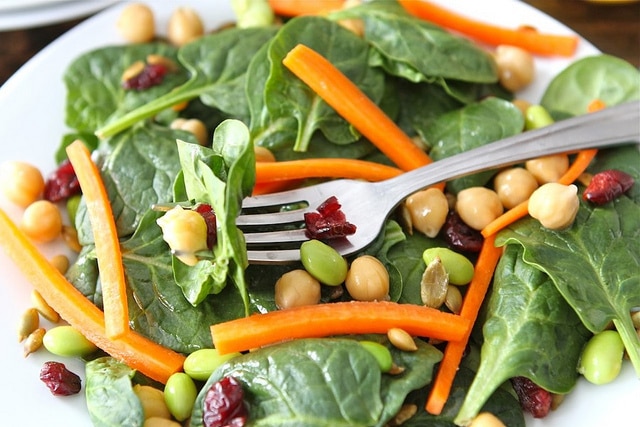 This salad keeps really well in the refrigerator. I like to make a large salad so I can enjoy leftovers later in the week. It is good every time! Just keep the dressing separate until you are ready to eat.
For the Spinach and Edamame Salad recipe and step-by-step photos, visit Tasty Kitchen. Hopefully, this salad will prevent us from coming down with whatever bug Caleb had. No more sickness in our house! It's just not allowed. Have a great weekend everyone!