jump to recipe
Spring Vegetable Stir Fry with Lemon Ginger Sauce
Spring Vegetable Stir Fry with Lemon Ginger Sauce-this simple and healthy stir fry is loaded with spring green vegetables. The lemon ginger sauce is light and refreshing! This dish is a must make for spring!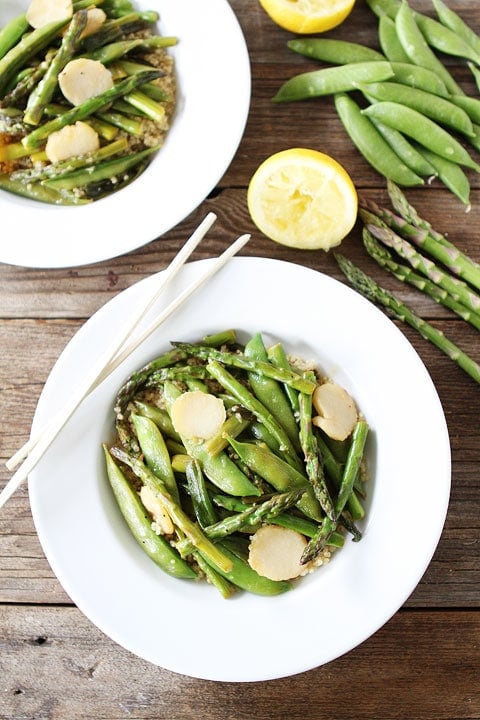 I have a travel hangover. I enjoyed my trip to NYC and Florida, but I am exhausted times ten. I am trying to get back into the swing of things, but it has been hard. Thankfully, Josh is full of energy and has been making up for my slacking. He did all of my trip laundry, planted flowers, mowed the lawn, went grocery shopping, and made dinner. For dinner, he made Spring Vegetable Stir Fry with Lemon Ginger Sauce. We love this stir fry recipe and it tasted even better after a week of eating out! You can't beat a good home cooked healthy meal, especially when it is made by your handsome husband:)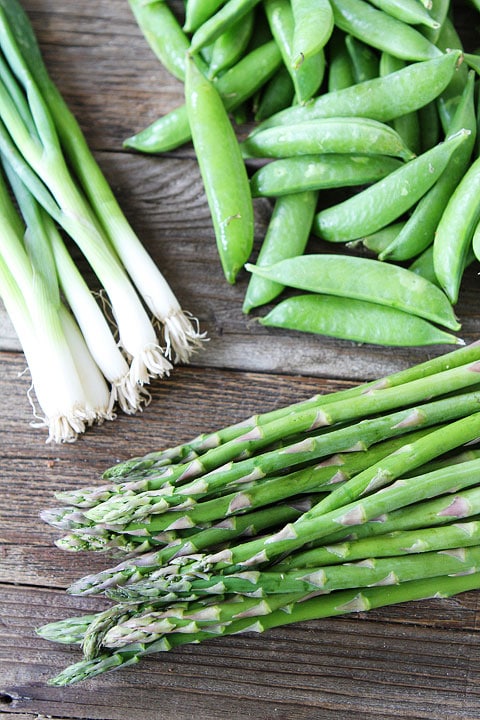 Josh used asparagus, sugar snap peas, and green onions to make the stir fry. I love spring vegetables, especially the spring greens! You can never have too much green:)

OTHER RECIPES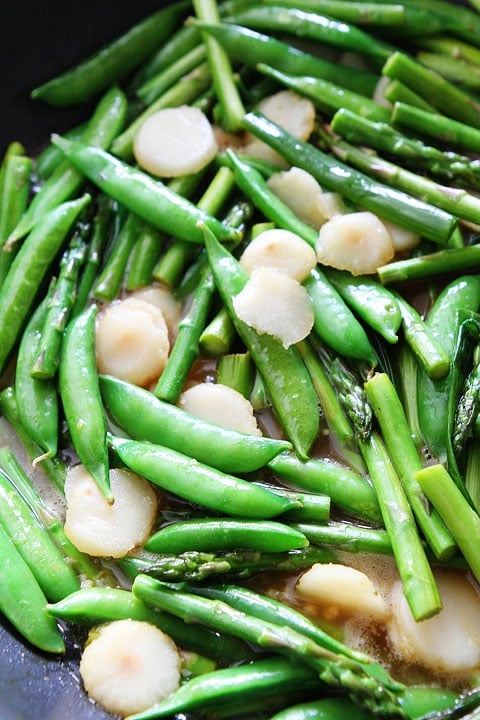 He also added water chestnuts. They add a nice crunch to the stir fry!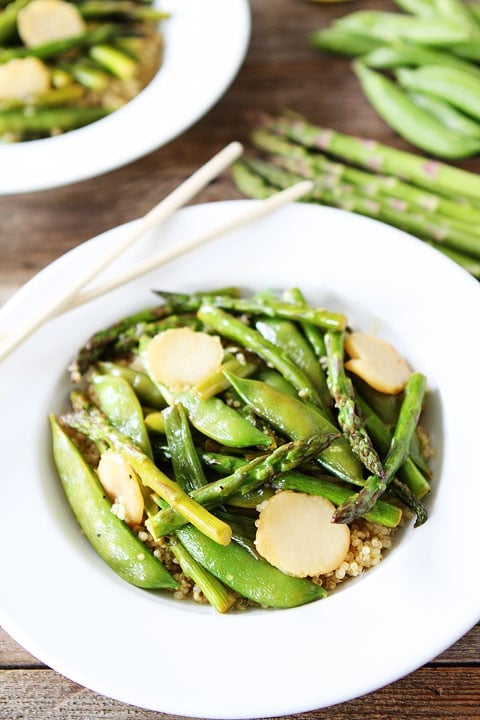 The lemon ginger sauce is easy to whisk up and is so good with the spring veggies. The sauce is light and refreshing! Josh served the Spring Vegetable Stir Fry over quinoa. You can use rice if you wish, but we love using quinoa! The Spring Vegetable Stir Fry hit the spot! We all enjoyed a healthy dinner together. Caleb liked the sugar snap peas the best. I guess it is fitting, our little pea loves peas:)
Spring Vegetable Stir Fry with Lemon Ginger Sauce makes a great healthy meal…especially if you can get someone else to make it for you:)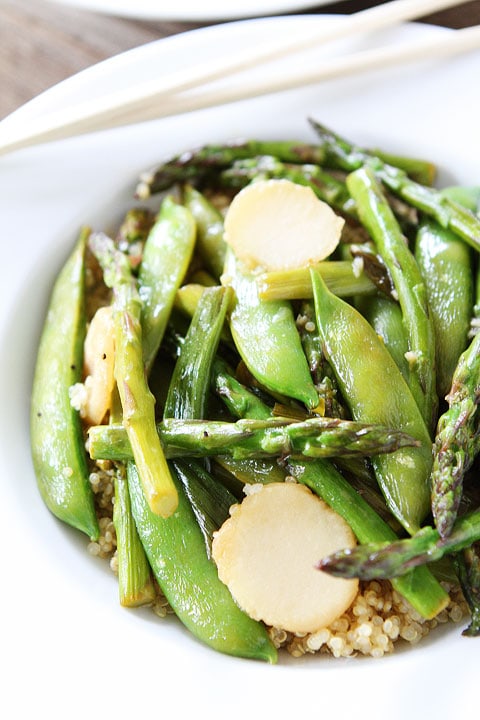 Spring Vegetable Stir Fry with Lemon Ginger Sauce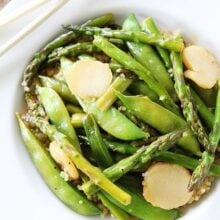 We love this easy spring vegetable stir fry recipe! Serve with quinoa or rice for a delicious healthy meal!
Yield: Serves 4
Prep Time: 15 minutes
Cook Time: 10 minutes
Total Time: 25 minutes
Ingredients:
For the Lemon Ginger Sauce:
1/2 cup low sodium vegetable broth
2 tablespoons Tamari sauce (or soy sauce)
2 tablespoons water
1 teaspoon sesame oil
4 tablespoons fresh lemon juice
1 teaspoon fresh grated ginger
4 cloves garlic, minced
2 teaspoons cornstarch
For the Stir Fry:
1 tablespoon olive oil
1 large bunch of asparagus, ends trimmed, cut into 2-inch pieces
2 cups sugar snap peas
4 green onions, cut into 2-inch pieces
1 (8 oz) can water chestnuts, drained
Salt and black pepper, to taste
Quinoa or rice, for serving, optional
Directions:
First, make the Lemon Ginger sauce. In a small bowl, whisk together broth, Tamari , water, sesame oil, lemon juice, ginger, and garlic. Whisk in the cornstarch, making sure there are no lumps.
In a large skillet or wok, heat the olive oil over high heat. Add in the asparagus, peas, green onions, and water chestnuts. Pour the sauce over the vegetables and stir fry until the vegetables are tender, but still crisp, about 5 minutes. Season with salt and black pepper, to taste. The sauce will thicken as the stir fry cools.
Serve the stir fry over quinoa or rice, if desired.
All images and text ©
.
Follow twopeasandpod on Instagram and show us what recipes you are making from our blog! Use the hashtag #twopeasandtheirpod! We want to see what you are making in your kitchen!