Popsicles are the perfect summer treat. You don't have to turn on the oven and heat up the house to make popsicles. Homemade popsicles are the best too! They are easy, fun, and the flavor options are endless. We recently made strawberry popsicles-my all time favorite flavor.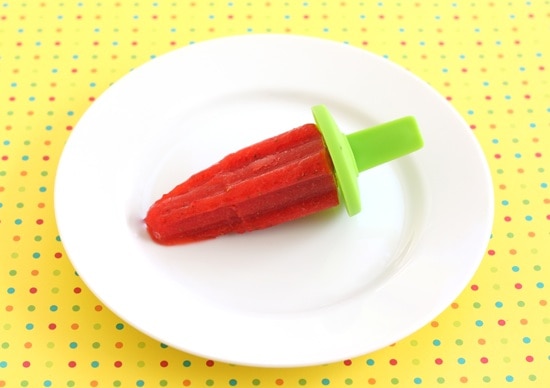 When I was a kid, we used to visit my grandpa's farm in Idaho every other summer. We loved spending a few weeks on the farm. We got to ride horses, feed the baby cows, chase peacocks, and find chicken eggs every morning. We also loved jumping on my grandpa's trampoline. We spent hours and hours jumping. It was always hot, but we didn't care. To cool off, we would eat popsicles. My grandpa had a special freezer for popsicles and ice cream. We consumed more than our fair share of frozen treats, but we were on vacation, so it was allowed:) Popsicles always remind me of my grandpa's farm.
I've learned to make popsicles at home , they are so easy! Strawberry popsicles are my favorite. All you have to do is puree fresh strawberries with sugar and a little lemon juice. You freeze the mixture in popsicle molds and that is it.
We don't go to my grandpa's farm to jump on the trampoline anymore, but I still remember the good old days of popsicles. I still love the cool, sweet, fruity flavor on my lips. Popsicles are one of the joys of summer time. If you are looking for a tasty way to cool down this summer try making strawberry popsicles.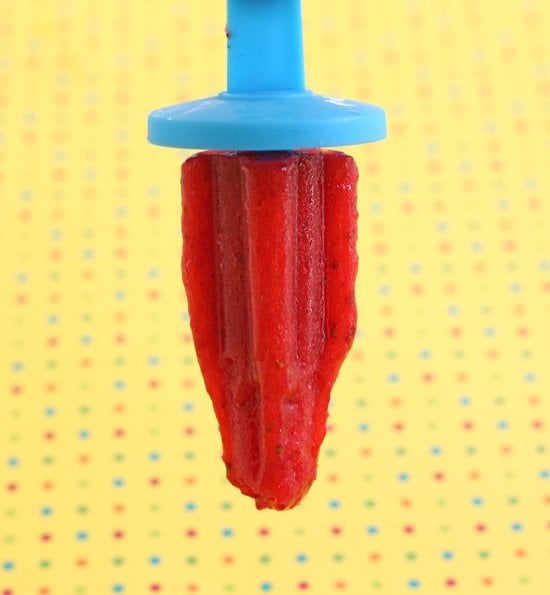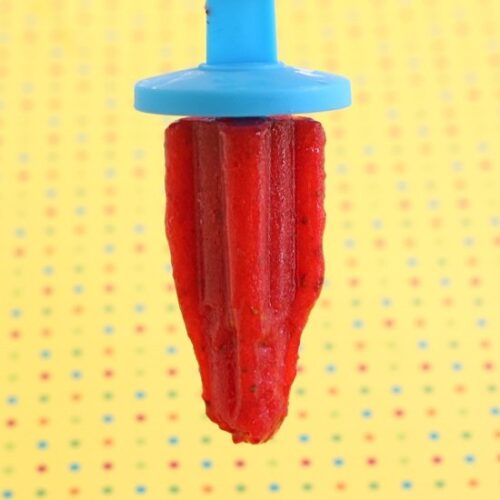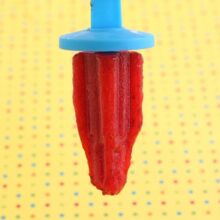 Strawberry Popsicles
Instructions
1. Slice the strawberries and put them into a medium bowl. Add the sugar and stir until all of the strawberries are coated in sugar.

2. Cover and refrigerate for at least an hour.

3. Remove strawberries from the refrigerator and put them into a blender of food processor. Add the lemon juice and puree until smooth.

4. Pour mixture into popsicle molds. Put molds in the freezer until popsicles are frozen, at least 3-4 hours.

5. When popsicles are frozen, remove from freezer. Let sit out for a few minutes before removing them from the molds. You can also run a little hot water over the molds to help them pop out.

Note-we bought our molds at a dollar store and IKEA. If you want to strain the seeds out before freezing, you can, but they don't bug us:)
Have you tried this recipe?
Leave a comment below and share a photo on Instagram. Tag @twopeasandpod and hashtag it with #twopeasandtheirpod
If you like these strawberry popsicles, you might also like:
Peaches and Cream Popsicles from My Baking Addiction
Watermelon Frozen Yogurt Popsicles from Family Fresh Cooking
Mocha Popsicles from A Cozy Kitchen