jump to recipe
Strawberry Shortcake Cookies
We had a death in the family this week-our Mac died:( Luckily, we were able to back everything up before the crash, but I am without my computer for a few days. Our Mac is in the shop getting a new hard drive. I hope it is fixed soon because I am lost without it! On a brighter note-I made Strawberry Shortcake cookies. These cookies have been on my "to do" list for quite awhile. Strawberry shortcake is one of my favorite desserts and you all know I love cookies-so I had to make these cookies. I love it when two desserts come together!
The cookies are made with heavy cream and have fresh diced strawberries in the dough. All of the goodness of strawberry shortcake, but in cookie form. These cookies remind me more of a scone. They are light, fluffy, and tender. The juicy strawberries add a nice burst of flavor. The cookies are best eaten the day they are made, but Josh enjoyed a few for breakfast the next day and he had no complaints:)
If you love Strawberry Shortcake, you will love these Strawberry Shortcake cookies! They taste just like the classic dessert, but they are portable. They are good as is, but you can serve them with vanilla ice cream if you want to go all out! Enjoy!

OTHER RECIPES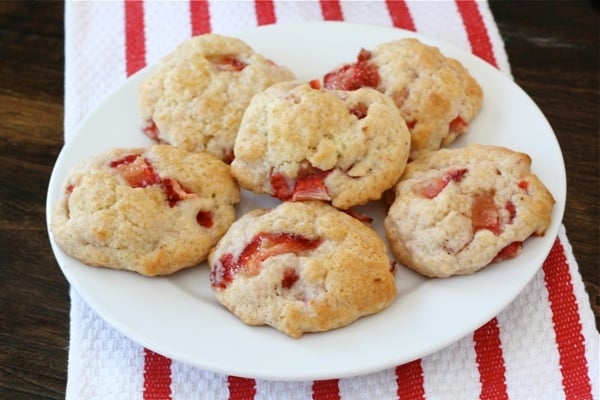 Strawberry Shortcake Cookies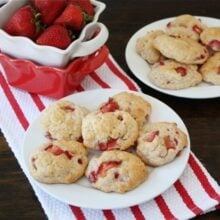 Yield: 3 dozen cookies
Prep Time: 10 minutes
Cook Time: 25 minutes
Ingredients:
2 cups diced fresh strawberries
1 teaspoon fresh lemon juice
1/2 cup plus 1 tablespoon granulated sugar
2 cups all-purpose flour
2 teaspoons baking powder
1/2 teaspoon coarse salt
6 tablespoons cold unsalted butter, cut into small pieces
2/3 cup heavy cream
Turbinado sugar, for sprinkling
Directions:
Preheat oven to 375 degrees. Line a baking sheet with parchment paper and set aside.
Combine strawberries, lemon juice, and 2 tablespoons granulated sugar. Whisk together flour, baking powder, salt, and remaining 7 tablespoons granulated sugar in a large bowl. Cut in the butter with a pastry cutter, or rub in with your fingers, until mixture resembles coarse crumbs. Stir in cream until dough starts to come together, then stir in strawberry mixture.
Using a 1 1/2-inch ice cream scoop or a tablespoon, drop cookie dough onto prepared baking sheet, spacing evenly apart. Sprinkle cookies with turbinado sugar, and bake until golden brown, about 22 to 25 minutes. Transfer to a wire rack, and let cool.
Note-Cookies are best served immediately, but can be stored in an airtight container at room temperature for up to 1 day.
Recipe from Martha Stewart
All images and text © .
Follow twopeasandpod on Instagram and show us what recipes you are making from our blog! Use the hashtag #twopeasandtheirpod! We want to see what you are making in your kitchen!
If you like these Strawberry Shortcake Cookies, you might also like:
Chocolate Covered Strawberry Cookies from Cara's Cravings
Strawberry Filled Lemon Sandwich Cookies from Evil Shenanigans
Dark Chocolate Strawberry Cookie Sandwiches from La Fuji Mama
Strawberry Cake from Two Peas and Their Pod