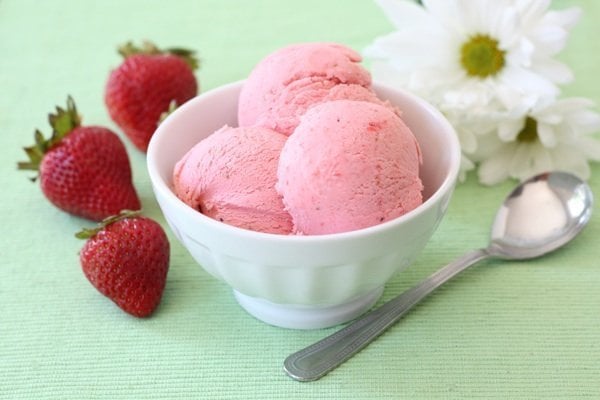 Summer is in full swing and that means it is ice cream season. I love making homemade ice cream, but since I am pregnant I am supposed to avoid homemade ice cream that contains eggs. Sad day! I asked my Facebook fans if they had any "eggless" ice cream recipes and they did not let me down. My food blogging friend, Annalise, recommended David Lebovitz's Strawberry-Sour Cream Ice Cream. I immediately got out my book, The Perfect Scoop, and found the recipe. I love strawberry ice cream and David's recipe for Strawberry-Sour Cream Ice Cream sounded divine.
This ice cream is easy to make. Use the ripest, freshest strawberries you can find. Toss them in a bowl with sugar and let them sit for about an hour so their juices can come alive. Next, you mix all of the ingredients together in a blender-strawberries and their juices, sour cream, heavy cream, and lemon juice. You let the mixture chill and then freeze it in your ice cream maker. The result is creamy, slightly tangy, sweet strawberry ice cream.
If you like soft ice cream, go ahead and eat it right away. My favorite part is licking the bowl:) If you prefer hard ice cream, let the ice cream set up in the freezer before serving. Cool off with a giant scoop of Strawberry-Sour Cream Ice Cream this summer. This recipe is a must make!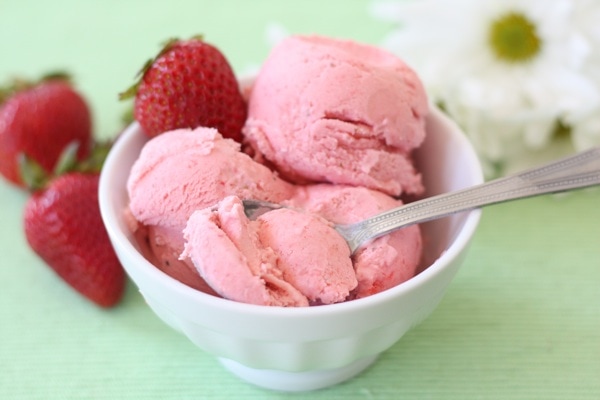 Strawberry Sour Cream Ice Cream
This strawberry ice cream is super creamy and so easy to make!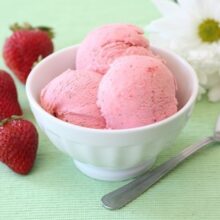 Ingredients
1

pound

fresh strawberries

rinsed and hulled

3/4

cup

granulated sugar

1

cup

sour cream

1

cup

heavy cream

1/2

teaspoon

freshly squeezed lemon juice
Instructions
Slice the strawberries and toss them in a medium bowl with the sugar and vodka or kirsch, if using. I left the alcohol out. Stir until the sugar begins to dissolve and all of the strawberries are coated. Let stand at room temperature for 1 hour, stirring occasionally.

Pulse the strawberries and their liquid with the sour cream, heavy cream, and lemon juice in a blender or food processor until almost smooth, but still slightly chunky.

Refrigerate mixture for at least one hour. Freeze in your ice cream maker according to the manufacturer's instructions.
If you like this Strawberry Sour Cream Ice Cream, you might also like:
Fresh Strawberry Ice Cream from Pinch My Salt
White Chocolate Strawberry Chunk Ice Cream from Daydreamer Desserts
Strawberry Ice Cream Brownie Cupcakes from Mel's Kitchen Cafe