Stuffed Poblano Peppers-vegetarian stuffed peppers that are loaded with farro, veggies, and beans!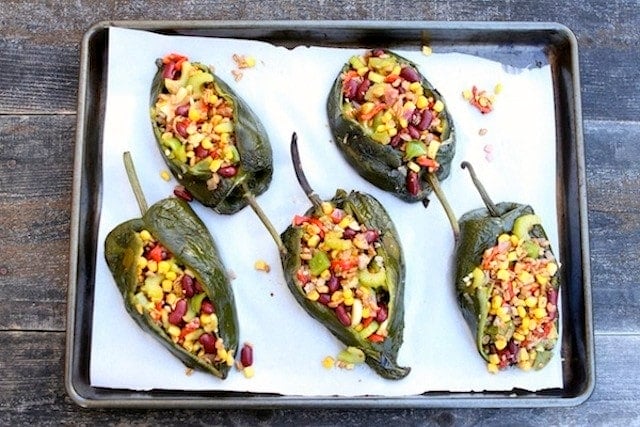 We are super excited to be teaming up with Better Home and Gardens for the month of March to share with you some meatless dishes that you can enjoy as a side dish, snack, or a main dish. We will be using a recipe already created by BHG and just making a few changes. You can find the original recipe on the BHG blog and we will be sharing the changes we make on our site.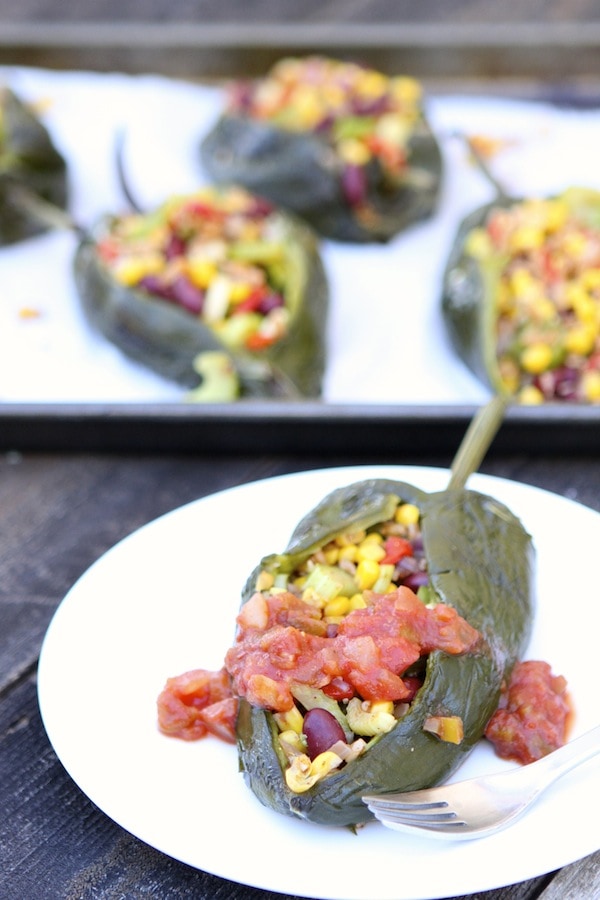 First up, we made BHG's Stuffed Poblano Pepper recipe. I am a big fan of stuffing peppers and a poblano pepper is a great alternative to a bell pepper for stuffing. One of my biggest cravings while being pregnant has been spicy food, and this Stuffed Poblano Pepper recipe is perfectly spicy!
I made one simple change to this recipe; I omitted the sausage. I kept every single one of the amazing flavors except the meat making it a wonderful meatless option for my family and me. Truth be told, with all of the flavorful veggies and spices, even Josh didn't miss the sausage!
A meal in an edible bowl is perfection! This stuffed pepper is kind of like an opened faced burrito loaded with corn, beans, chilis, farro, and spices. Having the faro in the stuffing really beefs up the filling giving it a meaty texture without actually adding the meat.
This recipe is perfect to serve as a main course or even a delicious starter. Any way you serve it your friends and family will be satisfied and impressed.
For the complete recipe, head on over to BHG's blog, Delish Dish. And make sure you come back every Sunday because we will be sharing a fabulous meatless recipe every Sunday this month! We hope these recipes give you inspiration for Meatless Monday!