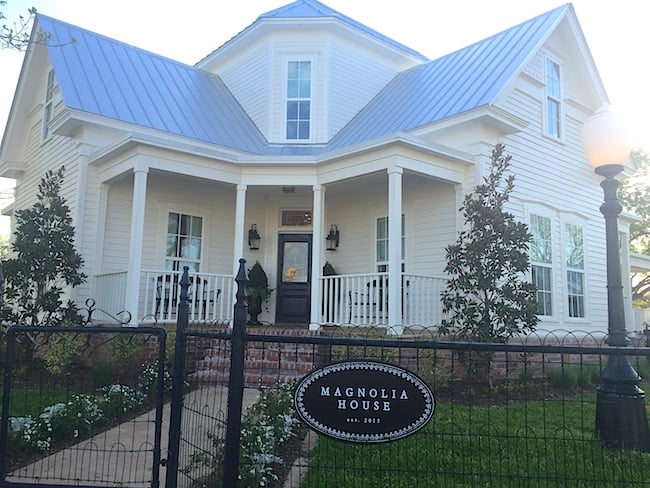 Last week, I went to Waco, Texas for a fun Fixer Upper weekend with a group of my blogging friends. Fixer Upper is one of my favorite shows on HGTV. I have been watching it since day one. I adore Chip and Joanna. They are the cutest couple and their work is amazing! I love every single house they fix up!
Today, I am going to share my weekend in Waco…including my stay at The Magnolia House. Chip and Joanna discovered The Magnolia House after showing it to a client on their show. The couple didn't choose it, but Joanna loved it, so she pitched the idea of a vacation home to Chip and he liked the idea! They purchased the home and fixed it up!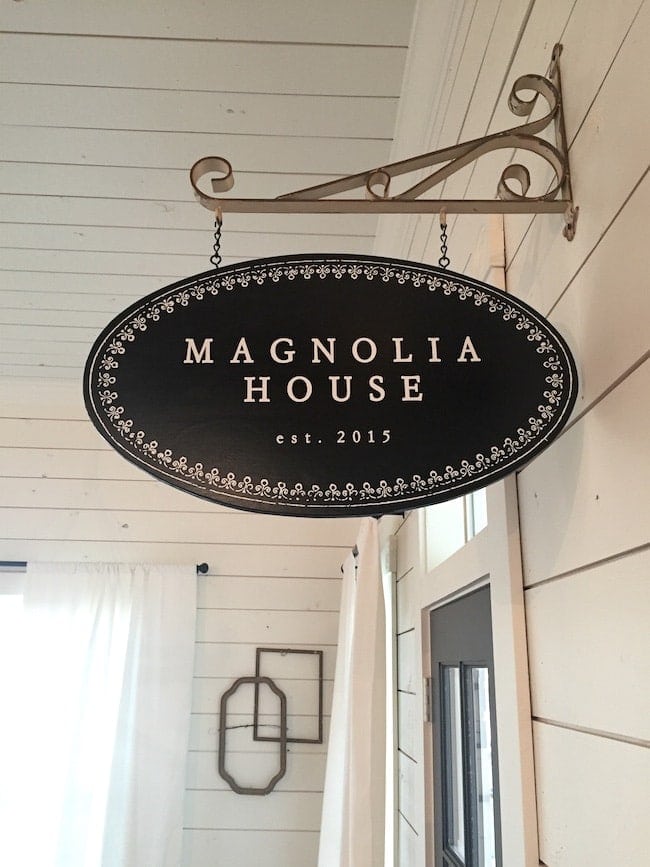 Chip and Jo turned the Magnolia House into a vacation rental to give visitors the full Magnolia experience. Well, I got the full Magnolia experience and it was fabulous! Every little corner of the house was perfection!
The house is actually in McGregor, about 30 minutes outside of Waco. It is SO worth the drive!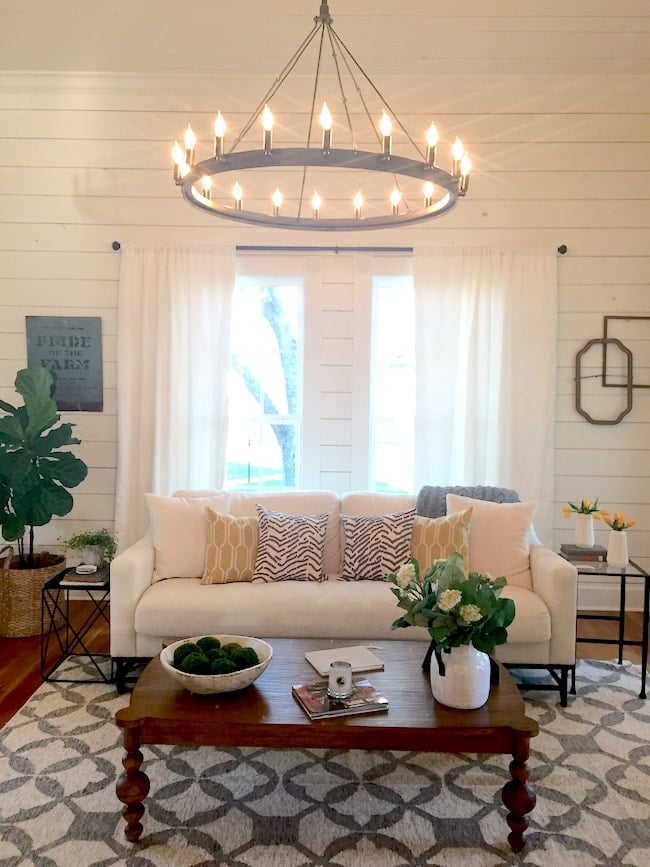 Let me take you on a little tour!
The living room was nice and cozy and I loved the chandelier. Joanna has a gift for picking out the perfect lighting. I loved the lighting in every room of the home.
How perfect is the dining room and table setting? Don't you want to sit down and eat dinner?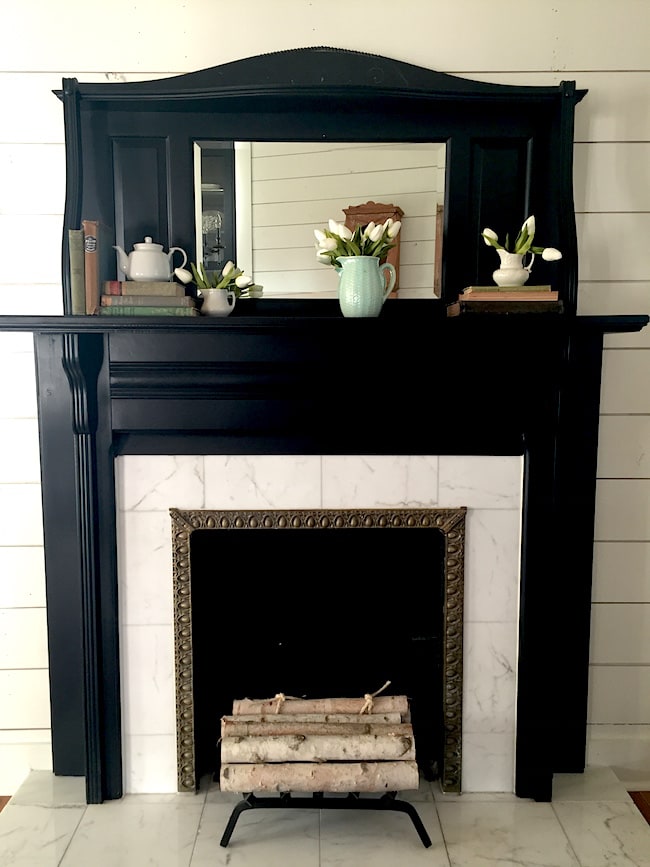 I love the wood in front of the fireplace! And look at the adorable white tulips! Jo placed white tulips throughout the entire house. They were so pretty! I am so doing that in our new house🙂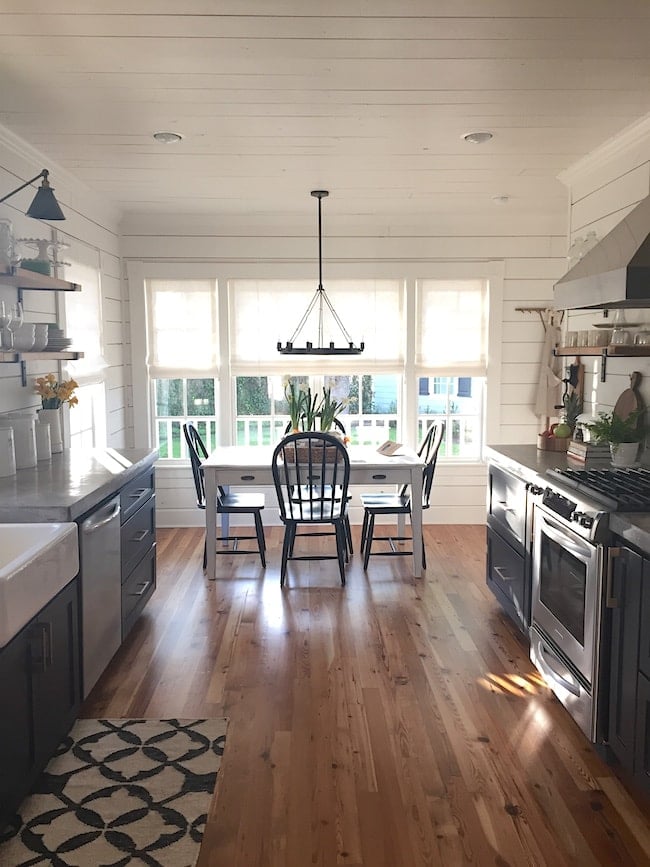 The kitchen was nice and open with lots of natural light.
I loved the open shelves…and of course every shelf was decorated perfectly!
Oh, and Chip and Jo left a note and a huge basket of pastries in the kitchen for us to enjoy. The cinnamon scones were amazing!! They sure know how to spoil their guests.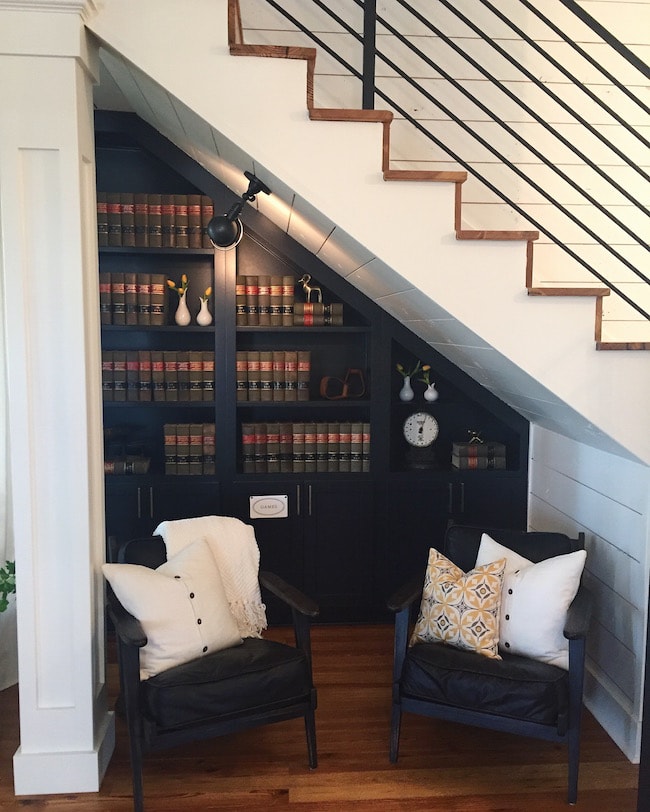 The reading nook under the stairs is such a great use of space! I could curl up with a good book and stay here all day!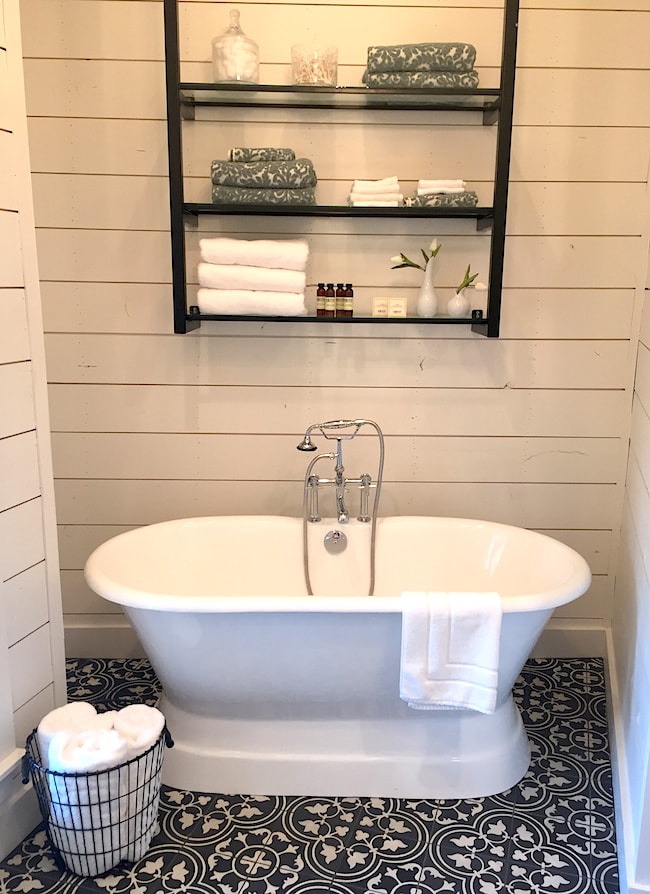 Look at that dreamy tub and black and white cement tile. I loved everything about this bathroom! We are doing black and white cement tile in our guest bathroom and I can't wait:)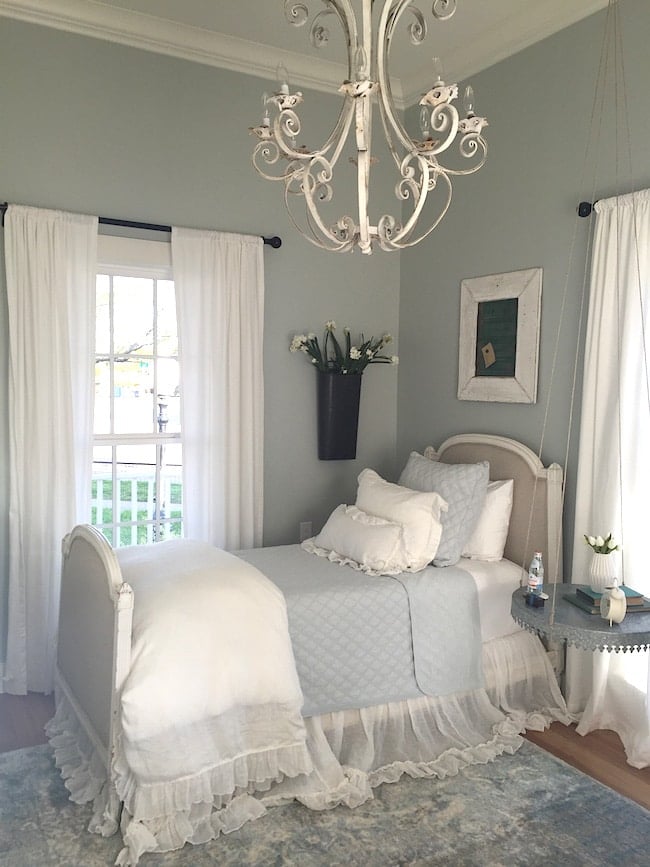 I loved this elegant room! It was almost too pretty to sleep in!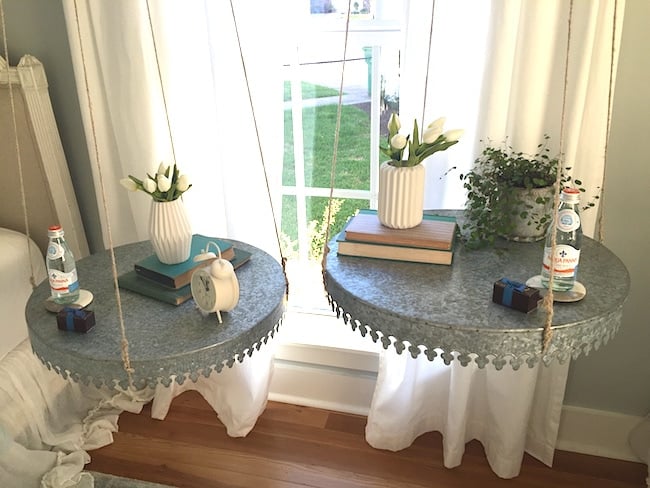 And look at these adorable hanging night stands! Only Joanna could dream up hanging night stands. Sooooo fun! And of course there were little boxes of chocolate and water bottles for every guest!
The bedroom upstairs was gorgeous! I loved that bed!
Such a cute little bench!
The Carriage House is right next to the Magnolia House and if you watched Fixer Upper this week, you saw the amazing transformation. Rob and Marianne, the Magnolia House caretakers, live there and they are the sweetest!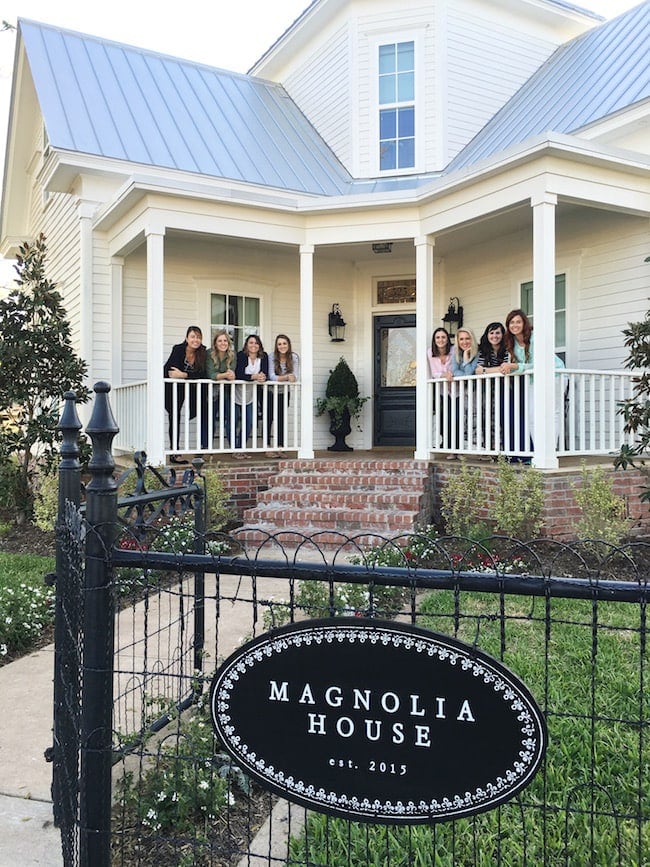 Photo via Kristen
I had so much fun at the house with my blogging friends! Love these girls! BTW-you should check out their sites: Tater Tots and Jello, Six Sisters' Stuff, Lolly Jane, Pretty Providence, Picky Palate, Lil' Luna, and Capturing Joy.
And now for some Waco fun!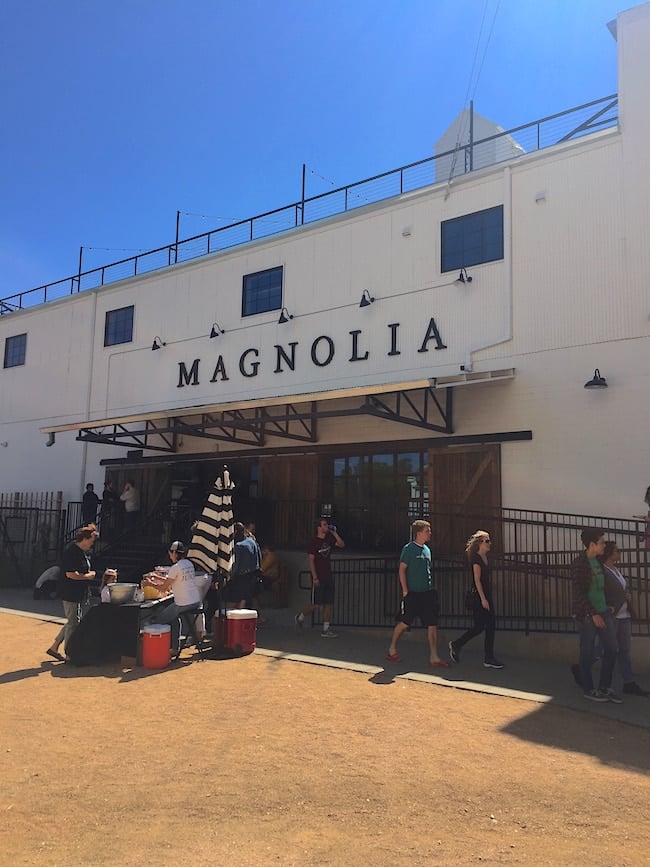 We went shopping at Magnolia Market and I wanted EVERYTHING! The market is so cute and has all of Jo's favorite things.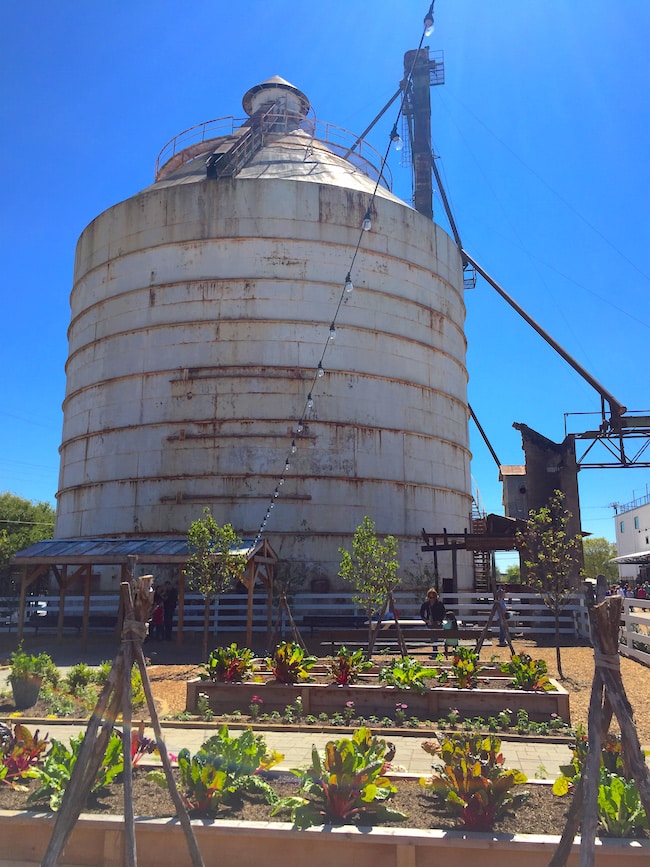 I loved the garden space! Joanna is opening a fun garden store too!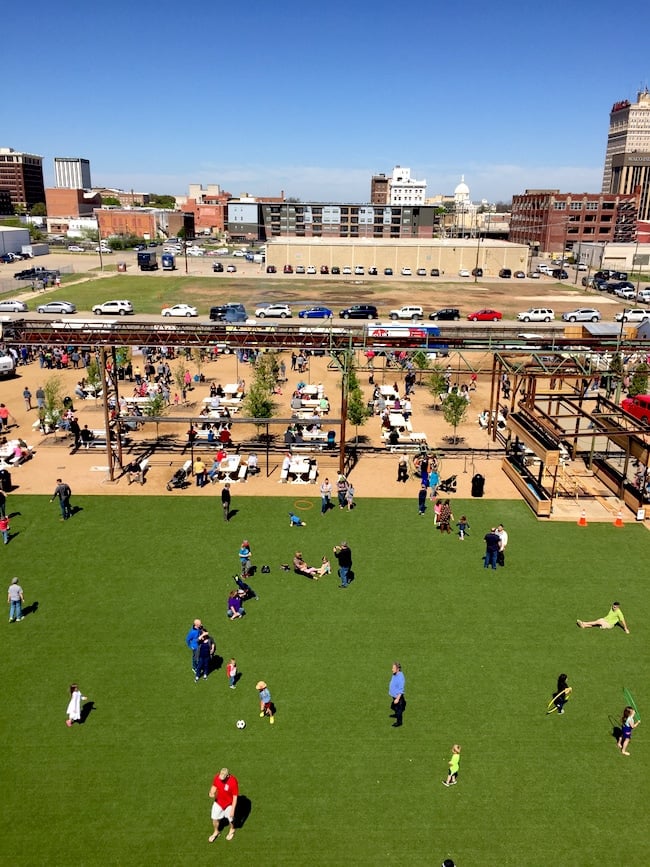 We got to go on a private tour of the Market and Silos. We ended up on top of the roof of the market and had a great view of Waco! I loved the big open yard for kids and families to hangout and play! There is also a big picnic area and a ton of food trucks! You can shop, play, eat, and hangout all day! It is such a fun place!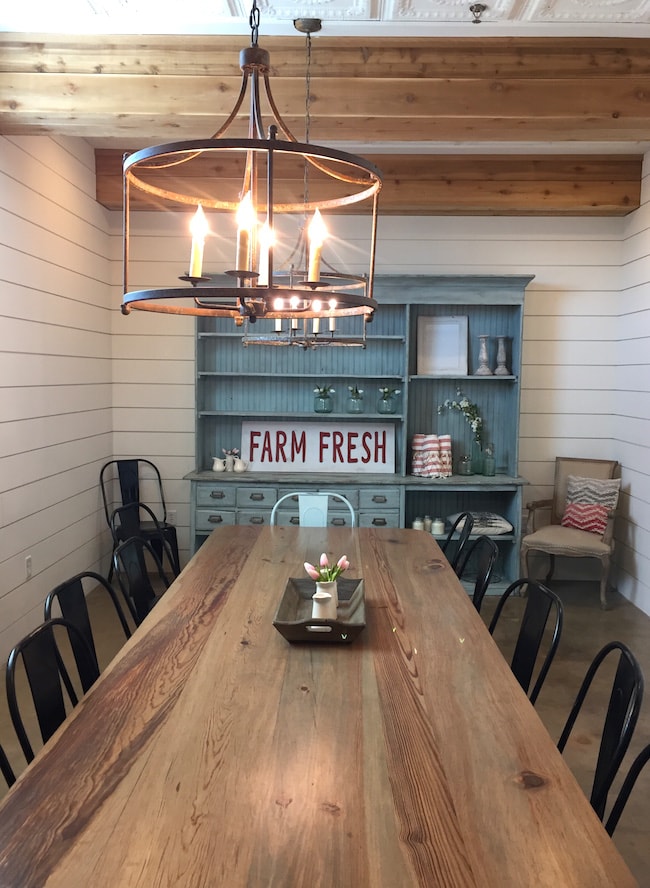 How cute are the Magnolia conference rooms? SHIPLAP! 🙂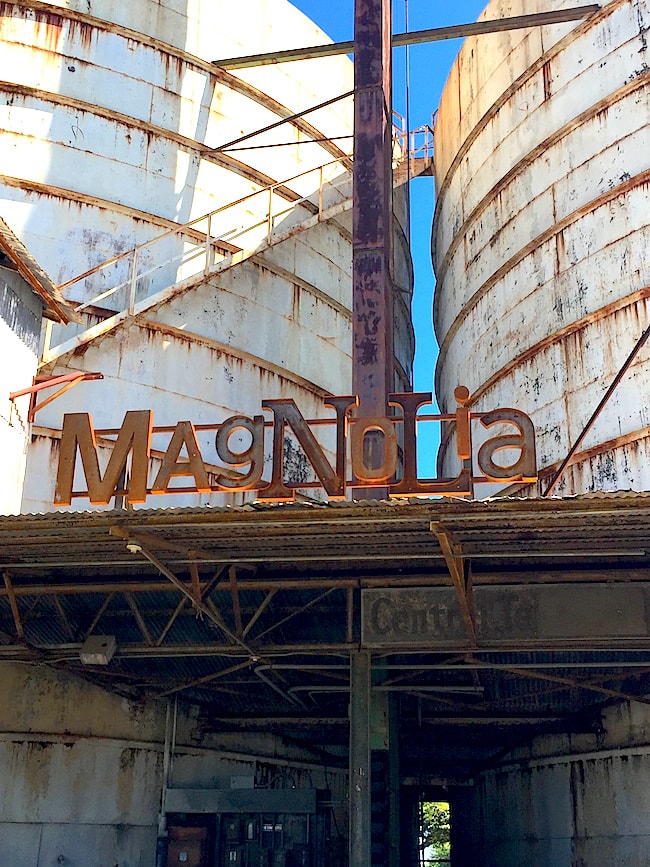 We got to peek inside Joanna's bakery, Magnolia Flour. It is opening in May! I will have to go back to sample everything!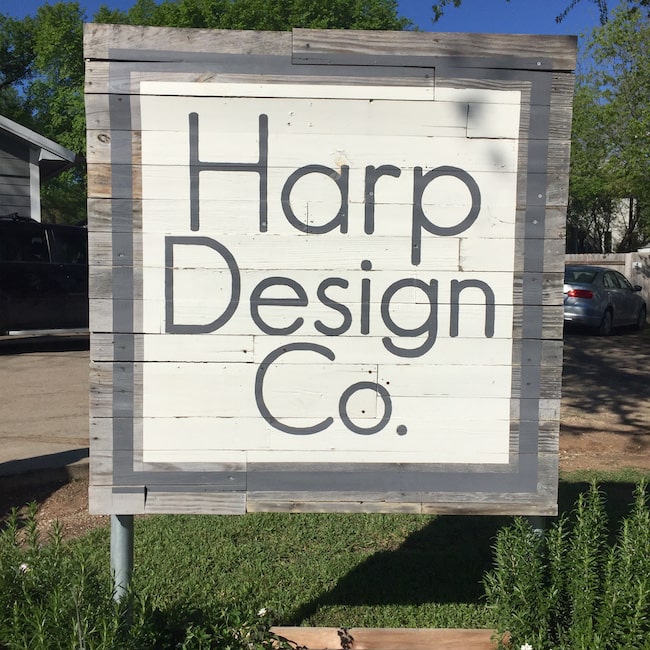 We also visited Harp Design Co. and got to meet Clint and Kelly. They are the nicest people on the planet! I loved hearing their story. They are the kind of people you just want to hug because they are happy, grateful, giving, humble, and just down to earth GOOD people.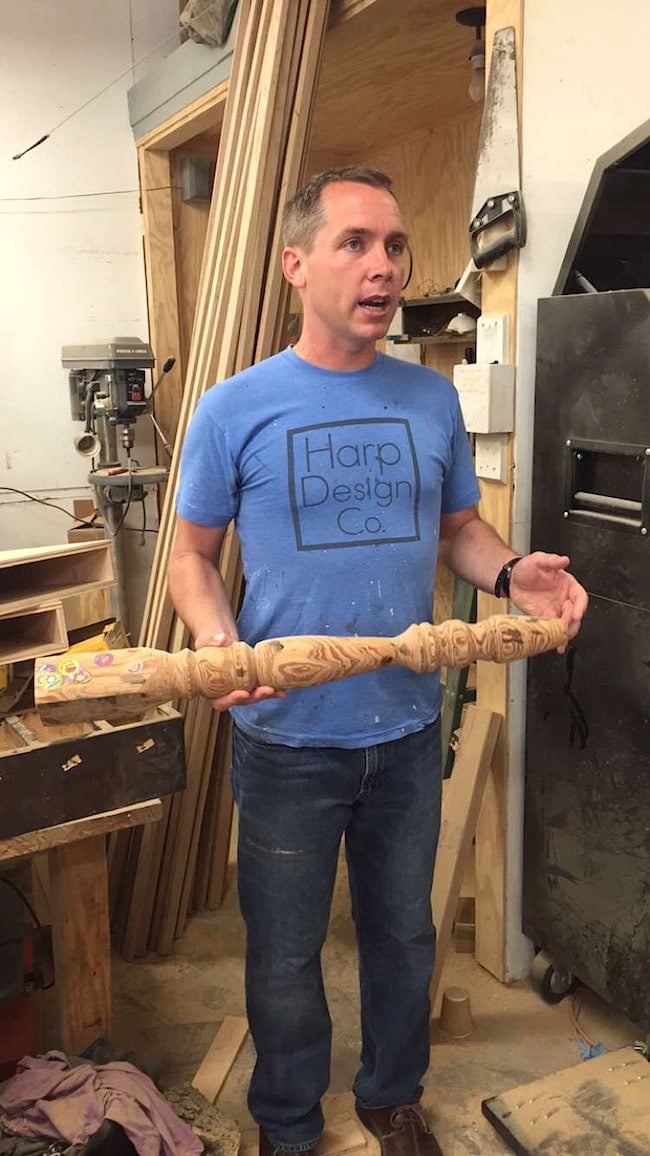 Clint gave us a tour of his shop. He is holding the original table leg he designed for Jo. His tables are gorgeous!! I think I need one for our new house!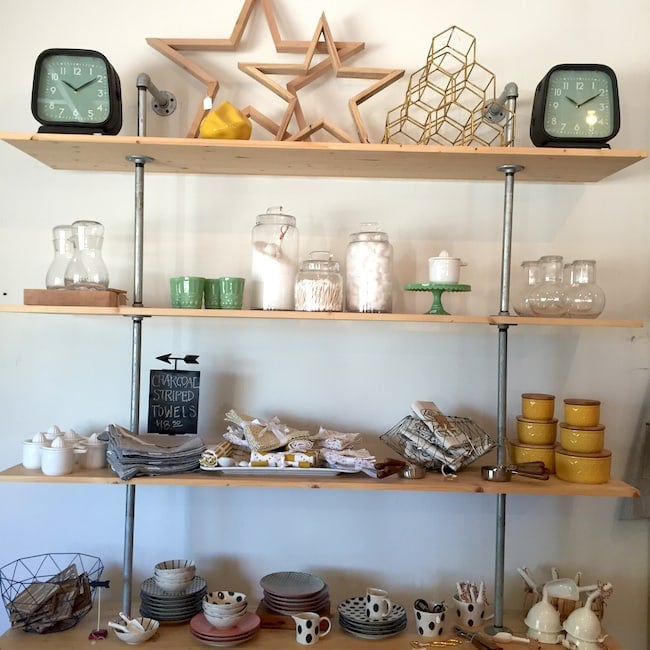 Their shop is super cute too! Again, I wanted to buy everything. Next time, I am driving a U-Haul to Waco:)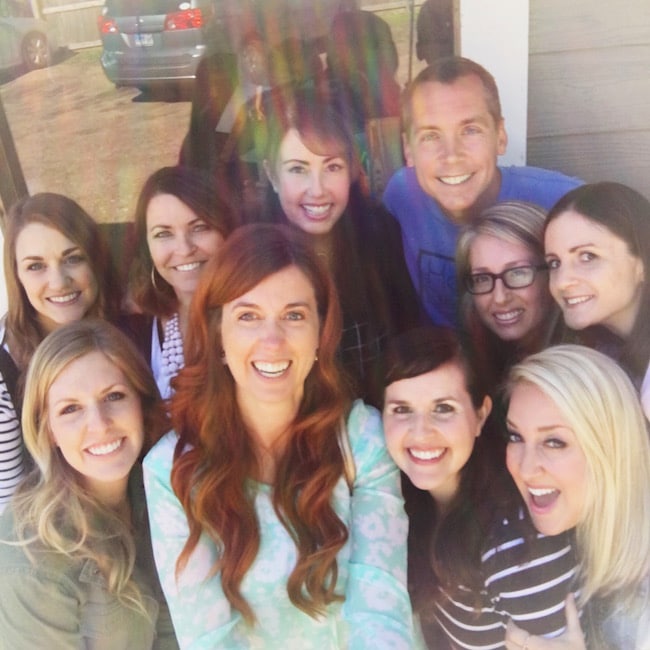 Thanks Clint and Kelly for a fun day!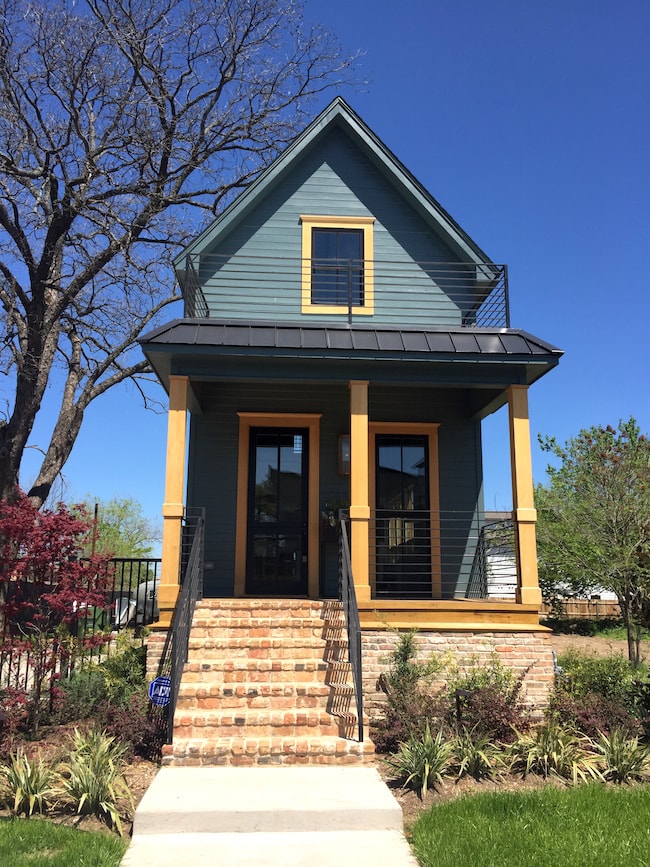 We spotted the Shotgun House from Season 3! It's still looking good!
Ok, now let's talk about the food in Waco because there are some places worth mentioning. You know I am always scoping out the best food places when I travel!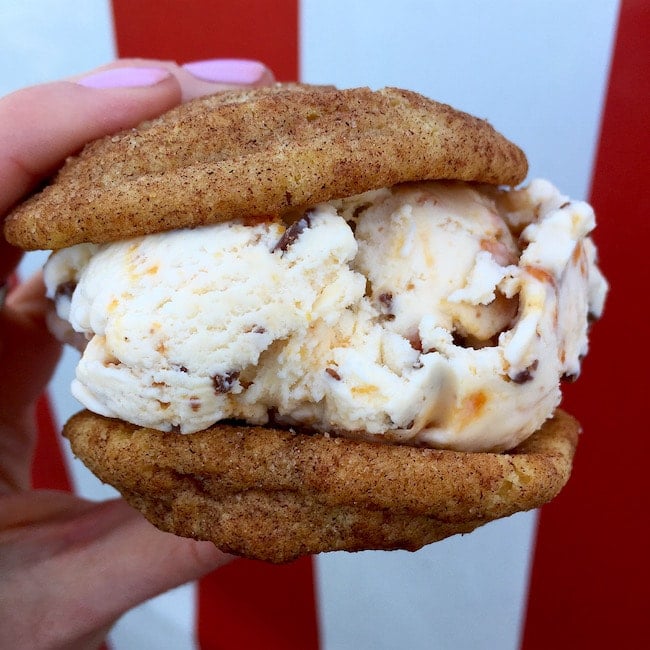 Pokey O's is an ice cream sandwich food truck in Waco and let me tell you it is a MUST! Julia and Austin, the owners, met up with us so we could sample all of their ice cream sandwiches. You can create your own ice cream sandwich by mixing and matching their homemade cookies with ice cream. I went with Snickerdoodle cookies and Butterfinger ice cream. The combo was perfect and their snickerdoodles are SUPER soft and delicious. This is probably the best ice cream sandwich I have ever had! If you go to Waco, you have to visit Pokey O's food truck. Follow them on Instagram to find out their schedule!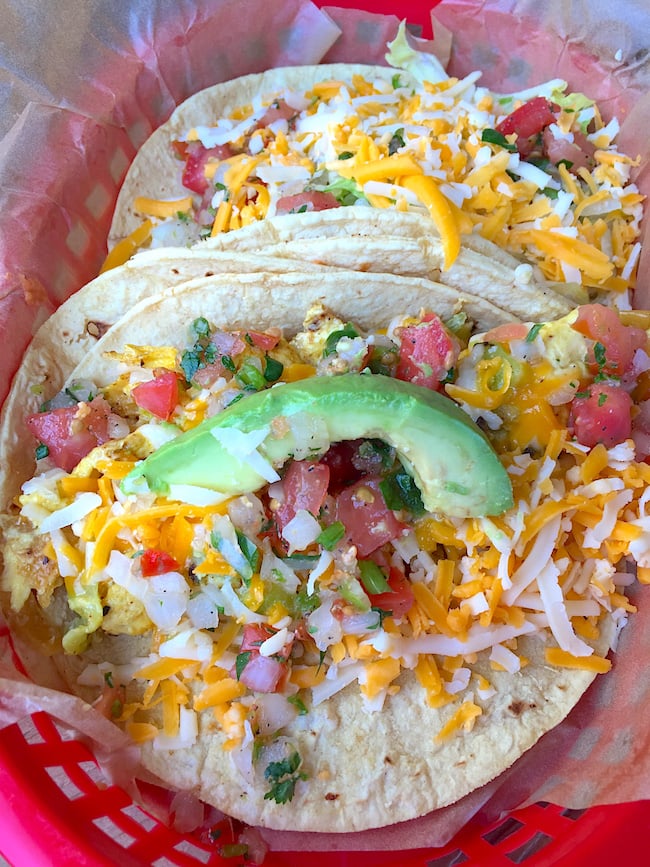 Torchy's Tacos is a a great spot for a quick and affordable meal! I had the Migas and a fresh avocado taco and both were tasty! And if you go, you HAVE to get the green chile queso! It is the best!!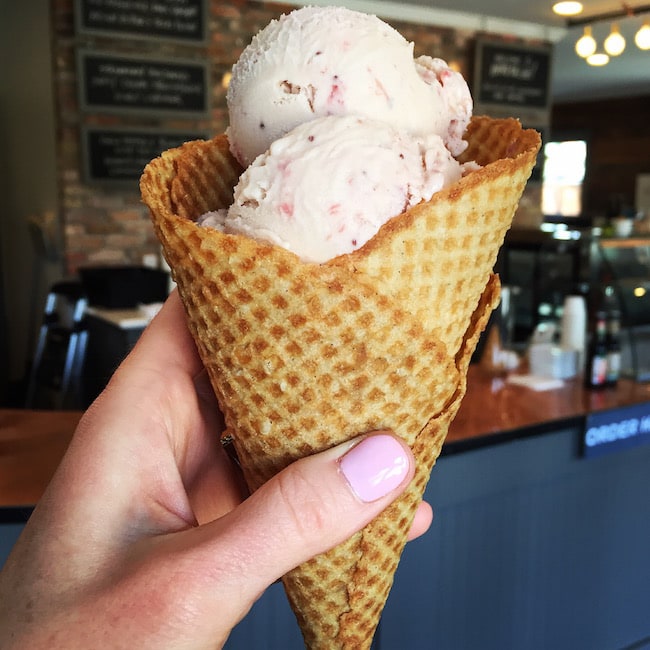 Heritage Creamery is a new ice cream shop in Waco located near Baylor campus and I was blown away by their ice cream. It is SO fresh! They call it "farm to cone" ice cream because they use local ingredients to produce all-natural, top-notch ice cream. They have a ton of fun flavors and their homemade cones are to die for! The strawberry balsamic ice cream was my favorite! Oh, and if you are into coffee, you have to stop by Common Grounds which is right next door! It is a cool coffee shop!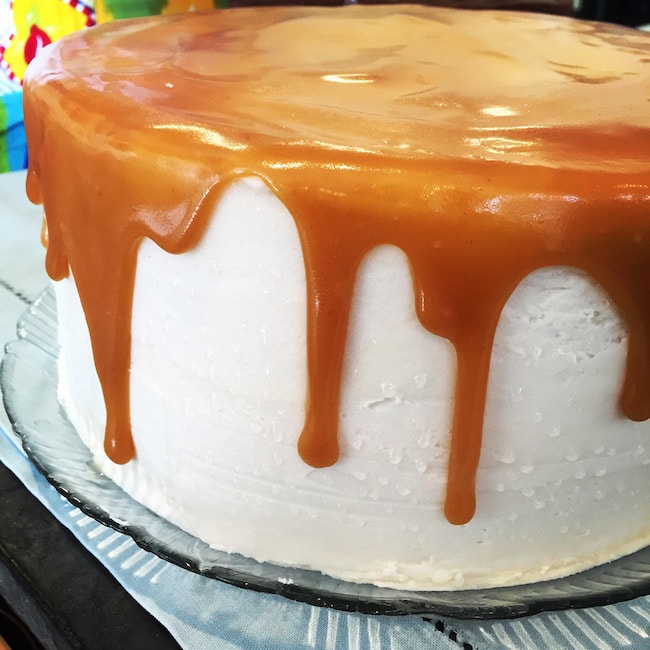 Lula Jane's bakery is a must visit. Everything is made from scratch and Nancy is a delight! She bakes up an amazing spread every day and she will make you feel right at home! The cakes are amazing! I loved the caramel cake and the lemon raspberry cake! And don't leave without a chocolate chip cookie. Nancy serves them up warm and gooey!
We also ate at Ninfa's, a Mexican restaurant in Waco, and I loved the spinach enchiladas! The chips and salsa were really good too…I forgot to take a picture because I was so hungry! Oops:)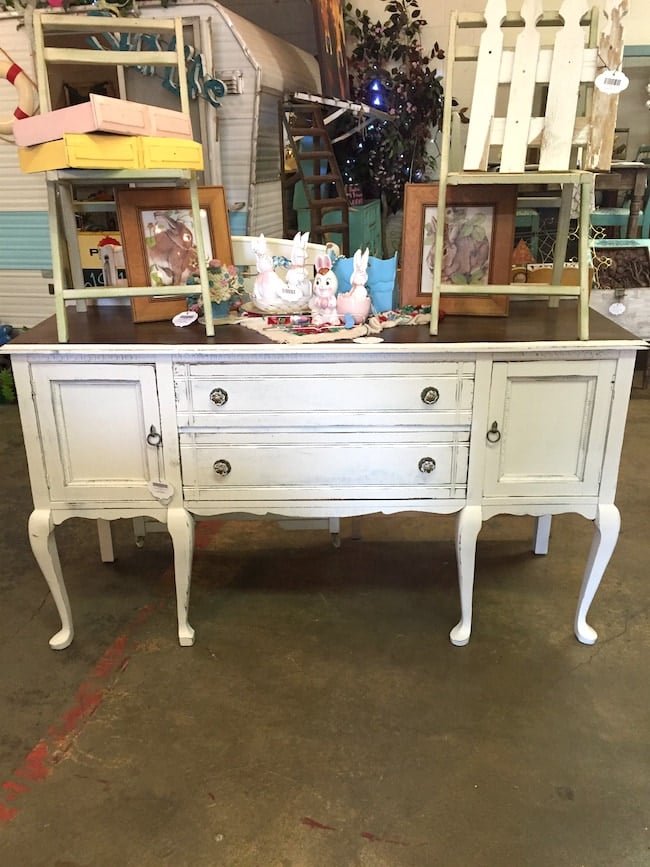 Ok, and now a few shopping tips! There are a ton of fun antique shops and boutiques in Waco. A few of my favorites were Junque in the Trunk and Shades of Shabby. I really wanted to buy this piece for our new house, but the shipping was WAY expensive. I really need to go back with that U-Haul:)
A few other tips for visiting Waco:
Magnolia Market and the Silos are crazy busy, but the lines move fast. Go during the week if you can!
Magnolia Market has an online store, but the store in Waco has a wider variety of items. Bring a big suitcase or be prepared to ship things home. There is a UPS store close by.
Waco has an airport, but it is small. Look at flights to Austin or Dallas. It is about a 1.5 hour drive from both cities.
The Magnolia House is booked for 2016, but you can sign up for Chip and Jo's newsletter to receive info about opening dates!
And just an FYI-the people in Waco are SO friendly! Everyone was so nice and you could feel the sense of community. Everyone LOVES Chip and Jo!
Well, that was a recap of my weekend in Waco! Sorry, it got kind of long, but there was just so much fun to share! If you ever get the chance to visit Waco, DO IT, especially if you are a Fixer Upper fan!