The world famous Pioneer Woman, Ree Drumond, was in Utah this week to promote her new cookbook, The Pioneer Woman Cooks. Ree's blog is extremely popular, she has millions of fans. She is loved for her recipes, sense of humor, stellar photography, down to earth personality, beauty, and stories. (I could go on and on, but you all know she is amazing.)
I was fortunate enough to hear Ree speak at the Blogher Food Conference in San Francisco. She was one of the main presenters and I loved hearing about her life and blogging experiences. I even got to meet her after one of the sessions. Gaby and I went up to say hi and she was so sweet to us. So when I heard she was coming to Utah, I knew I couldn't miss out.
Ree was busy while she was in Utah. Everyone wanted a piece of her:) I watched her live cooking segment on Studio 5, the same show I made my banana cinnamon cake on a few months ago. She showcased her flat apple pie. Of course she was stunning and the pie looked amazing! Can't wait to make this one.
That night I attended the book signing with a few of my favorite Utah food blogging friends,
Food Finery
,
Barbara Bakes
,
The Table Runner
, and
Vintage Mixe
r
.
We knew it was going to be a zoo, so we got there super early. The Table Runner was the first one in line, yahoo!
We had 3 hours to kill until The Pioneer Woman was supposed to speak so we ordered some food from
Mazza
and had a little picnic. We split vegetarian grape leaves, hummus, baba ganooj, and pita bread. It was quite tasty! Thanks B

arbara for providing the blanket:)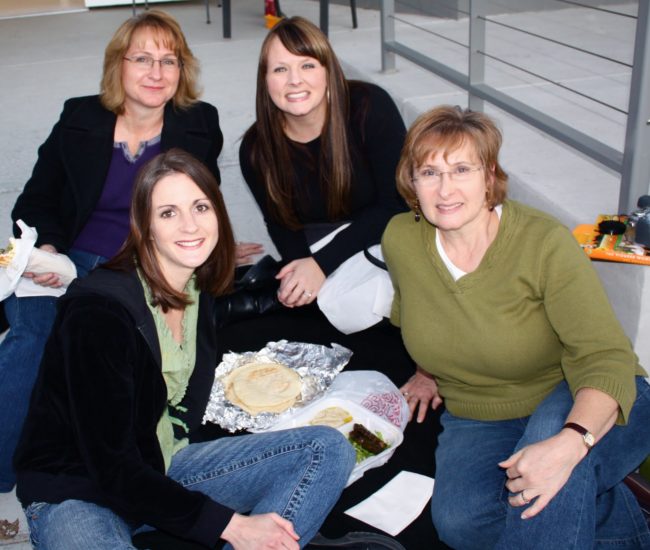 While we were waiting in line we met some new friends. One of the girls behind us even was a regular reader of my blog. How fun!
I couldn't believe the massive amount of people that showed up. The line was neverending! There were people everywhere with cookbooks in there hands. You could feel the energy. We were finally let inside and we got front row seats.
When The Pioneer Woman arrived with Missy and her mother-in-law the room exploded with applause and loud cheers. The room was packed to the max! Ree spoke to the group and answered questions from the audience. She talked for about 20 minutes. A few of the highlights: she did her Ethel Merman impression, talked about wearing "spanks," and of course told a few fun

ny ranch stories.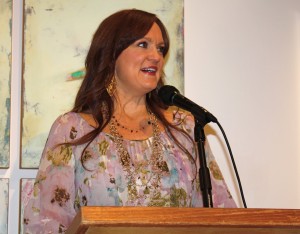 We were the first ones to get our books signed. I am so glad we got the golden A tickets. Ree was so nice and posed for a few photos. We were also able to chat for a few minutes. She remembered me from Blogher Food and even talked about a few of my tweets:) She said she loves Utah and wants to come back. I really hope she does.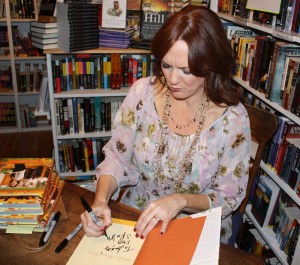 When we left the bookstore the crowds were even thicker. There were people everywhere. I am glad Utah showed Ree how much we love her!
Now onto the book. I love it! I got it last week and haven't had time to make very many recipes, but I have enjoyed reading the stories and looking at the amazing photography. You can tell each page was crafted with love. The book reads like a family journal. Ree includes photos and stories about her family, ranch animals, friends, and recipes. Even Josh picked it up and commented on the pictures and pointed out a few recipes he wants to try-the pulled pork is at the top of the list:)
I did make Ree's skillet cornbread and it is fabulous. It took me five minutes to whip up. I don't have a skillet, gasp!, so I made it in a round cake pan. This is the easiest cornbread I have ever made and everyone loved it.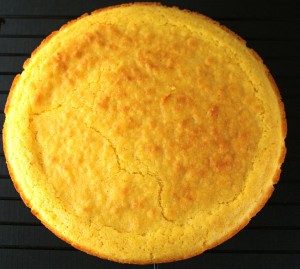 Skillet Cornbread
Recipe from
The Pioneer Woman Cooks
1 cup yellow cornmeal
½ cup all-purpose flour
1 tsp. salt
1 Tbsp. baking powder
1 cup buttermilk
½ cup milk
1 large egg
½ tsp. baking soda
¼ cup + 2 Tbsp. shortening
Preheat oven to 450 degrees F.
In a bowl, combine cornmeal, flour, salt and baking powder & whisk together.
Measure buttermilk and milk in a measuring cup. Stir in the egg with a fork. Add baking soda and stir. Pour into the bowl with the dry ingredients and stir with a fork just until combined.
In a small bowl, melt ¼ cup shortening in the microwave. Slowly add melted shortening to the batter, stirring just until combined. In an iron skillet over high heat, melt the remaining 2 Tbsp. shortening. Pour the batter into the hot skillet and spread to even out the surface. Cook on the stovetop for about a minute, then bake in the oven for 15 to 20 minutes, or until golden brown. The edges should be crispy.
*NOTE* I don't have a cast iron skillet, so I just sprayed a 9 inch round cake pan and baked the cornbread in the oven. I didn't melt the 2 T. of shortening or cook it on the stove. Those were my only changes. I baked it for 20 minutes.