Tips for Picking The Perfect Paint Colors-use these tips to pick out the perfect paint colors for your home!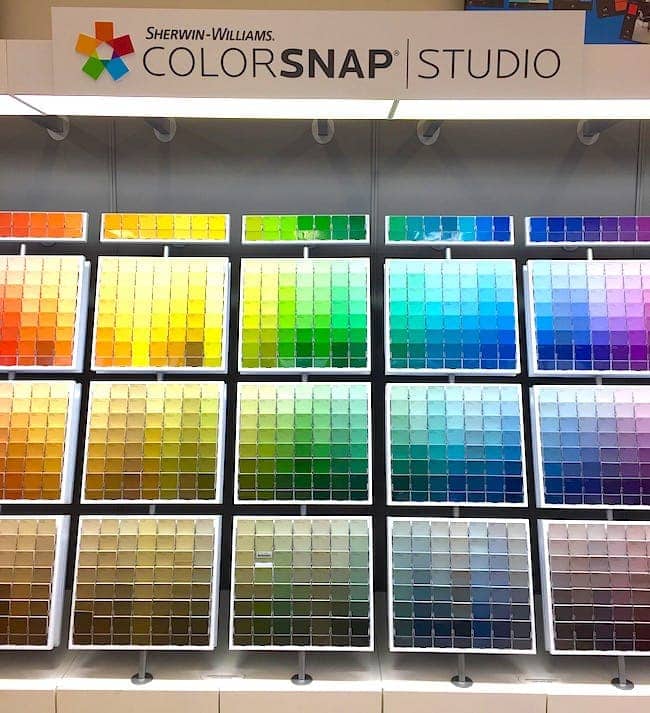 Whether you are building a new home or just need to freshen up a room it can be hard to pick out the perfect paint color. We are currently building a home and we were overwhelmed with all of the paint options. I think picking out paint colors has been the most stressful part of the entire house building process. There are SO many colors to choose from! We have learned a few things along the way so today we are sharing our tips for picking out the perfect paint colors.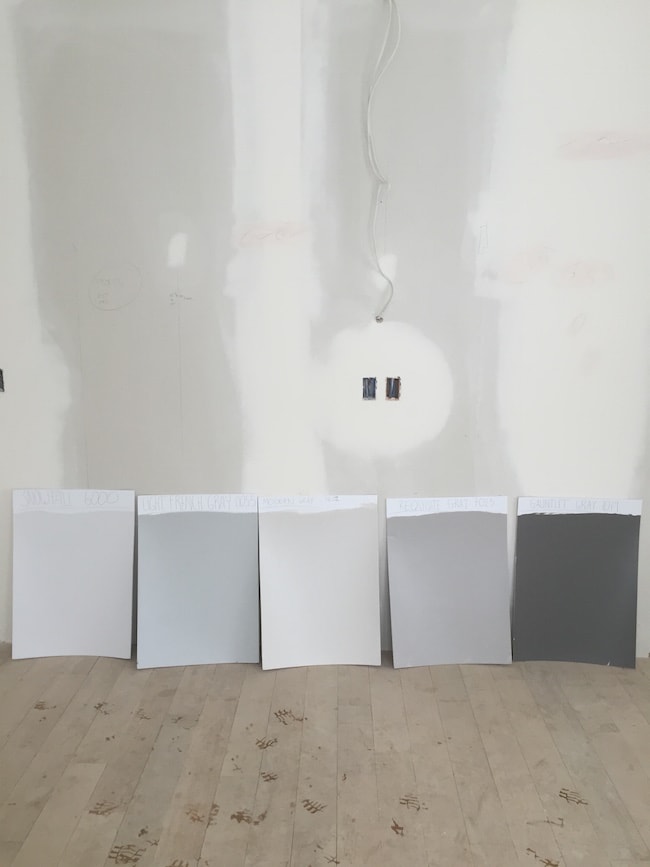 Do Your Homework: Get an idea of the colors you like by using the internet, social media, and asking your friends. I stalked designers on Instagram, read home interior blogs, and spent a lot of time on Pinterest. I made a secret board on Pinterest and pinned paint colors and room inspiration photos that I liked. I also asked several friends for advice and made a list of colors they loved. I kept gravitating towards gray colors so I knew we needed to look at gray colors first.
Get Professional Help: After you have a general idea of the colors you like, visit a paint store. We went to our local Sherwin-Williams store and asked for paint advice. Ian, a paint specialist, talked to us about the color wheel, saturations, hue, lighting, etc. We showed him a few pictures and told him about our home and he helped us narrow down our search, which was super helpful because there are A LOT of paint colors.
Think It Over: Take home paint chips and think about it. The lighting in most paint stores isn't the best, so take home your paint chips and view them in natural light and the light in your home. Hold the chips up to something white so you can see the true color. After awhile, all of the colors start to look the same, so take a break and go back to them.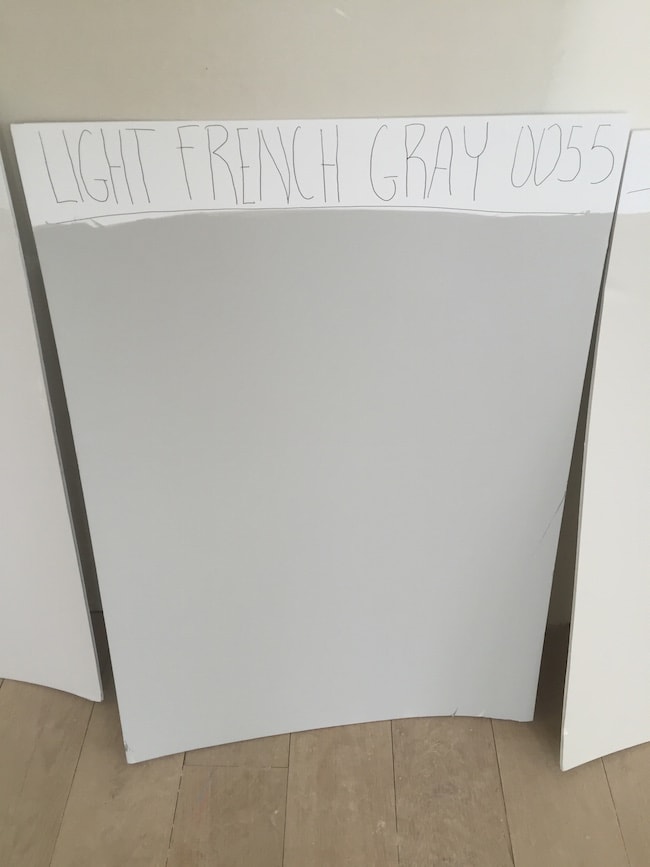 Sampling: Once you have your top paint colors picked out, go back to the store and purchase paint samples. You may think you have selected the perfect color based on the paint chip, but the paint chips are small and you will get a better idea of the color once you see it painted in your home. Sherwin-Williams sells small, affordable, Twist-n-Pour containers that cover about 75 sq. ft. By sampling colors at home, you can be sure you've selected the right colors for your space.
Testing 1-2-3: Take your samples and get painting. You can paint an area on the wall or drywall or paint white foam boards. We wanted to use some of the colors in multiple rooms and the lighting can be different in each room so we decided to paint white foam boards to transfer them to multiply rooms. We moved the boards around the house during different times of the day and we were really surprised by the difference some of the colors had from room to room. I am SO glad we did this because we ended up choosing different colors after our little paint sampling project.
The Finish Line: When you have your colors picked out, then you have to pick the finishes. I know, more decisions!! Flat, Satin, Semi-Gloss, or Gl0ss? The sheen you choose is based on the final look and wearability you want and is personal preference. Note-when you test your colors, choose the finish you are wanting because the finish can make a difference in the look of the color.
So what colors did we pick?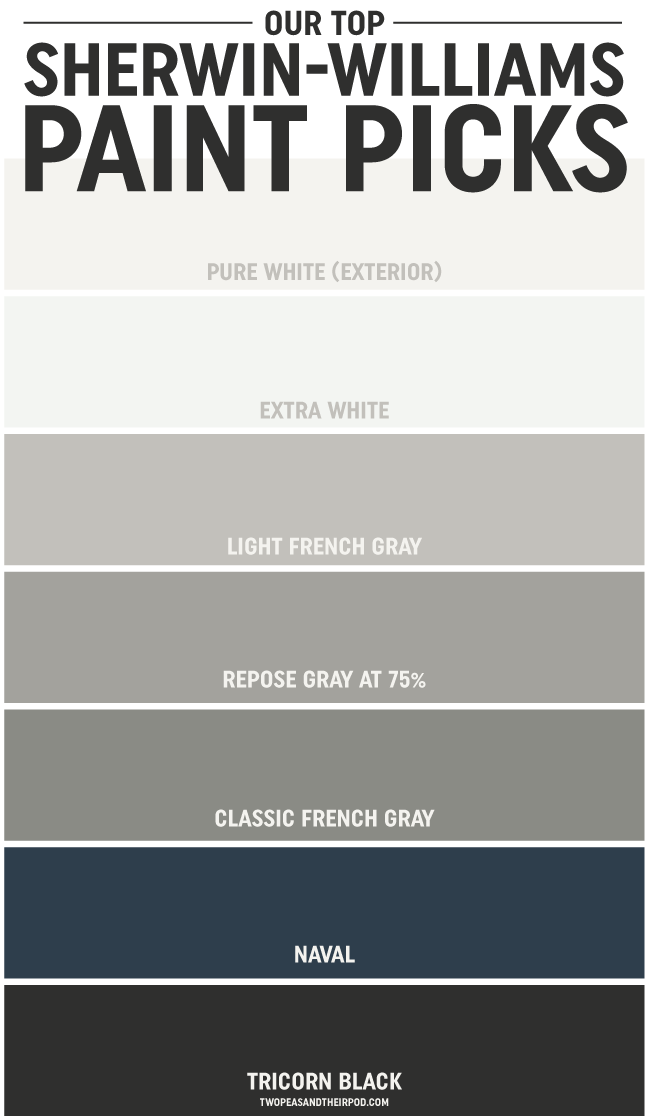 Sherwin-Williams Pure White (7005)-We are using Pure White for the exterior of our home. It is going to look great with our black windows!
Sherwin-Williams Extra White (7006)-We love this crisp, clean, and bright white and are using it in the majority of our home.
Sherwin-Williams Light French Gray (0055)-We chose this gray for the boys' rooms and it is perfect! It is a real, true gray!
Sherwin-Williams Repose Gray (7015)-When I asked around for a good gray color, several people recommended Repose Gray. We wanted a slightly lighter gray, but loved the color so we are using it at 75%. This color is going in our master bedroom and hallway.
Sherwin-Williams Classic French Gray (0077)-We love this darker gray and are using it in our guest bedroom since there are a lot of windows and natural light.
Sherwin-Williams Naval (6244)-We went pretty neutral, but I wanted a fun wall in one of the boy's rooms. I chose Naval because it is classic and fun at the same time!
Sherwin-Williams Tricorn Black (6258)-In my opinion, Tricorn Black is the perfect black! I love it! We are painting our interior and exterior doors black.
We will be sharing photos of our painted house soon, so come on back! And make sure you are following me on snapchat, twopeasandpod, for house updates. I love sharing behind the scenes house videos. I also share teaser photos on Instagram!
Good luck picking out the perfect paint colors for your home! YOU CAN DO IT!
This post is in partnership with Sherwin-Williams, but our opinions are our own. Thank you for supporting the brands that continue to make Two Peas and Their Pod possible.