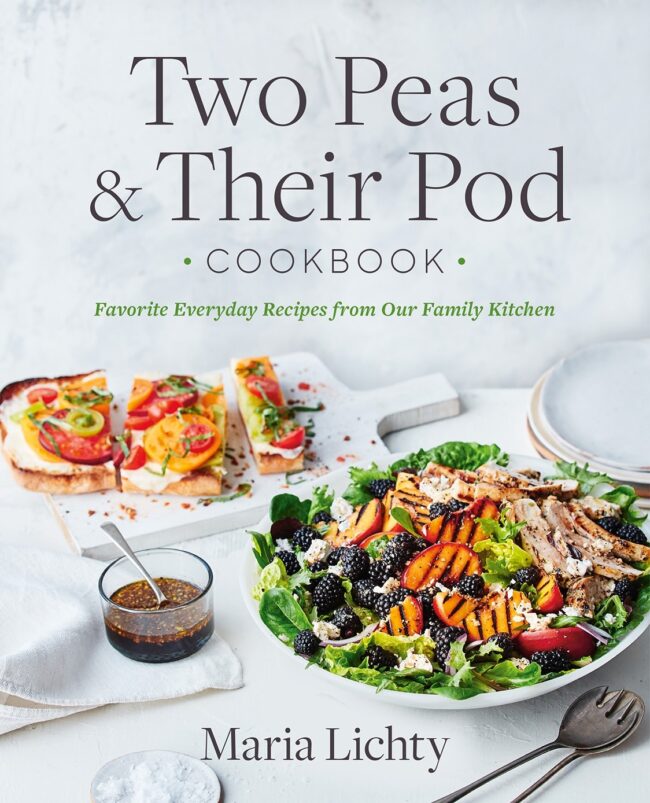 I am excited to announce the Two Peas & Their Pod Cookbook Tour!
First of all, thank you SO much for your support with our first cookbook! We are thrilled you are excited about our book. It means the world to us and we can't wait to meet you guys!
The cities and locations for the book tour are listed below. We might be adding a few cities, so stay tuned. I wish I could go everywhere, but my boys might miss me if I am gone too long:) You can always check this page or our cookbook page for tour updates. I will also be sharing updates and reminders on Instagram.
You will see a few surprises on the cookbook tour. A few of my dear friends are joining me to make the signings even more special and fun! YAY!!
If you don't have a copy of Two Peas & Their Pod Cookbook, order your copy now and bring your book to one of the signings! You will be able to purchase copies of the book at the events too.
I would love to sign your book and meet you in person. Josh, Caleb, and Maxwell will be at a few of the events too! Caleb and Maxwell have been practicing their handwriting…in case any of you want them to sign your book…ha!
Again, THANK YOU for your support with this book! We hope to see you all SOON! xo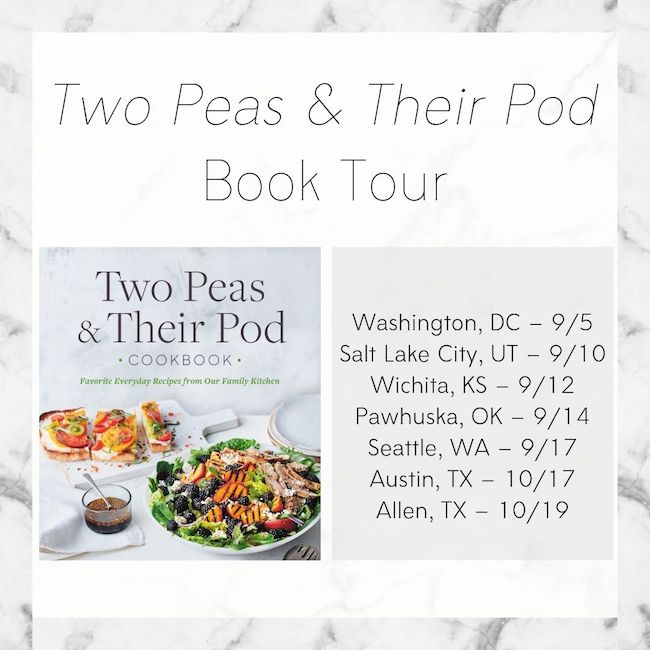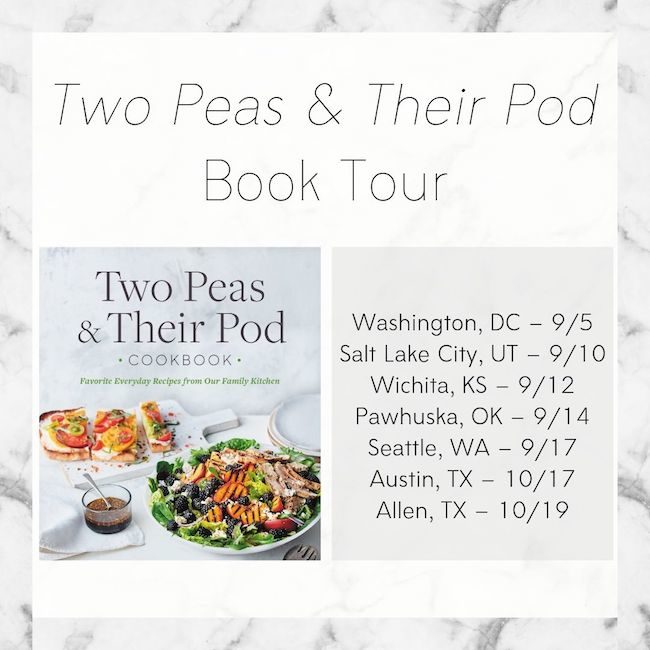 Cookbook Tour Dates
WASHINGTON DC: Thursday, September 5

6:30-8:30PM–Room & Board–Author Talk with Jessica Merchant from How Sweet Eats
1840 14th Street, NW, Washington, DC 20009
SALT LAKE CITY: Tuesday, September 10

6:00-8:00PM–Cactus and Tropicals–Author talk, come meet the whole family!
2735 South 2000 East, Salt Lake City, UT 84109
WICHITA: Thursday, September 12

6:00PM–Watermark Books & Cafe–Author talk, come meet the whole family!
4701 East Douglas, Wichita, Kansas 67218

PAWHUSKA: Saturday, September 14

2:00-4:00PM–The Pioneer Woman Mercantile–Author talk and Cooking Demo with Ree Drummond, The Pioneer Woman
I will be doing a cooking demo, Q&A with Ree, and signing books! The Mercantile chefs will also be making food from the book for you to enjoy! BUY TICKETS HERE! Tickets include a cookbook!
532 Kihekah Avenue, Pawhuska, OK 74056

SEATTLE: Tuesday, September 17

6:30PM–Book Larder–Author talk with Danielle Kartes from Rustic Joyful Food
4252 Fremont Avenue N, Seattle, WA 98103
AUSTIN: Thursday, October 17

5:00PM-6:30PM–Hotel Ella–Author talk with Paige Hull from The Vintage Roundtop
1900 Rio Grande Street Austin, TX 78705
RSVP HERE! The event is FREE!
ALLEN, TEXAS (Dallas Area): Saturday, October 19
10:00AM-1:00PM–Village Coffee–Meet and Greet with Jenn Todryk from The Rambling Redhead
190 E Stacy Rd #408, Allen, TX 75002
If you have any questions, let me know and leave a comment and let me know if you are coming to any of the signings! SEE YOU SOON!