Yeasted Belgian Waffles-mix the batter up the night before and enjoy beautiful, golden waffles in the morning! These waffles are also great topped with ice cream and hot fudge sauce for dessert!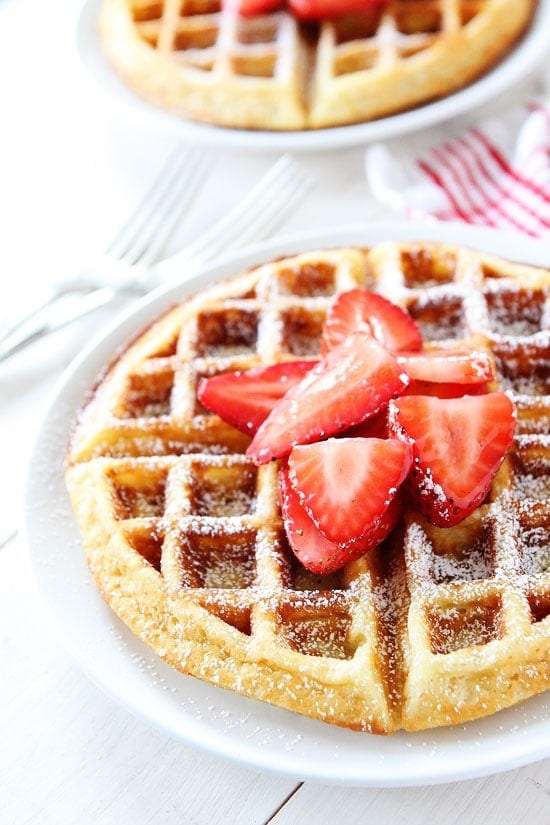 Valentine's Day is on Saturday and that means sleeping in, breakfast in bed, and eating chocolates all day. Ha! I wish! For us, it means waking up at 5:30 to take care of the boys. They share a room now and both wake up every single morning at 5:30. They don't have an alarm clock, they just automatically wake up at 5:30. What is wrong with them?:) I think they had a special meeting in their room and agreed to sabotage our sleep schedules.
Breakfast in bed isn't going to happen for us on Valentine's Day…unless Caleb decides to bring us yogurt, but I hope breakfast in bed can happen for you! Yeasted Belgian Waffles are the perfect breakfast in bed treat because you make the batter the night before. In the morning, just take the batter out of the fridge and make your waffles!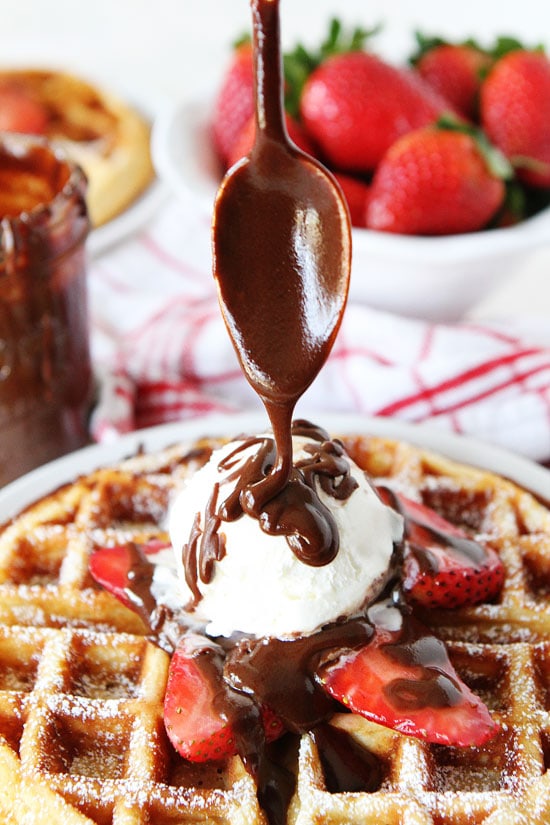 This waffle recipe comes from Ashley's new cookbook Date Night In. I am SO in love with this book. Not only is it super cute, but the recipes are fantastic! And I LOVE the concept. It is just what Josh and I need right now. It is SO hard for us to go out…I can't even remember the last time we had a real date night. Josh and I spend a lot of time in the kitchen together, but it is usually for work or to feed our family…which is fun, but we rarely take time to really focus on us.
Ashley reminds us in Date Night In that you can nourish your relationship and rekindle the romance right in your own kitchen! She shares personal stories about her marriage, family, and ties in the most delicious recipes. You don't have to leave the house to enjoy a quality date night. It is just important to DO date night, even if it isn't anything elaborate. Ashley shares more than 120 recipes to make date night delicious…and easy for you!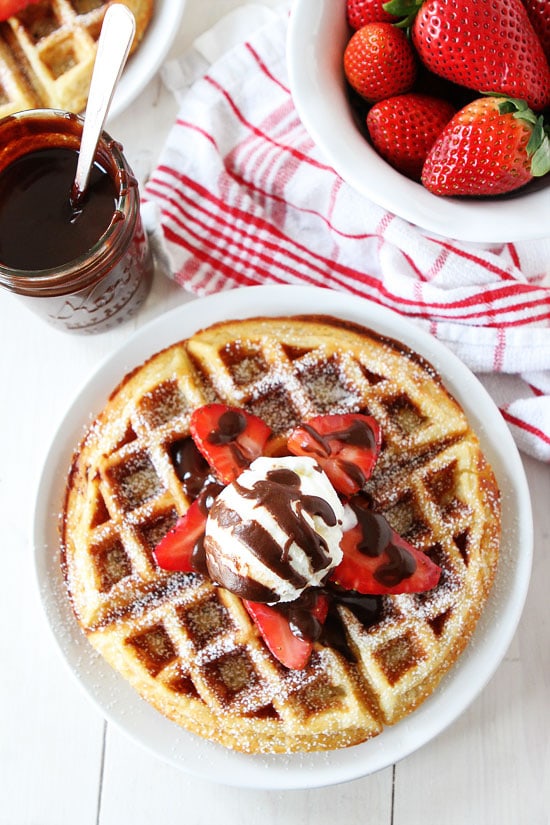 Thanks to Date Night In, we are going to make time for date nights at home which will include good food, conversation, and loooove! I might even put on lipstick:)
Now, back to the Yeasted Belgian Waffles. They are amazing! The waffles are rich, crispy on the outside, and soft in the middle. The batter needs to be refrigerated overnight, which I love. Whip up the batter before bed and wake up to waffles that are fit for a king! This recipe is super simple!
We might not enjoy a romantic breakfast in bed on Valentine's Day, but we can enjoy Yeasted Belgian Waffles as a family. And because we are making time for date night, I think I will set a couple waffles aside so Josh and I can have a special date night dessert. Ashley recommends serving the waffles with ice cream and hot fudge. Oh yeah! That is my kind of date night!
Yeasted Belgian Waffles are great for breakfast or dessert! Share them with your sweetheart and they will taste even better!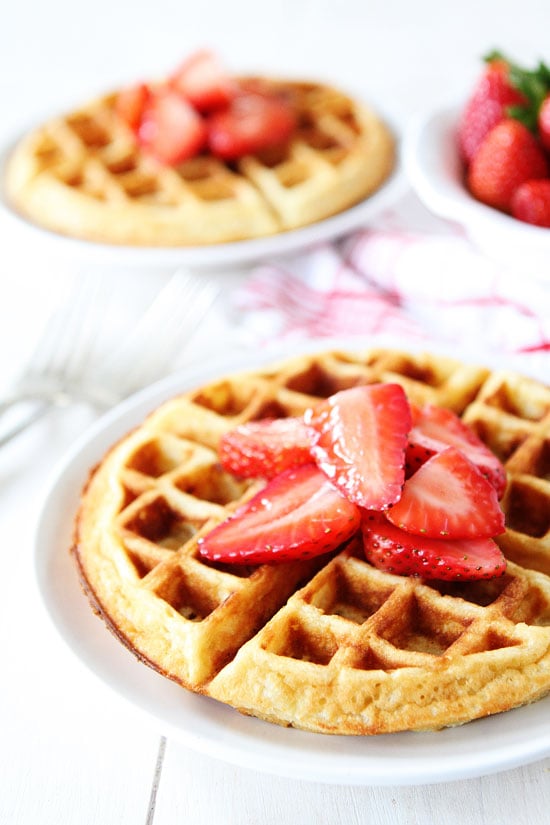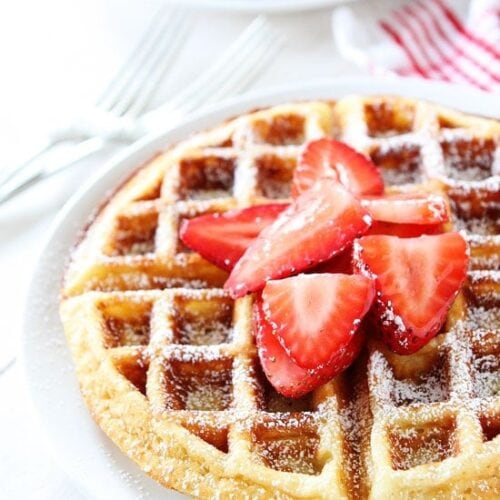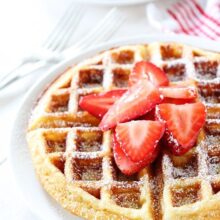 Yeasted Belgian Waffles
These waffles are rich, crispy on the outside, and soft in the middle. The batter needs to be refrigerated overnight, which makes waffle making a breeze in the morning. You can also serve the waffles for dessert. Top with ice cream and hot fudge for an amazing treat!
Ingredients
Optional Toppings:
Strawberries

Whipped Cream

Ice Cream

Hot Fudge
Instructions
In a small saucepan over medium high heat, melt the butter and let cool for 10 minutes.

In a medium bowl, whisk together the milk, vanilla, and eggs and then slowly whisk in the melted butter.

In a large bowl, whisk together the flour, sugar, salt, and yeast. Pour in the wet ingredients. Mix until just combined.

Place in a container that leaves room for expansion and cover. Refrigerate overnight or for up to 4 days. If you are rushed, you can make this an hour in advance, but the flavor and texture is greatly improved after a good long rest in the fridge.

To serve, remove batter from the fridge when you are ready to use and cook using your favorite waffle iron. Serve the waffles with desired toppings. These waffles are great with fruit, syrup, and/or whipped cream for breakfast. They are also good with ice cream and hot fudge sauce for dessert! Enjoy!

Note-Waffles can be frozen, well sealed, for up to 1 month. Pop them in the toaster to reheat.
Have you tried this recipe?
Leave a comment below and share a photo on Instagram. Tag @twopeasandpod and hashtag it with #twopeasandtheirpod
Follow twopeasandpod on Instagram and show us what recipes you are making from our blog! Use the hashtag #twopeasandtheirpod! We want to see what you are making in your kitchen!