People always ask me, "How do you do it?" They want to know how I blog, do freelance work, take care of a baby, husband, and manage every day life. Trust me, I don't have a secret. I am sure most of you do a better job than I do. I just try to survive each day with a smile on my face. I am very grateful that blogging is my full time job so I can stay home with our little guy. I love blogging, but I love our baby even more. Being a mother is the best job! I couldn't do what I do without my handsome husband. Josh is a HUGE help around the house, with the blog, and with our sweet little pea.
Today I am sharing a glimpse at what my typical day looks like. The photos were taken with my iPhone so sorry if some are not that great:)
5:00 a.m-I hear Caleb crying so I go to the nursery to feed him breakfast. It usually takes him about 20 minutes to eat. I usually check my emails, Twitter, Facebook, etc. on my iPhone while he eats.
5:30 a.m.-I put Caleb back in his crib and cross my fingers that he will fall back asleep. I change clothes and get ready to hit the gym! I tell Josh I am leaving and to listen for Caleb:)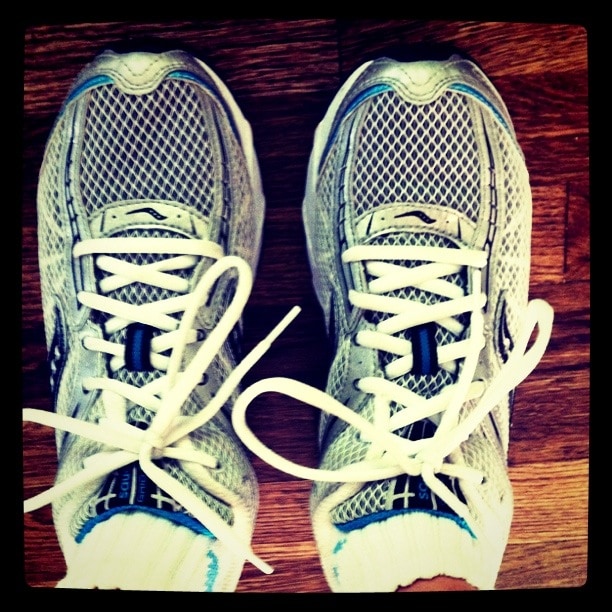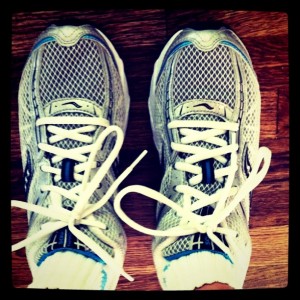 6:00 a.m.-I get my sweat on at DASH Fitness. Thursday morning is Body Combat class! I love starting my morning with a good workout.
7:05 a.m.-I get home from the gym and check in on Caleb. He's still sleeping so I take a quick shower. Josh is still sleeping too:)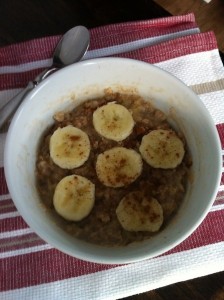 7:15-I eat breakfast-a bowl of oatmeal with banana slices, cinnamon, and a splash of milk.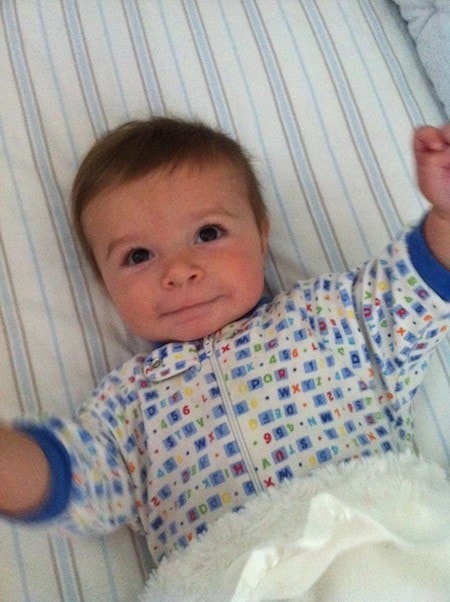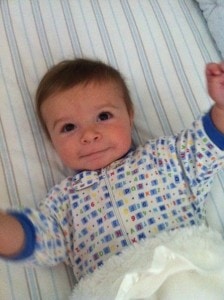 7:30-Caleb wakes up. Josh and I fight over who gets to grab him from his crib:) I feed him for the 2nd time and catch up on what's going on online via my iPhone.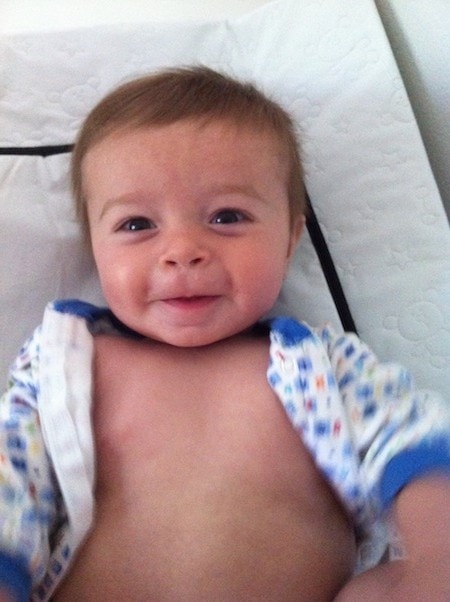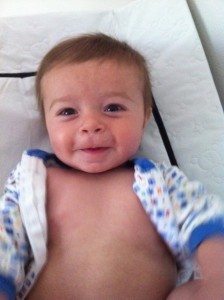 8:00-Josh changes Caleb and puts him in his swing. Josh leaves for work.
8:15-Caleb usually talks for about 15 minutes in his swing and falls asleep. I get to work while he is napping. Nap time is coveted time these days:) I respond to emails, edit photos, and write my blog post for Friday.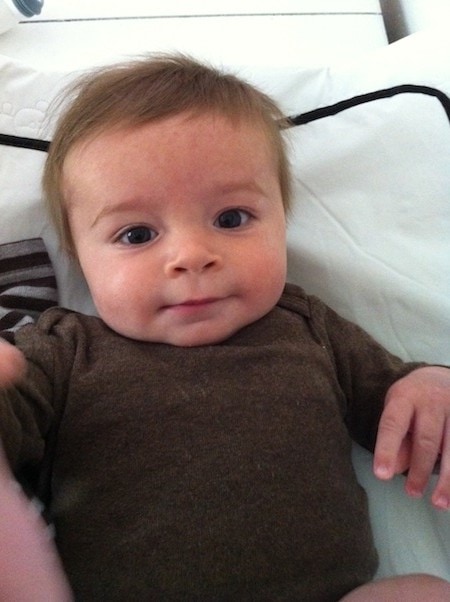 10:15-I get lucky and Caleb takes a 2 hour nap! Yay! I feed him again and get him dressed for the day.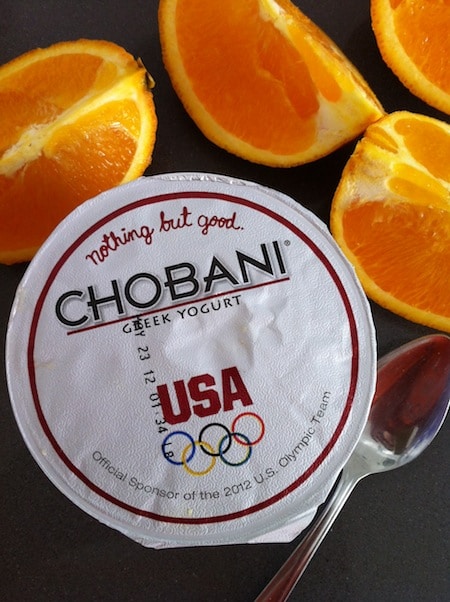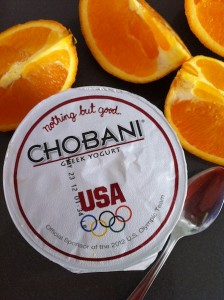 10:45-It's play time! Caleb loves to play on the floor with his toys. I grab a quick snack-Chobani yogurt and an orange.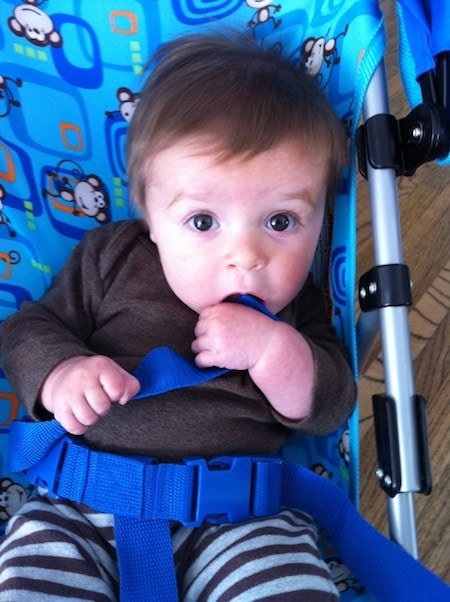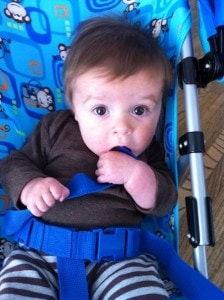 11:00-Caleb gets bored on the floor, so we head outside for a walk.
11:30-We are back and it's time to change Caleb again!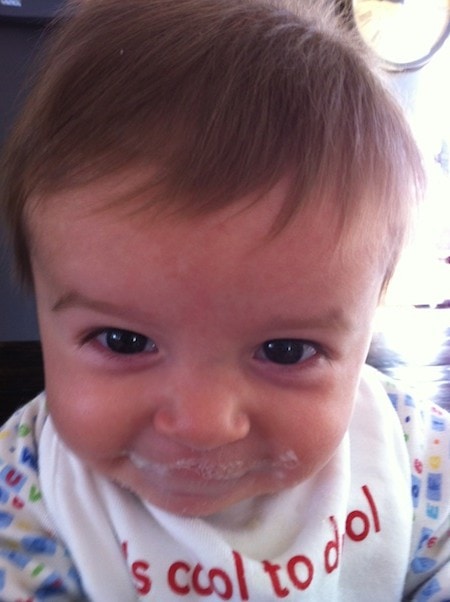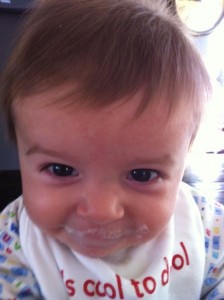 11:45-Caleb is hungry so I feed him lunch. This time he gets rice cereal with avocado mixed in.
12:15-Caleb takes another nap.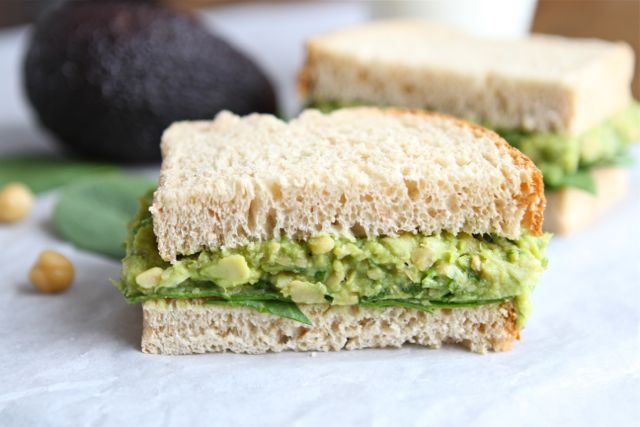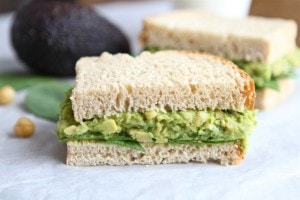 12:30-I hurry and grab a quick lunch. I make a Smashed Chickpea & Avocado Salad Sandwich-my favorite lunch:) I catch up on emails, Twitter, Facebook, etc. while I eat.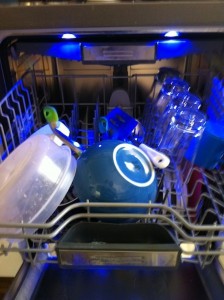 1:00-Caleb is already awake. He didn't take a very long nap:( Caleb helps me unload the dishwasher and do a few chores. I have a few emails to answer so Caleb sits on my lap and I type very slowly:)
2:00-Caleb eats again and falls asleep while he is eating. I carefully move him to his swing so he can take a nap. He sleeps much better in his swing during the day.
2:15-I get busy in the kitchen and whip up a batch of cookies for the blog.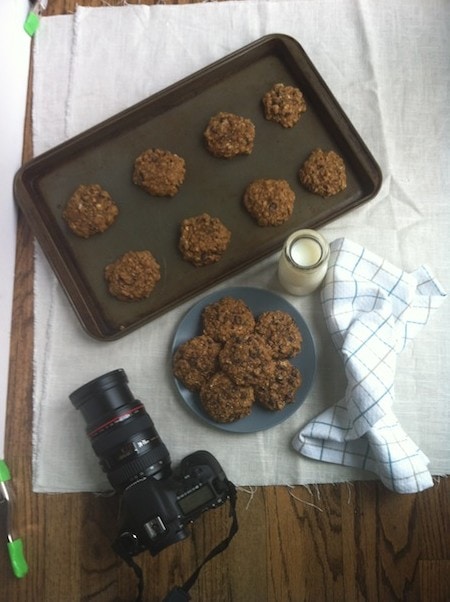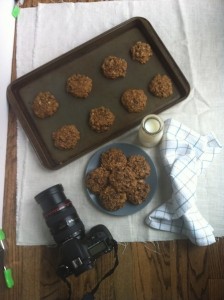 3:00-Caleb wakes up when I am in the middle of taking photos. I grab him, change him, and let him play on the floor so I can finish up.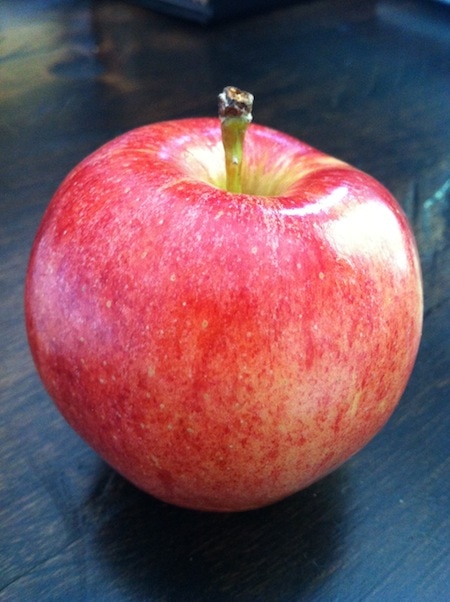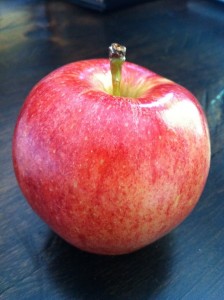 3:20-I grab an apple and a few pretzels for my afternoon snack. We go on another walk. Caleb loves to be outside!
4:00-Caleb eats again.
4:30-We sit outside on the porch waiting for daddy to get home from work. Caleb loves to watch the cars go by.
5:00-Daddy gets home! Daddy changes Caleb (had to do an outfit change too) and plays with him while I get dinner going. I make one of our favorite meals, Black Bean Sweet Potato Tostadas.
5:45-We sit down and eat dinner together. Caleb sits on daddy's lap while we eat and we talk about our days.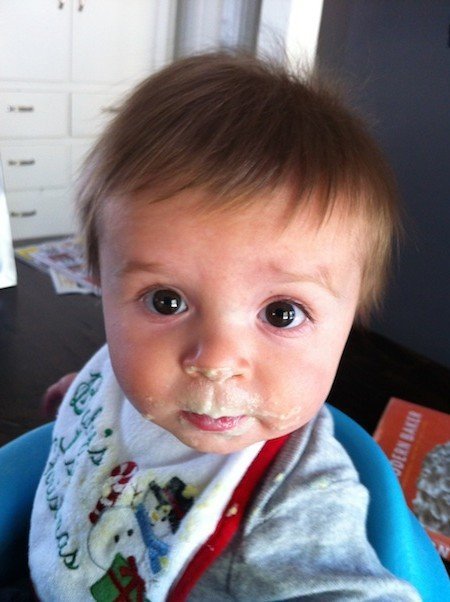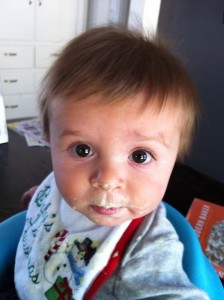 6:10-We feed Caleb dinner!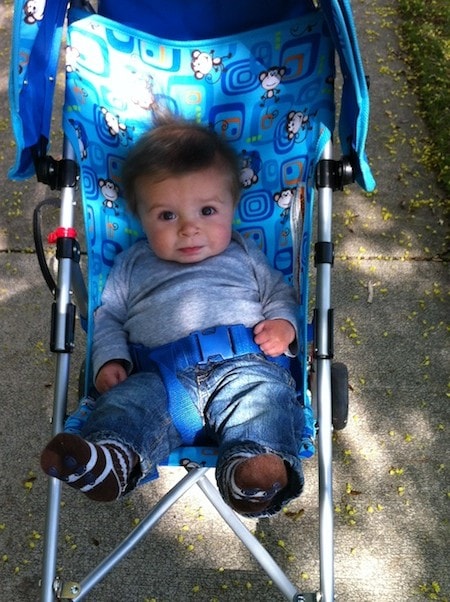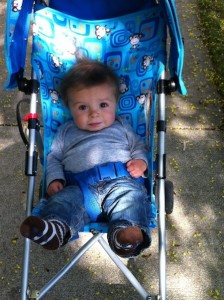 6:30-We go on a family walk around the park.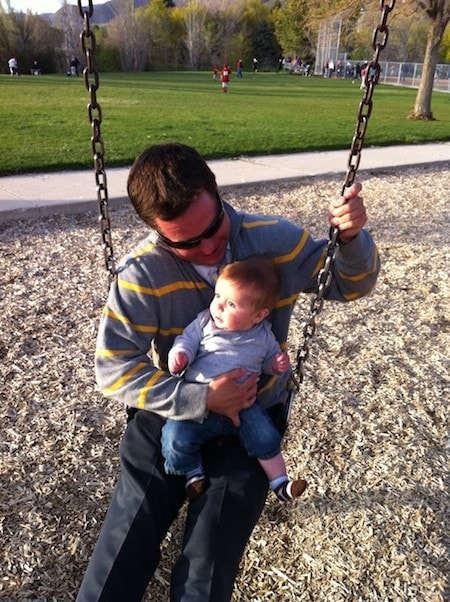 6:45-Josh and Caleb swing together-one of Caleb's favorite activities.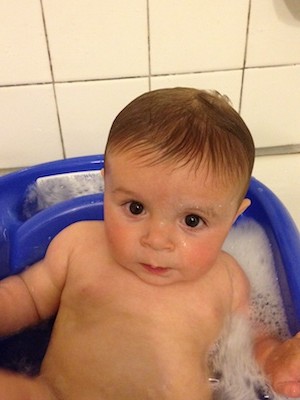 7:00-Bath time for Caleb, probably his favorite time of the day.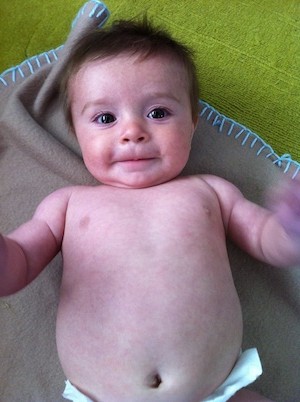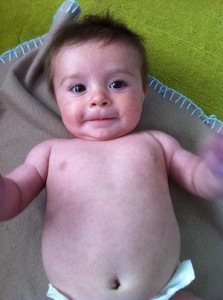 7:15-Naked time before bed. We let Caleb roll around in his diaper before bed. He loves it!
7:45-We put Caleb in his pj's and I feed him.
8:15-Bed time for Caleb! We both put him down and then grab the monitor so we can spy on him. He talks for 5 minutes and then falls asleep.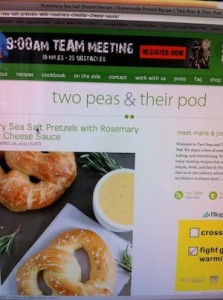 8:20-We turn on the T.V. I am behind on my Grey's, so I let Josh watch whatever he wants:) I head back to the computer to catch up on blog stuff!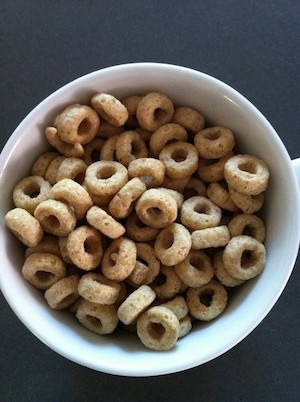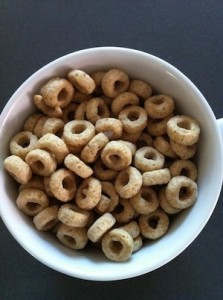 9:00-I eat my favorite bedtime snack-a mug of cereal. Tonight it is Honey Nut Cheerios:) I browse Pinterest while eating.
9:30-I get ready for bed! Josh isn't tired yet, so he stays up and listens to TED Talks. 🙂
10:00-I am out!
1:16-Caleb wakes up for a snack. I feed him and go back to bed!
There you have it-A Day in the Life of Me! Of course, not every day is like this, but on average, this is what we do! And of course there are things I left out, but you get the idea:)