No party is complete without some kind of board! I've been making charcuterie and snack boards for as long as I've been creating recipes and hosting gatherings! I LOVE that you can be as creative as you want with building your board, and it'll always come out delicious—you just need the right platter to house your tasty treats!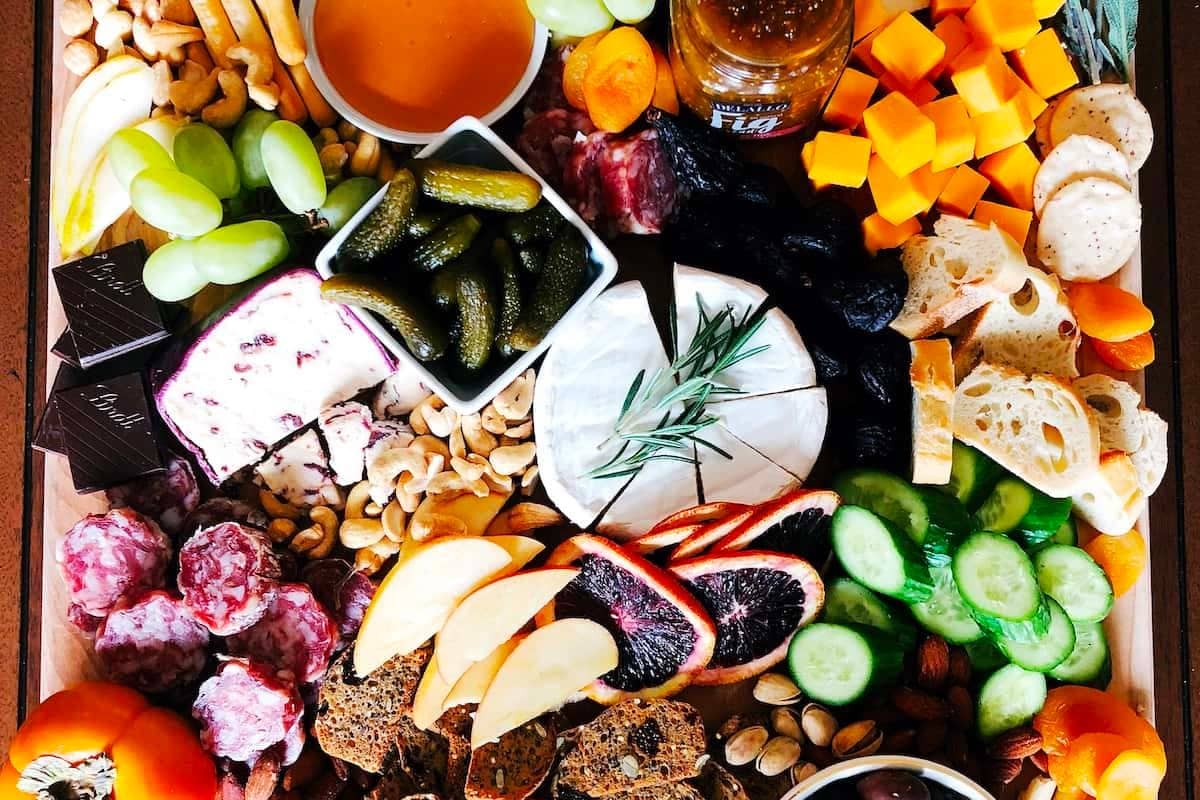 That's why I wanted to make a roundup of the best serving boards, including the ones I use when I'm hosting and others that I've been eying online from my favorite kitchenware brands like Threshold and Hearth & Hand.
Below, find my list of the best serving boards for everything from the YUMMIEST Cheese and Chocolate Board to this super cozy Caramel Apple Board!
Our Top Picks:
Reviews of The Best Serving Boards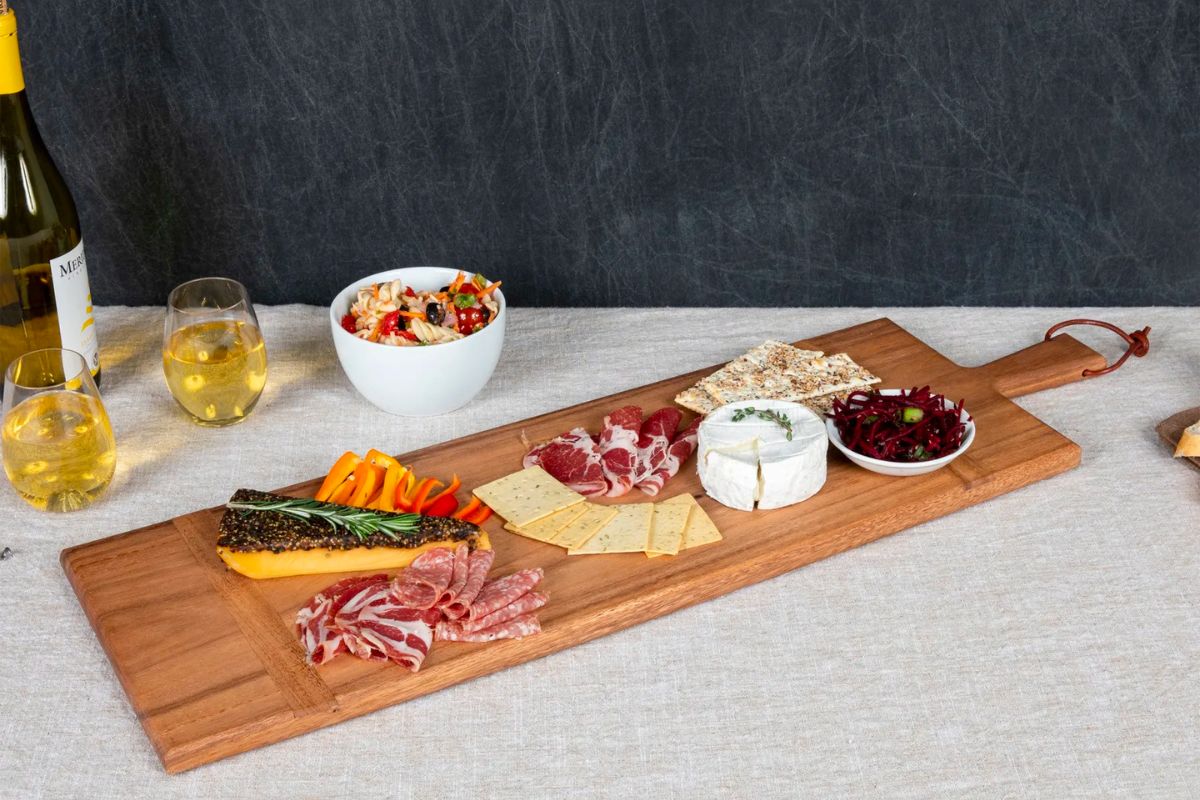 When I put together a shop of my favorite things, I knew I had to include this board! I absolutely LOVE this wooden serving board because of its long, slender shape. It's perfect for putting out robust servings of cheese, meat, and fruit when you're hosting a larger get-together (it's 29 inches long!).
Many boards are round or a wide rectangle, but this one almost mimics a table runner, so you can use it for a fun appetizer or hor d'oeuvres. The board is made of Caribbean walnut wood, and its design can match almost any style, from bohemian to farmhouse, which makes it a great housewarming gift, too. I love that it ends up going with any tablecloth I put out, regardless of the season!
The Specs:
Dimensions: 29" L x 9" W
Material: Wood
Cleaning: Hand wash only
The Pros:
Great gift
Large surface area
Beautiful design
The Cons:
Buy the Picnic Time Family of Brands Madera Rectangular Long Charcuterie Board: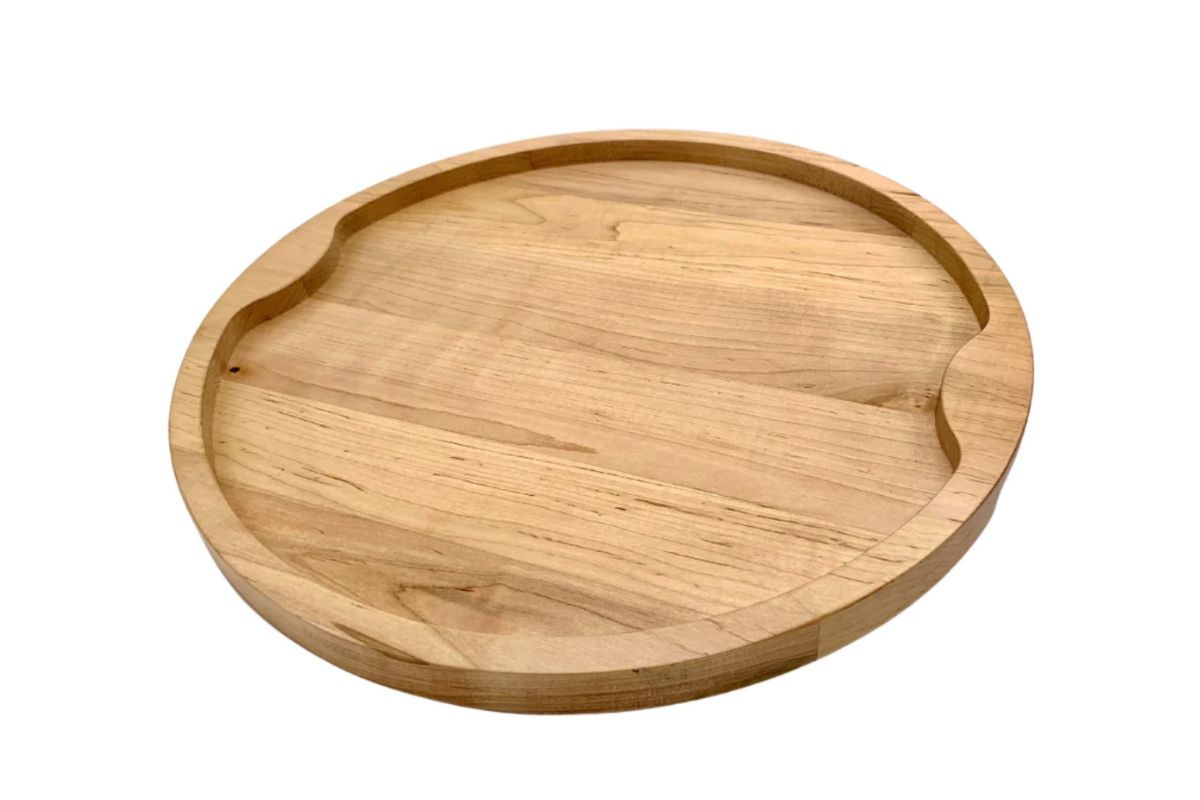 This serving board has convenient handles and is a great option to lay out a variety of cheeses and crackers, thanks to its large surface. It has a raised lip to prevent food from slipping over the sides, which is why I like to use it when making snack boards for kids.
Plus, the subtly designed handles are built into the underside of the wood to help you hold it while bringing it over to the table. It's made of a SUPER pretty, light-colored American maple wood that you can just wash with soap and water.
The Specs:
Dimensions: 20" D x 1.25"
Material: Wood
Cleaning: Hand wash
The Pros:
Large surface area
Easy to clean
Includes handles
The Cons:
Buy the House of Hyacinth Reluctant Entertainer The Big Board: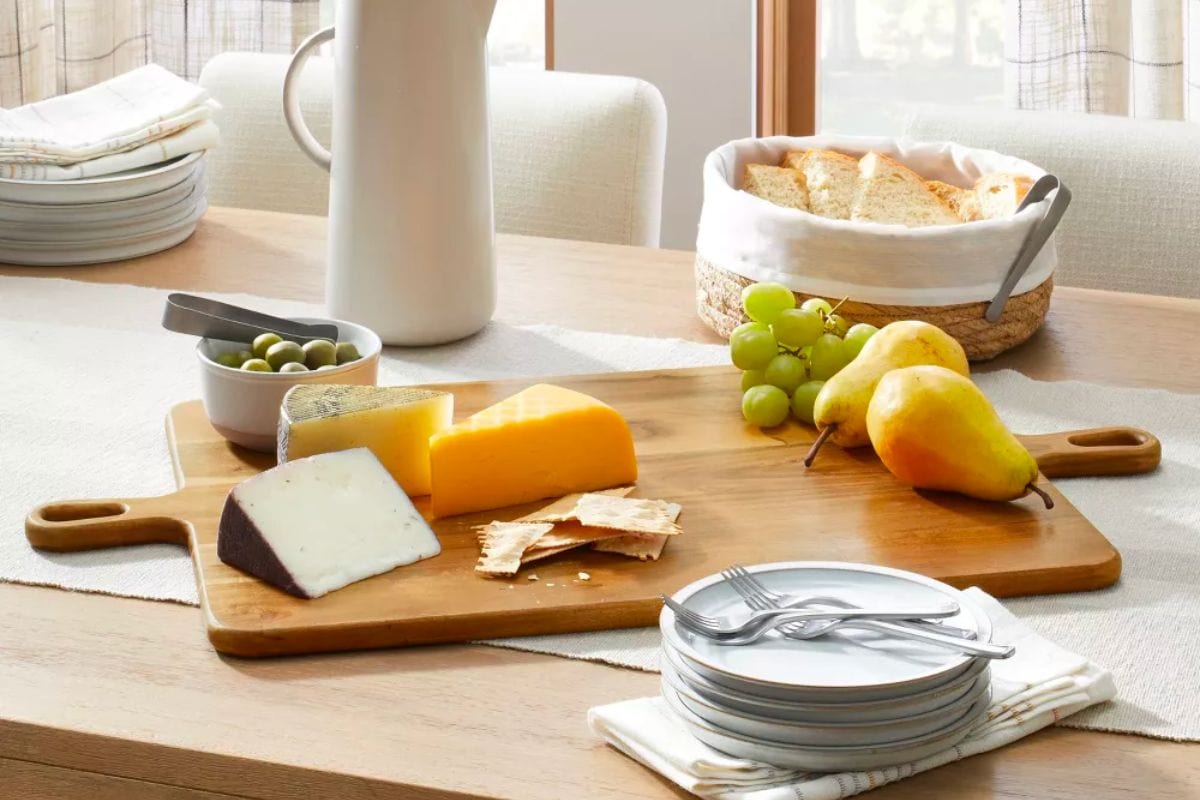 Everyone NEEDS a good cheese board! This Hearth & Hand option is ideal for a larger board on a budget. The rectangular board has paddle-style handles on both sides to help you carry it. It's made of wood but comes in two colors (natural and a deeper brown) to suit your style. It's everything you would expect from Joanna Gaines!
Thanks to its bigger size, this is one of the best serving boards for entertaining, especially if you don't want to spend too much money. It's perfect for my classic Chocolate Covered Strawberries or my crowd-pleasing Bacon Cheddar Pretzel Cheese Ball — and of course, making your own charcuterie boards!
The Specs:
Dimensions: 15" W x 27.25" D
Material: Wood
Cleaning: Spot clean
The Pros:
Large surface area
Has handles
Available in two colors
The Cons:
Cleaning instructions aren't clear
What Others are Saying:
Real Simple and Taste of Home both recommend this piece from Hearth & Hand's home decor collection.
Buy the Hearth & Hand Large Double Handle Wood Serve Board: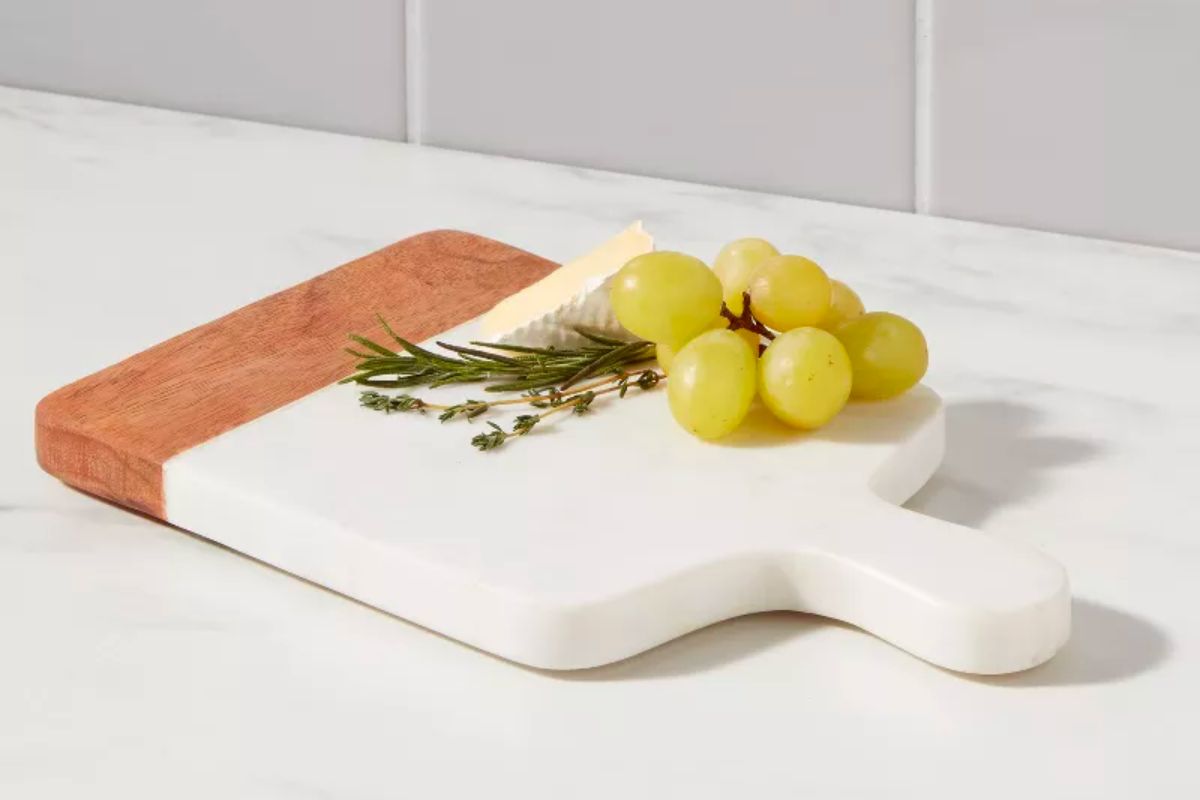 If you're focused on aesthetics (like me!), this wood and marble serving board from Threshold is a must. Its 10-by-6-inch petite size is perfect for plating a few snacks on a cozy night in or for preparing a light bite for your kiddos after school! When it's not in use, you can even rest it against a wall on your counter for a pretty piece of decor. As a bonus, its mostly marble surface makes it simple to clean and not too heavy to hold, and the convenient cut-out handle makes it easier to carry.
The Specs:
Dimensions: 10" L x 6" W
Material: Marble and wood
Cleaning: Spot or wipe clean
The Pros:
Sleek design
Has handle
Easy to clean
The Cons:
Too small for larger gatherings
What Others are Saying:
This Threshold serving board has more than 180 reviews and a 4.5-star rating at Target.
Buy the Threshold ​​Marble and Wood Serving Board: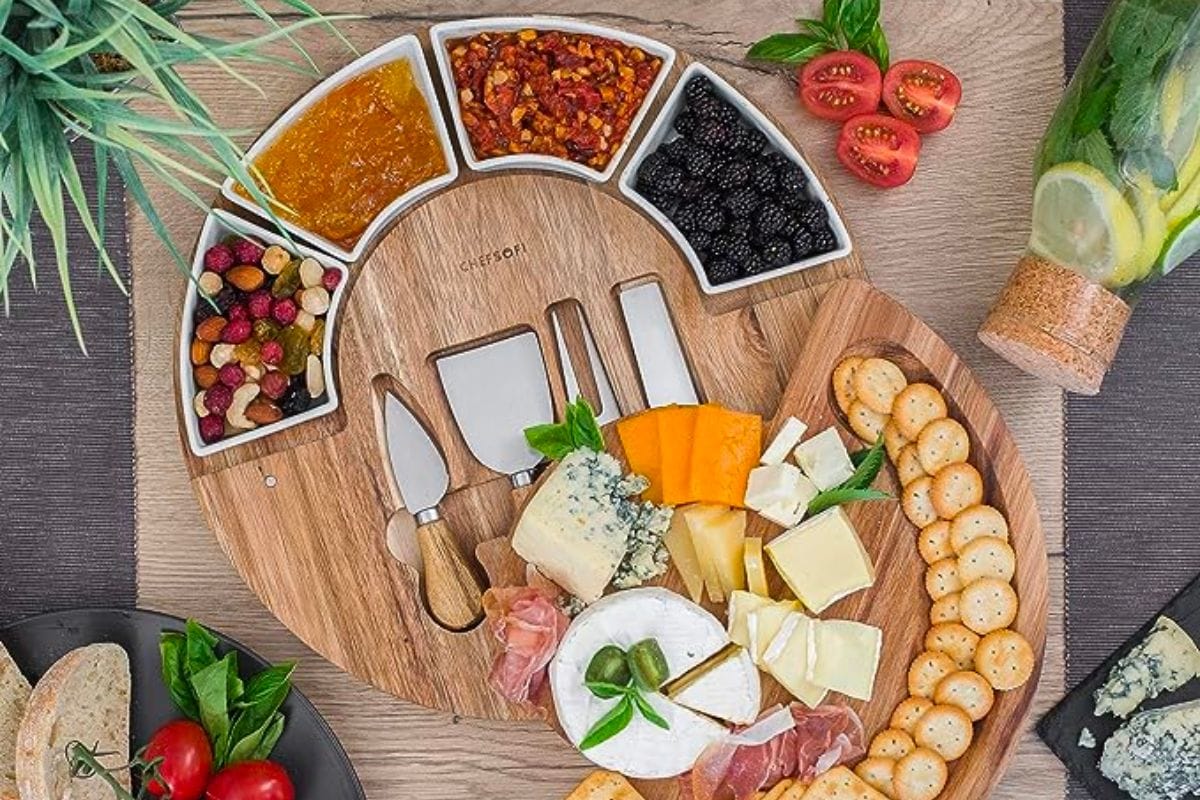 I absolutely LOVE the unique design of this serving board! It's round and comes with four different types of cheese knives, along with four ceramic bowls for dips, jams, and snacks galore. Essentially, it's everything you could need for a serving board in one set. The best part? It ALL stores inside the platter!
It has a wide 13-inch diameter, making it another good option for hosting or entertaining. I'm also a big fan of the stainless steel materials of the cheese knives, so you can actually cut through every kind of cheese, whether it be hard manchego or soft goat cheese. It also makes it another great housewarming gift pick.
The Specs:
Dimensions: 13" D x 13"
Material: Wood
Cleaning: Spot clean with a damp wipe
The Pros:
Includes cheese utensils and bowls
Great gift
Large capacity
The Cons:
What Others are Saying:
This board has more than 7,600 reviews and a 4.8-star rating on Amazon.
Buy the ChefSofi Charcuterie Cheese Board and Platter Set:
Other Great Serving Boards to Consider
This rectangular marble board is a cute option if you like the look of monogrammed decor. I love the idea of getting this as a housewarming gift, but it's not the most practical option available — it's pricey and doesn't have handles to make it easier to carry, which is not especially ideal since marble is typically pretty heavy. The Williams Sonoma Marble & Brass Monogram Board is available at Williams Sonoma for $49.95.
Better Homes & Gardens Wood Rectangle Tray with Wood Handles
I love this board because it is affordable, under $20. The board is made of pretty acacia wood and has gold handles. The perfect board for serving up your favorite snacks. It also makes a great hostess gift! The Better Homes & Gardens Wood Rectangle Tray with Wood Handles is available at Walmart for $19.94.
This bamboo cutting board can double as a large serving tray. It's not as stylish as the options above, but it's functional. It's also affordable and has more than 32,000 reviews and a 4.7-star rating on Amazon. But if you're looking for something more aesthetically pleasing for entertaining, I'd opt for one of my top picks above. The Royal Craft Wood Cutting Board is available at Amazon for $14.97.
This customizable wooden cutting board is yet another great option for a gift. In addition to engraving it with names, you can choose the wood type, size, and design. That being said, the shipping time for a personal item tends to take some time usually. The Blue Ridge Mountain Gifts Personalized Laser Engraved Wooden Cutting Board is available at Amazon for $39.99.
Why You Can Trust Me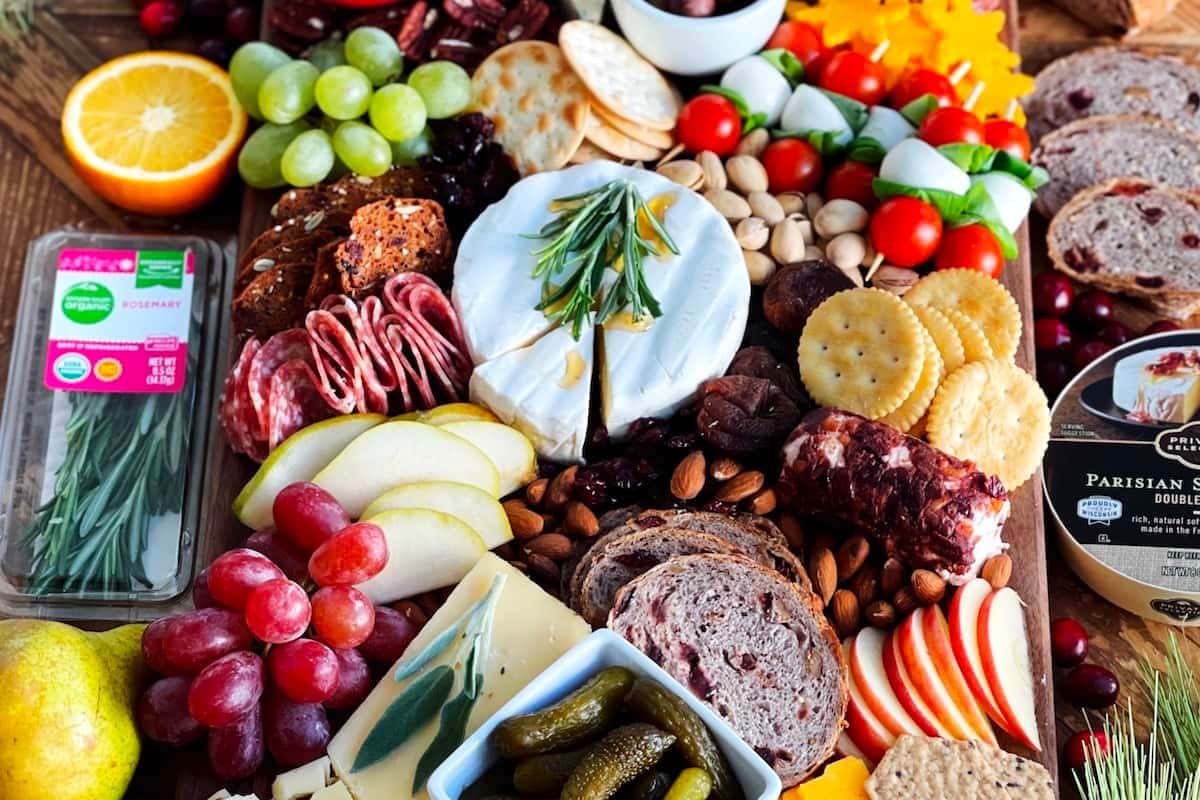 I've been cooking and entertaining for years, and serving cheese and snack boards is one of my FAVORITE tricks to please a crowd—even kids love these! As a host, I've created TONS of recipes for a variety of serving boards, ranging from sweet to savory (or both!), so I know a thing or two about what it takes to make a great one, which starts with the board itself.
To find the best serving boards, I started with the ones I use regularly for hosting. Then I looked online to find popular ones that definitely ended up in my cart! I also checked editorial sites and read reviews to see what they recommended to make sure they were quality and durable.
Everything to Know Before Buying a Serving Board
What to Consider Before Buying a Serving Board
Before your next party, consider these things before buying a serving board.
Size: If you're looking to serve a large charcuterie board with several cheeses, meats, fruits, nuts, and dips, you'll want an oversized board (like 27 x 15 inches) that can accommodate all of the food. On the other hand, if you're typically serving a small crowd or just making snacks for yourself and a loved one, a smaller plate (like 10 x 6 inches) to hold a few treats. Also, make sure you have the room to store them!
Material: You can find serving boards in materials like wood, bamboo, marble, and more. Each material looks different and adds its own stylish flare. Looks aside, the material will also impact the cleaning process: A marble tray will be easier to clean than wooden or bamboo ones because of slick material. Meanwhile, wood and bamboo boards work with soap and water, but you'll want to scrape any food off of it and gently rub a sponge or bristle brush over it to remove food particles.
Special shape: Some themed serving boards might have cute shapes to them but might not be the best for holding everything in place, so make sure there's enough surface to keep all your meats, cheeses, and crackers on there. Some boards also have hidden storage to stash away knives and other accessories, which I find very useful!
What is a Charcuterie Board?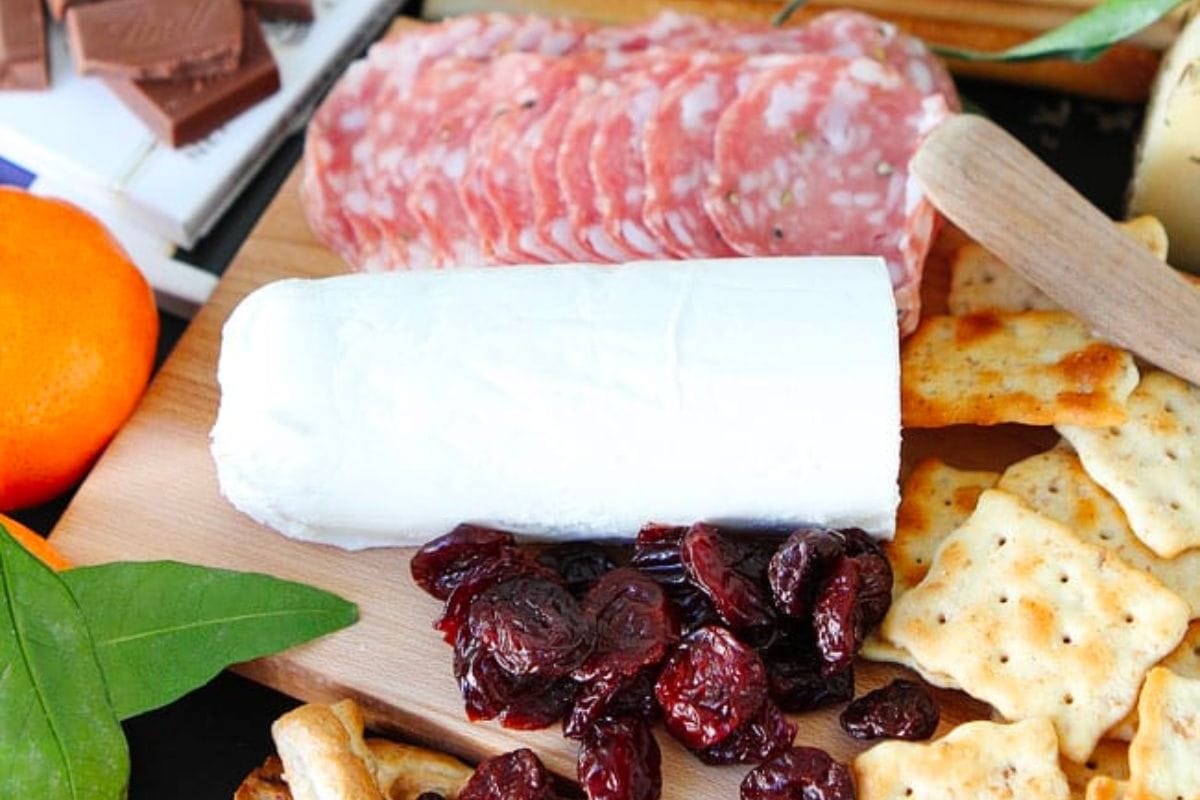 A charcuterie board is a fancy way of saying meat and cheese plate. It's a delicious appetizer or snack to serve before dinner or with drinks. You can include tons of different treats in your board, but some of my favorites include a variety of cheeses, nuts, fruits, honey, jams, and meats! YUM!
If you've never made one before, you can check out my guide to making a holiday cheese board to get some ideas!
What Should You Put on a Charcuterie Board?
You can start out with a variety of preserved meats, like prosciutto or salami. When it comes to choosing cheeses, I recommend going with a few different types of textures (think soft, hard, or crumbly) and flavors (cow, sheep, or goat).
I also would serve one familiar cheese, like cheddar, that'll be a pleaser for any picky eaters. Once you have your meat and cheeses down, customize your board with a mix of fruits, veggies, nuts, crackers, breads, sauces, dips, and herb garnishes. Don't be afraid to get creative and even shape your board like a tree or pumpkin to match the season!
How Do You Serve Brie on a Cheese Board?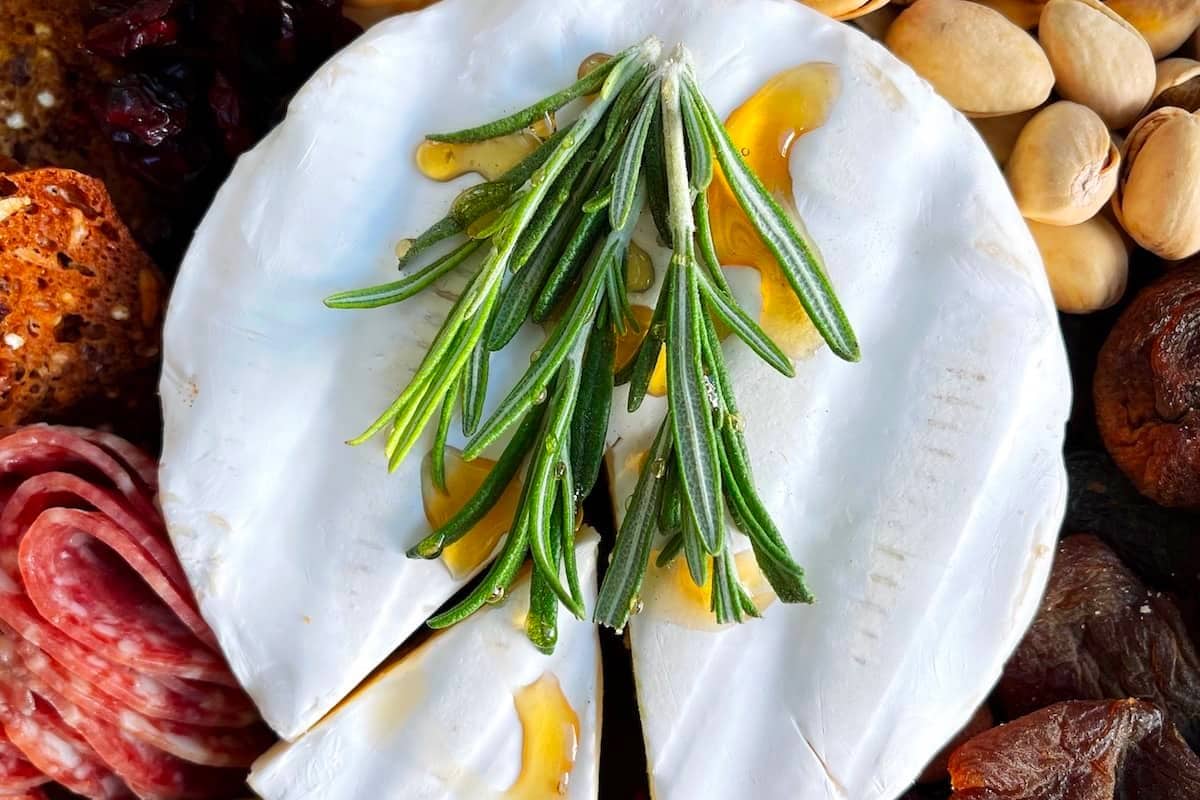 Brie is a great centerpiece for a cheeseboard, and because the rind is edible, you can leave it on and slice it into the center like it's a piece of cake and create triangular pieces. You can then leave the cheese knife for everyone to cut their own piece, or you can cut the entire cheese wheel and arrange the triangle slices on the board. I also LOVE to serve baked brie inside a puff pastry!
What Should You Serve with a Butter Board?
This is a weird social media trend that I never fully understood, but here's what you want to do to serve one. First and foremost, you'll want to serve butter on a butter board! You can go with a softened classic butter (salted or unsalted) or add nut butter, like peanut butter or almond butter. Just like a charcuterie board, you can serve the butter with herbs, fruits, veggies, crackers, bread, and more to scoop up the butter!
The Best Serving Board Ideas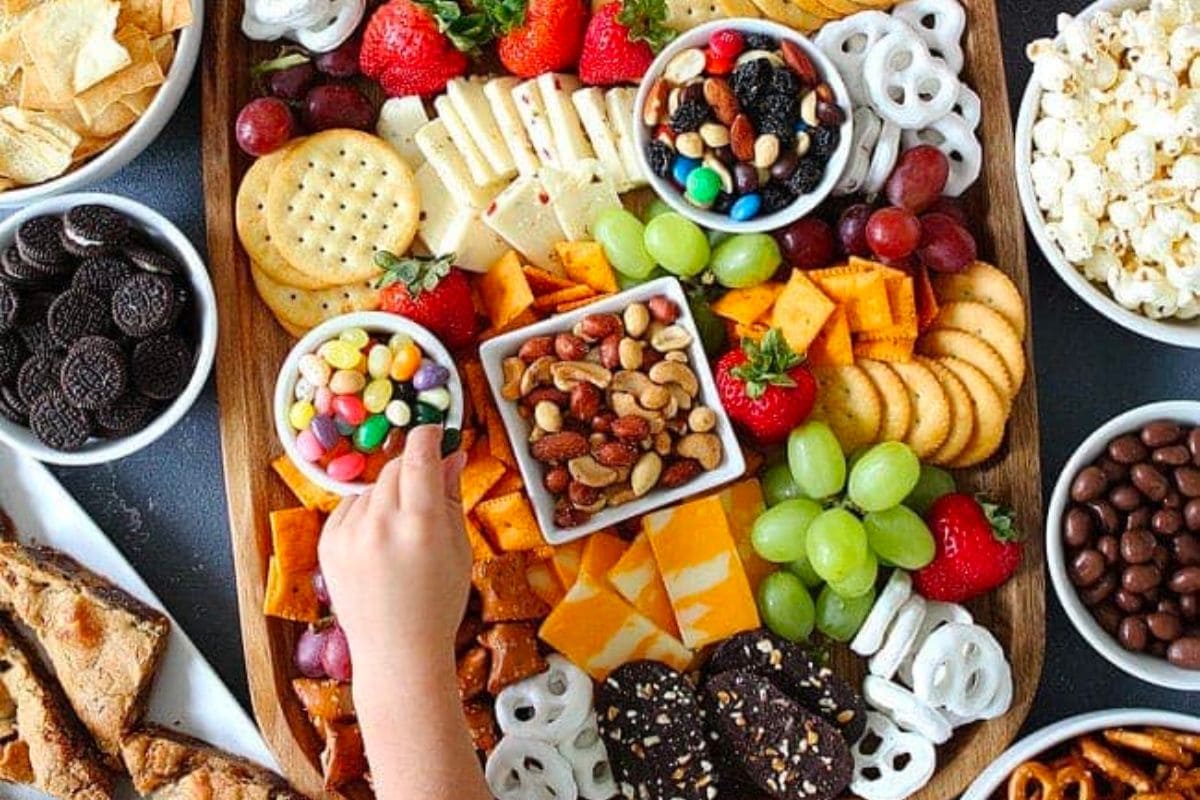 The best thing about boards is that you can make them sweet, savory, or both. Plus, you can theme them to any holiday or party. Check out some of my favorite serving board recipes below!
Prices were accurate at time of publication.