Sweet and Salty Snack Board-the perfect party food for easy entertaining. You will love the mix of sweet and salty snacks for game day or any party!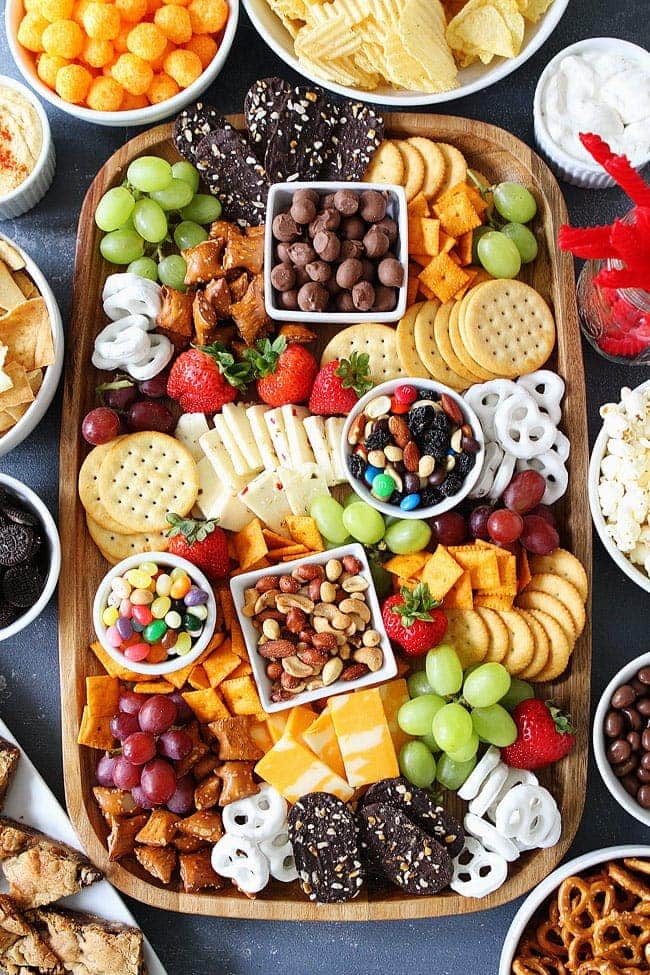 This post is sponsored by Kroger.
Football season is in full swing and that makes our family very happy! We love going to football games, but it is hard with the little guys, so we often stay home and watch the games on TV. I actually prefer watching the games at home because it isn't cold, I can wear my cozy clothes, and I can make a big spread of food. We all know that the food is the most important part of the game:)
We love hosting Homegate parties and today we are going to share a few easy entertaining tips and show you how to make an epic Sweet and Salty Snack Board for game day. You can't go wrong with a spread of sweet and salty snacks. There is something for everyone and it's super easy to put together. Oh, and we also have a fun Homegate video for you today! We recently threw a party with Heidi from FoodieCrush and had a great time. You don't want to miss this video!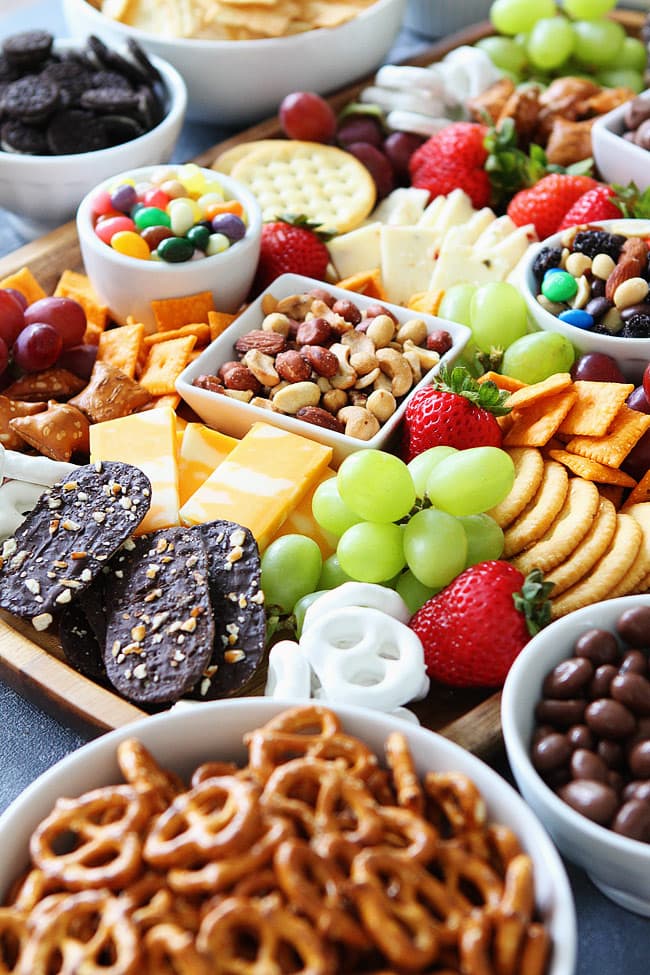 We love making nachos, pizza, and chili for game days, but sometimes we like to keep things super casual and super easy. And I love making cheese boards for parties, but this is football, we don't want anything fancy. Save the brie, figs, and gourmet olives for another party:)
I love these easy snack boards because you can put the spread out at the beginning of the game and enjoy the night. You might have to restock a little at halftime, but that won't take long. Once your snacks are out, you can sit back, relax, and enjoy the game. Ok, maybe you won't be able to relax if it is a close game, but at least you won't have to be worrying about the food. We are all about easy entertaining.
To keep things easy, I like to use Smith's ClickList to do our grocery shopping. I order all of the groceries online and choose a pick up time. I pull up to Smith's and they bring out my groceries and load them in my car. It is that easy! They have same day pick up so if you are throwing a last minute party, you can still use ClickList. It is so convenient and in some locations they even deliver to your house! SCORE! When Heidi and I did our party together, I ordered the groceries and she picked them up on her way over. We make a great team:)
If you are having people over for a Homegate party, you can ask them to chip in so you don't have to do all of the work. You can have them bring items to go on the Sweet and Salty Snack Board or ask them to bring drinks, or their favorite dish to share. Heidi made a fabulous wing platter to go with my sweet and salty board and it was a huge hit.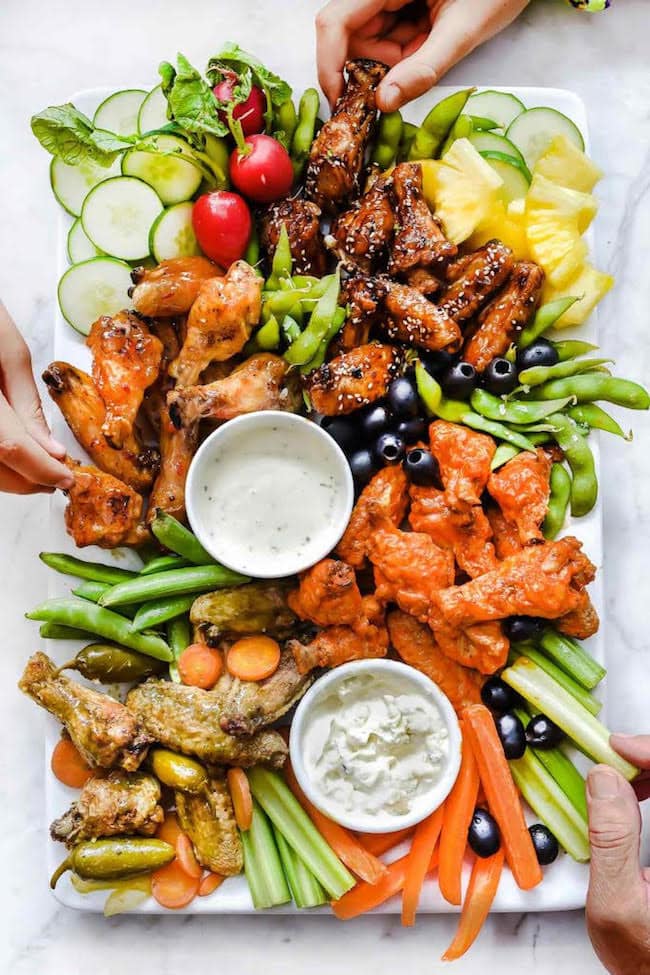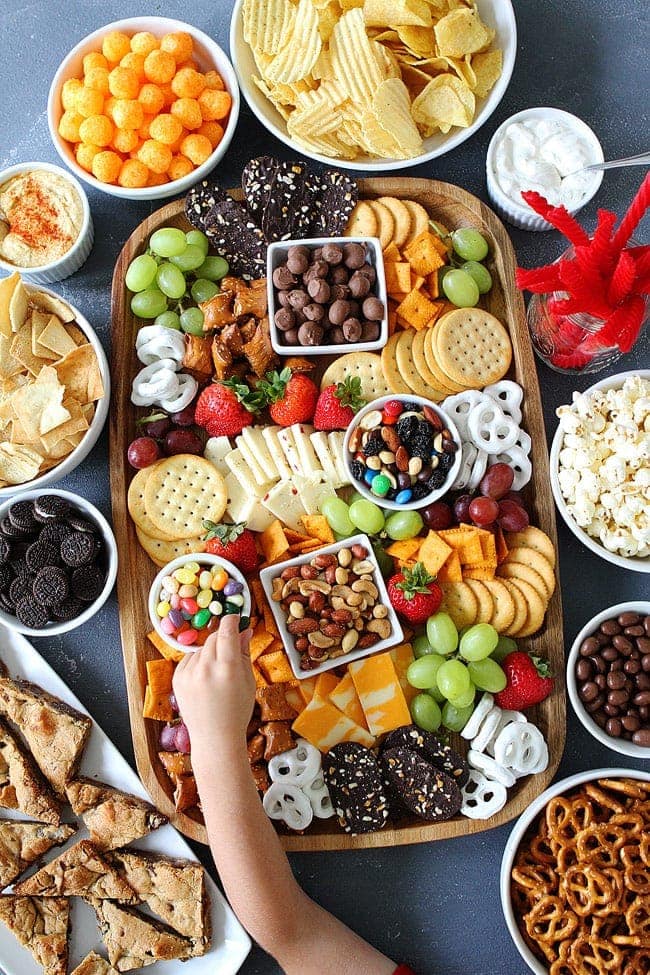 How to Make a Sweet and Salty Snack Board
Ok, let's talk about how to make an epic Sweet and Salty Board.
Use a large platter or wood board to stage the snacks. If they don't fit on one board, you can put a few platters together or use bowls and plates to surround a large board.
You can make the board HUGE or small. Customize it to how many guests you will have at the party.
Sweet Ideas: chocolate covered peanuts, jelly beans, licorice, cookies, yogurt covered pretzels, trail mix, fruit, caramel popcorn, kettle corn, and gummy candies.
I like to include at least one homemade treat because I love to bake. A few favorites include: Marshmallow Toffee Blondies, Sprinkle Chocolate Chip Cookies, and Salted Caramel Pretzel Brownies.
Salty Ideas: potato chips (I get a few varieties, we love Kettle Brand), chip dip, pita chips, hummus, popcorn, pretzels (Kroger's peanut butter pretzels are amazing), crackers (I get a variety), and cheese balls (the kids love these).
It's technically not a cheese board, but I like to include a few cheeses to go with all of the sweet and salty. Pepper jack, Cheddar, Colby, and Havarti are all great game day cheeses. You can also include some salami and veggies to round things out, especially if it is at meal time. You want to have a few healthy options available too.
Show your team spirit by choosing candies and snacks in your team colors.
There are no rules. Have fun! Include all of your favorite snacks and remember, don't be afraid to ask your guests to bring some snacks to contribute to the board.
You can throw an awesome game day party right at home with this Sweet and Salty Snack Board. Your guests will love munching on this fun spread of food. It is sure to be a touchdown!
And now, check out our FUN Homegate video! The boys had a BLAST:)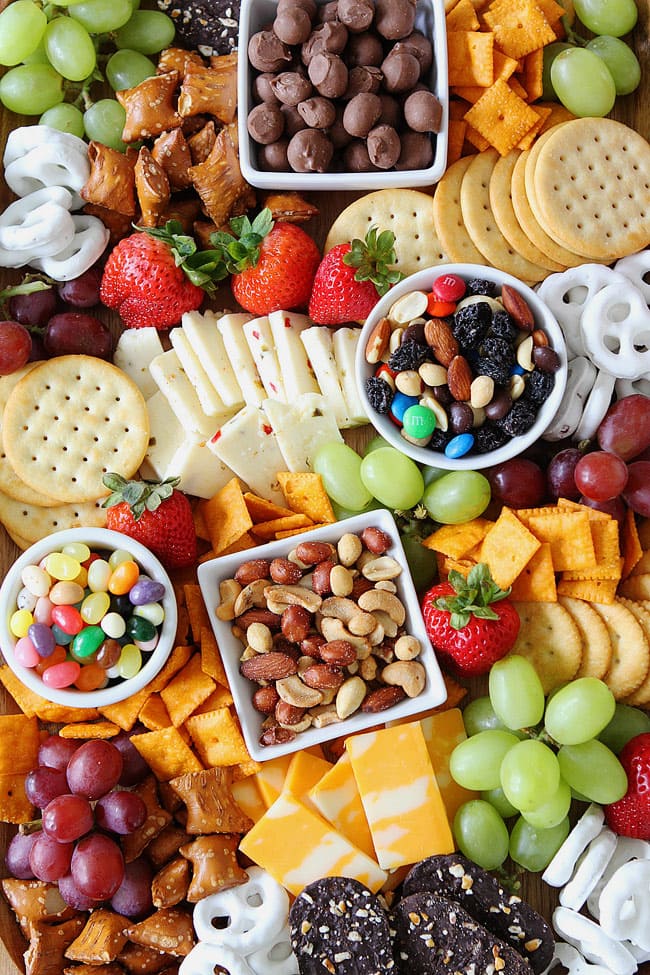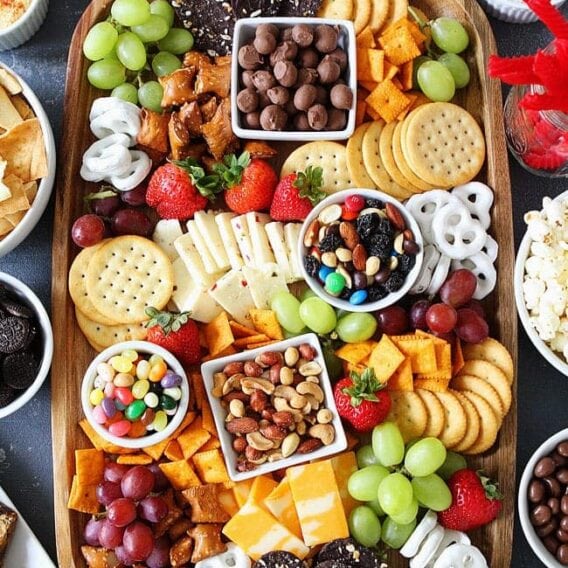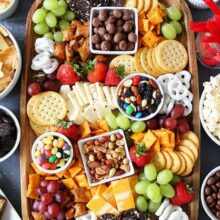 Sweet and Salty Snack Board
Make a Sweet and Salty Snack Board for your party! This spread is perfect for easy entertaining.
Ingredients
Sweets:
Yogurt pretzels

Candy

gummy candy, chocolate, jelly beans, licorice

Chocolate covered nuts

Trail Mix

Cookies

Fruit

grapes, strawberries, berries, apple slices

Dried fruit

apricots, mango, cranberries, blueberries
Salty:
Potato chips

assorted

Chip dip

Pretzels

Cheese balls

Crackers

assorted

Peanut butter pretzels

Mixed nuts

Pita chips

Hummus

Popcorn

Cheese

a few varieties

Salami

Beef jerky

Cut up vegetables
Instructions
Arrange the sweet and salty snacks on a large board. If you don't have a large board, you can use a few platters and bowls. Set the sweet and salty spread out for your guests and let them enjoy!

Note-the above items are just ideas. Get creative and incorporate your favorite sweet and salty snacks!
Have you tried this recipe?
Leave a comment below and share a photo on Instagram. Tag @twopeasandpod and hashtag it with #twopeasandtheirpod