Black Bean Skillet Dinner
Black Bean Skillet Dinner with pickled onions and lime crema is a family favorite weeknight meal. It is easy, healthy, and full of flavor.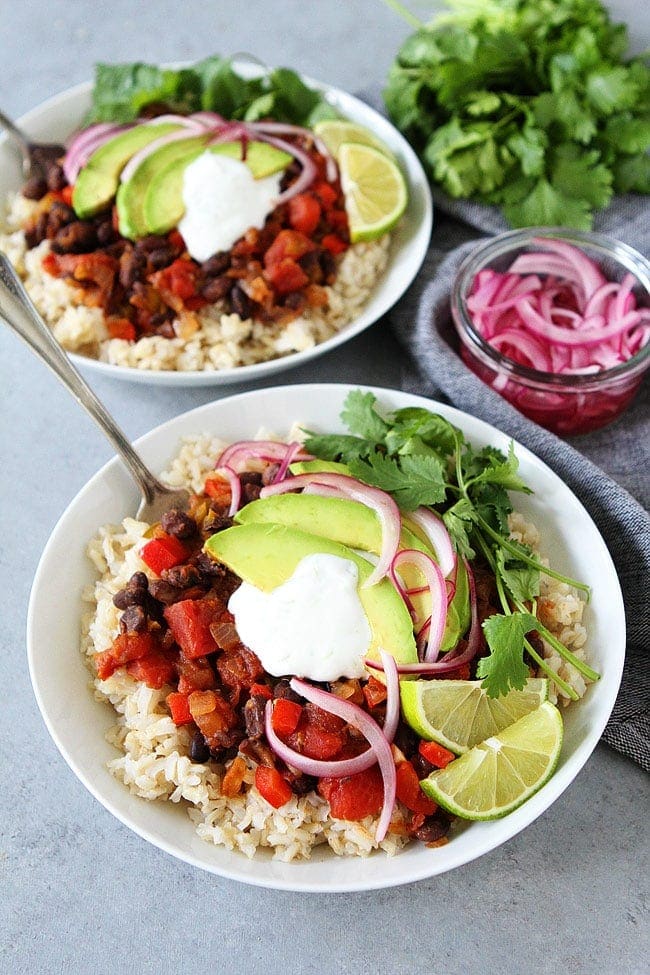 This post is sponsored by USA Pulses & Pulse Canada.
We always try to make easy, healthy dinners on Monday night because we tend to indulge on the weekends. It is always nice to reset and start the week off right. One of our favorite healthy dinners is this Black Bean Skillet Dinner. It is simple to make and the kids love it, which is always a big win!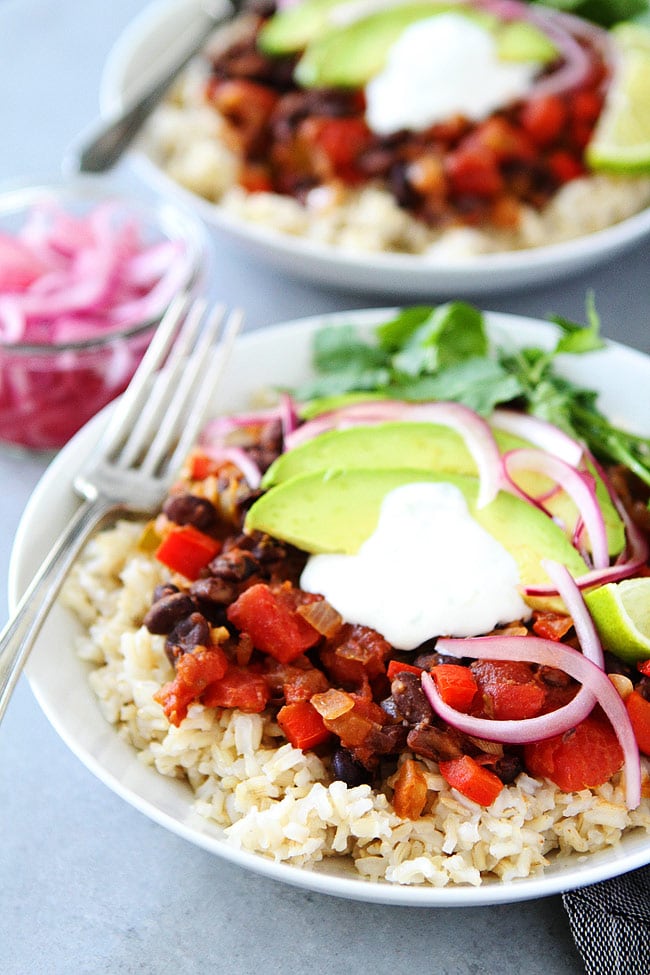 Black beans are a staple in our house. They come in handy when I need to fix an easy and healthy meal. I love this recipe because you only need one skillet to make the black beans and they are loaded with flavor. This skillet dinner is similar to chili, but it cooks up in no time.
Toppings are a MUST for this dish. Our favorites include:
avocado (duh)
cilantro
lime crema (recipe below)
easy pickled red onions (recipe below)
fresh lime juice
shredded cheese (the boys favorite)
If you need the recipe to be vegan, you can skip the lime crema and cheese. Don't skip the pickled red onions. They are SO easy and SO good with the black beans. Serve the beans over brown rice, cilantro lime rice, or quinoa. You can also serve corn or flour tortillas on the side. I love using leftover black beans to make a simple taco salad or nachos! They are always good to have in the fridge!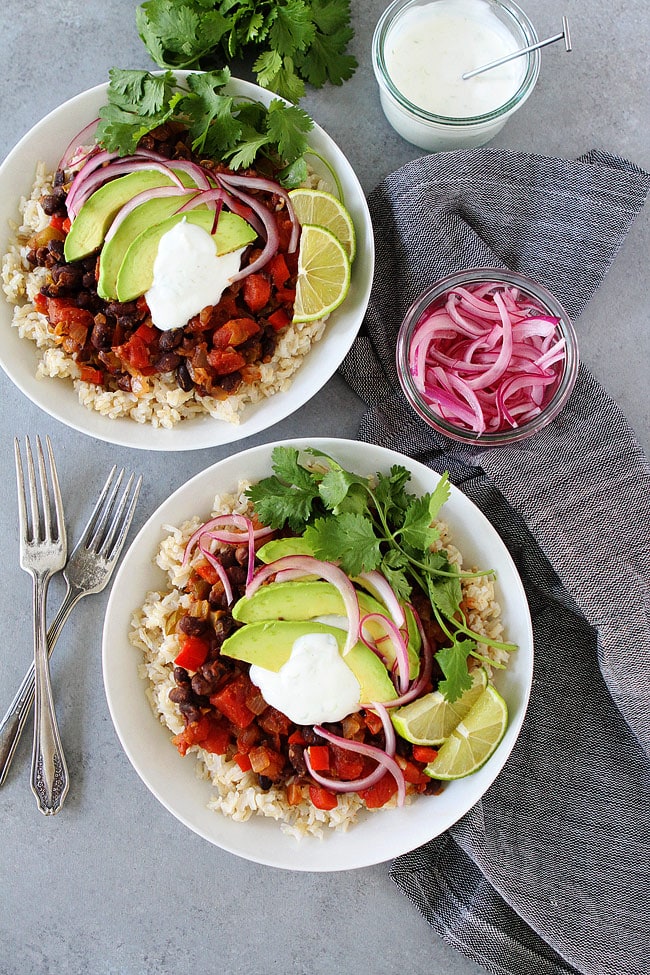 This Black Bean Skillet is perfect for getting more pulses into your diet. Pulses are the delicious, protein-packed, sustainable foods known as dry peas, chickpeas, lentils and beans. You can sign up for the Half-Cup Habit challenge, and see how easy it can be to add ½ cup serving of pulses to your diet three times a week.
We hope you enjoy this easy weeknight skillet dinner as much as we do! Enjoy!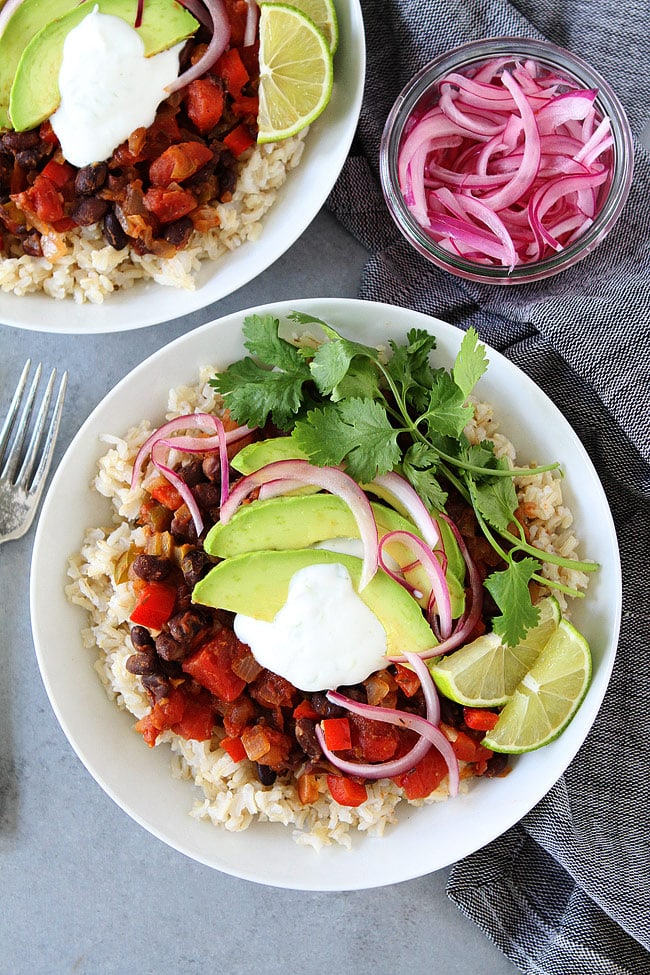 Black Bean Skillet Dinner
Black Bean Skillet Dinner with pickled onions and lime crema is a favorite weeknight meal. Serve with brown rice, cilantro lime rice, quinoa, or tortillas.
Yield: Serves 4
Prep Time: 10 minutes
Cook Time: 30 minutes
Total Time: 40 minutes
Ingredients:
For the Lime Crema:
Zest of 1 lime
1 clove garlic, minced
1 cup plain Greek yogurt or sour cream
Pinch of kosher salt
For the Pickled Onions:
Juice of 1 lime
1 small red onion, very thinly sliced
1 teaspoon granulated sugar
1/4 teaspoon kosher salt
For the Beans:
1 1/2 tablespoons olive oil
1 small yellow onion, diced
1/2 red bell pepper, seeded and diced (about 1/2 cup)
1/2 green bell pepper, seeded and diced (about 1/2 cup)
1 small jalapeno, seeded and finely chopped
1 clove garlic, minced
2 teaspoons dried oregano
1 teaspoon chili powder
2 (15 oz) cans black beans, rinsed and drained
1 (15 oz) can diced tomatoes, with their juices
1 teaspoon kosher salt
Sliced avocado, fresh cilantro leaves-for serving
Directions:
Make the Crema: In a small bowl, combine the lime zest, garlic, and Greek yogurt. Season with a pinch of salt. Set aside.
Make the Pickled Red Onions: In another small bowl, combine the lime juice, red onion, sugar, and salt. Let the mixtures stand while you prepare the beans.
Cook the Beans: Heat the olive oil in a large skillet over medium-high heat. Add the onion, peppers, and jalapeño. Cook, stirring frequently, until the vegetables are softened and browned at the edges, 10-12 minutes. Stir in the garlic, oregano, and chili powder. Cook for 1-2 minutes. Stir in the black beans, tomatoes with juices, 2/3 cup water, and salt. Reduce the heat to medium and simmer until the mixture has thickened, about 20 minutes. Taste and add more salt, if needed.
We like to serve the beans over rice or quinoa with sliced avocado, cilantro, the lime crema, and pickled onions.
Recipe slightly adapted from Dinner by Melissa Clark
All images and text ©
Two Peas & Their Pod
.
Follow twopeasandpod on Instagram and show us what recipes you are making from our blog! Use the hashtag #twopeasandtheirpod! We want to see what you are making in your kitchen!