jump to recipe
Butterscotch, Toffee, Chocolate Chip Cookies
Butterscotch, Toffee, Chocolate Chip Cookies-chocolate chip cookies loaded with butterscotch chips and toffee! Grab a glass of milk and get dunkin'!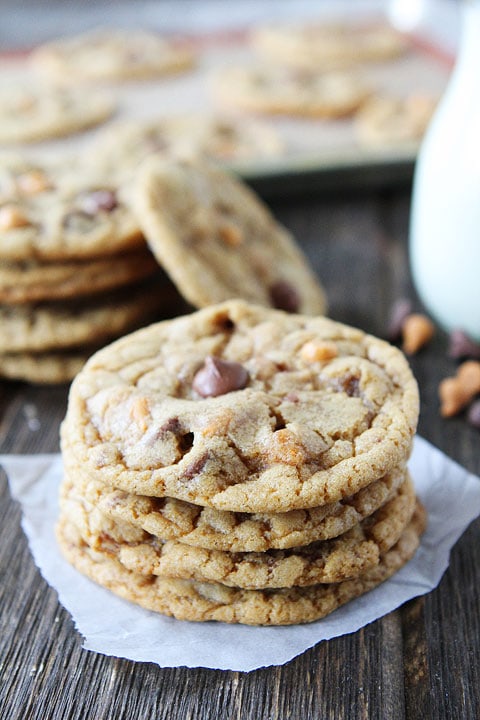 I have to get my glucose test today. I had a tough time getting all of that nasty orange drink down when I was pregnant with Caleb so I am dreading it. I doubt this time will be any easier. Why can't someone invent a magic pill to swallow? They would be a millionaire! I don't think any pregnant woman looks forward to this test. There has to be a better way. Can someone please work on a magic pill and do it fast because my test is today:)
Or why can't I just eat a dozen Butterscotch, Toffee, and Chocolate Chip Cookies? I could easily down a dozen of these cookies! They taste much better than the dreaded orange sugary drink:)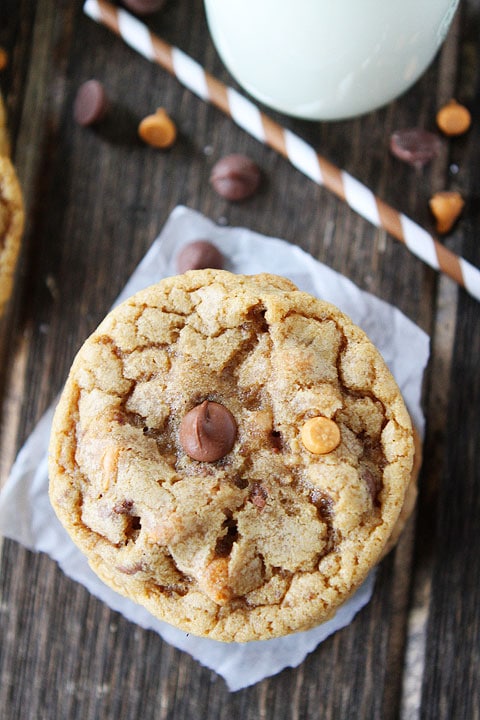 OTHER RECIPES
These cookies have all of my favorite things: butterscotch chips, toffee, and chocolate chips! They are loaded with goodness!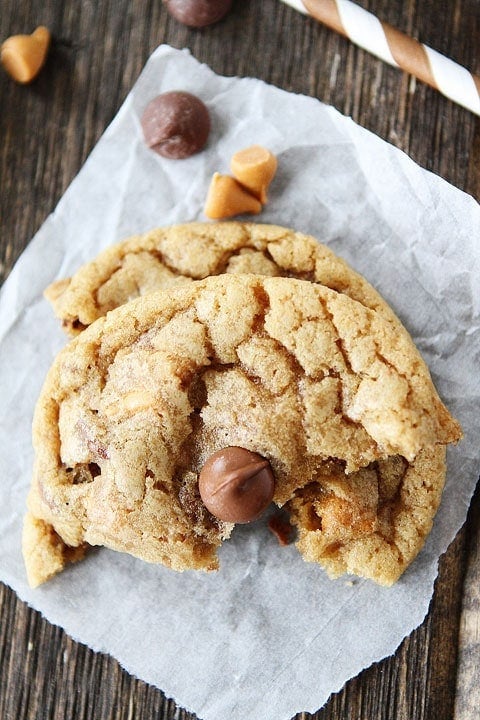 The cookies are soft and chewy with a crisp buttery edge! The butterscotch, toffee, and chocolate combo will make your mouth and belly sing with joy! I've made these cookies a few times and I can never stop at just one. They are just too good!
If I don't pass my glucose test, I don't know how I will give up sugar. I NEED cookies in my life, especially Butterscotch, Toffee, and Chocolate Chip Cookies. I am in love with these cookies!
Let's hope I pass my test with flying colors. If I do, you better believe I am celebrating with a batch of Butterscotch, Toffee, and Chocolate Chip Cookies. Wish me luck!
Butterscotch, Toffee, Chocolate Chip Cookies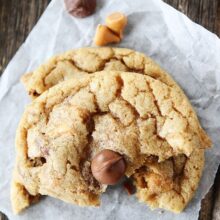 Soft, chewy, and buttery cookies with butterscotch chips, toffee, and chocolate chips! We love everything about these cookies!
Yield: 3 dozen cookies
Prep Time: 15 minutes
Cook Time: 12 minutes
Ingredients:
3 cups all-purpose flour
1 teaspoon sea salt
1 teaspoon baking soda
1 1/2 teaspoons baking powder
1 cup usalted butter, at room temperature
1/2 cup granulated sugar
1 1/2 cup brown sugar
2 large eggs
2 teaspoons vanilla extract
1 cup milk chocolate chips
3/4 cup butterscotch chips
3/4 cup Heath Toffee Bits
Extra sea salt, for sprinkling on cookies
Directions:
Preheat oven to 350 degrees F. Line a large baking sheet with a Silpat baking mat or parchment paper. Set aside.
In a large bowl, whisk together flour, sea salt, baking soda, and baking powder. Set aside.
In the bowl of a stand mixer, cream butter and sugars together until light and creamy, about 5 minutes. Add the eggs and vanilla extract. Beat for an additional 2 minutes.
Slowly add the dry ingredients to the wet ingredients. I add 1/2 cup at a time. Mix until flour is just combined. Stir in the chocolate chips, butterscotch chips, and Heath Toffee Bits.
Drop about 2 tablespoons of dough onto prepared baking sheet, placing the cookies 2-inches apart. Bake for 12 minutes or until the edges are slightly golden brown. Remove from oven and allow the cookies to cool on the baking sheet for 2-3 minutes. Transfer cookies to a wire cooling rack and cool completely.
All images and text ©
.
Follow twopeasandpod on Instagram and show us what recipes you are making from our blog! Use the hashtag #twopeasandtheirpod! We want to see what you are making in your kitchen!