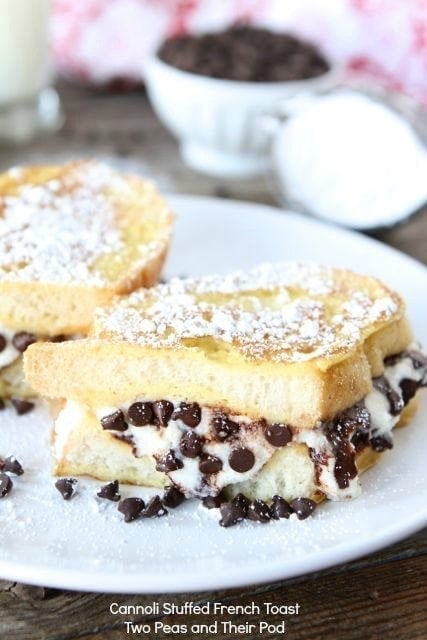 Call me old fashioned or a traditionalist, but I think breakfast in bed is the perfect way to start Valentine's Day. And no, I am not just dropping hints for Josh. Although, I hope he is listening:)
Just think about it, you turn off your alarm clock and want to hide under the covers until your loved one walks in with a breakfast tray, flowers, and a sweet note. Of course you are going to have a good Valentine's Day, especially if Cannoli Stuffed French Toast is on that breakfast tray.
Valentine's Day is supposed to be filled with love, special surprises, and indulgences. This Cannoli Stuffed French Toast is definitely indulgent and perfect for breakfast in bed. Just make sure you have a napkin ready:)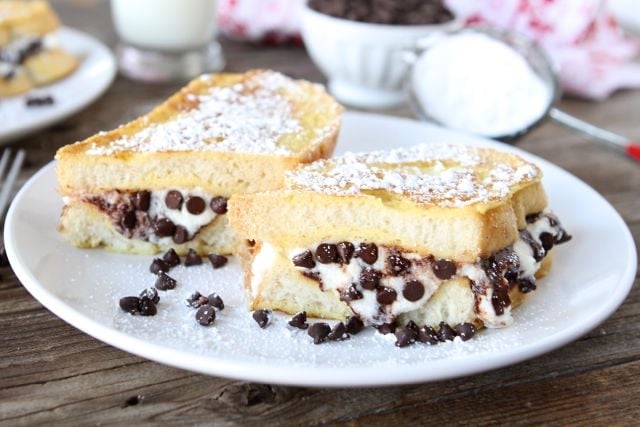 I love cannoli for dessert, but cannoli for breakfast? Now we're talking. I'm always looking for new ways to sneak dessert into breakfast. I promise we don't eat dessert for breakfast every day, it is usually oatmeal at our house, but it's Valentine's Day and that means it's A-Ok to splurge! You have my permission:)
So let's talk about this French toast…creamy ricotta filling is sandwiched between two slices of French bread. Oh, and did I mention their are mini chocolate chips involved? Yep! Chocolate for breakfast on Valentine's Day is a must! The French toast sandwiches get cooked in a little sizzling butter, creating a golden brown crust.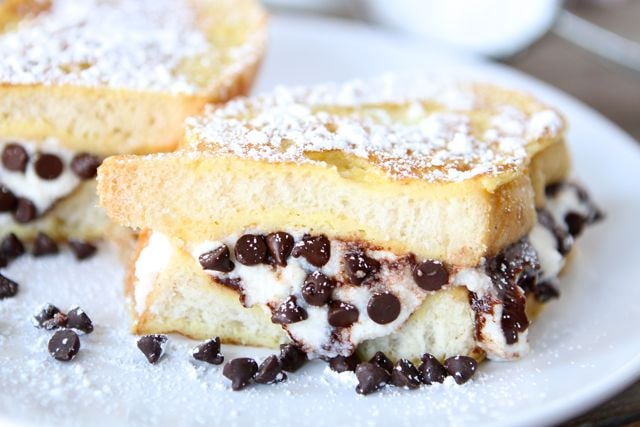 The French toast also gets decorated with a light dusting of powdered sugar. You don't even need syrup, the sweet ricotta filling and chocolate chips are enough!
Valentine's Day is on Thursday so there is still enough time to drop some hints. Print off this Cannoli Stuffed French Toast recipe and leave it on your sweetheart's pillow. They still have plenty of time to go to the grocery store to buy the ingredients. This recipe is unbelievably easy so there should be no excuses.
We hope you wake up on Valentine's Day to a Cannoli Stuffed French Toast breakfast…in bed. And it's ok if you give your loved one powdered sugar kisses:)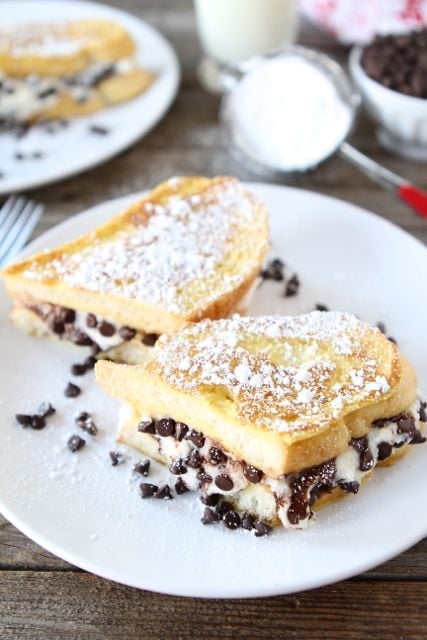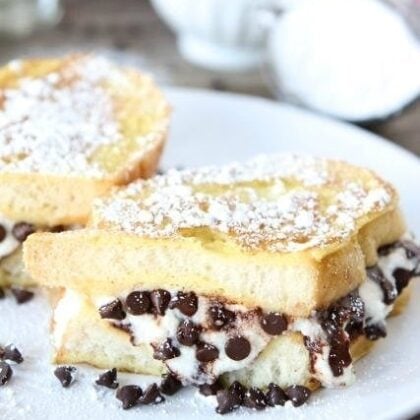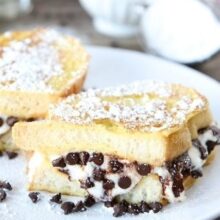 Cannoli Stuffed French Toast
We love making Cannoli Stuffed French Toast for special occasions. This French toast is definitely decadent!
Instructions
In a small bowl, combine the ricotta cheese, powdered sugar, and vanilla extract. Stir in the mini chocolate chips. Set aside.

In a shallow bowl or pie plate, whisk the eggs and heavy cream together. Spread 2 slices of the bread with the ricotta mixture, about ½ cup per slice. Place the other slices of bread on top and gently press them together. Carefully dip both sides of each sandwich into the egg mixture until well coated.

In a large skillet, melt the butter. Add the French toast sandwiches and cook until golden, about 4 minutes per side. Cut the sandwiches in half on the diagonal and transfer to plates. Dust with confectioners' sugar and serve immediately.
Have you tried this recipe?
Leave a comment below and share a photo on Instagram. Tag @twopeasandpod and hashtag it with #twopeasandtheirpod
If you like this Cannoli Stuffed French Toast, you might also like: