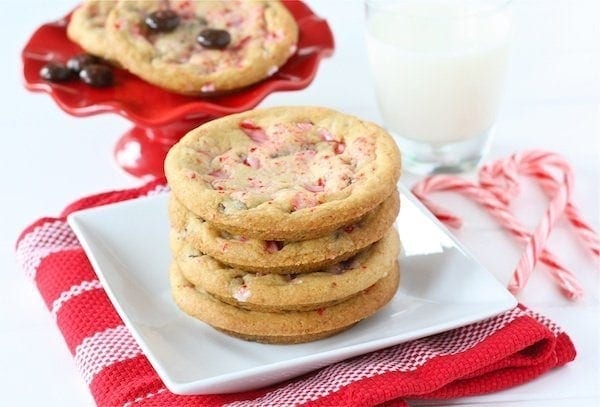 I was at the grocery store the other day and found Peppermint Crunch Junior Mints-they were begging to jump into my cart. I bought a few boxes and decided to create a holiday cookie with them. It snowed on Saturday, which was my excuse to stay in my pj's, turn on the Christmas tunes, and bake the day away. Josh and Caleb assisted me in my baking adventures-we got out the Peppermint Crunch Junior Mints and created a new cookie for the holiday season-Chocolate Chip Peppermint Crunch Cookies.
These chocolate chip cookies have a few Peppermint Crunch Junior Mints tucked inside. I decided to make the cookies even more festive by adding crushed candy canes to the top. I sprinkled each cookie with sea salt before baking because I love a good salty kick in my cookies.
I made these cookies jumbo size by using my muffin top pan. If you don't have a muffin top pan, I highly recommend you get one. Maybe you can ask Santa:) They are great for making muffin tops, but I mostly use the pan to make giant cookies. You can make these cookies regular sized, just roll them into balls and place them on a cookie sheet. Either way the cookies will be tasty:)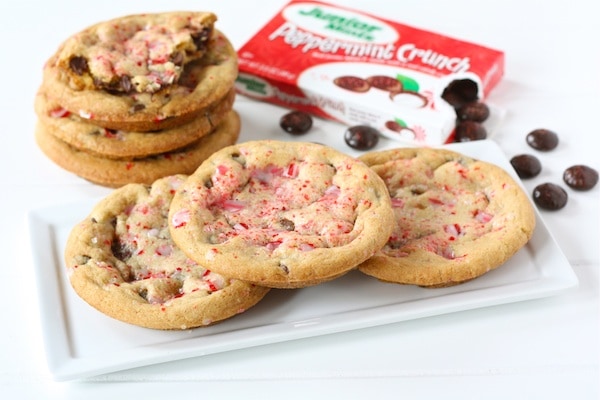 The Peppermint Crunch Junior Mints melted throughout the cookies creating a nice minty surprise. The candy canes made the cookies look pretty and also added a nice minty crunch. If you are looking for a new holiday cookie to bake this year, try these Chocolate Chip Peppermint Crunch Cookies. They are a great cookie to take to a cookie swap, give away as gifts, or to eat all by yourself.
Starting this week, we will be doing some fun holiday giveaways. All of the giveaways will appear on our "On the Side" page, so make sure you are following our RSS feed. You don't want to miss out-we have some great giveaways planned! Yahoo!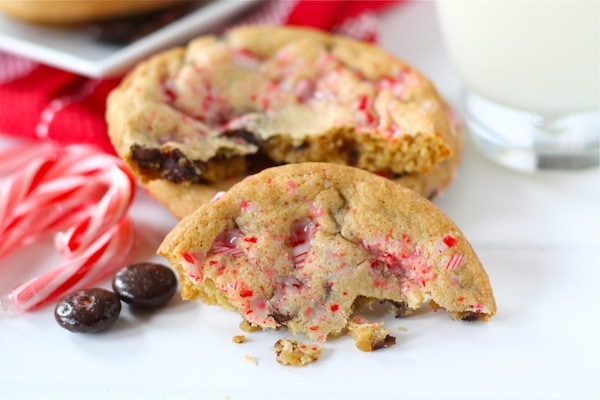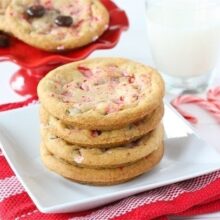 Chocolate Chip Peppermint Crunch Cookies
Instructions
1. Preheat oven to 350 degrees F. If you are making giant cookies, spray a muffin top pan and set aside. If you are making regular sized cookies, line a baking sheet with parchment paper or a silicone baking mat and set aside.

2. In a large bowl, whisk together the flour, baking soda, and salt. Set aside. In a large mixing bowl, cream the butter and sugars together until smooth. Beat in eggs and vanilla until well combined. Slowly add the dry ingredients to the wet ingredients. Stir in the chocolate chips.

3. To make giant cookies-scoop out ¼ cup of dough and flatten the dough with your hands. Place 3 Peppermint Crunch Junior Mints onto the dough and wrap the dough around the candies. Make sure they are covered. Press the dough into the muffin top pans. Sprinkle crushed candy cane pieces and sea salt over each cookie. To make regular sized cookies-tuck 1 Peppermint Crunch Junior Mint into about 1 tablespoon of cookie dough. Form into a ball and roll into crushed candy cane pieces. Place cookies on baking sheet and sprinkle with sea salt.

4. Bake giant cookies for 10-13 minutes, until edges just start to turn golden brown. Let cookies cool for 10 minutes in muffin top pan before transferring to a cooling rack. Bake regular sized cookies for 8-10 minutes, or until edges just start to turn golden brown. Cool on baking sheet for 5 minutes before transferring to a cooling rack.
Have you tried this recipe?
Leave a comment below and share a photo on Instagram. Tag @twopeasandpod and hashtag it with #twopeasandtheirpod
If you like these Chocolate Chip Peppermint Crunch Cookies, you might also like: