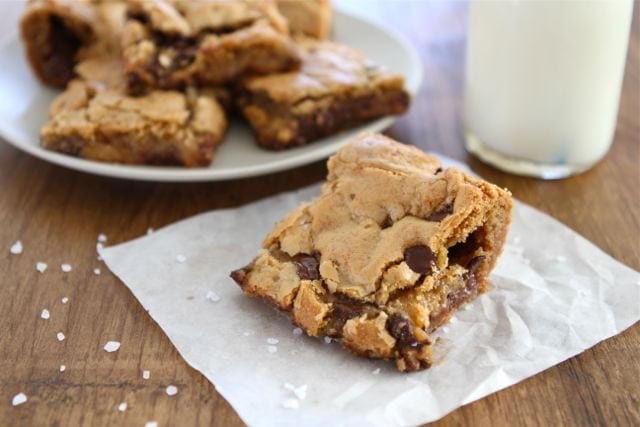 Saturday was a rough day. Long story, but we have been having problems with our hosting company so we decided to switch to a new company. Well, the transition didn't go too smoothly. We spent the majority of the weekend on the phone trying to figure things out. Sorry to anyone who tried to access our site and got an error message. We really appreciate your patience. We finally got our site up and running, but it was a stressful day. I owe Josh a huge thank you for the long hours he spent working on our site. I also owe a huge thank you to these Chocolate Chip Salted Caramel Cookie Bars. They were a lifesaver. I don't deal well with tech issues, so I decided to bake. Baking always cheers me up, especially when the end result is a sweet and salty cookie bar.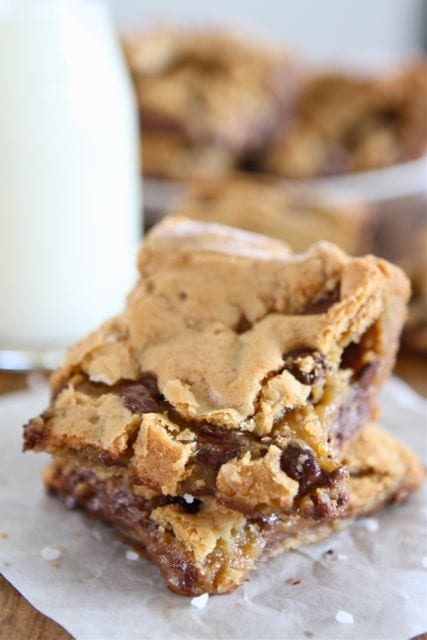 I based this recipe off of my favorite Chocolate Chip Cookie Bars. I took them up a notch by adding a caramel layer. I pressed half of the chocolate chip cookie dough into the pan and then added a creamy layer of caramel. I sprinkled sea salt over the caramel and topped the caramel with the remaining cookie dough. I love a good kick of salt in my sweets, so I sprinkled a little more sea salt over the top of the cookie bars. I baked them until they were golden brown and then indulged in the best cookie bar ever invented.
I loved everything about these bars-they are pretty much perfect. The sweet and salty combo gets me every time. The bars are rich, gooey, with the perfect hint of salt. My bad day was soon forgotten after eating one…or maybe two of these bars:) If you ever have a bad day and need a pick me up, make these Chocolate Chip Salted Caramel Cookie Bars. Your troubles may not go away forever, but these cookie bars will help ease the pain. They sure made my day a lot better. And if you are lucky and don't have bad days, you can still make these bars. The sweet and salty combo cures all cravings and is perfect for any mood.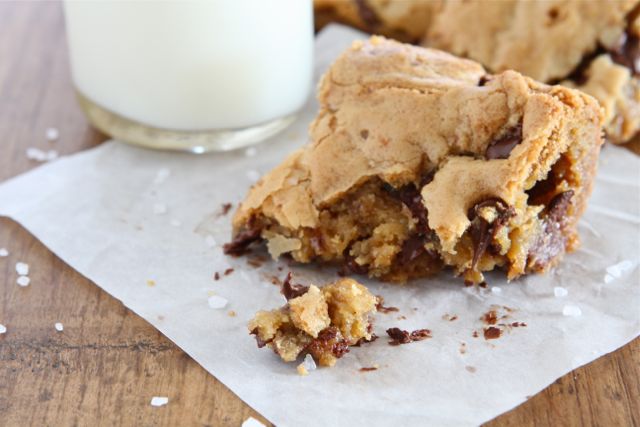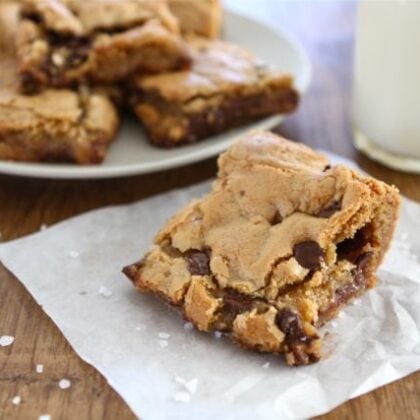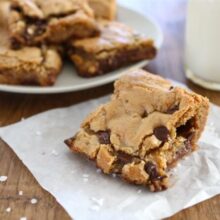 Chocolate Chip Salted Caramel Cookie Bars
Chocolate chip cookie bars with a layer of salted caramel. These gooey sweet and salty cookie bars are pretty much perfection!
Instructions
Preheat oven to 325 degrees F. Spray a 2-quart baking pan (which is an 11 X 7 pan-I used a glass Pyrex dish) with nonstick cooking spray and set aside.

In a medium bowl, whisk together flour, salt, and baking soda. Set aside.

In the bowl of a stand mixer, mix the melted butter and sugars together until combined. Add the egg, egg yolk, and vanilla extract and mix until smooth. Slowly add the dry ingredients and mix on low, just until combined. Stir in the chocolate chips.

In a large microwave safe bowl, combine the caramels and heavy cream. Microwave caramels on High until caramels are melted, stirring every 20 seconds. This will take about 2 minutes, depending on your microwave.

Divide the cookie dough in half. Press half of the cookie dough into the prepared pan, smoothing the top with the spatula. Pour hot caramel over the cookie dough. Sprinkle caramel with sea salt. Drop spoonfuls of cookie dough over the caramel and spread dough with a spatula until the caramel is covered. Sprinkle the bars with additional sea salt.

Bake cookie bars for 30 minutes or until the top of the bars are light golden brown and the edges start to pull away from the pan. Cool bars on a wire rack to room temperature. Cut bars into squares and serve.
Have you tried this recipe?
Leave a comment below and share a photo on Instagram. Tag @twopeasandpod and hashtag it with #twopeasandtheirpod
If you like these Chocolate Chip Salted Caramel Cookie Bars, you might also like: