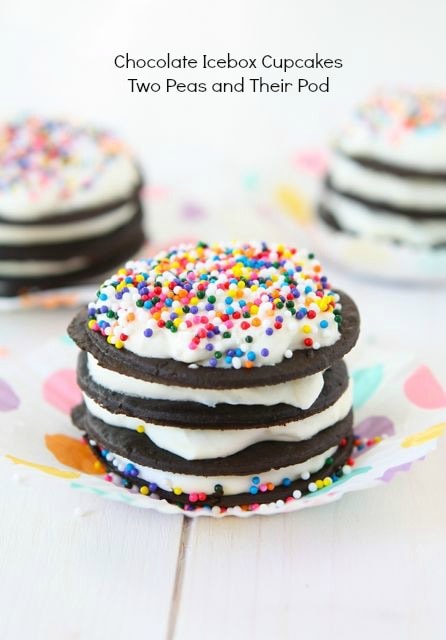 Yesterday we celebrated Caleb's first birthday! We still can't believe our little pea is one. We had a fun day filled with walks, playing with toys, reading, a special dinner, presents, and of course dessert! Everyone has been asking what Caleb's first birthday cake would be and it took me a long time to decide. I knew the pressure was on:)
I decided to not make a cake at all:) For my birthday, we celebrate with cookies and for Josh's birthday we celebrate with key lime tart, so cake really isn't a tradition in our family. I knew Caleb would just make a mess of whatever we made him, so I kept it simple and made Chocolate Icebox Cupcakes. They are super easy to make and perfect for a one year old to destroy!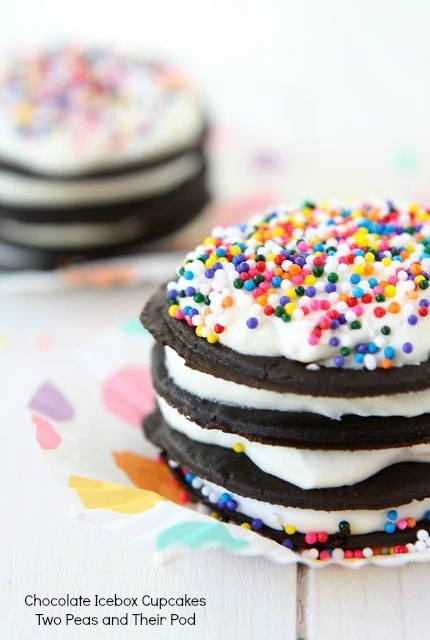 Icebox cake is a classic dessert, but I switched things up a bit by making Chocolate Icebox Cupcakes, instead of a large cake. This way Caleb could destroy his cupcake and our guests could still enjoy some dessert.
To make the cupcakes, all you do is layer chocolate wafers and whipped cream and let the cupcakes sit overnight in the refrigerator. The chilling time allows the chocolate wafers to soak in some of the whipped cream, creating a soft, pillow like chocolate dessert. The cupcakes remind me of a big soft Oreo, but better! I am not even a whipped cream fan and I love these Chocolate Icebox Cupcakes.
I added sprinkles to the top of the cupcakes for extra birthday fun. These cupcakes seriously are the easiest cupcakes EVER!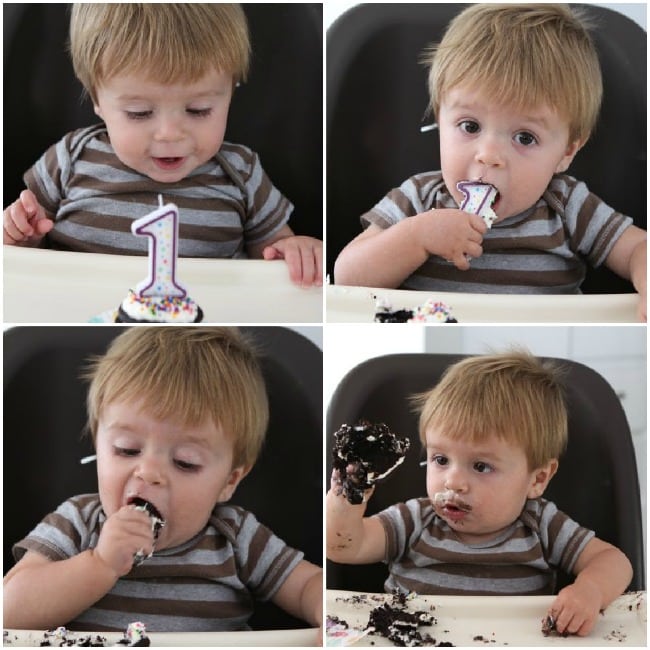 We haven't given Caleb any sugar yet and didn't really want him to eat his Chocolate Icebox Cupcake, but we sang to him and let him have at it. He stared at it for awhile and then looked at us. We gave him the ok, so he took off the big #1 candle. He licked it and then went in for the kill. He demolished his cute little cupcake. He really didn't get much of the cupcake in his mouth though. Most of it ended up on the floor, on his face, and in his hands. First birthday success!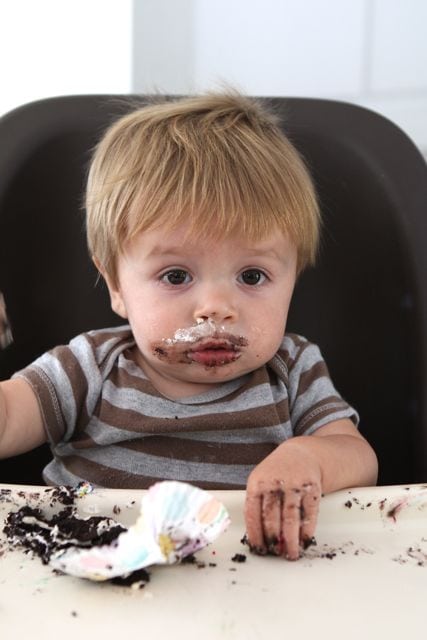 I love his Chocolate Icebox Cupcake mustache! What a cutie pie!
I am so glad I made Chocolate Icebox Cupcakes for Caleb's first birthday. It was the perfect dessert to be destroyed. I didn't even have to turn on the oven! So maybe I cheated, but I don't think Caleb noticed:) He loved his cupcake and our guests enjoyed the cupcakes as well. It was a very happy first birthday! And thanks everyone for sending Caleb birthday wishes yesterday. He says thank you! He certainly is a lucky little guy.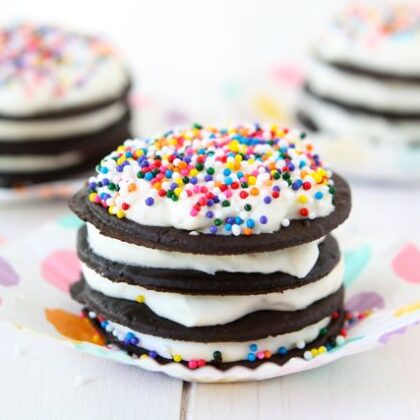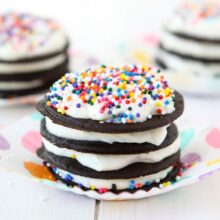 Chocolate Icebox Cupcakes
Chocolate Icebox Cupcakes-a twist on the classic icebox cake recipe. The same great dessert, but in mini form. The easiest dessert you will ever make!
Instructions
1. In the bowl of a stand mixer, whip the cream, powdered sugar, and vanilla together on high speed until medium peaks form.

2. To assemble the cupcakes, spread about 2 teaspoons of the whipped cream on top of a chocolate wafer. Place another wafer on top of the cream to make a sandwich. Spread more cream over the wafer and add another wafer. Top the final wafer with cream. You want to use four wafers per cupcake and end with cream.

3. Place cupcakes in cupcake liners or on a plate and stick in the refrigerator for 4 hours or overnight. The cream will soften the wafers making them soft like cake.

4. When ready to serve, remove the cupcakes from the refrigerator and sprinkle with sprinkles, if desired.

Note-you can find Nabisco's Famous Chocolate Wafer Cookies in the cookie aisle. I live in Utah and found them at Dan's Market and WinCo.
Have you tried this recipe?
Leave a comment below and share a photo on Instagram. Tag @twopeasandpod and hashtag it with #twopeasandtheirpod