First of all, our thoughts and prayers go out to everyone affected by Sandy. We hope you are all safe. We are thinking about you!
Happy Halloween! I hope the ghosts and gobblins haven't gotten you yet:) Every year we stock up on Halloween candy to pass out to the kiddos. I try to buy candy that I don't like so I am not tempted to eat it. Well, this year I bought a big bag of assorted chocolate candy. I resisted everything but the Reese's Peanut Butter Cups. They get me every time. I know the candy was supposed to be for the trick-or-treaters, but those orange wrappers kept staring me down.
I knew I would eat all of them if I didn't do something with them, hiding them never works since I am the one doing the hiding. I decided to bake Chocolate Peanut Butter Cup Cupcakes. Chocolate cupcakes with a Reese's Peanut Butter Cup hidden inside and creamy peanut butter frosting. Oh yeah!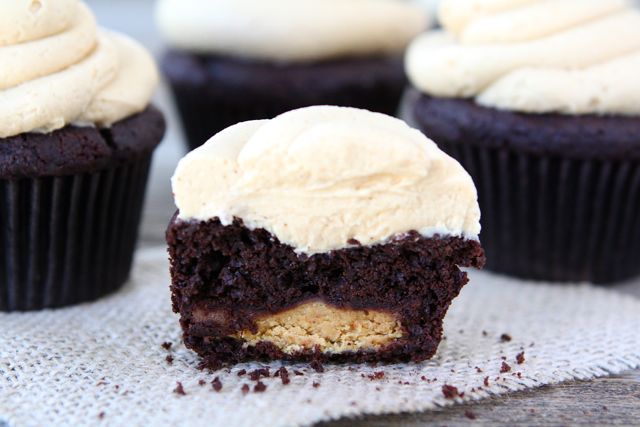 I loved the Dark Chocolate Raspberry Cupcakes that I recently made, so I used the same chocolate cupcake recipe this time around. Why mess with a good thing? Except this time I put a Reese's Peanut Butter Cup inside of the chocolate cupcake batter. So in a way, I did hide the Reese's Peanut Butter Cups:)
I topped the cupcakes with a light and creamy peanut butter buttercream frosting. I am usually not the biggest frosting fan, but this frosting makes me want to stick my head in the bowl and never leave. Ok, I will leave once the frosting is all gone, but only so I can make more. It is Divine with a capital D! It is the perfect frosting to finish the rich and chocolaty cupcakes too!
So instead of eating a dozen Reese's Peanut Butter Cups, I ate a dozen Chocolate Peanut Butter Cup Cupcakes. Hmmm…somehow my plan didn't work out so well. Oops! Oh well, these cupcakes are worth every calorie and then some!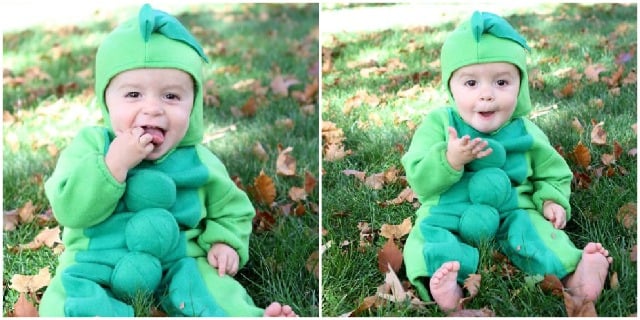 Everyone has been asking us about Caleb's Halloween costume. Well, here you go! He is a pea pod! Are you surprised? 🙂 We dressed him up for a neighborhood Halloween party and he loved his costume…for about 5 minutes. Then he had too much fun ripping off the peas and his hat. He is the cutest little pea!
Make sure you save some Halloween candy so you can make these Chocolate Peanut Butter Cup Cupcakes. And if you have to sneak some of your kids candy, I won't tell. Just make sure you share the cupcakes. They will love the surprise inside. Happy Halloween!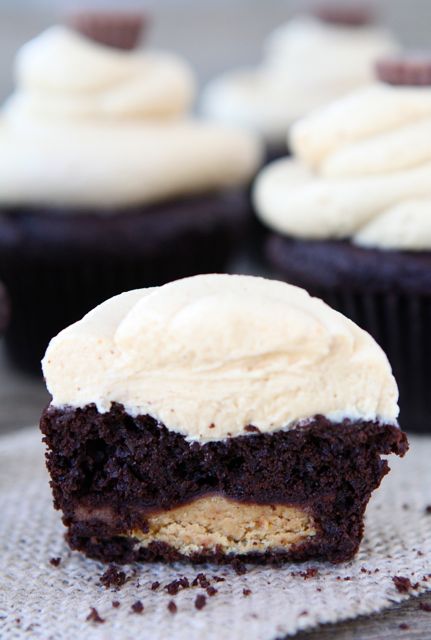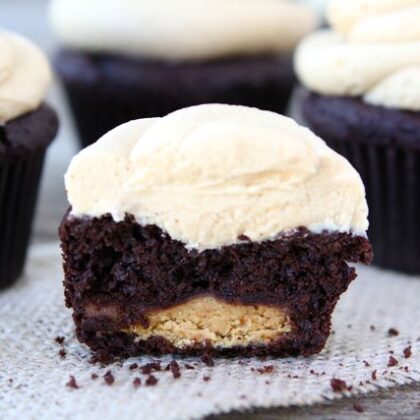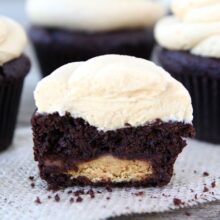 Chocolate Peanut Butter Cup Cupcakes
Dark chocolate cupcakes with creamy peanut butter frosting. And there is a fun surprise inside-a Reese's Peanut Butter Cup! Peanut butter lovers will LOVE these cupcakes!
Instructions
1. To make the cupcakes: preheat the oven to 350 degrees F. Line a 12-cup muffin tin with paper liners. Set aside.

2. Place butter, chocolate and cocoa powder in a medium heatproof bowl. Microwave in 30 second spurts on 50% power, stirring in between, until the butter and chocolate are melted and the mixture is smooth. (Alternatively, you could do this step in a double boiler.) Set the mixture aside to cool until it is warm to the touch.

3. In a small bowl, whisk together the flour, baking soda, and baking powder. Whisk the eggs in a medium bowl to combine, then add the sugar, vanilla and salt and continue whisking until fully incorporated. Add the cooled chocolate mixture to the bowl and whisk to combine. Sift one-third of the flour mixture into the bowl and whisk gently to combine. Add the Greek yogurt or sour cream and whisk to combine. Finally, sift the the rest of the flour mixture into the bowl and whisk until everything is well combined. The cupcake batter will be thick.

4. Place a spoonful of cupcake batter on the bottom of each cupcake liner. Place a Reese's Peanut Butter Cup on top of the batter. Cover the peanut butter cups with remaining batter, filling each about 2/3 full. Bake until a toothpick inserted into the center of the cupcakes comes out clean, about 18-20 minutes. Remove the pan to a wire rack and let the cupcakes cool for a few minutes before removing them to a wire rack to cool completely.

5. While the cupcakes are cooling, make the peanut butter buttercream frosting. In the bowl of a stand mixer, beat butter and peanut butter until creamy. On low speed, add in powdered sugar. Mix until combined and add the heavy cream. Mix until frosting is fluffy. You can play around with the amounts of powdered sugar and heavy cream to get the exact texture and consistency that you want.

6. Frost cooled cupcakes with the peanut butter frosting and top each cupcake with a mini peanut butter cup, if desired.
Have you tried this recipe?
Leave a comment below and share a photo on Instagram. Tag @twopeasandpod and hashtag it with #twopeasandtheirpod