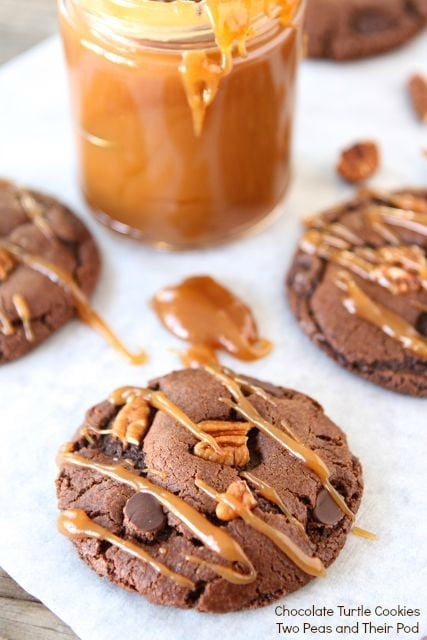 Chocolate calories don't count during Valentine's Day week…or should we go with month:) I'm going with month because I still have Chocolate Turtle Cookies sitting on my counter and a box of chocolates to eat. I probably won't eat the box of chocolates though. I will take a bite out of every one:)
My dad used to bring home a giant box of chocolates for Valentine's Day every year, for my brother, sister, and I to share. I wanted to make sure I got the first pick, so I would sneak the box into my room and take a bite out of every single chocolate. My brother and sister would get so mad at me. They didn't want to eat the chocolates after I had nibbled on them. I never would eat the entire box, I just wanted a little taste of all of them:)
I can't just take a bite of these Chocolate Turtle Cookies. One bite leads to another and another. Cookies are my weakness…or should I say strength:)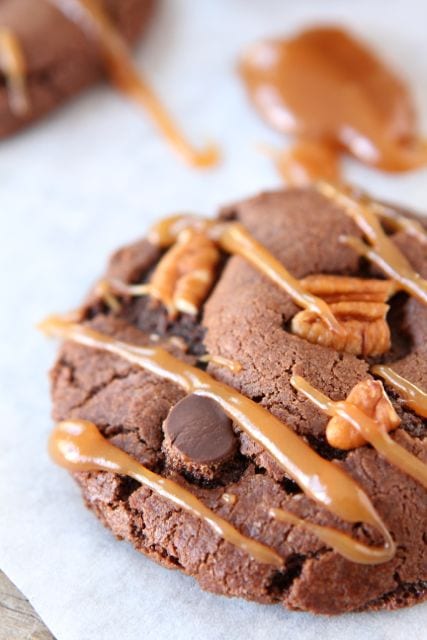 These cookies are rich, rich, rich! Chocolate dough with chocolate chips, pecans, and a caramel bits. Do I even need to say anything else? Yes, I do, because I didn't stop there. I drizzled the cookies with salted caramel sauce. Can I get an Amen? I used our favorite homemade salted caramel sauce, but you can use store bought caramel sauce if you are in a pinch.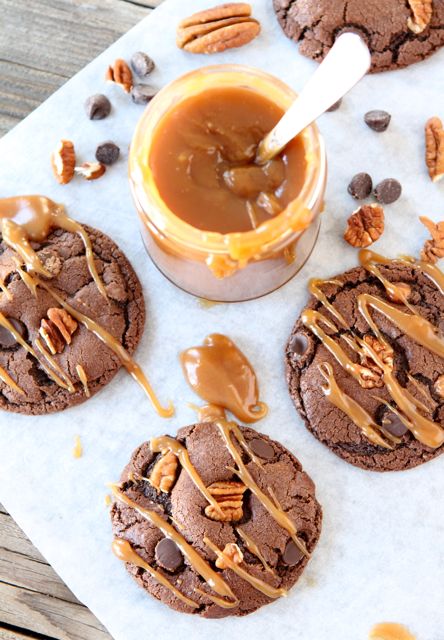 I enjoy a turtle candies, but these Chocolate Turtle Cookies blow the candies out of the water. In my cookie obsessed opinion:)
You can give your Valentine a box of chocolates, but they might just take a bite of every chocolate and let the rest go to waste. Instead, make them a batch of Chocolate Turtle Cookies. I doubt there will be any cookies left…not even a crumb!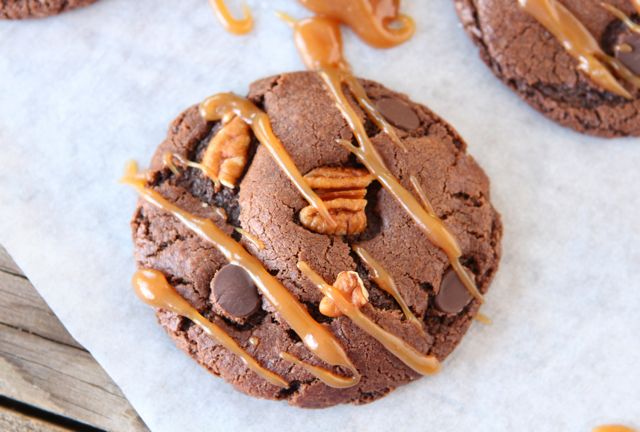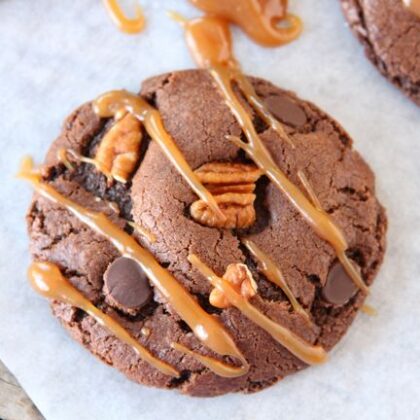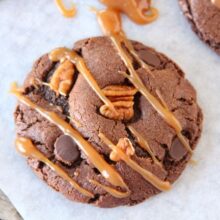 Chocolate Turtle Cookies
Instructions
1. Preheat oven to 350 degrees F. Line a baking sheet with parchment paper or Silpat baking mat. Set aside.

2. In a medium bowl, whisk together flour, baking soda, salt, and cocoa. Set aside.

3. With a mixer, cream butter and sugars together until smooth. Add in eggs, one at a time. Next, add in vanilla extract and mix until combined.

4. Gradually add flour mixture and beat until just combined. Stir in the chocolate chips, pecans, and caramels. Scoop the dough into rounded tablespoons and place on prepared baking sheet, about 2 inches apart.

5. Bake cookies for 8-10 minutes, or until cookies are set, but still soft in the center. Remove from oven and let sit on baking sheet for 3 minutes. Move to a cooling rack and cool completely. Drizzle cookies with caramel sauce and serve.
Have you tried this recipe?
Leave a comment below and share a photo on Instagram. Tag @twopeasandpod and hashtag it with #twopeasandtheirpod