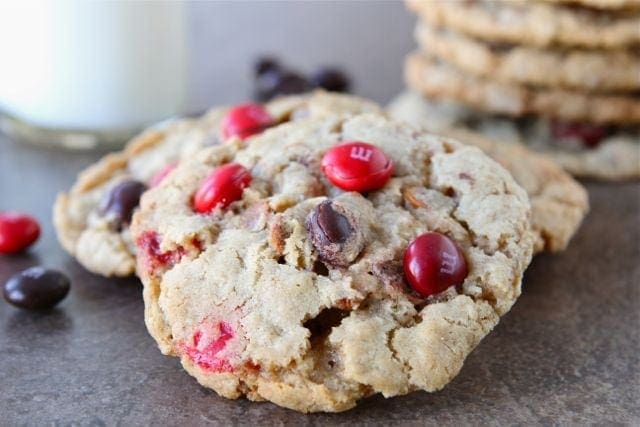 I was doing some last minute holiday shopping last week at Target and spotted Cinnamon M&M's in the candy aisle. I love cinnamon and M&M's so of course I had to buy a bag. When I got home, I busted open the bag to sample the new M&M's. The M&M's are larger in size than regular M&M's, but the same size of Peanut Butter M&M's-yes, I know my M&M's:) They come in four colors-red, dark red, brown, and a darker brown. I will be honest, I wasn't crazy about them. They are good, but not amazing:) They taste like regular milk chocolate M&M's with a slight hint of cinnamon. They are super sweet too. I knew I couldn't eat them by the handful, so I decided to bake a batch of Cinnamon M&M Oatmeal Cookies.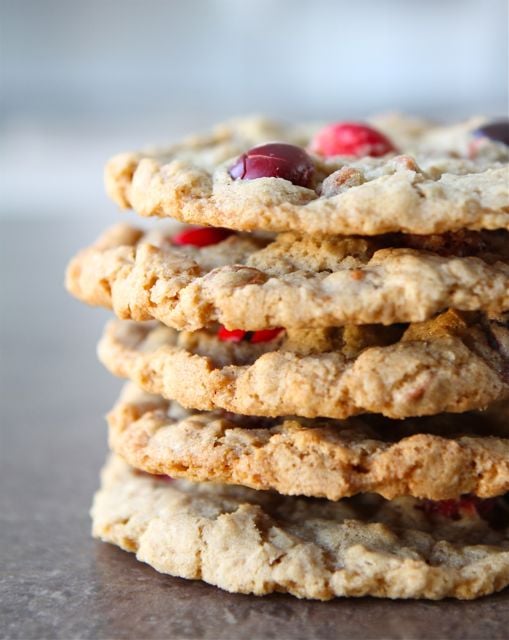 I made a cinnamon oatmeal cookie dough and added in Cinnamon Chips and the Cinnamon M&M's. I stirred in one cup of the M&M's into the dough and pressed a few candies on top of the cookies before baking. If you like cinnamon, these are the cookies for you. The oatmeal cookies are crisp on the edges and chewy on the inside. You get a burst of cinnamon in every bite thanks to the cinnamon, Cinnamon Chips, and Cinnamon M&M's. I really enjoyed the Cinnamon M&M's in the cookies. They added a nice crunch and sweetness.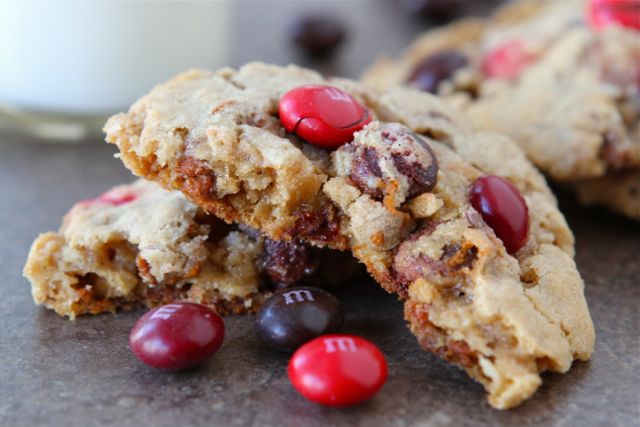 My family really enjoyed the cookies, especially my little niece. She even fell asleep with a cookie in her hand, she didn't want to let it go:) I think the Cinnamon M&M's are a seasonal item, so you better hurry if you want to try these cookies. I found them at Target, but I looked and Amazon also carries them. If I see them again, I will buy another bag. They were a great addition to these cookies.
My good friend Jenny, from Picky Palate, also made cookies with the new Cinnamon M&M's. She posted a photo of her Cinnamon M&M cookies on Instagram the other day and I started laughing. We always have cookies on the brain:) One of the many reasons why we are such great pals:) So we decided it would be fun to share our Cinnamon M&M Cookie recipes on the same day. Make sure you go and check out her delicious cookie recipe. And go find those M&M's so you can get baking!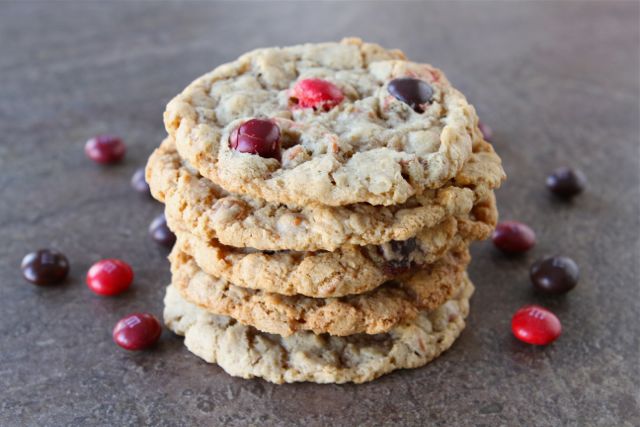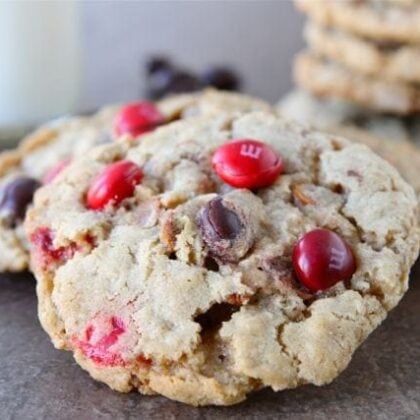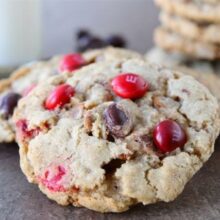 Cinnamon M&M Oatmeal Cookies
These oatmeal cookies have cinnamon, cinnamon chips, and Cinnamon M&M's. Cinnamon lovers will go crazy for these oatmeal cookies.
Instructions
1. Preheat the oven to 350 degrees F. Line a large baking sheet with parchment paper or a silicone baking mat and set aside.

2. In the bowl of a stand mixer, cream butter and sugars together until smooth. Add the egg and vanilla extract and mix until well combined.

3. In a separate bowl whisk together flour, baking powder, baking soda, and salt. Slowly add flour mixture to the wet ingredients. Mix until just incorporated.

4. Stir in the oats, cinnamon chips, and 1 cup of Cinnamon M&M's. Make dough balls-about 1 tablespoon of dough per cookie. Press 2-3 M&M's on top of each cookie. Bake cookies for 10-12 minutes, until the cookies are golden brown around the edges. Remove from oven and let cool on baking sheet for two minutes. Transfer to a wire rack to finish cooling.

Note-I found the Cinnamon M&M's at Target and I buy Hershey's Cinnamon Chips.
Have you tried this recipe?
Leave a comment below and share a photo on Instagram. Tag @twopeasandpod and hashtag it with #twopeasandtheirpod