The Ultimate Cinnamon Pancakes – double filled cinnamon streusel pancakes! This copycat "Recess Time" pancake from the famous The Griddle Cafe in L.A. as close as I could get to the real thing, and I have to say, it was pretty awesome! Perfect for a special occasion breakfast.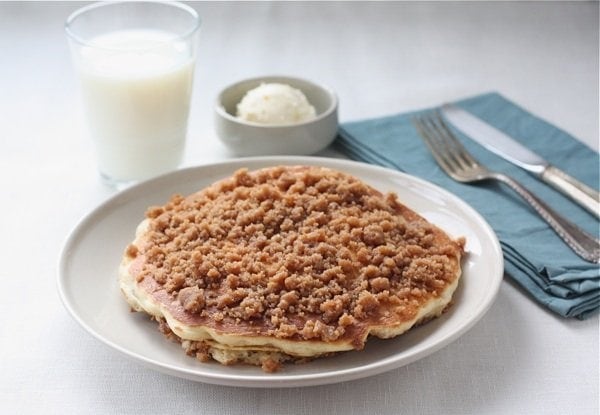 Live and Love in L.A. with Cinnamon Pancakes
When we went to California in November, we spent a day eating our way through Los Angeles with our good friend, Amanda, from Kevin and Amanda. Amanda had a long list of food places for us to try. We started our food feast at The Griddle Cafe in Hollywood. Amanda recommended the "Recess Time" pancake, which is a double-filled cinnamon streusel pancake. We took her advice and ordered the pancake and I am so glad we did! It is the BEST pancake I have ever tasted in my life. Josh and I recently recreated our favorite cinnamon streusel pancakes at home and we are sharing the recipe today.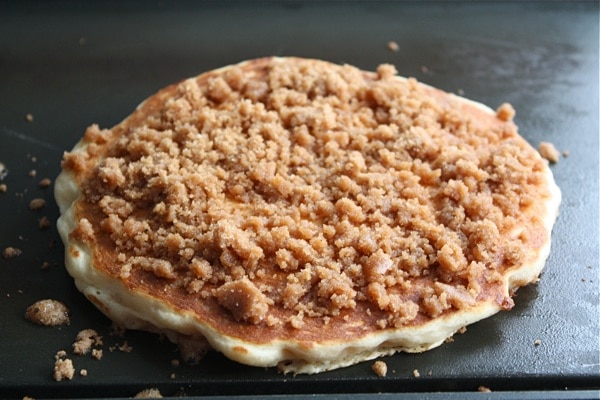 Giant Double Streusel Cinnamon Pankcakes
The pancakes at The Griddle Cafe are humongous! They are as big as the plate and stacked three pancakes high. Luckily, they will let you order a single pancake-which was big enough to feed all three of us. Ok, so maybe we ordered French Toast too, but we were on vacation, we had to splurge:) The pancakes are served with a big scoop of whipped butter and pure maple syrup. The cinnamon streusel provides a nice, sweet crust on top of the pancake. These pancakes are out of this world!
How We Replicated "Recess Time" Pancakes
We were determined to recreate our favorite pancakes at home so one morning we put our game faces on and got to work.
We started with a light and fluffy buttermilk pancake recipe.
We also mixed up a bowl of cinnamon streusel.
We made large pancakes, maybe not quite as big as The Griddle Cafe's, but plenty big if you ask me!
We added a sprinkle of cinnamon streusel to the first side of the pancake.
After we flipped the pancakes, we loaded on the cinnamon streusel and I mean loaded.
The final side of the pancake needs to be heaping with cinnamon streusel. While it is heating up the cinnamon streusel will slightly harden, creating a crispy sweet crust.
Josh let a big scoop of butter melt all over the pancake, making the pancake even more decadent.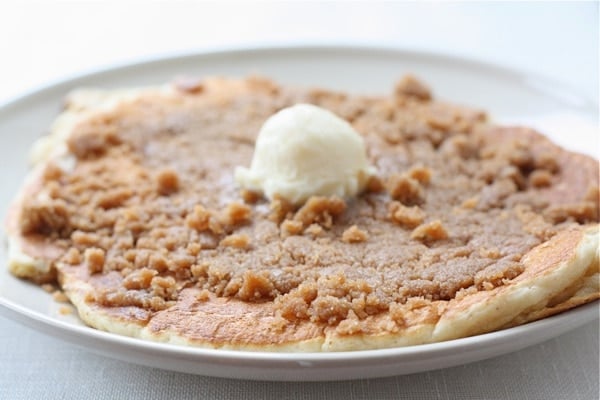 Cinnamon Pancakes Success
We both tasted the pancake and looked at each other. We both smiled and started nodding. We nailed the recipe. Our cinnamon streusel pancakes tasted just like the "Recess Time" pancake we devoured at The Griddle Cafe in L.A. We were so happy we recreated one of our favorite recipes! Now, we can eat cinnamon streusel pancakes without leaving our home. Breakfast is so much better in your pj's.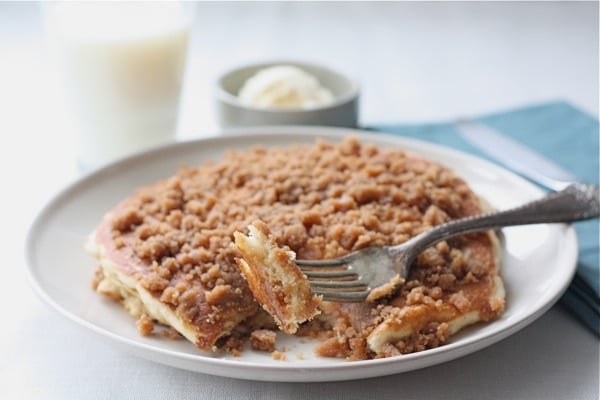 A Special Occasion Pankcake
I will warn you these pancakes are insanely sweet. We said they were a once of year kind of treat, but Josh is already asking for them again:) We will see how long that rule lasts:) Make them for a special occasion or when you are in a sugary mood. These cinnamon streusel pancakes are hands down our favorite breakfast treat.
To see what else we ate in L.A, check out Amanda's post. We had SO much fun. Thanks, Amanda for being our fabulous tour guide. And if you are ever in L.A, I highly recommend you visit The Griddle Cafe. It will knock your socks off!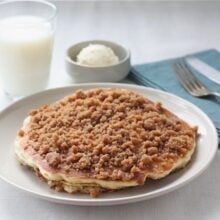 Cinnamon Streusel Pancakes
Light and fluffy buttermilk pancakes with sweet cinnamon streusel topping! These are our favorite pancakes.
Instructions
First, make the cinnamon streusel. In a medium bowl, combine flour, brown sugar, cinnamon, and butter. Mix together with your hands or a fork, until you have a crumbly mixture. Set aside.

In a large bowl, whisk together flour, sugar, baking powder, soda, and salt. In a small bowl, whisk together buttermilk, eggs, oil, and vanilla. Add wet ingredients to the flour mixture and stir just until combined. Do not over mix, batter will be slightly lumpy.

Heat a griddle or pan to medium low. Coat with cooking spray. Drop 1 cup of batter onto heated skillet. Add 2 tablespoons of the cinnamon streusel. Cook on the first side until bubbles begin to form, about 2-3 minutes. Carefully flip pancake over and cover very generously with cinnamon streusel. Cook for another 2-3 minutes or until golden brown. Continue this process to make the rest of the pancakes.

Serve warm with maple syrup and butter.
Have you tried this recipe?
Leave a comment below and share a photo on Instagram. Tag @twopeasandpod and hashtag it with #twopeasandtheirpod
If you like these Cinnamon Streusel Pancakes, you might also like:
Pumpkin Pancakes with Cinnamon Syrup from Two Peas and Their Pod
Chocolate and Cinnamon Pancakes from Baking Bites
Cinnamon Roll Pancakes from Big Red Kitchen
Whole Wheat Cinnamon Pancakes from In Good Taste