Cookies and Cream Cupcakes
Cookies and Cream Cupcakes-chocolate cupcakes with cookies and cream frosting and an Oreo surprise inside! They are perfect for any celebration! 
I love you guys so we are starting the week with CUPCAKES! And not just any cupcakes, but Cookies and Cream Cupcakes. These cupcakes are all kinds of amazing because they are chocolate cupcakes with an Oreo cookie hidden inside! Plus, the cupcakes get topped with cookies and cream frosting and an itty bitty Oreo cookie. Monday isn't looking so bad, huh?
I used my favorite chocolate cupcake recipe for the base of the cupcakes. It is my go to! I placed an Oreo cookie inside of each cupcake, because why not? If you are going to have a cupcake, HAVE a cupcake!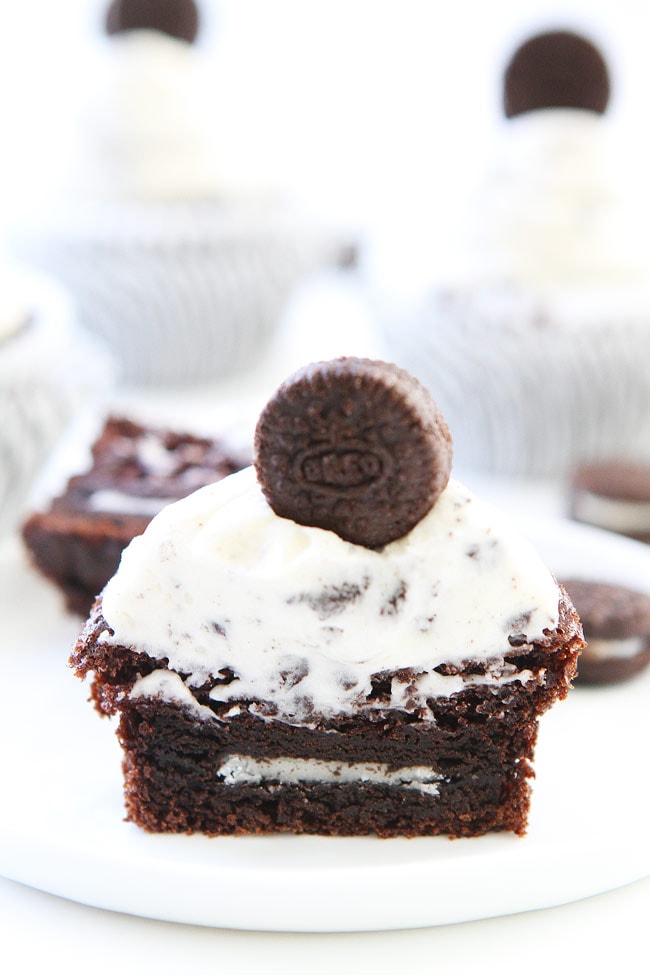 Our boys got super excited when they discovered the Oreo inside. A cupcake AND a cookie, they were in dessert heaven! Oh, and the cookies and cream frosting is amazing. I normally scrape the frosting off of cupcakes, but not these cupcakes. The frosting is probably my favorite part. It tastes just like cookies and cream ice cream, which I love. It is magical and I want to eat it by the pint…or maybe even gallon!
I top the cookies with a mini Oreo cookie because they are just so cute! Cute and delicious cupcakes are a good thing:)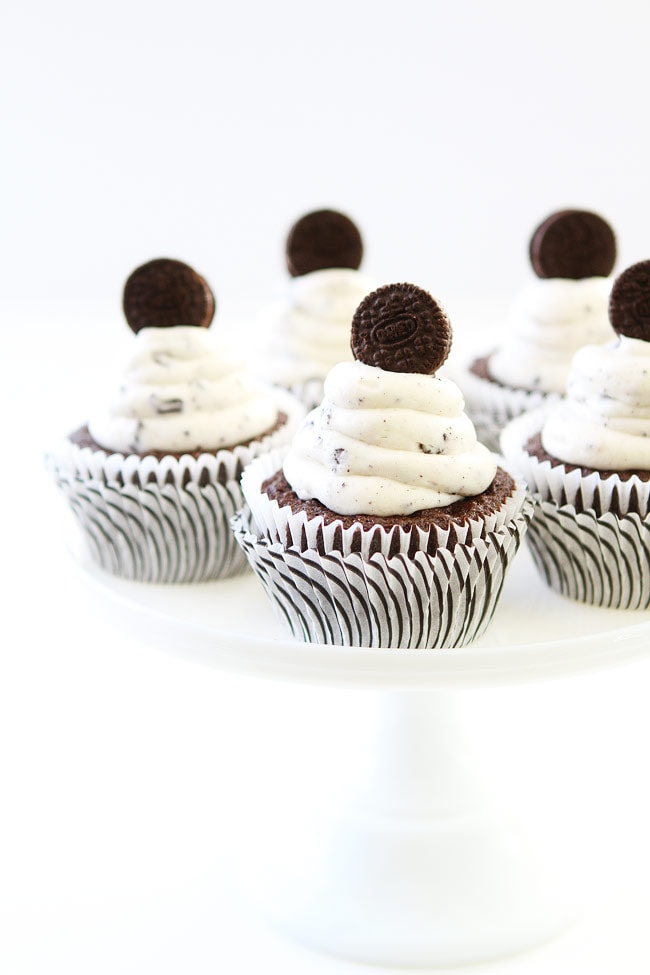 Trust me, you need these Cookies and Cream Cupcakes in your life, especially on a Monday! Enjoy my friends!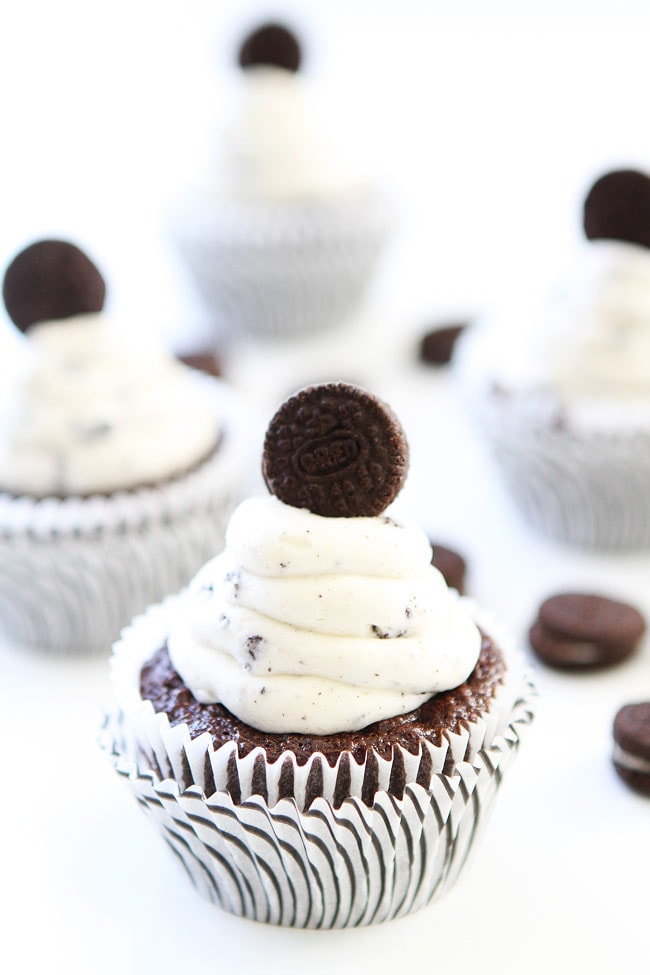 Cookies and Cream Cupcakes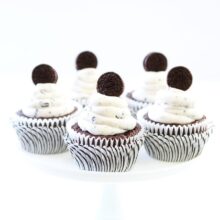 Chocolate cupcakes with cookies and cream frosting and an Oreo surprise inside! They are perfect for birthdays or any celebration!
Yield: 28 cupcakes
Prep Time: 15 minutes
Cook Time: 18-22 minutes
Ingredients:
For the cupcakes:
2 cups granulated sugar
1 3/4 cups all-purpose flour
3/4 cup Dutch processed cocoa
1 1/2 teaspoons baking powder
1 1/2 teaspoons baking soda
1 teaspoon salt
2 large eggs
1 cup whole milk
1/2 cup canola or vegetable oil
2 teaspoons vanilla extract
1 cup boiling water
28 Oreo cookies
For the frosting:
1 cup unsalted butter, at room temperature
3 cups powdered sugar
1 teaspoon vanilla extract
1 1/2 tablespoons milk
1/2 cup chopped Oreo cookies
Mini Oreo cookies, for garnish, if desired
Directions:
Preheat oven to 350 degrees F. Line muffin tins with paper liners. Set aside.
In the bowl of a stand mixer, stir together sugar, flour, cocoa, baking powder, baking soda and salt.
Add eggs, milk, oil and vanilla. Beat on medium speed for one minute or until batter is smooth. Slowly pour in boiling water and mix until batter is smooth. Don't over mix.
Place an Oreo cookie at the bottom of each paper liner. Fill liners 1/2 full with batter, covering the cookie. Bake cupcakes for 18-22 minutes or until a toothpick inserted in the center comes out clean. Remove from oven and cool completely on wire rack before frosting.
While the cupcakes are cooling, make the frosting. Using a stand mixer, beat the butter until creamy. With the mixer on low, add 1 cup of powdered sugar at a time until all of the powdered sugar is added. Beat in the vanilla and milk. Mix until smooth. Beat in the chopped Oreo cookies. Mix until combined.
Place the frosting in a pastry bag and frost. Top with mini Oreo cookie, if desired. Serve!
Cupcake recipe from Hershey's
All images and text ©
Two Peas & Their Pod
.
Follow twopeasandpod on Instagram and show us what recipes you are making from our blog! Use the hashtag #twopeasandtheirpod! We want to see what you are making in your kitchen!