Creamy Goat Cheese Pasta with Roasted Broccoli and Sun-Dried Tomatoes-this simple and healthy pasta dish is full of flavor and will get picky eaters to love broccoli!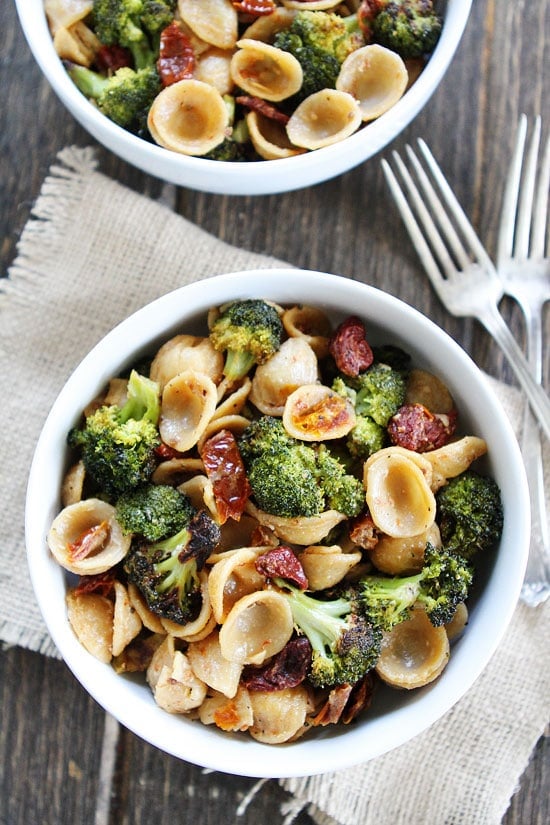 Caleb is going through a phase where he claims he doesn't like vegetables. He would eat almost any vegetable when he was younger, but now he says he doesn't like them and that vegetables are "mommy" food. This is crazy because Josh loves vegetables and eats them all of the time. We do our best to set a good example by eating healthy and we give our kids the opportunity to try lots of foods, including lots of vegetables. I hope this phase doesn't last long. The joy of having an independent four year old:) Luckily, Maxwell is still crazy about veggies. I don't think there is a food he doesn't like though:)
We still eat vegetables at every meal, even if Caleb protests. The other night, I made Creamy Goat Cheese Pasta with Roasted Broccoli and Sun-Dried Tomatoes. I was prepared for a fight at the dinner table, but Caleb actually ate the pasta willingly…including the broccoli! He even said he loved the trees:) YAHOO!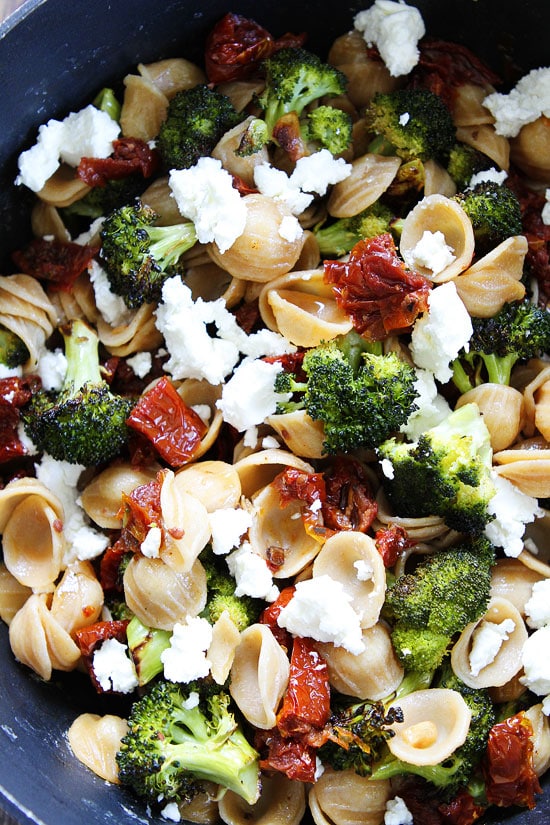 I love this pasta dish because it is easy to make and is full of flavor! First, I roast the broccoli with a few cloves of garlic.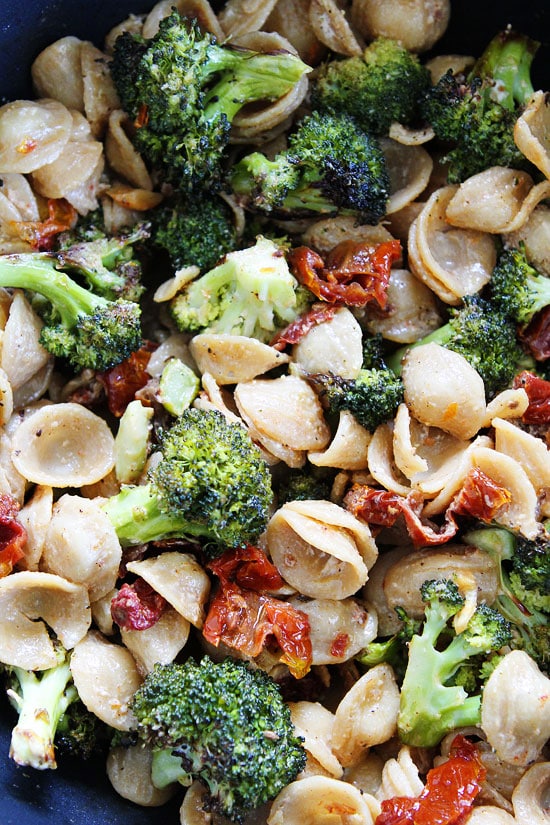 While the broccoli is roasting, I cook the pasta. I like to use whole wheat orecchiette. I combine the pasta with the roasted broccoli, garlic, sun-dried tomatoes, and add goat cheese. The goat cheese creates a creamy pasta in seconds. It is the secret weapon in this dish:) Well, that and the roasted broccoli. Roasted broccoli is the best and even picky little eaters, like Caleb, like it.
You can have this pasta dish on your dinner table in 30 minutes so it is perfect for busy weeknights.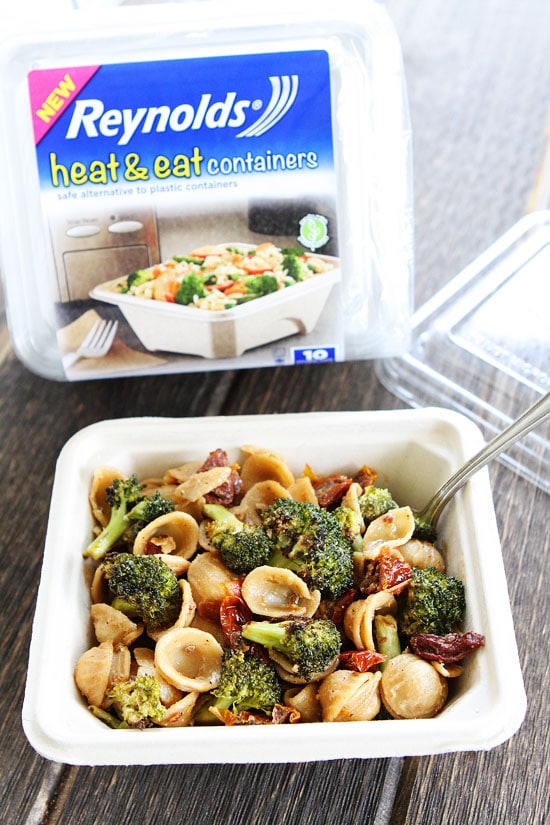 And another bonus, the leftovers reheat beautifully. I love using Reynolds heat & eat containers because they are convenient and make lunch the next day super easy. I like to fill a container for Josh to take to work and one for me to eat at home. To re-heat, remove the lid, and put the container in the microwave. The containers are microwavable and made from a plant-base material, offering a safe alternative to plastic.
We eat our leftovers right from the disposable containers so there is no clean up after lunch! Yay! The containers are also great for freezer meals, which I am a huge fan of! You can check out my favorite freezer meals here.
Creamy Goat Cheese Pasta with Roasted Broccoli and Sun-Dried Tomatoes is a winning pasta dish at our house and we hope you like it too! Make it for dinner and reheat the leftovers for lunch! Enjoy!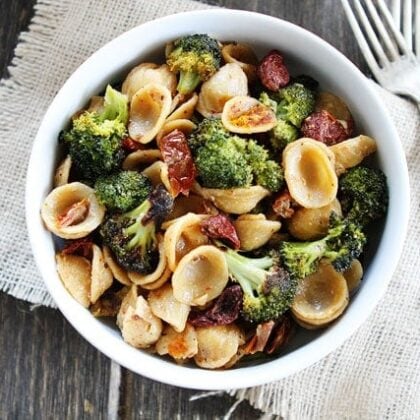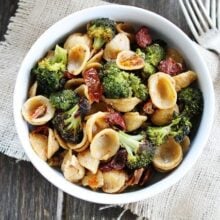 Creamy Goat Cheese Pasta with Roasted Broccoli and Sun-Dried Tomatoes
This simple and healthy pasta dish is a family favorite. The leftovers reheat beautifully too!
Ingredients
Instructions
Preheat the oven to 400 degrees F. Place the broccoli florets and garlic cloves on a large baking sheet. Drizzle with olive oil and toss until florets are coated. Season with salt and black pepper, to taste. Place the baking sheet in the oven and roast until broccoli is tender, 15-20 minutes. Remove from oven and set aside.

While the broccoli is roasting, cook the pasta according to package instructions. Reserve ½ cup of the pasta water and drain pasta.

Open the jar of sun-dried tomatoes and pour 1 tablespoon of the oil into the pan. Chop the roasted garlic and add it to the hot pan. Add the roasted broccoli. Drain the rest of the oil off of the sun-dried tomatoes. Roughly chop the tomatoes and add them to the pan. Stir and add the pasta.

4. Crumble the goat cheese over the pasta and gently stir. Add a little of the pasta water and stir. If the goat cheese isn't melted, add a little more water until you reach desired creaminess. Season with salt and black pepper, to taste. Serve warm.
Have you tried this recipe?
Leave a comment below and share a photo on Instagram. Tag @twopeasandpod and hashtag it with #twopeasandtheirpod
Follow twopeasandpod on Instagram and show us what recipes you are making from our blog! Use the hashtag #twopeasandtheirpod! We want to see what you are making in your kitchen!
This post is sponsored by Reynolds, but our opinions are our own. Reynolds provided us with product for this post. Thank you for supporting the brands that continue to make Two Peas and Their Pod possible.