We are sharing our favorite freezer-friendly meals along with some helpful freezer meal tips!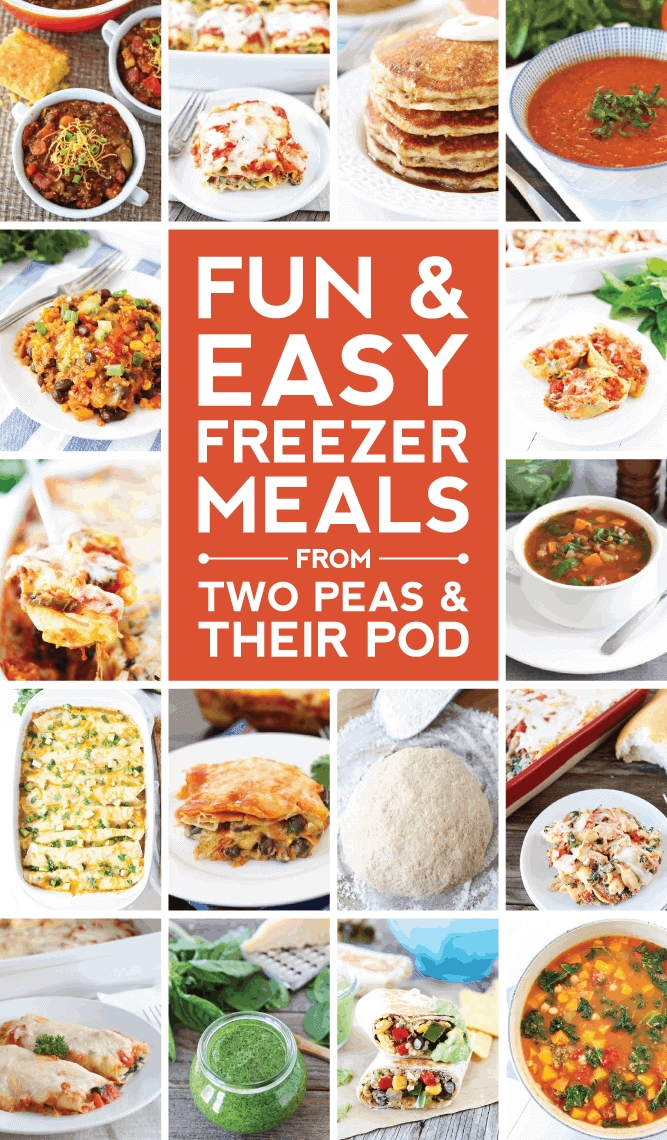 When I was pregnant with Caleb and Maxwell, we stocked our freezer with meals because I knew I wouldn't have time or want to cook after having our boys. I am SO glad I did because I was right, the last thing I wanted to worry about was dinner. I wanted to spend every moment snuggling my cute little babies!
We have gotten a lot of emails about what meals we prepared and put in the freezer and I am sorry it has taken me so long to put this post together! Will you forgive me? I have been busy with my boys! That is a good excuse, right? 🙂
Today we are finally sharing our favorite freezer meals and tips! We included recipes for: Breakfast, Breads/Dough, Soups/Chili, Pesto/Sauces, Main Dishes, and even a few Sweet Treats! Note-there are other recipes on our site that freeze well, but we are just sharing our very favorites! You can't go wrong with any of these freezer friendly recipes!
These meals are lifesavers when life gets busy…like when you have babies. These recipes also come in handy when you want to give a meal to a family or friend in need! A home cooked meal is always a great gift, especially during a time of need.
We hope you find this post helpful! Now, go stock your freezer with delicious food! You will thank us later:)
A Few Freezing Tips:
Cool Down: Make sure your food is completely cooled before freezing. I like to bake/cook the recipes and then freeze. This makes reheating the meals easier. You can put uncooked items in the freezer too though…like lasagna,
Containers: We like to use glass Pyrex containers. The glass containers are oven and microwave proof so you can cook, heat, and store your food all in one dish. You can also use Ziploc freezer bags or plastic containers, if you wish. Disposable aluminum pans with lids also work and are nice if you are giving a frozen meal to a friend or someone in need. I do like using freezer bags for pancakes, muffins, waffles, etc. because they take up less room. I also like to use Weck jars for pesto and sauces. The jars come in a variety of sizes. Our freezer is usually a mix of glass containers, jars, aluminum pans, and bags!
Wrap It: To prevent foods from getting freezer burnt, I like to cover them in plastic wrap and/or aluminum foil. For example, I press a sheet of plastic wrap over the top of soups and then put the lid on. I also like to wrap pancakes, burritos, waffles, etc. in plastic wrap and then place in a freezer bag.
Time: We try to use up our freezer meals within 1-2 months so they still taste fresh! You can also make an inventory list and keep it in your kitchen so you know what is in your freezer. Make sure you use what you freeze. You don't want your hard work to go to waste!
Label: Make sure you label your meals with the recipe title and date! This will help you keep track of what you have on hand. You don't want to thaw out pizza sauce when you were wanting tomato soup for dinner. You can also include the baking/warming instructions.
Portion Sizes: I like to have a variety of portion sizes in the freezer. For example, I will put an entire pan of lasagna roll ups in the freezer to feed our family, but I also like to have individual servings of lasagna, soups, enchiladas, etc. in small containers to reheat for lunches.
Breakfast:
Whole Wheat Zucchini Pancakes-Caleb always asks for pancakes so I love having these healthy pancakes on hand. Pop in the toaster oven or microwave to reheat! They are great for breakfast or dinner!
Whole Wheat Banana Muffins-these healthy muffins are great for breakfast or snack time!
Egg Muffins with Sausage, Spinach, and Cheese-a great on the go breakfast! Just reheat in the microwave!
Honey Yogurt Waffles-Pop the waffles in the toaster and top with fresh fruit and syrup!
Vegan Banana Blueberry Muffins-these are Caleb's favorite muffins so we always keep a stash in our freezer. Reheat for 30 seconds in the microwave.
Vegan Pumpkin Breakfast Cookies-cookies for breakfast? YES! I love keeping these healthy cookies on hand. Great for breakfast or when I have a sweet craving.
Breads/Dough:
Honey Whole Wheat Pizza Dough-we always keep our whole wheat pizza dough in the freezer! Just remember to remove the dough from the freezer in the morning to thaw out. Add your favorite sauce and toppings!
Galette Dough-form dough into a disc and freeze! Thaw for 30-45 minutes before rolling out.
Zucchini Coconut Bread-I love having this bread tucked away in the freezer. Defrost and slice away!
Buttermilk Banana Bread-when I have too many brown bananas, I love making banana bread for the freezer. Pull out a loaf when company comes over, for an after school snack, or breakfast treat! Note-we also freeze ripe bananas to make bread and smoothies! They are always nice to have in the freezer!
Honey Whole Wheat Bread-this bread is great for sandwiches or toast!
Soups/Chili:
Slow Cooker Vegan Sweet Potato Chili:this easy slow cooker chili is a family favorite. We usually eat it for dinner and then put the rest in the freezer for another day!
Roasted Tomato Basil Soup-this soup freezes beautifully! If you have time, make grilled cheese sandwiches to go with! We like to dunk our sandwiches into the soup!
Lentil Soup with Sweet Potatoes and Spinach-this healthy soup is always nice to have in the freezer!
Vegetarian Quinoa Chili-this hearty and healthy chili is great for lunch or dinner!
Fall Vegetable Quinoa Soup-this colorful and healthy soup is perfect for when you are feeling under the weather! Make a big pot and freeze it now so you don't have to cook when you are sick!
Sauce/Pesto:
Spinach Basil Pesto-this is our favorite pesto recipe and we always have a few jars in the freezer. It is good on pasta, pizza, gnocchi, bread, and stirred into soups! You can also freeze the pesto in ice cube trays!
Easy Marinara Sauce-this sauce is my all-time favorite marinara sauce! If I am doing a big batch, I like to freeze the sauce in flattened Ziploc bags so it doesn't take up too much room in our freezer.
Main Dishes:
Black Bean and Enchilada Quinoa Bake-one of the most popular recipes on our site and it freezes well! Big time bonus!
Roasted Vegetable Stuffed Shells-these shells are loaded with cheese and veggies! Reheat and serve with a salad or garlic bread!
Creamy Spinach and Cheese Green Chile Enchiladas-our family loves these enchiladas! Reheat and garnish with fresh cilantro and avocado!
Spinach Artichoke Lasagna Roll Ups-these lasagna roll ups are fun to make and fun to eat…especially when you are pulling them out of the freezer and don't have to do any work! You can freeze the entire pan or individual roll ups!
Stacked Roasted Vegetable Enchiladas-stacked enchiladas are super easy to make! Make a pan for you and one for your neighbor!
Easy Cheesy Baked Tortellini-this recipe is super easy to make! Sometimes I make two pans, one for dinner and one to put in the freezer for a rainy day!
Baked Pasta with Spinach and Ricotta-I love pulling this pasta out of the freezer. Serve with garlic bread for the perfect comforting meal!
Spinach Mushroom Cannelloni-Another winning pasta dish! You can't go wrong with this recipe!
Crispy Black Bean and Quinoa Burritos-freeze these burritos for easy lunches or dinners. Make the avocado dipping sauce to go with and you have a tasty Mexican meal!
Sweet Treats:
Fudge Brownies-these brownies freeze beautifully! I like to keep an entire pan in the freezer so I can pull them out for easy entertaining. Defrost and top with ice cream! YUM!
Chocolate Chip Cookie Bars-having cookie bars in the freezer is always a good idea!
Zucchini Coconut Chocolate Chip Cookies-I think these cookies are even better frozen! They are also a good way to get your veggies:)
Vanilla Pudding Chocolate Chip Cookies-everyone loves these soft chocolate chip cookies so I try to keep a dozen in the freezer at all times.
Note about Cookies-almost all of our cookies freeze well. You can freeze the cookies after they are baked so they are ready to eat. You can also freeze cookie dough balls, before baking. Roll dough into balls and place on a large baking sheet. Freeze the balls on the baking sheet, once frozen solid, place balls in an airtight container or freezer bag. Bake for a few minutes longer than what recipe states if baking frozen balls. You can also let the balls come to room temperature and bake according to the recipe. If you want to freeze a cookie that has a glaze or frosting, freeze the plain cookie before glazing or frosting. Defrost and then add the glaze or frosting.