jump to recipe
Crepes with Grilled Peaches & Cream
Crepes with Grilled Peaches & Cream make a great summer dessert or sweet breakfast treat!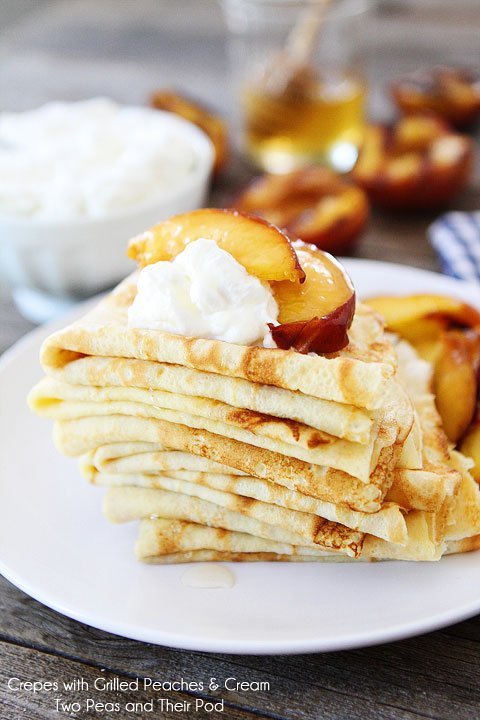 We've been avoiding our oven this summer. Our oven didn't do anything wrong, he's not in trouble, it's just too hot to heat up the house. We hope he will forgive us. I will put him to work as soon as the temperatures cool down.
I can't live without dessert so I've been creating a lot of non-oven dessert recipes this summer-Healthy No-Bake Cookies, Vegan Coconut Raspberry Ice Cream, Pomegranate Blueberry Floats, and Ritz Cracker Chocolate Peanut Butter Ice Cream Sandwiches.
I also made Crepes with Grilled Peaches and Cream. We had to use the stove to make the crepes, but we grilled the peaches outside so our house didn't get too steamy. This is another no-bake dessert winner!


OTHER RECIPES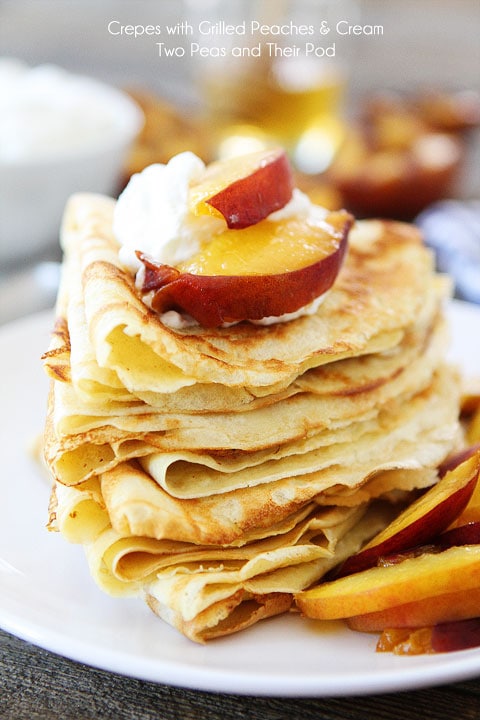 I love crepes, but I always forget about them. Maybe I need to go to Paris so I can eat them every day:) I would be ok with that! When I was shopping at World Market, a crepe mix caught my eye and had me craving crepes like crazy! I put the mix in my basket and headed home to make crepes!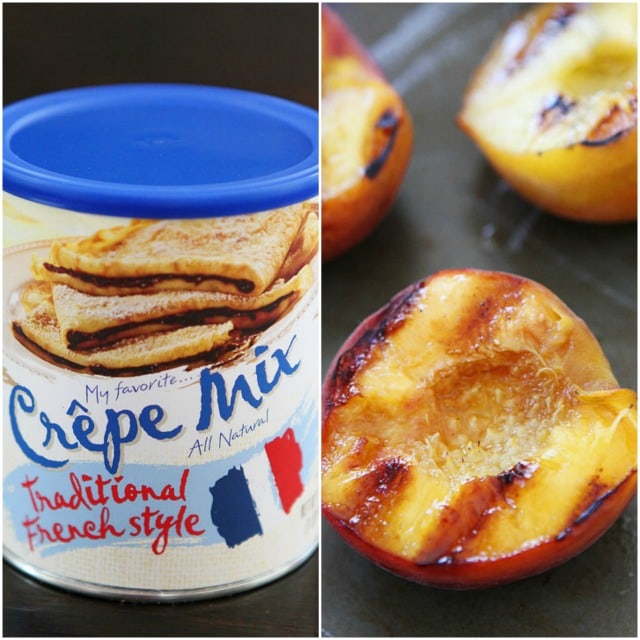 I usually don't like to use mixes, I am a make it from scratch kind of gal, but sometimes we are lazy and appreciate a good mix! Plus, these crepes don't taste like they are from a mix! They taste like they were made on the streets of Paris!
Our counter was overflowing with ripe peaches, I could smell them from a mile away. They needed to be used and I knew they would be perfect with our crepes.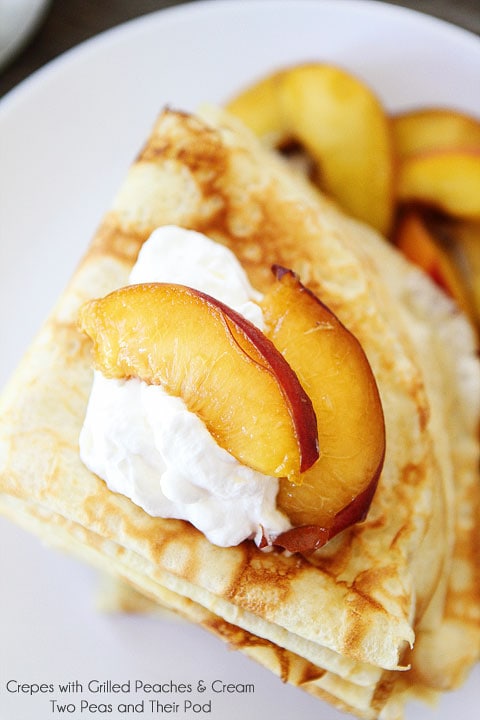 I brushed the peach halves with honey and had Josh grilled them to perfection. Grilling the peaches softens them up, brings out the sweetness, and makes them incredibly juicy. Grilled peaches are a good thing!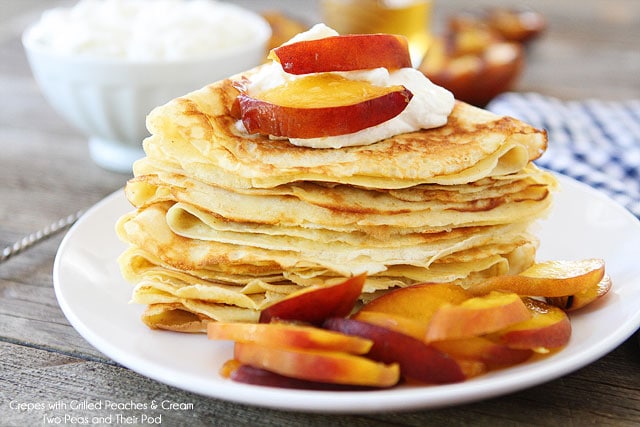 We topped the crepes with slices of grilled peaches, whipped cream, and an extra drizzle of honey! Dessert heaven! You can also top the crepes with vanilla ice cream. You can't go wrong with whipped cream or ice cream. Bring on the cream!
And since crepes are totally acceptable for breakfast, you can enjoy Crepes with Grilled Peaches and Cream for breakfast too! I'm always ok with dessert for breakfast, especially on the weekends.
Treat yourself to Crepes with Grilled Peaches and Cream this weekend! Breakfast or dessert? You decide!
And don't forget to enter to win a trip to Paris!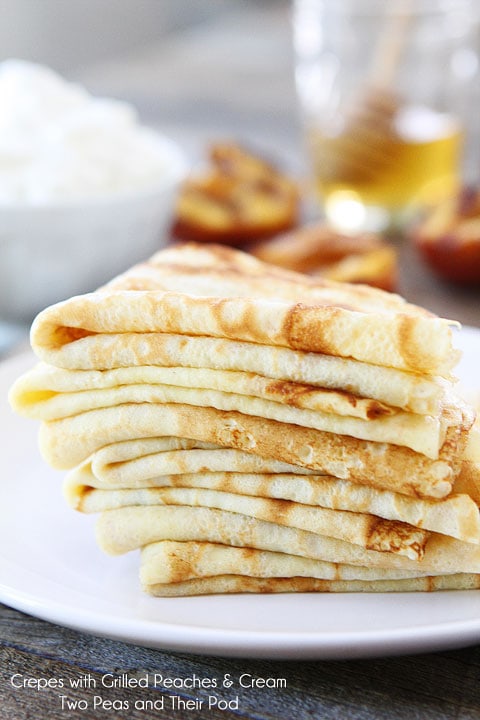 Crepes with Grilled Peaches & Cream
Crepes with grilled peaches, honey, and whipped cream! Serve for dessert or a sweet breakfast treat!
Prep Time: 10 minutes
Cook Time: 15 minutes
Total Time: 25 minutes
Ingredients:
Crepes (I used World Market's My Favorite Crepe Mix)

Peaches, cut in half, pit removed

Honey, about 1 teaspoon per peach half

Whipped Cream
Directions:
1. Make the crepes, according to mix instructions. Set aside.
2. Brush the peach halves with honey and place on a hot grill, pit side down. Grill until peaches are tender. Remove from the grill and cool to room temperature. Slice the grilled peaches.
3. Serve the crepes with grilled peaches, whipped cream, and an extra drizzle of honey.
Note-you can make the crepes from scratch, but we loved World Market's crepe mix! You can also serve the crepes with vanilla ice cream instead of the whipped cream. We made 8 crepes and used 6 large peaches.
All images and text ©
.
Follow twopeasandpod on Instagram and show us what recipes you are making from our blog! Use the hashtag #twopeasandtheirpod! We want to see what you are making in your kitchen!
Disclosure-this post is sponsored by Cost Plus World Market, but our opinions are our own.