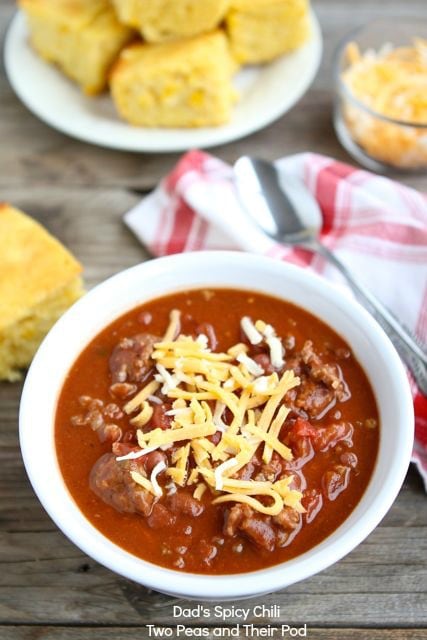 I've shared a few of my dad's recipes on our blog before-his Cinnamon Rolls and Frozen Cookies are two of my all-time favorite recipes. My dad can also make a mean pot of chili. When we went to Illinois, my dad taught Josh how to make his famous chili. Josh loves it and so does the rest of my family. My dad's chili is hearty, spicy, and full of meat. My dad calls it the "all meat, all the time" chili. So meat lovers, get your chili bowls ready, you are going to love my Dad's Spicy Chili.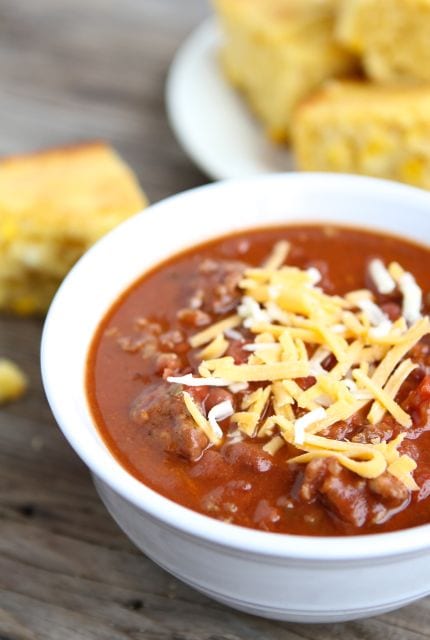 My dad has been making his famous chili for as long as I can remember. When we have get togethers in the winter months, my dad's chili is often on the menu. Everyone wants "Parry's Chili." He usually makes it with half Italian sausage and half hamburger meat, but since Josh isn't a hamburger fan, he used all Italian sausage this time around. My dad says it's good either way. The jalapeños give the chili a nice kick. If you aren't a fan of spicy, you can leave the jalapeños out, but my dad likes spicy chili.
My dad says the key to his chili is lots of chili powder and cumin…also known as the smelly armpit stuff. My dad thinks cumin smells like smelly armpits. I don't know where he got that comparison, but it's become a family joke. I don't know why he would want to add it to his chili, but he says lots of cumin is important. I guess he likes smelly armpits:) My dad also eats his chili with lots of saltine crackers and a big pat of butter. We all make fun of him for adding butter to his chili, but he does it every time.
If you are looking for a new chili recipe to try this winter, try my Dad's Spicy Chili recipe. Josh made it for a chili cook-off and won! Thanks Dad for sharing your famous Spicy Chili recipe. Family recipes are the best!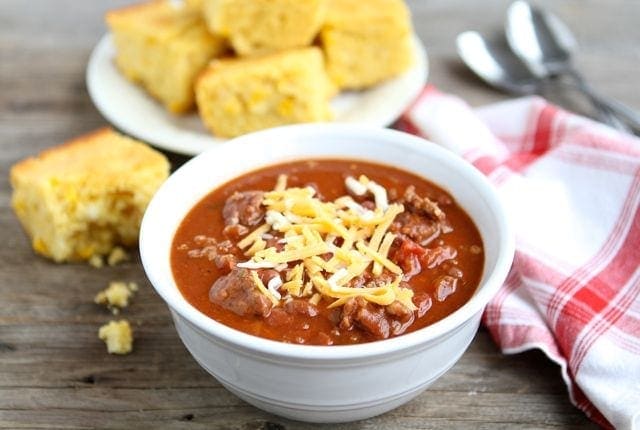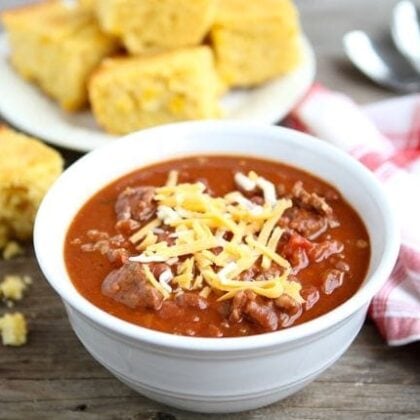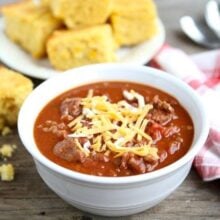 Dad's Spicy Chili
My dad's spicy chili is a family favorite! We hope you enjoy it too!
Ingredients
1 1/2

bags

24 ounces of dry small red beans

2

lbs.

Italian sausage

or 1 lb. Italian sausage and 1 lb. ground hamburger

1

large onion

diced

6

bay leaves

1

teaspoon

salt

2

28 oz cans diced tomatoes

1

16 oz can tomato sauce

1

6 oz can tomato paste

3

tablespoons

chili powder

3

tablespoons

ground cumin

1

tablespoon

brown sugar

1

teaspoon

black pepper

1

teaspoon

crushed red pepper

1/3

cup

tamed jalapeño slices

drained (they are in a jar)
Instructions
Soak beans in large pot overnight. When ready to cook the chili, add the diced onion, bay leaves and salt to the beans and boil until the beans are soft. Pour out excess water until the water and bean levels are the same.

Brown the meat in a large skillet. In a separate large pan, make the sauce. Add tomatoes, tomato sauce, tomato paste, chili powder, cumin, sugar, black pepper, red pepper, and jalapeños. Simmer for 15 minutes.

Add meat and sauce to the pot of beans and simmer for 30 minutes. Serve chili warm.

Note-you can adjust the seasonings to your likings. My dad likes it spicy! Also feel free to add your favorite chili toppings-cheese, crackers, green onion, sour cream, or butter-like my dad:) It is also great with cornbread.
Have you tried this recipe?
Leave a comment below and share a photo on Instagram. Tag @twopeasandpod and hashtag it with #twopeasandtheirpod