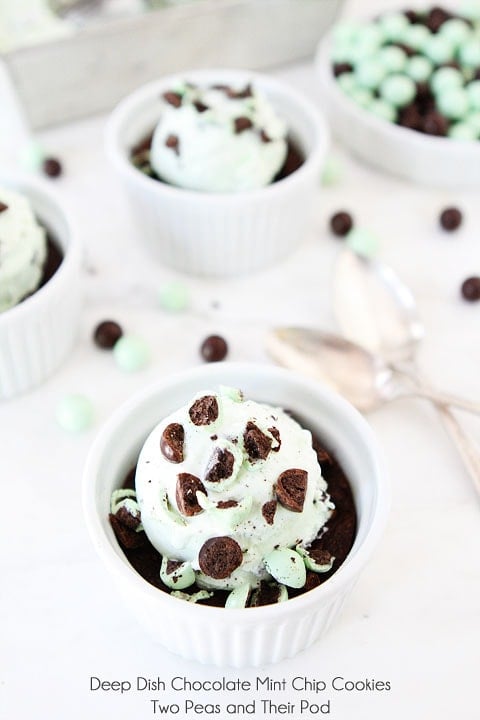 We shared photos from our Summer Outdoor Dinner Party yesterday and today we are sharing the dessert recipe we served at the party-Deep Dish Chocolate Mint Chip Cookies. We are going to share a few more recipes from the party, but I had to start with dessert. Dessert first is always a good idea, especially when cookies and ice cream are involved.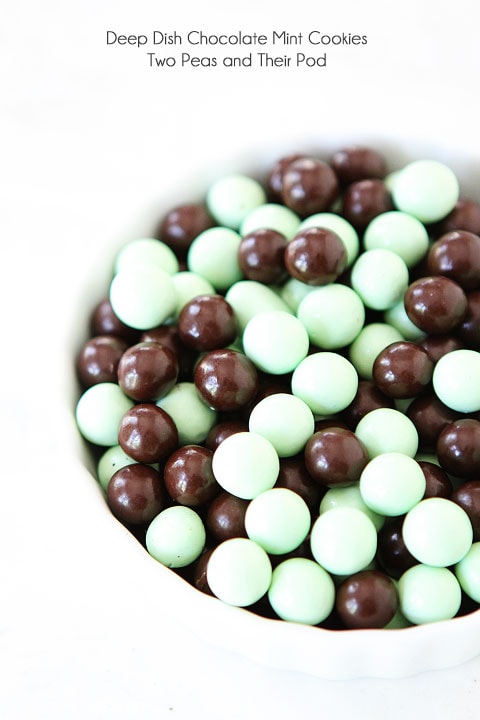 When I was shopping for some party items at World Market, I stumbled upon Mint Chocolate Cookie Crisps. I couldn't pass them by. A few bags made their way into my cart. I knew these candies belonged in a cookie.
I chopped up the cookie crisps and loved the contrast of mint green and chocolate. Cookie crisps in a cookie-double the cookie, double the fun!
I made a chocolate cookie dough with a little peppermint extract. I added in chocolate chips and the mint cookie crisps.
I didn't want to make plain old cookies. I wanted the dessert for our party to be special, so I pressed the cookie dough into ramekins to create a deep dish cookie. I baked the deep dish cookies until they were set around the edges, but still soft and gooey on the inside. You don't want to over bake these cookies.
We served them warm out of the oven with a scoop of chocolate mint chip ice cream. The cookies were rich, chocolaty, with a refreshing mint kick. I loved the slight crunch the mint cookie crisps added. The chocolate mint ice cream melted into the cookie creating an extraordinary dessert!
The table was quite for a few minutes, not because we were sick of talking to each other, but because everyone was having a moment with their dessert. Everyone loved the Deep Dish Chocolate Mint Chip Cookies. Our friends asked if we would be sharing the recipe or if it was a secret. Luckily, we don't have any secrets, well, at least not recipe secrets:) We are happy to share our recipes!
So here you go! We hope you enjoy our Deep Dish Chocolate Mint Chip Cookies. Cookies and ice cream have never tasted so good! This is a great dessert for serving at parties too because you can make the cookie dough in advance and bake them off when it's dessert time. Plus, everyone loves having their own special dessert.
Make sure you come back, we will be sharing more recipes from our Summer Outdoor Dinner Party this week. Now, go make dessert. These Deep Dish Chocolate Mint Chip Cookies are calling your name! Happy Summer!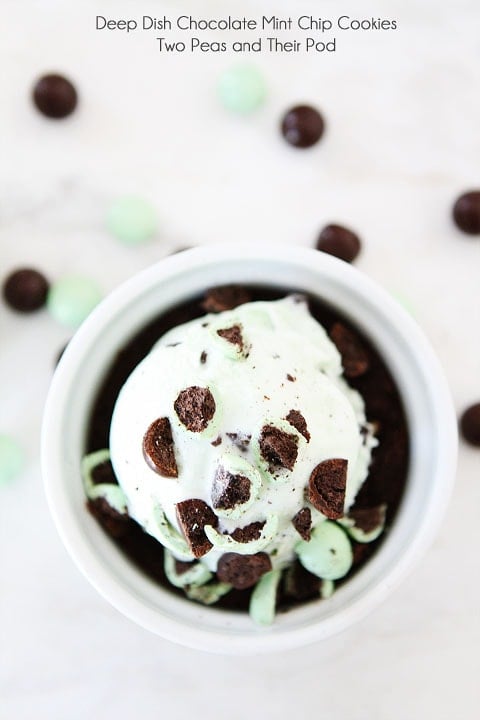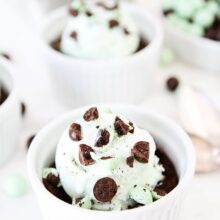 Deep Dish Chocolate Mint Chip Cookies
Chocolate mint chip cookies served in a ramekin with a scoop of chocolate mint chip ice cream. These individual desserts are perfect for parties or every day dessert!
Instructions
Preheat oven to 350 degrees F. Spray ramekins, 6 ounce size, with cooking spray and set aside.

In a medium bowl, whisk together flour, baking soda, salt, and cocoa. Set aside.

With a mixer, cream butter and sugars together until smooth. Add in eggs, one at a time. Next, add in vanilla extract. Mix until blended.

Slowly add flour mixture to sugar mixture and mix until flour disappears. Stir in chocolate chips and mint chocolate cookie crisps. Take a ¼ cup of cookie dough and press it into a ramekin. Continue with the rest of the dough, or however many deep dish cookies you need. If you don't use all of the dough, you can keep it in the refrigerator for up to 3 days. You can bake normal size cookies off or you can freeze the dough if you wish.

Place the ramekins on a large baking sheet and bake for 12-14 minutes, or until the cookies are set around the edges, but still soft in the center. Don't over bake. Remove from oven and let sit on baking sheet for 2-3 minutes. Top with chocolate mint chip ice cream while the cookies are still warm and serve immediately.

Note-you can buy the Mint Chocolate Cookie Crisps at any World Market store. You can also buy them online at World Market. If you can't find them, you can use mint chocolate chips instead.
Have you tried this recipe?
Leave a comment below and share a photo on Instagram. Tag @twopeasandpod and hashtag it with #twopeasandtheirpod