Easy Peach Butter-when life gives you lots of peaches, make this simple peach butter! It is great on toast, pancakes, waffles, or stirred into oatmeal or yogurt!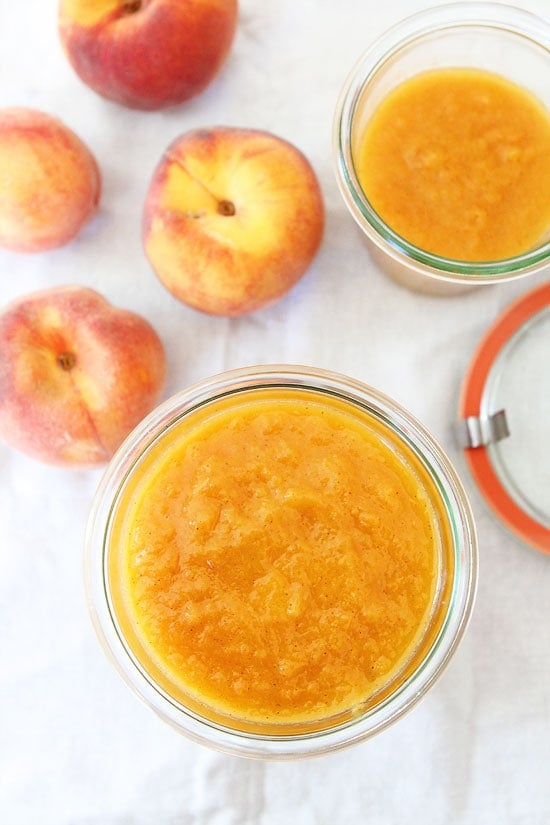 Maxwell is a pretty good sleeper. I usually feed him around 2:00 a.m. and 5:00-6:00 a.m. Once I am done feeding, Josh takes the baby and puts him back to sleep. Josh and Maxwell have no trouble falling back asleep after the 5:00-6:00 feeding, but it is hard for me to go back to sleep. I am a morning person and once the clock strikes 5:00, I am up for the day…even if I am super tired.
Last week, I was up at the crack of dawn feeding the babe and I was going to go back to bed, but the pile of peaches on our kitchen table started staring me down. They wouldn't let me go to sleep until I did something with them:) So, I made homemade Peach Butter. It made sense at the time, but looking back I should have ignored the peaches and got some shut eye. Except, then we wouldn't have any peach butter and I LOVE peach butter so the lack of sleep was worth it!
I wasn't planning on blogging about this recipe because it is so easy, but I shared a photo on Instagram and several people asked for the recipe, so here you go! I aim to please!
Speaking of pleasing, we need your feedback. We post recipes on our blog every Monday, Wednesday, and Friday. It's been that way FOR-EVER…saying that in my best Sandlot voice:) We also post a weekly lifestyle post on Thursdays, This and That.
Ok, back to the peach butter! This recipe is super simple, I basically made it in my sleep. I think I had one eye open:) Peach butter is great on toast, pancakes, waffles, stirred into oatmeal, yogurt, or even as an ice cream topping. Vanilla ice cream with peach butter…yes, please!
I just made a small batch for us to enjoy, but if you are into canning you can double, triple, or quadruple the recipe and do some major canning!
Put your peaches to good use and make a batch of Easy Peach Butter! It is so good!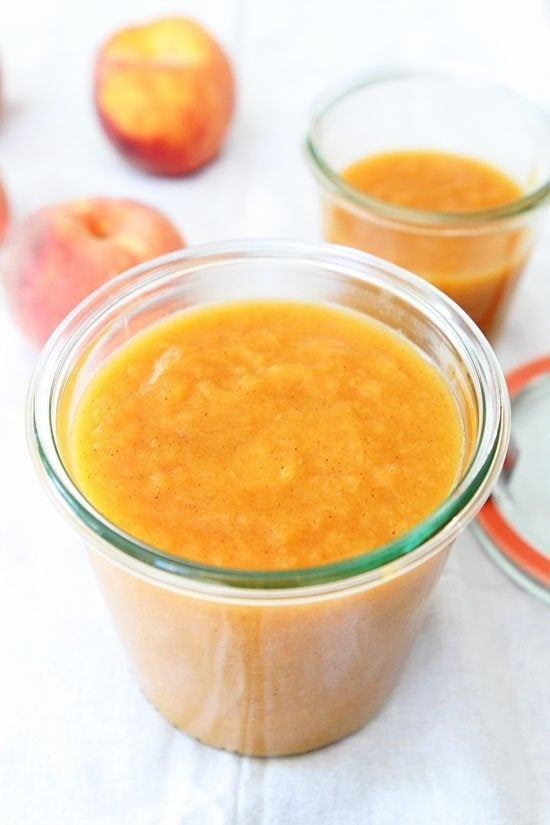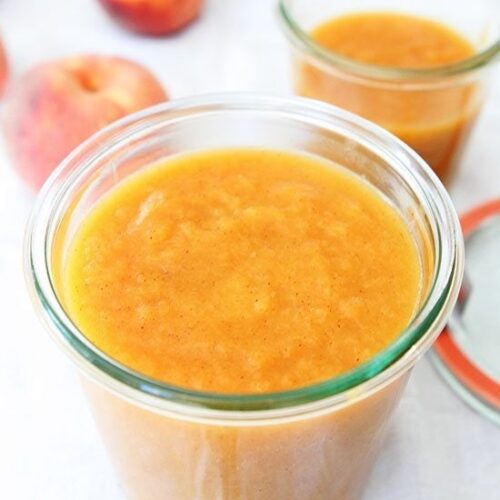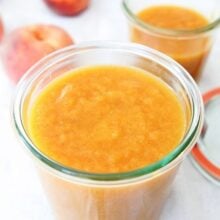 Easy Peach Butter
We love this super simple recipe for peach butter!
Instructions
Place the chopped peaches in a large pot. Stir in the sugar, cinnamon, and lemon juice. Heat the mixture over medium heat for 30 minutes, stirring occasionally to make sure the mixture doesn't stick to the bottom of the pan. Remove from heat and stir in the vanilla extract.

Using an immersion blender, puree the peach mixture until desired consistency. I like to leave a few small chunks, but you can puree it until perfectly smooth if desired. If you don't have an immersion blender, you can use a blender or food processor. Let the peach butter cool to room temperature and transfer the peach butter to a blender or food processor and puree.

Let the peach butter cool completely. Pour into jars and store in the refrigerator. It will keep for about two weeks.

Note-this peach butter can be canned. Peach butter is great on toast, biscuits, pancakes, waffles, stirred into oatmeal, yogurt, or used as an ice cream topping!
Have you tried this recipe?
Leave a comment below and share a photo on Instagram. Tag @twopeasandpod and hashtag it with #twopeasandtheirpod