jump to recipe
Eggs Benedict
This easy Eggs Benedict recipe is perfect for a special breakfast or brunch. Poached eggs and Canadian bacon are served on a buttery toasted English muffin and covered with hollandaise sauce.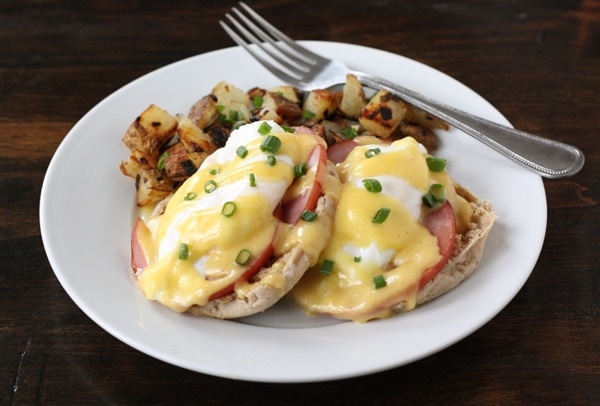 What is Eggs Benedict?
Eggs Benedict is a popular recipe for breakfast and brunch. Poached eggs and Canadian bacon are served on a buttery toasted English muffin and covered with hollandaise sauce. Most people love ordering this special egg dish at restaurants, but it is easy to make at home. You will love this classic breakfast dish!
How To Make Eggs Benedict
There are a few steps involved when making Eggs Benedict. You want to make sure you are prepared and ready to go so all of the components are hot and ready to serve at the same time.
First, make the Hollandaise sauce. Hollandaise sauce is made with egg yolks, butter, salt, and a little cayenne pepper. The sauce is rich, buttery, and will make the eggs Benedict SO decadent.
Next, poach the eggs. You want the egg yolks to stay soft and runny while the egg whites harden.
 Cook the Canadian bacon. You can also use regular bacon.
Toast and butter an English muffin.
To assemble the eggs Benedict, top the buttery English muffin with Canadian bacon, poached eggs, creamy hollandaise sauce, and chives. Serve immediately.
You can mix things up and used smoked salmon instead of bacon. You can also add vegetables, asparagus is a great addition to eggs Benedict.

OTHER RECIPES
If you usually only order Eggs Benedict at a restaurant, try making it at home for a special breakfast. Eggs Benedict would also be a great addition to your Easter breakfast or brunch menu this year.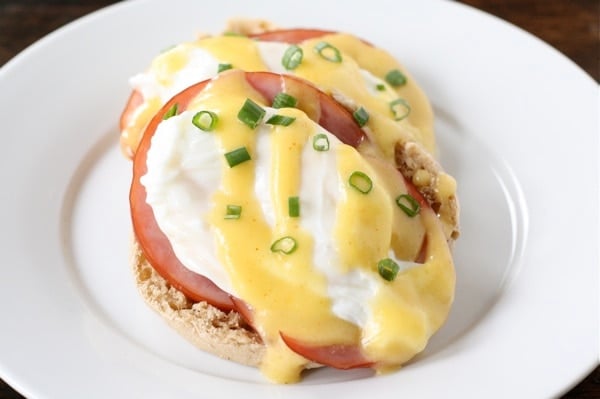 Eggs Benedict Recipe
This easy eggs Benedict recipe is great for breakfast or brunch. You will love the creamy hollandaise sauce!
Yield: Serves 1
Prep Time: 15 minutes
Cook Time: 15 minutes
Total Time: 30 minutes
Ingredients:
For the Hollandaise (Eggs Benedict Sauce):
4 egg yolks
½ cup very hot water
¼ teaspoon cayenne pepper
½ teaspoons salt
1 ½ cups clarified butter
For the poached eggs:
2 large fresh eggs
1 teaspoon distilled white vinegar
To finish the Eggs Benedict:
2 pieces Canadian bacon
1 English muffin
Softened butter, for spreading on English muffin
1 tablespoon chopped chives
Directions:
Over medium heat, in the top of a double boiler, add egg yolks, cayenne, salt, and ½ of the water. Stir until mixture reaches the consistency of mayonnaise. Remove from heat. Alternating the water and butter, starting with the water, slowly add the remaining hot water and butter, whisking constantly, until gone. Adding more water will thin the sauce, adding more butter will thicken the sauce. The sauce will get thicker the longer it sits. Keep the sauce warm until ready to serve.
Fill a large saucepan with 3 inches of water. Bring water to a gentle simmer, then add the vinegar. Carefully break eggs into simmering water. Cook for about 3 minutes. Yolks should still be soft in center. Remove eggs from water with a slotted spoon and gently place them on a plate. Keep eggs warm until serving.
Brown the Canadian bacon in a medium skillet over medium-high heat and toast the English muffins. Spread toasted muffins with softened butter, and top each muffin half with a slice of bacon and one poached egg. Drizzle with Hollandaise sauce and sprinkle with chives. Serve immediately.
Note-you will have leftover hollandaise sauce.
All images and text ©
.
Follow twopeasandpod on Instagram and show us what recipes you are making from our blog! Use the hashtag #twopeasandtheirpod! We want to see what you are making in your kitchen!